MrMobile is giving away a ton of tech!
By Mr Mobile last updated
One of my favorite things about reviewing the hottest mobile technology is that sometimes they let me give it all away.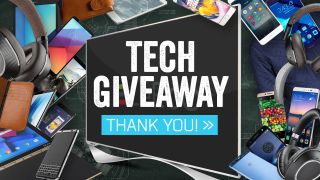 See, we just hit the 100-video mark over on the MrMobile YouTube channel, and after less than a year we've also managed to snag some 350,000 subscribers! I thought those were milestones worth celebrating, so I wrote some of the biggest and best tech companies in the world and asked them if they'd like to offer some giveaway gadgets to the people who made it all possible. (Psst, that's you.) To my surprise and delight, most of them agreed ... and now you've got the chance to win everything from smartphones to tablets to mobile accessories to a 4K TV – more than $10,000 in prizes!
To enter, the terms are pretty simple: you just have to say something nice on YouTube. Why? Because YouTube comment sections have too long been counted among the very worst parts of the internet, and I thought it would be nice to shine a little light into those dank corners … if only for a week. For the details, check out the announcement video, and then head over to the official contest site for more info and additional chances to win. Giveaway recipients will be announced starting May 5th.
Until then, best of luck — and stay mobile my friends!
Also stay social, friends
Thanks@mr.mobile for giving away these gadgets and I really hope I could win some of those gadgets.

Wow, he was already awesome but he is even more awesome for doing the giveaway this way. What a guy.

Yeah, right? I deleted my Google account a long time ago.

Im using my sons account ☺

Hey Mr. mobile love your work, unfortunately I don't do Facebook or Snapchat but I do love your honest and unbiased tech reviews! Thanks
Windows Central Newsletter
Get the best of Windows Central in in your inbox, every day!
Thank you for signing up to Windows Central. You will receive a verification email shortly.
There was a problem. Please refresh the page and try again.