MSN News and Weather get Chase-able and Transparent Tiles respectively for all Windows 10 users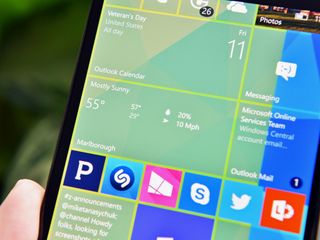 Back on November 11, Microsoft updated their MSN News and Weather apps to bring a few new features from the Anniversary Update.
Build 4.17.72 of MSN News for Mobile and PC brought chase-able Tiles where "Live tile articles now appear at the top of My News (for the News app)." The same update brought an optional transparent Live Tile for Weather on Mobile as well.
Tonight, both of those apps have been released for Production (non-Insider) with build 4.17.74 for PC and Mobile. Those versions match the current Fast and Slow Ring Insider builds as well. Additional changes include "Performance, reliability and accessibility improvements" and "general bug fixes."
Note: Only MSN Weather on Mobile has the transparent Tile. MSN News gets the chase-able tile feature.
With just a 10-day turnaround Microsoft is making quick use of the Insider program to test and push out new features right away to all Windows 10 users.
Thanks, Robert de N., for the tip!
Download MSN News in the Windows Store (opens in new tab)
Download MSN Weather in the Windows Store (opens in new tab)
Windows Central Newsletter
Get the best of Windows Central in your inbox, every day!
Daniel Rubino is the Editor-in-chief of Windows Central, head reviewer, podcast co-host, and analyst. He has been covering Microsoft since 2007 when this site was called WMExperts (and later Windows Phone Central). His interests include Windows, laptops, next-gen computing, and for some reason, watches. Before all this tech stuff, he worked on a Ph.D. in linguistics, watched people sleep (for medical purposes!), and ran the projectors at movie theaters because it was fun.
Got weather transparent tile. But no option to turn on transparent tile for news which has already been at 4.17.74.0 release preview.

Only Weather has come with a transparent tile option.

Yes there is an update for the news app but i didn't got the Chase-able live tile option yet (4.14.74)??

I also have the version 4.14.74 for the News app, and it supports chasable live tile. The difference is, in other apps you're taken directly into the article, but in News app, when you click the Live tile (for an article), the News app will show that article at the top of 'My News' section.

But it does not do in my app??

Have you checked settings etc

There is no option or toggle in the settings app from where i can use Chase-able live tile!!? :(

The "chasable" feature isn't really working for me in the News app either. The artile displayed on the tile does not show at the top of the list for me.

I think that some people had issues with their camera apps not displaying new features after an update. Did you try restarting or a soft reset?

Now can we bring transparent tiles to PC apps as well. I hate to use the tablet mode on my 2 in 1 lenovo. When will MSFT listen to thousands of insider's requesting this feature.

Completely agree, would love to have transparent tiles for PC version as well. How hard can it be?

We aren't programmers right... This might take some time... No one knows how much...

Who the hell is down voting this? Omg someone wants a totally valid feature, let's down vote them because MS hasn't implemented it yet! Ffs people

Yes best news of the night! So excited about this!

Same. No tranparent tile for msn news just for weather

It's only for weather. MSN News just gets Chase-able Live Tile.

I got the update for the MSN news app (4.17.74) but there is no Chase-able Live Tile Option yet and also it doesn't work Why?

Thanks for ur answer Danno

Well maybe the title of this article was not the best idea ;-)

The title is correct. Note that News is the first, along with Chaseable and Weather and transparent are both secondary. The title doesn't say that both have both of those things.

No it's A+B = C+D instead of A=C + B=D.
The title is not wrong but definitely not the best way. "news gets chase-able tile and weather transparent tile" would be way better

Yes but they should have made the title more clear for some users,i understood as well as you but still there is a lot of confusion here in the comment Section:)

You are correct, sir. The title implies both apps have chaseable and transparent tiles.

READ the full article, or at least the previous posts.

Also for Windows phone 8.1

The Weather app on 8.1 got an update too (with transparent tiles in the changelog) but I don't see how that would work.

Hello. I have a Lumia 520 with 8.1 Update 1 and the changelog says "Support for transparent tile" and there is no such setting, only "Live tile" on or off.

So it's also time to update the Windows Central app to fix the various performance issues?

No this app is not buggy :(

Yeah it is very buggy. Sometime live tile does not update new feed. I have to open the app to see updates

I'm still using the windows8.1 app.Much better experience overall

Nice update and it's great to see an increased speed in introduction and release of new features! :-)

Unfortunately the weather app is useless here in Europe.
It still (after months and years) shows wind speed units as km/h, but we use mainly m/s.
Why can't users choose their preferable units, as they can choose between temperature units celsius/fahrenheit?

I don't think it's such a big problem. Here in Hungary, way more people understand what km/h is, than m/s :D

While the request is legit, do not generalize your case. Here in France all wind speeds are given in km/h on the weather channels, cause m/s are too scientific for common people that never use it anywhere else. km/h is easy cause it's the same as the car speed unit, which is for most people the only way they see speed measure.

Ok, I thought we Europeans are all equal :) Maybe it just us here in Finland then.
I just wish that users could use whatever units they want.

Nope, we use m/s in Norway too. Perhaps a scandinavian thing?:-)

Meters per second in Denmark as well... Again, at least it should be optional.

Funny I notice my weather tile look different a few mins ago then came here and saw this. So cool :D

Wow feature one day one clicking on app and being taken to the thing shown on app tile. What are they a bunch of idiots.

Erm..... Story on News tile is now shown at the top of your news feed. You don't chase the tile around the screen....

Am I the only one who cant seem to switch Weather tile to non-transparent again? Even tho I disabled the option? I tried unpinning and pinning again.

When is Windows Central getting it's transparent time? The news always have a picture behind it

When is Windows Central getting it's transparent time? The news always have a picture behind it

You can change it in the settings section. Choose not to show background image and you're set! It's useful sometimes to go to settings you know. ;)

LOL,To get transparent tile firt pin the Windows Central tile on your start screen (ONLY FOR MOBILES)!!

Still no option to have the weather on lock screen... I mean who cares for tile transparency if the actual useful stuff is missing?

Weather is transparent not News for me after update

Cause you didn't learn to read article nor previous comments before posting.

Weather has been transparent and works as expected since it came out for insiders recently, but the news tile (for me at least) is just a dead tile with the news logo on it, it's not showing any articles or anything else other than the logo on the tile.

Mine shows recent news but not transparent

Didn't you read the word 'respectively' in article heading?

Make all Microsoft apps to have transparent tiles

While it is great that the Weather app now has the transparent tile for those who wanted it, I'm sticking with Amazing Weather HD. Not only is its live tile highly configurable, it also has lock screen support.

Nice for the transparent weather tile, but icons are still in low definition on the tile. I'll keep Forecast for the Tile even if msn is slightly more accurate here.

OMG! You might have just discovered an actual duration of "coming soon"™!

MSN News...still a rubbish app, it cannot be fixed.

This is great, something I've wanted since the beginning for Live Tiles. It's frustrating to see a headline in the tile then have to search for the article in the app once you launch it.

Let's twitter Twitter for transparent Live Tile

Installed both updates yesterday. The News chaseable-tile and Weather transparent tile work great. The only bug I've noticed with News/Weather/Sports is every once in a while they get stuck and you have to un-pin then re-pin them and they work fine again.

Why not support for transparent tiles for all tiles? Why still at control of the developer. We've been calling out for control for transparent live tiles at the end users control for years. I guess it is a good start for these two apps. But these two for me are enough incentive to argue transparency support for other native, office and third party app too. Microsoft should be credited for finally supporting these two tile features. But I think they could be a bit more bold and support the feature for other apps too.

Instead there should be a native settings option which will show all the app list where you can get option like:
Transparent tile option
Live tile option
Dark\light mode option
And even an option to lock an app!!!

I really wish that every time I change anything on my start menu, it would grab the top row of tiles and move them to the bottom. Oh wait it does that.

Need a transparent tile for News before it gets pinned to my start screen... ;)

Every app should come with a transparent tile options, so you could see your wallpaper if you want, or give a more "clean" look to your home screen.

The msn news app shows no news you want only what they give you which sux, rubbish.