Mush, Skateboard Party, Nightmares from the Deep, and more Windows Phone Red Stripe Deals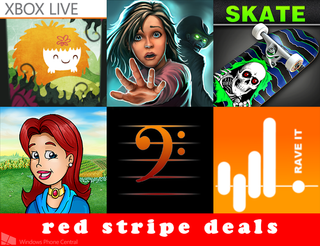 Since we didn't get a new Xbox game for Windows Phone this week (though I finally worked through Temple Run 2), the Xbox Red Stripe Deal must once again sustain Achievement-minded Windows Phone gamers. This week's deal title Mush from Angry Mango has been on sale thrice before, most recently in April of last year. But Mush is still a charming exclusive that somehow never escaped to iOS like most tend to do. Might as well pick it up for a buck if you haven't already.
The non-Xbox Red Stripe Deals offer some fine game and app discounts as well. Artifex Mundi's beautiful hidden-object adventure game Nightmares from the Deep: The Cursed Heart gets knocked down to $1.49, while graphically intense Skateboard Party 2 from Ratrod Studio and Kristanix Studio's casual Fantastic Farm come in at 99 cents each. Meanwhile, non-game MusicStation from Raphaël Ruis is on sale for $2.99 and RaveIT Pro for 99 cents.
Descriptions and Store Links after the break!
Mush (Windows Phone 7 and 8)
Regular price: $2.99 Sale price: $.99 Download size: 24 MB Store Link
Mush is a bright and original platformer that plays a bit differently from the norm. The titular character gains unique abilities based on his emotions. Draw a smile and becomes so elated that he floats; make him frown and he sinks way down low. By switching between the four emotions as necessary, you'll help Mush solve puzzles and win a game of hide-and-seek with his friends.
As the description implies, Mush is both innocent and great for kids. But adults will still enjoy the beautiful storybook art style. The characters are all colorful, creative, and endearing. Everything has a flat, paper-textured look. And yet the backgrounds have plenty of depth thanks to excellent use of parallax scrolling. Basically, Mush makes your eyes feel like they're eating a banana split.
Achievement hunters will want to grab Mush as well, because this is one easy game. You can't die or lose, just like ilomilo. The only real challenge comes from grabbing all of the collectibles. Most are out in the open, but you'll probably have to hunt for a few. Check out our full review for more details!
Nightmares from the Deep: The Cursed Heart (Windows Phone 8)
Regular price: $2.99 Sale price: $1.49 Download size: 249 MB Store Link
Since last year, Polish developer Artifex Mundi has released a smorgasbord of hidden-object puzzle adventure (HOPA) titles for Windows Phone and Windows 8. One of the most popular is The Cursed Heart, the first game in the Nightmares from the Deep series.
Gamers take on the role of a museum curator whose daughter is kidnapped by a mysteriously resurrected pirate from yore. You'll have to stow away on his ghostly pirate ship, explore an ancient pirate lair, and rescue the girl before she meets her end in a dark ceremony. Find out more in our full review.
The HOPA genre mixes a variety of game styles. You'll navigate between gorgeously-drawn scene after scene, looking for items and solving numerous puzzles. Interspersed throughout the adventure are numerous hidden object scenes in which players must find a list of scattered items. If hidden objects aren't your thing, Cursed Heart also offers the option of completing mahjong solitaire puzzles in their stead.
Skateboard Party 2 (Windows Phone 8)
Regular price: $1.99 Sale price: $.99 Download size: 343 MB Store Link
This 3D skating game comes from the makers of the Drift Mania series. Like those games, it supports MOGA controllers!
Still, the game does offer a number of fine features for skating enthusiasts:
Online multiplayer mode to play against your friends or other skaters online.
New fully customizable control system. You can adjust everything!
Learn over 40 unique tricks and create hundreds of combinations.
Massive skateboard locations to ride including a trailer park, army base, shopping mall, ski resort, campus, funfair beach and a big open city.
Customize your skater or board with tons of exclusive content including outfits, boards, trucks and wheels from licensed brands.
Play often to gain experience and upgrade your skater's attributes.
Share your results with your friends on Facebook or Twitter.
Extended Soundtrack featuring songs from Voice of Addiction, Sink Alaska, Beta, Hitplay!, Moovalya, We Outspoken and Melodic in Fusion.
Ability to purchase experience points using in-app purchases.
Fantastic Farm (Windows Phone 7 and 8)
Regular price: $1.99 Sale price: $.99 Download size: 59 MB Store Link
Want a time management/simulation game that's kind of like the Farm Frenzy series? Well here you go! This one has a bit of a story, some questionable art, and even magic spells for some reason.
Features:
Over 150 levels across five game modes
Earn trophies for achievements
6 different plants, 4 animals and 3 machines
Enchant items with your magic cauldron
MusicStation (Windows Phone 7 and 8)
Regular price: $5.99 Sale price: $2.99 Download size: 6 MB Store Link
If you're an actual musician or student of music, perhaps this app will strike a chord with you. MusicStation provides a library of 63 scales and 59 chords for players to browse and reference. All of these scales and chords can then be played through the app's piano or guitar.
Also features:
A Circle of Fifths
a chromatic tuner
a metronome with sound, led and including tap, beat per measure and subdivision functions
RaveIT Pro (Windows Phone 7 and 8)
Regular price: $1.99 Sale price: $.99 Download size: 5 MB Store Link
Want to create your own electronic music and save it as a ringtone? Sure you do, Mr. Creative. This one also comes in a free version with reduced features, so give that one a look if you prefer to try before you buy.
Features:
Save as ringtone
Record your own samples
Unlimited saves to SkyDrive
Change pitch (32 levels)
From 16 to 128 tabs
Save/load tracks
Up to 10 Channels
2 UI modes
Noise reduction filtering
91 sample
Shake your phone to clear the tabs
40 - 250 BPM
Get the Windows Central Newsletter
All the latest news, reviews, and guides for Windows and Xbox diehards.
Paul Acevedo is the Games Editor at Windows Central. A lifelong gamer, he has written about videogames for over 15 years and reviewed over 350 games for our site. Follow him on Twitter @PaulRAcevedo. Don't hate. Appreciate!
Mush is a fun game but has been sitting in my backlog for a while now thanks to a bunch of deals over the past few months. So many games so little time!

You could knock the whole thing out in 3 or 4 hours. Don't put it off forever!

Thanks Paul...That's good to know...Final Fantasy 1 and Zuma's Revenge have my WP gaming locked up right now but I'll be sure to play it next.

Yeah, it's the one big disappointment... nice game... too short!

That's it ? Oh, I'll have to finish this one so I can clear up some space...

Patiently waiting for a red stripe FF3 deal. Can anyone tell me if Final Fantasy 3 has cloud saves? Thought I saw such feature when it booted up (trial)

No u hav save states and saving system is not very approving u can save only in the map

You could save in the town inn too im guessing.

Yeah, anywhere but inside of buildings, caves, dungeons, etc.

Quick saves and save states are 2 different stories

Hate that MS Studio never published Mush and 9 others games in here!!!!

I don't understand. Isn't Microsoft Studios the publisher of Mush and isn't it here? Anyway, Mush is totally worth $.99 just to be able to download as a ringtone the catchy theme song.

I'm still bitter that Mush was never released on the Zune HD like it was initially planned.

Hey Paul dungeon hunter 4 is optimized for 512mb in new update so better be a article on that.

That's what I'm working on right now.

This routine is getting old.

what is that? Red stripe deals, or no Xbox games?

I got nightmare game full version free a few months ago . Good game

Highly recomment "Nightmares from the Deep: The Cursed Heart" - really goog game. And extraordinary quick loading. It costs more then 2 bucks :)

Update for my homies: Skateboard Party 2 does support the MOGA controller!

Anyone with 1020 playing Skateboard Party 2?? How it works? How's frame rate? I love Skateboarding games and this one looks nice but there is no option to try it so it would be nice if someone with 1020 can help me.
Also does it work in native 720p? Thanks

I absolutely love artifex mundi games!but does anybody know any other hidden objects games?would love to try them out