Must have app Amazing Weather HD updated for Windows Phone 8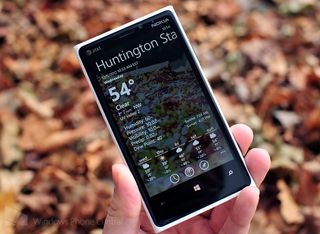 One of our favorite weather apps around here, Amazing Weather, just got bumped with some Windows Phone 8 support to version 4.0. Now appropriately titled Amazing Weather HD, the app weighs in at an impressive 80MB. Reason? It's all of those fancy high-resolution animations.
Amazing Weather HD features what can be best described as subtle animated GIFs (though technically they are HD videos) in the background of the weathercast. For instance today we have a pile of leaves, some of which are twitching slightly in the wind. On other days you will have rain falling or light snow blowing—it's some very pretty stuff. But if photo-realism isn't your thing, the developer has also embraced two Metro UI themes in dark and light choices. That style is flat with just the "just the facts, ma'am" approach Windows Phone users are used to...
The Live Tiles also now come in three sizes: tiny, regular and doublewide, in addition to having their graphics up-scaled for the new higher resolution devices. Text and imagery are now much sharper looking with the updated Tiles.
Unfortunately for this release, developer EizSoft did not go for lock screen temperature, billboard forecast, or lock screen wallpaper. We're sure that's probably coming down the road but you won't get those coveted WP8 features in this update.
Other than that, Amazing Weather HD has the usual gambit of options: location-based weather that always updates based on your GPS coordinates, multiple pre-defined locations, notifications for severe weather, animated weather maps (radar, satellite IR4, visibility), hourly weather and charts. Launch time of the app hedges right at 2 seconds from tap to viewable forecast, which is quite fast in our books.
While there are some other great forecast apps out there, Amazing Weather HD is easily our top. You can pick it up in two versions free and paid ($1.49). Currently only the paid one has the update though we expect 'Lite' to get it as well.
Amazing Weather HD will work on Windows Phone 7 and 8 devices. Highly recommended.
Windows Central Newsletter
Get the best of Windows Central in your inbox, every day!
Daniel Rubino is the Editor-in-chief of Windows Central, head reviewer, podcast co-host, and analyst. He has been covering Microsoft since 2007 when this site was called WMExperts (and later Windows Phone Central). His interests include Windows, laptops, next-gen computing, and for some reason, watches. Before all this tech stuff, he worked on a Ph.D. in linguistics, watched people sleep (for medical purposes!), and ran the projectors at movie theaters because it was fun.
I love the tile size choices! Wonderful implementation right there. Never thought I would pay for a weather app but this developer deserves to be rewarded. Can I assume the paid version doesn't have ads?

Assumption correct. No ads in the pay version, which is what I opt for.

Yeah, that's proper use of the tiles there! Happily pay something for this.

You know it would just be killer if they had a way to play those HD videos on the live tile... :O

We need weather flow to take full advantage of my 920's display...

i recently spoke to the developer who said that Weather Flow's update was submitted on 11/29. i hope to see it soon. He allowed me to see some previews of the app and it looks great. It actually looks similiar to Amazing Weather HD but BETTER! If I were you I'd hold out. TRUST ME!!!

Yay!! Thanks for the info. I hope it comes soon.

Okay. It's been way too long. It better come next week.

"Unfortunately for this release, developer EizSoft did not go for lock screen temperature, billboard forecast, or lock screen wallpaper. We're sure that's probably coming down the road but you won't get those coveted WP8 features in this update."

In my book this is not a must have app due to this exact reason

Seriously? With all the other features of this app, not to mention compatibility with the HD displays of newer, Windows Phone 8 devices, you still think it's lacking because of what, no lock screen integration?

Not to mention there isn't a single weather app on the Store with that functionality enabled, making it a wash in terms of direct comparison.

Really. How many times have we heard that the most important feature is to ship? Ship it now and then add features in updates.

I am not saing it's lacking, it's just not a must have

Sadly there is no option for a 24 hour clock in this app...

Oh, that is a bad miss. Thanks for warning about that.
it might sound silly, but when you have watched 24h clock, like most of us are used to, it's weird to use any other.

Correction the app launches in 1.5 sec according the the developer. And Daniel question, do people in east coast get faster update numbers in marketplace live tile because I didn't see any number change there here in west coast.

Nah, we just knew the update was coming as the dev is active in our forums. We just periodically check.

Thanks for the reply and I have otherquestion, i have wp7 running the tango version but for the windy animation, there is a one sec delay with black blank screen when it tries to replay the animation. Did you notice this on wp8???

Nope, smooth as butter here.

Yes, I'm told they are working on the lockscreen features for a future release. :)

In the meantime, it's a GREAT update. I've been previewing it for a few weeks now and love the speed on the 920.

Been beta testing it for a while. Hope ya'll enjoy it as much as I have

Best weather app I've used....loving it on my 920

Do these apps drain batteries? I see weather apps running in the backgroud with 7.5 but I'm not sure if it is a major hit with batteries. Since I haven't heard really good things about 920's battery life.

Regarding "notifications for severe weather", are these push/toast notifications? This is essential when we have severe weather around here.

Its not the toast notification, but for better or worse, it shows you from the live tile with exclamation on the right top side of the tile.

Bummer.. toast/push notifications are ideal when tornado warnings are issued.

Seriously. Good thing I don't download a lot of games otherwise I'll run out of internal storage.

the HD animation gifs take up a lot of space according to the posting

Hi there, we are extremely grateful for this wonderful review and the heartful comments! We've been working hard to bring out the best weather App, and it's just the beginning! The highly anticipated feature is already in the works but we're having technical difficulty in regards to the background agent updating the live tiles and the lockscreen at the same time :( We also have a new trick up our sleeves for the live tiles to mix and match the front and back tiles.
Again thank you very much for your support, don't forget to review the App.

PS: The animations are HD videos not just GIFs !

Hi, great app. Can I make a small request? For the double wide tile, can you give us the option to a have a 2/3 day forecast on the back when it flips over for the realistic style? I think that'll be more useful for some people like me. Thanks!

Hi mate, noticed music can't be listened to while opening the app any chance this can be fixed whip still using the HD animations in the future?

Also noticed that music is stopped when you open the app. I don't know, but I suppose that the HD video backgrounds run as a "video" and only one video or audio source can run.

I was thinking the same thing. It's as if people don't want ANYONE making any money. They want free with no ads and awesome quality. Ugh.

Dude, I spent more on a medium ice tea at Chick-Fil-A this morning.

How much did you pay for your phone? Less than $1.49?

Your time must be worth much less...

Sign up for Bing Rewards. You can redeem credits for money to use towards apps and games for Windows Phone 8.

Unfortunately the new version doesn't display the current temperature on the small-sized live tile. It doesn't display weather conditions like "Chance of Rain" either. This is a bummer. One thing I really dislike about Windows 8 is a lot of app developers, including Microsoft assume we are all blind, and make the small-sized live tiles almost useless. Screen real estate at the top of the Start Screen is precious, so now that I have to have a medium-sized tile for Amazing Weather, I've moved it "below the fold".

"...the small-sized live tiles almost useless."
Dude, I hope your speaking for yourself with this comment, because I find the small-size to be totally great!!! Most of my tiles are the small tiles. They are absolutely useful to me!!!!

I like the small size too because I can fit a lot more on the screen without scrolling. That's why I want the small size tiles to display the same information as the medium sized tiles. Before this Amazing Weather update that was the case, but now the small tile displays less information. What's the point in the downgrade? I don't want my small tiles to be simply icons like an iPhone, yet that's what Microsoft has done with a lot of their apps.

Agree with OP. Too many devs decide to make the smallest-sized live tile a static icon instead of showing any info at all. Not cool.

Anyone having trouble getting the live tile to do anything? I have uninstalled twice, toggled the live tile in settings, and pinned unpinned a few times as well. Don't know what else to do I'm sure there's something lol.

How did you add the live tile? Go into the app, select the location that you want, then choose Pin. It will give you three options for the live tile content. Select the one you like and you should be good to go. If you just pinned it from the app list, I think the tile is static (at least that was my experience).

Thanks that did the trick!!

I think you have to wait until it updates normally. I have mine set to update every hour, so I'll check back in a bit and let you know what happens.

Ericr42, his suggestion worked check it out right above your comment.

Live tile doesn't work on my 920 either. Running trial version.

Ah, read further comments and pinning from the app corrects the live tile issue. Great App!

Are there any other weather apps that can show current conditions and forecast on the current GPS-based location on the live tile? I tried Weather Channel and AccuWeather and don't see any way to accomplish this. They can pull up current location in the app, but the live tile seems to be based on a predefined location.
If this is the only app that can do that, it is reason enough to select it over the competition in my mind.
I would like to see a version without the HD animations that has a smaller footprint. I don't need the fluff, just the functionality ;-).

Weather Live updates according to GPS location as well. But, yes it's good to see Amazing Weather updating for WP8. Great app and great support.

This program USED to allow GPS location on the live tile...it stopped working on this update. It used to let you add current GPS location as your city and then PIN it...no more.

See below. Toggle the 'Show current locations (GPS) in Settings/General.

Great app.. I happily paid for it to support the dev..

Been looking for a weather app like this! NICE!

Yes, when you select GPS check from settings, the app will show you an auto GPS station, and when you pin it it will update the location then the live tile every hour so it won't affect battery.

Had to toggle this setting after the update to make GPS tile work again. Also all cities/stations disappeared after the update. Otherwise brilliant app, been using for nearly a year and it's improved immensely.

Now I just need a update for metro tube and all my live tiles will be the correct resolution

I love the realistic tile, but is there a way that it can show forecast as well? Maybe on back of tile?

Just purchased! Really looking forward to future updates based on some of the devs comments!

Can't wait to get home to try it...Verizon won't let me download it over their network so I have to wait for Wi-Fi after work.

I am a 99 cent guy. I truly believe more apps would sell if they were priced at 99 cents. This app would have to sell 1.5 times better to make up for the price difference, and I truly think it would. That said, the tile choices blew me away. I am totally buying this, but I never would have even bothered to look had I not seen it listed here on WPcentral

99c for a standard app...I agree
This app has some exclusive features & work put into it....I gladly spent the extra 50c to do my part for the WP8 dev community

You seriously can't spend that extra $0.50 that's probably on the floor in your house? Cheapskate ássfucker

You clearly didn't read my post. I bought the app, making your retort seem nothing but ignorant. I was merely saying that I feel these apps would sell way better (enjoy more than 1.5 times the downloads) if they were under a buck. The huge devs like Rovio get it. Its the Hershey model.

I appreciate these app reviews that you guys do on a consistent basis. I've been in the Windows Phone ecosystem for less than a week and articles like these are really helpful for finding those "diamonds in the rough." I was looking for a great double-wide weather tile...the search is over!

Welcome and glad you're enjoying our work!

Thanks for the review. For now I'll just add it to my ever growing list of must have Windows Phone apps. Still waiting on the Samsung ATIV S to make the switch from my beloved Galaxy SIII.

Also an update to Fix the app when the device is set to light theme is coming soon :)


HTC 8x - App runs fine looks great.. only issue. LiveTile just a colour themed square in large format.. static image for normal and small tiles..


Please pin the live tile from within the App :)

Is it me or is the GPS function different with this update? I used to be able to add a current GPS location as a city and then PIN that to start, where the live tile would update every hour and show my current location. Doesn't seem to work now...

Try to unpin, then go to settings and check the GPS option again, it might be a corrupt data due to update sorry for this.

Yeah, I unpinned first and tried again and it didn't work. So I uninstalled and reinstalled...went into settings, added the GPS option back and it is working...thanks...and great app!

This worked like charm!!! Thanks.

Love this app. Initially installed the trial to give it a once over. Decided to purchase, but no way to accomplish this from w/in the app itself. So, I uninstalled and sprinted to the Marketplace to reinstall the paid version. It downloads and before it starts to install it presents me w/ the dreaded Error code: c101a7d1. I've cancelled the install, bounced the phone and tried again to install the paid version and was greeted w/ the same error. Cancelled the download once more and installed the trial version again w/out issue. What gives?

This looks like weather flow

Can anyone speak to how this app and settings affect power consumption? Would updating the live tile (using GPS location) every 2 hours be something that will cause me problems? How does everyone have their's set to update?

hmm i went to buy it and it tells me i already purchased it, im guessing on my 1st gen wp. awesome.

Wow!!! That's so great!! I can't wait to mix and match because I love the information on the medium size tile with the current temp and the forecast but don't like how when I shrink it it doesn't show the current temp. Can that be changed?

Plz some one tell me what is the best weather apps in wp7?? Im currently using accu weather. I want a weather apps that update live tile every 1 hr very efficiently..... Plz help... :(

Live Tile still not working on my Nokia 920. Re-pinned to the start screen did not help.

the option to have a live radar on the back tile similar to the weather channel would be awesome. That live tile impresses more than any other!

I can confirm that to have the gps live tile or gps station the app needs to be uninstalled and reinstalled. Then pin your gps station to the start screen within the app. Your gps station is denoted with the dot in the circle icon, the same icon some thought were new for WP8!

I unpimnned, uninstalled, restarted the phone,re-installed, and then re-pinned, live tile still not workig on my Nokia 920.

Ah, missed the part about having to pin the GPS screen to the start menu, that works. Instruction within the app need to be clearer.

I know the tile setting has already been mentioned but I was coming here to gripe about the live tile not working. It works fine, you just need to learn how to set the tile. You need to set your weather location and in settings push pin. If you pin the tile from the app list, it will not set the live tiles.
I know this is mentioned in other spots in this thread but I thought I would bump how to set it. I love this app. First paid app for me and worth every penny.