Got a new Windows Phone? Here are your must have apps going into 2013.
Windows Phone Central Year Ending App and Game Roundup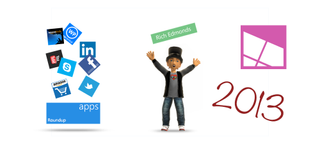 The New Year is soon approaching and with Christmas out the way it's time to look at filling your brand new Windows Phone with apps and games, but what are the 'must-haves' for heading into 2013? Windows Phone Central has now published highly recommend choices that offer unique functionality, features and experience for consumers.
In the roundup, we'll take a look at the apps and games that are worth the time and effort to download and try out. It's difficult to get lost or bewildered on the Windows Phone Store, especially with the catalogue of apps and games growing at a steady rate. There are gems that are often overlooked due to consumers opting for listings that are more prominent on the store. We've added our favourites, but note that there are many more out there.
Productivity
NAVIGON ($46.99 / $69.99 / $29.99): One of the more expensive, yet highly rated navigation apps for Windows Phone. NAVIGON is currently available in Australia, Europe and the US, with three separate apps available for each market supported.
Sporting text-to-speech, turn-by-turn navigation, route planning, offline maps and more make NAVIGON a worthy choice for those who are on the road often and require a bit more in terms of functionality and features. Using NAVTEQ mapping for drawing up all routes and locations, users can feel confident the app will get them from A to B.
NAVIGON can be downloaded from the Windows Phone Store. Three versions are available, one for Australia ($46.99), Europe ($69.99) and the US ($29.99). If NAVIGON isn't really for you, there are many other turn-by-turn clients, including the likes of Navigation.
Package Tracker ($2.49 / trial): Keeping on top of arranged deliveries can be relatively difficult when things go wrong or alternative routes are taken by drivers, but should you wish to make life easier (or simply to remind yourself as to what's expected to arrive any given day) there's always Package Tracker for Windows Phone.
Sporting not only a client for the mobile platform, but an app for Windows 8, users of Package Tracker will be able to synchronise content between the solutions available. Supporting more than 60 carriers, Package Tracker provides a useful service to those who require being up-to-date with deliveries and transfers.
Live Tiles are utilised to provide instant alerts and updates for any given package and the app includes a map for checking last known location and scanning functionality for barcodes, etc.
You can download Package Tracker from the Windows Phone Store for $2.49.
Weather Flow ($1.99 / trial): There's nothing worse than to be out and about when it starts to rain and there's no available umbrella. This is where Weather Flow for Windows Phone comes in, offering weather forecasts in an intuitive and stunning user experience. The app can provide weather readouts in the rich format (with animated background) or simplistic with a blank background and more emphasis on information.
The app also makes use of Live Tiles in all sizes to provide further details about upcoming days, but the real gem is the lockscreen integration. Not only does the app load the weather forecasts onto the lockscreen, but it also changes the wallpaper depending on the day's forecast. It's a well presented app from the developer of Cocktail Flow.
You can download Weather Flow from the Windows Phone Store for $1.99. As well as Weather Flow, Amazing Weather HD is also a superb app for Windows Phone that sports similar (if not arguably better) functionality.
Commerce
Amazon Mobile (free): Amazon Mobile is the official app from the online retailer, enabling Windows Phone owners to connect to their accounts and purchase products from the website. Searching, comparing prices, reading reviews and sharing products with contacts is all supported within the app.
While the interface leaves much to be desired, it does provide all relevant information for consumers to make decisions on which items to go for. An Amazon barcode scanner is also included in the official solution, which is accompanied by full account access, which includes existing shopping basket, wish list and 1-Click settings.
You can download Amazon Mobile from the Windows Phone Store for free.
eBay (free): The massive world of eBay is available on Windows Phone in an intuitive, functional app. Available on the store for free, eBay enables those who hold registered accounts to manage bidding, buying and selling on the website. Should you wish to stay on top of account management while on the go the eBay app is a must-have.
The Live Tile support provides users a quick insight to whether a current bid has been relegated, or if a purchase and sale has been made. Searching through the app for listings is relatively straight forward and messaging is presently available for communication to take place between eBay users.
You can download eBay from the Windows Phone Store for free.
Groupon (free): While consumers can't get anything for nothing, Groupon does provide means to slash prices on food, products, places to visit and more. The service boasts a number of enticing deals that can be utilised by those who wish to save some money when heading out and about.
The app for Windows Phone sports such functionality to allow payments to be made straight from the device and purchased Groupons are displayed with location and expiration dates. The Groupon service itself is available in more than 500 cities around the world, which makes it a handy app for anyone to own.
You can download Groupon from the Windows Phone Store for free.
Media
Photostream (free): Lockscreens are a personalised welcome experience for anyone who uses a smartphone. It's also a way to show off a public view of the Windows Phone without revealing any information or details about the owner, but leaving enough clues for someone to form a quick guess on the likes, dislikes and personality of said person - they say pictures can say a number of words, right?
Photostream takes the new customisation options for lockscreen wallpapers to the next level by offering Flickr and 500px integration. Users can choose from a variety of categories, depending on current mood or likes and the ability to lock a wallpaper for some time is present, just in case you come across an image you happen to be particularly fond of.
You can download Photostream from the Windows Phone Store for free.
Fhotoroom (free): Fhotoroom is a photo editor for Windows Phone. The app is focused on post-enhancing images taken by a Windows Phone, utilising technology such as their custom EV, Grid and Level come together to extend the ability of the camera. Over 50 different filters are available for application on photos, while 18 powerful effects are on hand with over 50 styles and 27 custom designed frames.
It's an interesting app that helps make the most of photography when it comes to Windows Phone. Social integration is available through the submission of photos to networks for others to check out. Do you own a super-duper DSLR to snap the perfect shot? No? Well your Windows Phone and Fhotoroom may well be up your street.
You can download Fhotoroom from the Windows Phone Store for free.
Audible (free): The company by Amazon enables one to listen to a wide range of books available in the catalogue. The digital audiobooks are available on Windows Phone through the official app, which is listed for free. It enables one to download from an Audible library, detailed listening stats, access to the Audible mobile store, and more.
Perfect for long journeys and times where headphones and a cup of tea are required on a cold Sunday afternoon. The Audible app sports bookmarking, sleep mode, button free mode (speech recognition and commands), as well as play as books are downloading. Social integration is also included with links to Facebook and Twitter for users to share what they're currently listening to.
You can download Audible from the Windows Phone Store for free.
IMDb (free): Everyone should know of IMDb if they're into films, video games and television. The website is a library of media where actors, production crew personnel and fictional characters are listed, discussed and pictured. It's one of the more popular online movie databases and has an official app for Windows Phone.
The app itself enables users to view showtimes, watch trailers, browse photo galleries, receive US TV listings, find latest DVD and Blue-Ray-ray releases, explore popular charts and share movie information. The top charts are present, while all information stored on servers are accessible to anyone with the app loaded.
You can download IMDb from the Windows Phone Store for free.
Metrotube ($0.99 / trial): Checking out YouTube videos on a Windows Phone can prove difficult should you be unaware of any third-party apps that are currently available. Metrotube is one of the best Windows Phone YouTube apps to-date, sporting an intuitive simple user interface while retaining much of the features a frequent YouTube user would expect to see.
Live Tiles are utilised with double-sided notifications, and those with accounts can login and access all areas that are present on the website. Playlists, favourites, and the ability to share with friends are all part of the package. It's one of the best experiences to view YouTube videos on Windows Phone.
You can download Metrotube from the Windows Phone Store for $0.99.
Netflix (free): Netflix is a service used for subscription-based television and movie viewing, and a Windows Phone app is available that enables streaming to any supported device. Should you already own a Netflix account, thousands of TV episodes and movies can be streamed to the Windows Phone.
Featuring a simple, but easy-to-use interface, Netflix enables users to search and watch the entire collection of content that's available on the website. An interesting feature is the ability to resume watching a movie or episode on one device and then continue where left off on another. Perfect for use when traveling home to resume playback on the big screen.
You can download Netflix from the Windows Phone Store for free.
PODCASTS! / Pro (free / $1.99): PODCASTS! comes in two versions, one free and the other a premium offering. The apps enable Windows Phone owners to tune in and stream podcasts (both video and audio-only). The service doesn't require a connection to PC prior to loading the shows, which can be viewed over both WiFi and mobile connectivity.
Podcast playback has been a concern for many on Windows Phone where the store doesn't enable any way for such media to be synchronised onto hardware not in the limited number of supported markets. PODCASTS! allows users to subscribe to feeds, download episodes for offline viewing / listening and more.
You can download PODCASTS! and PODCASTS! Pro from the Windows Phone Store for free and $1.99 respectively.
Social
Rowi (free / $1.49): Twitter is a popular social network that millions of users log into each and every day. While Windows Phone sports unique integration with said web services, it's a requirement to use a Twitter app to enjoy a full experience. There's an official app available for Windows Phone, but we've got a few third-party favourites.
Rowi is one of them, with it's incredibly good looking layout and interface. The app ensures that using Twitter on a Windows Phone is an enjoyable experience, but a short one at that so consumers can spend less time on the smartphone. Instead of going all out to pump as many features into the app as possible, the team has developed a simple, yet efficient client.
You can download Rowi and Rowi [lite] from the Windows Phone Store for $1.49 and free respectively. Should you require slightly more from a Twitter client, be sure to check out glƏƏk!, which is a popular app with similar functionality but many twists.
Facebook (free): There's little more important than keeping in touch with friends and family when using an Internet capable mobile phone, and Facebook is generally the top destination for many consumers. Microsoft has developed an in-house Facebook app that offers a unique experience to Windows Phone owners.
Complimenting the integrated social experience, which already enables the viewing of photos, pulls down information for contacts, etc. the Facebook app opens up the rest of Facebook in a single location. This makes it much easier to browse around the network and keep in touch with others. The app also sports Live Tile functionality, as well as lockscreen integration.
You can download Facebook from the Windows Phone Store for free.
4th & Mayor (free): This free Foursquare app provides Windows Phone owners a clean and simple interface for check-ins and interaction with friends to take place. Taken your new smartphone somewhere new? 4th & Mayor will ensure it gets recorded with all the necessary information for friends to know where you've been.
Live Tiles and toast notifications are supported for users to be updated with new check-ins. Searching for nearby locations is fairly easy too. Overall it's a nice and simple client that enables users to get in, sort out location-based stuff and get on with life. A must-have for anyone who uses Foursquare.
You can download 4th & Mayor from the Windows Phone Store for free.
Baconit (free / $1.99): Baconit is a popular, and well rated Reddit app that pulls down all content from the popular news source. For those who aren't aware of Reddit, it's a massive community where users submit links and content of interest. Topics include events, politics, technology, gaming, humour and more.
Sporting not only an intuitive and pleasant interface, Baconit also takes advantage of Live Tiles in Windows Phone. Subreddits and stories can be pinned to the start screen, which are updated nightly. All Reddit functionality and features are present within the app. It's a useful app where users can add comments, rate stories, message other members, and load all submissions quickly.
You can download Baconit from the Windows Phone Store for free (a 'donation' version is also available).
Gaming
Wordament (free): The Xbox Windows Phone game Wordament is a free word puzzle title that puts all players against one another in a two-minute tournament. Each player competes in real-time, on the same board, against everyone else playing. Each round is unique and offers challenges or optional goals that add extra points to the end score.
The object of the game is to find as many words as possible in the grid of letters. The only downside is each letter has to be joined to the corresponding follow-up to create the words. It's a difficult game when the brain freezes and no words can come to mind, but is highly addictive and bags of fun. Warning: you'll need more than two minutes as your eyes wont want to leave it.
You can download Wordament from the Windows Phone Store for free.
Rainbow Rapture (free / $1.49): Rainbow Rapture is an indie game by Kindling Games that puts the player in control of a rainbow that glides, bounces and slides across a world in need of cleansing. He's basically upset with Humanity and has decided to wipe them from the planet. The landscape is of both countryside and metropolitan areas.
The object of the game is to keep rainbow in the air and last as long as possible. The rainbow bar on the left decreases continuously and rainbow slows down while he remains on the ground. It's an addictive game that can be played among friends to see who can achieve the best score.
You can download Rainbow Rapture Free and Rainbow Rapture from the Windows Phone Store for free and $1.49 respectively.
Trine's Hangman (free / $0.99): Arguably the best hangman game available for Windows Phone, Trine's Hangman is a feature-rich title that boasts scoreboards, accounts, addictive gameplay and more. It's hangman, but much more. As well as attempting to guess the correct word before the poor sod is hung, points are awarded for a variety of bonuses.
These points are then added to a personal profile that's used to rank up in the leaderboard. It's not only addictive for the gameplay, but to improve the ranking of said profile too, which makes Trine's Hangman a title that many return to countless times.
You can download Trine's Hangman and Trine's Hangman Pro from the Windows Phone Store for free and $0.99 respectively.
Sport
ESPN (free): The official ESPN app for Windows Phone is a breath of fresh air for sports fans who require their handset to keep them up-to-date with latest news, scores and fixtures in a variety of sports. Basketball, football, hockey, cricket, racing, tennis, gold and more are supported in the ESPN app.
The app allows users to add favourite teams to follow which helps cut down on irrelevant content. Live Tiles are utilised to provide quick-glance information on any pinned team. It's a solid offering from a popular destination for those who enjoy sport. If you're into ESPN then their official Windows Phone app is definitely for you.
You can download ESPN from the Windows Phone Store for free.
Sky Sports News (free): Sky is also offering a free Windows Phone app for its online sports services. Sky Sports News, much like the ESPN app above, is a news, fixtures and results solution that helps keep fans in the loop on what's happening. The only downside is the limited number of supported sports: Football, Cricket, Rugby Union, Rugby League, Golf, Tennis, Formula 1 and Boxing sections.
Sporting the usual Sky interface (which isn't appealing at its best on the big screen) is featured in the Windows Phone app, as well as familiar iOS-esque icons and UI elements. It's not as feature-rich as the ESPN app, but gets the job done and is the official app from Sky.
You can download Sky Sports News from the Windows Phone Store for free.
News
BBC News Mobile (free): The BBC News Mobile app for Windows Phone is an unofficial client that pulls down the latest headlines from BBC News. As well as the top stories, the app also displays images from the photos blog. Users are able to read articles within the app or via Internet Explorer.
Voice integration is presently available for articles to be read out loud, and Live Tiles are supported that display the latest updates. The user interface is fast, responsive and clean. It's a simple client, but effective at carrying out tasks to ensure users are able to read the news in a good looking UI.
You can download BBC News Mobile from the Windows Phone Store for free.
CNN (free): The official app from CNN enables Windows Phone owners to stay informed with the latest headlines. Breaking news alerts and live video are present in the app, as well as a variety of topics to suit everyone's needs. CNN iReport allows users to upload photos and video directly from the app to contribute to a story.
The CNN app supports Live Tiles that show the latest headlines while on the go and font sizes can be altered when configuring settings. Like other news sources, the stories are pulled down from the cloud and displayed in a simple, yet effective interface. There's little to get in the way of the consumer and the breaking news.
You can download CNN from the Windows Phone Store for free.
USA TODAY (free): The USA TODAY app for Windows Phone is a superb looking client. Showing the latest weather report for a set location (US-only), the app also sports an intuitive and attractive colour scheme to separate the categories covered by the news source. Windows Phone owners can read up on news, money, sports, life, tech and travel.
Again, Live Tiles are supported. Sport is also covered with NFL, MLB, NBA, NHL, MLS, college football and college basketball all supported with the latest headlines appearing in the feed within the app. It's a solid choice for anyone looking to stay up-to-date with news.
You can download USA TODAY from the Windows Phone Store for free.
Windows Phone Central ($0.99): What sort of roundup would this be without our own Windows Phone app? Should you be interested in Windows Phone and wish to keep up-to-date with the latest headlines, be sure to download our app. It sports commenting and account support, as well as access to the community forum within the intuitive UI.
You can download WPCentral from the Windows Phone Store for $0.99.
While this is by no means a definitive list that will cater for all needs (you may know of an app that should have made the list), but if we were to roundup every single app worth mentioning from the store, we'd be here for a very long time indeed. Let us know your favourite apps in the comments.