My first 24 hours with Microsoft HoloLens and awesome things I learned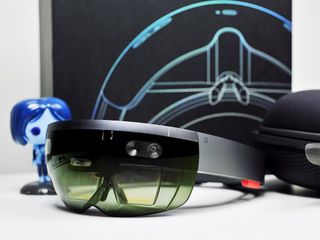 Last night I finally had the opportunity to sit down and use the Microsoft HoloLens in the privacy of my domicile (if you missed my unboxing you can see that here). There were no (super friendly) HoloLens staff to guide me through the process, no fancy demos just me using HoloLens at my leisure.
Seeing as I am not a developer you may wondering what can you even do with a HoloLens? It turns out there is a lot and also not much at the same time.
Note: The above video is of even worse quality due to using a post-edit stabilizer to help smooth it out.
It's Windows 10
As I noted in my unboxing video, the Microsoft HoloLens runs Windows 10. Granted, it is like Mobile with its unique aspects but at its core, it is 100% the same base OS (currently, it is running build 11082.1033). You can see parts of the OS peek through in things like Settings, which have the same layout as the version on your PC (but with HoloLens features). Or the Store.
In fact, since HoloLens can run any app for Windows 10 you can just download them to the device and enjoy them even without any fancy hologram features. Here are a few things I have already downloaded:
Windows Central App
Baconit
myTube
The Guardian
Weather
News
Moodflow
Tweet it!
Photos
Microsoft Edge
Granted, not all apps for Windows 10 can run e.g. the official Twitter app. However, this option is left to the developers. They check a box when submitting the app to allow it to be run on the HoloLens, but in reality, any 2D app for Windows 10 can run on the device.
Image 1 of 4
Sadly, I have not yet tried Skype. While the app logs me into my account it gets stuck noting that it is "loading my contacts...this could take awhile". Well, it has been over a day now and that is all I have seen. Hopefully, that will get fixed in an app update.
Finally, you can pin apps to your main Start screen as well as remove apps and games via uninstall. This behavior is exactly as expected and reflects how Windows 10 on PC and Mobile work too. You can even update apps through the Store.
Can it play video?
Yes. You can fun YouTube through Microsoft Edge, run a dedicated Windows 10 YouTube app like myTube, or even play a video embedded in one of our articles through our Windows Central app. You can resize the video within limits, and the audio is excellent due to the high-quality speakers on the HoloLens.
What about music?
HoloLens supports background audio. That ability means you can use music apps (I tried Moodflow) to play music and navigate away to other apps while the audio keeps playing in the background.
Groove Music and Pandora should do the same, but for right now those apps are not available to download.
Can you take photos and videos?
As you can see within this article, you can take pictures or video at any time. You just use the 'bloom gesture' to get to the Start screen and choose photo or video. While recording a video you see a little [REC] in your upper left corner to let you know you are recording.
To be clear, the photos and video that come off are not the best quality. The video is at 720P, so that is not too bad but the photos are shot at f/2.8 (1408 x 792, 72 dpi) and feel more like video captures with a lower resolution hologram overlaid. It gives you an idea of what a user sees but the screenshot is a much lower quality than what you experience when using it (hence the jaggedness).
Some limitations include not being able to take photos while in a video game or Skype. Still, it is super convenient to use, and it gets the job done.
How do you get photos and videos off of the device?
There are a few ways you can get media off of the HoloLens:
Share video to Facebook or YouTube directly
Share photos to Facebook or Twitter (it has native Twitter support for sharing, which is interesting)
Once the Photos app is opened pictures and videos get uploaded to your OneDrive automatically
Surprisingly, plugging it into a Windows 10 PC does not seem to do anything right now regarding access as a drag-n-drop system.
After you take a photo or video HoloLens shows you the media and gives you an opportunity to directly share right at that time, which is a nice touch. It even pre-writes 'Shared from my HoloLens', which in this case is a sure fire way to generate envy amongst your peers!
How is the battery life?
Battery life is actually not bad at all especially when you considering how long your average session will be with the device. Pushing two hours of constant uses though is a doable scenario.
Is it comfortable?
To be clear, HoloLens can get heavy on your head and after 30 minutes of usage, you may want to take a break. That's why battery life doesn't seem too bad. The chances that you will want to wear HoloLens for two hours or more without a break I would say are very slim. Your head will get tired and eyes may get tired too. (I forgot to mention there is an optional head strap that goes across the top of your head included in the kit. It helps with fatigue, but may not solve everyone's issues.)
It is important to think of HoloLens as a tool and not like a Microsoft Band (something you wear constantly). You pick up HoloLens when you need it for something particular or for a unique experience. As it is built right now, you won't be putting it on your head and walking around your house for hours. That may change down the road as the technology improves and demand for certain experiences increases, but at a v1.0 it is still a job-specific device, and that's just fine considering how new it is to the world.
But you can game on it
There are three holographic games available right now in the Store:
Young Conker
RoboRaid (aka Project X-Ray)
Fragments
All the games are super clever and they really demonstrate the power of HoloLens. The titles map out your room (which can be saved as a space in Young Conker) and the game mechanics make use of your walls, floors, furniture and for actual gameplay.
Young Conker is a platformer but since it is a 3D holographic world you are in the game. You control the main character through your gaze and do various silly things like collect coins, complete missions (like chasing paperwork around your living room), etc.
RoboRaid mixes first person shooting with robots that come out of your walls. You can read my previous experience with that game here.
Finally, Fragments steps things down a notch by being a mystery game where you work with various characters to help solve crimes.
Microsoft did a good job in providing these games as demos of the HoloLens platform. I could envision developers experiencing the power of HoloLens and 3D objects to help spur some creativity. Once again, I don't see many regular people using the HoloLens as is for gaming. But years from now when the tech is cheaper, smaller, lighter and better? There is no doubt. Microsoft is laying the groundwork for that future today.
Field of View?
I really cannot say the field of view is bothering me at all. You get used to it and since the new hardware improvements overall the experience is quite good. Honestly, at this point, I don't find it that big of a deal. It could be better, of course, but it is hardly bad right now.
The Clicker
Perhaps one of the biggest surprises I've had is using the HoloLens Clicker. The little device loops onto your middle finger and acts like a mouse-click to take action. You can use the Clicker in addition to or instead of the air-tap gesture.
The Clicker certainly makes typing much easier as you can just look at the letters on the keyboard and click with your fingers. You can also use it to scroll web pages or any documents with a click-and-hold motion. Since the Clicker has motion sensors on board, it acts like a magic wand where you can scroll things with the clicker in the air.
The HoloLens Clicker charges by micro USB and needs to only be paired to the HoloLens via Bluetooth. Once set up it is an indispensable tool if you are going to spend time in HoloLens.
What about a keyboard?
You can pair a Bluetooth keyboard to HoloLens for typing, and it works well!
What can you do with HoloLens?
The current version of HoloLens has an app called Holograms, and you can see it demoed in the first video in this article. It is a rather simple app that has a catalog of premade holograms including a few that are animated. You can place these holograms all around your room and adjust their size. Most are goofy like cartoon animals, weather clouds, googly eyes and more, but they do give you a real example of how holograms look as you can walk around and see the holograms from all angles.
Obviously, the point of the app is to inspire developers to create things.
You can, of course, run those 2D Windows 10 apps. Is there a benefit in running MSN News on your HoloLens versus your phone? Not likely, but as hologram-enabled apps become a thing you will see developers add HoloLens-specific functionality to apps bringing them to life. Either way, it is still neat to be able to run the CBS app and play video on your wall.
I also like the idea of how your HoloLens space e.g. your living room is your desktop. You can pin apps on the walls around you and they stay there until you return. Combined with the clicker and it does feel very much like Tom Cruise in the film Minority Report (2002).
Initial thoughts – It gets better
The first time you use HoloLens there is a lot to take in and learn about. You may want to stay in it for hours, but you will soon find yourself getting fatigued.
This infatuation stage though wears off and what you realize is HoloLens is a tool that you put on for specific tasks and experience. What I have found is the longer you have it, the easier it gets to use. I can grab the HoloLens, put it on my head, and wake it from Sleep (yes, it has sleep mode) in under 30 seconds, and I can begin whatever it is I need to do. That is how I envision people will use the holographic computer for some time especially in professional settings or in learning environments.
As HoloLens evolves, the hardware improves, more apps and game experiences get published, all of what I talked about will change too. Someday, we may sport small, wearable holographic glasses that help augment our reality. When that happens it is very likely Microsoft will be at the forefront of this computing revolution.
Windows Central Newsletter
Get the best of Windows Central in in your inbox, every day!