My first 24 hours with Microsoft HoloLens and awesome things I learned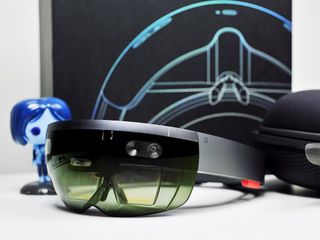 Last night I finally had the opportunity to sit down and use the Microsoft HoloLens in the privacy of my domicile (if you missed my unboxing you can see that here). There were no (super friendly) HoloLens staff to guide me through the process, no fancy demos just me using HoloLens at my leisure.
Seeing as I am not a developer you may wondering what can you even do with a HoloLens? It turns out there is a lot and also not much at the same time.
Note: The above video is of even worse quality due to using a post-edit stabilizer to help smooth it out.
It's Windows 10
As I noted in my unboxing video, the Microsoft HoloLens runs Windows 10. Granted, it is like Mobile with its unique aspects but at its core, it is 100% the same base OS (currently, it is running build 11082.1033). You can see parts of the OS peek through in things like Settings, which have the same layout as the version on your PC (but with HoloLens features). Or the Store.
In fact, since HoloLens can run any app for Windows 10 you can just download them to the device and enjoy them even without any fancy hologram features. Here are a few things I have already downloaded:
Windows Central App
Baconit
myTube
The Guardian
Weather
News
Moodflow
Tweet it!
Photos
Microsoft Edge
Granted, not all apps for Windows 10 can run e.g. the official Twitter app. However, this option is left to the developers. They check a box when submitting the app to allow it to be run on the HoloLens, but in reality, any 2D app for Windows 10 can run on the device.
Sadly, I have not yet tried Skype. While the app logs me into my account it gets stuck noting that it is "loading my contacts...this could take awhile". Well, it has been over a day now and that is all I have seen. Hopefully, that will get fixed in an app update.
Finally, you can pin apps to your main Start screen as well as remove apps and games via uninstall. This behavior is exactly as expected and reflects how Windows 10 on PC and Mobile work too. You can even update apps through the Store.
Can it play video?
Yes. You can fun YouTube through Microsoft Edge, run a dedicated Windows 10 YouTube app like myTube, or even play a video embedded in one of our articles through our Windows Central app. You can resize the video within limits, and the audio is excellent due to the high-quality speakers on the HoloLens.
What about music?
HoloLens supports background audio. That ability means you can use music apps (I tried Moodflow) to play music and navigate away to other apps while the audio keeps playing in the background.
Groove Music and Pandora should do the same, but for right now those apps are not available to download.
Can you take photos and videos?
As you can see within this article, you can take pictures or video at any time. You just use the 'bloom gesture' to get to the Start screen and choose photo or video. While recording a video you see a little [REC] in your upper left corner to let you know you are recording.
To be clear, the photos and video that come off are not the best quality. The video is at 720P, so that is not too bad but the photos are shot at f/2.8 (1408 x 792, 72 dpi) and feel more like video captures with a lower resolution hologram overlaid. It gives you an idea of what a user sees but the screenshot is a much lower quality than what you experience when using it (hence the jaggedness).
Some limitations include not being able to take photos while in a video game or Skype. Still, it is super convenient to use, and it gets the job done.
How do you get photos and videos off of the device?
There are a few ways you can get media off of the HoloLens:
Share video to Facebook or YouTube directly
Share photos to Facebook or Twitter (it has native Twitter support for sharing, which is interesting)
Once the Photos app is opened pictures and videos get uploaded to your OneDrive automatically
Surprisingly, plugging it into a Windows 10 PC does not seem to do anything right now regarding access as a drag-n-drop system.
After you take a photo or video HoloLens shows you the media and gives you an opportunity to directly share right at that time, which is a nice touch. It even pre-writes 'Shared from my HoloLens', which in this case is a sure fire way to generate envy amongst your peers!
How is the battery life?
Battery life is actually not bad at all especially when you considering how long your average session will be with the device. Pushing two hours of constant uses though is a doable scenario.
Is it comfortable?
To be clear, HoloLens can get heavy on your head and after 30 minutes of usage, you may want to take a break. That's why battery life doesn't seem too bad. The chances that you will want to wear HoloLens for two hours or more without a break I would say are very slim. Your head will get tired and eyes may get tired too. (I forgot to mention there is an optional head strap that goes across the top of your head included in the kit. It helps with fatigue, but may not solve everyone's issues.)
It is important to think of HoloLens as a tool and not like a Microsoft Band (something you wear constantly). You pick up HoloLens when you need it for something particular or for a unique experience. As it is built right now, you won't be putting it on your head and walking around your house for hours. That may change down the road as the technology improves and demand for certain experiences increases, but at a v1.0 it is still a job-specific device, and that's just fine considering how new it is to the world.
But you can game on it
There are three holographic games available right now in the Store:
Young Conker
RoboRaid (aka Project X-Ray)
Fragments
All the games are super clever and they really demonstrate the power of HoloLens. The titles map out your room (which can be saved as a space in Young Conker) and the game mechanics make use of your walls, floors, furniture and for actual gameplay.
Young Conker is a platformer but since it is a 3D holographic world you are in the game. You control the main character through your gaze and do various silly things like collect coins, complete missions (like chasing paperwork around your living room), etc.
RoboRaid mixes first person shooting with robots that come out of your walls. You can read my previous experience with that game here.
Finally, Fragments steps things down a notch by being a mystery game where you work with various characters to help solve crimes.
Microsoft did a good job in providing these games as demos of the HoloLens platform. I could envision developers experiencing the power of HoloLens and 3D objects to help spur some creativity. Once again, I don't see many regular people using the HoloLens as is for gaming. But years from now when the tech is cheaper, smaller, lighter and better? There is no doubt. Microsoft is laying the groundwork for that future today.
Field of View?
I really cannot say the field of view is bothering me at all. You get used to it and since the new hardware improvements overall the experience is quite good. Honestly, at this point, I don't find it that big of a deal. It could be better, of course, but it is hardly bad right now.
The Clicker
Perhaps one of the biggest surprises I've had is using the HoloLens Clicker. The little device loops onto your middle finger and acts like a mouse-click to take action. You can use the Clicker in addition to or instead of the air-tap gesture.
The Clicker certainly makes typing much easier as you can just look at the letters on the keyboard and click with your fingers. You can also use it to scroll web pages or any documents with a click-and-hold motion. Since the Clicker has motion sensors on board, it acts like a magic wand where you can scroll things with the clicker in the air.
The HoloLens Clicker charges by micro USB and needs to only be paired to the HoloLens via Bluetooth. Once set up it is an indispensable tool if you are going to spend time in HoloLens.
What about a keyboard?
You can pair a Bluetooth keyboard to HoloLens for typing, and it works well!
What can you do with HoloLens?
The current version of HoloLens has an app called Holograms, and you can see it demoed in the first video in this article. It is a rather simple app that has a catalog of premade holograms including a few that are animated. You can place these holograms all around your room and adjust their size. Most are goofy like cartoon animals, weather clouds, googly eyes and more, but they do give you a real example of how holograms look as you can walk around and see the holograms from all angles.
Obviously, the point of the app is to inspire developers to create things.
You can, of course, run those 2D Windows 10 apps. Is there a benefit in running MSN News on your HoloLens versus your phone? Not likely, but as hologram-enabled apps become a thing you will see developers add HoloLens-specific functionality to apps bringing them to life. Either way, it is still neat to be able to run the CBS app and play video on your wall.
I also like the idea of how your HoloLens space e.g. your living room is your desktop. You can pin apps on the walls around you and they stay there until you return. Combined with the clicker and it does feel very much like Tom Cruise in the film Minority Report (2002).
Initial thoughts – It gets better
The first time you use HoloLens there is a lot to take in and learn about. You may want to stay in it for hours, but you will soon find yourself getting fatigued.
This infatuation stage though wears off and what you realize is HoloLens is a tool that you put on for specific tasks and experience. What I have found is the longer you have it, the easier it gets to use. I can grab the HoloLens, put it on my head, and wake it from Sleep (yes, it has sleep mode) in under 30 seconds, and I can begin whatever it is I need to do. That is how I envision people will use the holographic computer for some time especially in professional settings or in learning environments.
As HoloLens evolves, the hardware improves, more apps and game experiences get published, all of what I talked about will change too. Someday, we may sport small, wearable holographic glasses that help augment our reality. When that happens it is very likely Microsoft will be at the forefront of this computing revolution.
Daniel Rubino is the Executive Editor of Windows Central, head reviewer, podcast co-host, and analyst. He has been covering Microsoft here since 2007, back when this site was called WMExperts (and later Windows Phone Central). His interests include Windows, Microsoft Surface, laptops, next-gen computing, and arguing with people on the internet.
Hey! Let me borrow that thing this weeked! LOL Seriously, though, great read. It makes since how it should only be put on and used for specific uses as a tool. Great for a surgeon needing help from another surgeon a thousand miles away, etc. Great for certain classroom lab situations. So much it will be able to do.

I can think of some very interesting things to do with it on weekends(you know what)!

"P" as in Prank you say!?

"You can fun Youtube through.." Run.

Just as expected: Your comment

It hasn't been released to the masses, it's a developer thing. This comment is the very reason they started with developers first. Posted via the internet

why would you need blank white walls and no decoration? you do know that holograms can completely cover your environment?! :P Decoration or colored walls shouldn't be a problem ;) Posted from Windows Central for Windows 10

You must be reading the wrong article... It can run all apps that are in the Windows 10 Store except apps that the developer has chosen not to work. There is also music and Daniel talks about listening to music in the background in the article...

Ah, you are daft... Nevermind then. Posted from Windows Central for XL

I'm glad you realize how stupid you look. Posted from Windows Central for XL

Spotify does not have UWP.

What the heck are you goin on about? "As expected"? Way to show your hand there Spiffy. The Hololense was just released to developers, do you understand what that means? It's not even a thing yet! It's still being defined. I think you need to take some perspective before commenting because it just comes off as defensive when there's zero need to be. Makes your comment drop to the relm of fanatic.

i'm am so jealous of Daniel right now. what I would do for a demo!

Spend $3000 for the device and play with it anytime you want. Hopefully it will even get software upgrades and new apps as and when they become available for this device

If you get to try the new galaxy app when its out and mission mars just let us know the experience.

Yup, as soon as those are available (or I compile the Github release), I will. I heard Mission Mars is 'meh', but we'll see.

Yea upto you, as a cosmos fan just want a glimpse of what Mission mars is like :)

You need to proof read. 3-4 mistakes throughout.

He probably did the writing and proofreading using the HoloLens. If so, then it is still acceptable.

Galaxy Explorer is available ready-to-use (no need to download source and compile) from the Windows Store :
ms-windows-store://pdp/?ProductId=9NBLGGH4Q4JG You might also wanna keep an eye on HoloTour, the Store page is up but not available for download yet :
ms-windows-store://pdp/?ProductId=9NBLGGH5PJ87 And it seems you didn't try HoloStudio :
ms-windows-store://pdp/?ProductId=9NBLGGH5GGL9

Thanks, odd they didn't have Galaxy Explorer under the 'Made for HoloLens' area.

It looks like you're placing the holograms. Is there an option to place them automatically on a surface? Just curious as it's in the SDK but I didn't see that option in the Holograms app. I'm in Wave 3, so probably a couple months out from getting mine. Tyring to resist asking a million questions. Didn't realize you're in Marlborough! We should have Middlesex County Windows Central meet-up! And by meet-up, I mean invite us over to play with all the Windows Central gadgets!

You place the holograms with your gaze (basically, your eye pointer). For the most part, they respect the physical world so it knows I'm trying to place it on a table and when I move it it moves across the table. In a game like Young Conker the holograms just act on their own based on the physics in the room. I think the Holograms app is just a manual demo of holograms hence the controls and positioning options. lol, we'll see about a meetup. One thing about Hololens I forgot to mention is that if you share it, you ideally need to calibrate it for each person (IPD) and that takes a few minutes; they then need to be trained how to use it (so another few minutes). In other words, if like 5 people wanted to try one HoloLens for the first time a good hour will be used to just set them all up ;)

Might be better to wait until I get mine and maybe a few other people. It would be interesting to test networked Hololenses in the same environment. Cheers!

What calibrations are required?

Head fitting and particularly for your vision, as the space between your pupils and the device in relation to your head for proper viewing... ;)

Does it then store the users profile? So if three users signed into it and all set their ipd etc it would fermented the next time the signed in? And does it support windows hello iris? If it tracks your vision you would think so..

Remember, not fermented..

I won't forget...Not Fermented. Bartender might look at me funny tho lol jk ;p

have you skyped anyone yet?

Wow. "We should have Middlesex...".

You may have been downvoted, but I saw that too.

Great video! Does it have any sort of actionable notifications? E.g. if you get a text message from your W10M phone, can you see the message appear as a notification in your Hololens? Or notifications from any other social apps?

No notifications yet, but certainly something that could be added with OS updates/Redstone.

Also, is the jaggedness of certain visual elements (e.g. edges of windows) due to the recording quality -- is that completely gone when you're using it and not recording?

I explain that in the article.

I was referring to when you said "It gives you an idea of what a user sees but it is a much lower quality than what you experience when using it hence the jaggedness."

Oops. I can see how my question could be misunderstood. It meant to say "The jaggedness of certain visual elements (e.g. edges of windows) which is due to the recording quality -- is that completely gone when you're using it and not recording?" My original question had an extra "is" at the beginning.

I'd like them use it as an extension to the Xbox and its games. Provide HUD information or environmental additions.

Please Dan
Try Asphalt 8: Airborne on it

Not a UWP app. Posted from Windows Central for Windows 10 Mobile

Even if it did work it would just be the PC app on your wall. Not a lot to boast about.

Sure there is, someone walks in your room and asks what you're doing, just tell them "I'm doing a barrel roll in the beaches of Barcelona".

Yeah ofc xD
With Trion Nemesis.

Daniel, what are your thoughs about the posible uses of this to fully replace monitors for actions such as typing documents and general browsing? I understand the fatigue and batery life limitations, but do you think of this a viable replacement to further expand your work place without actually adding more hardware?

I can see usages for hands-free computing or where a full PC won't fit somewhere. Not sure I'd want to type a paper if I already had a PC around, but if not, sure it could get there easily.

My HoloLens idea was about using it to extend the desktop of a laptop / tablet or phone without needing a monitor or cables, without trying one out for real yet wasn't sure if the resolution or FOV would allow for it but after reading this article and your comment makes me feel like it would handle it with no problems. Though I guess the new Connect app will basically achieve that idea but I haven't tried that out yet either! I'm going to a Microsoft networking event in a few weeks I'm hoping they will randomly have a few HoloLens to try out but I doubt it...

Legit Marlborough is 20min from me haha.

If I understood well, it has its own storage memory for downloading apps..what capacity it has?

I see the Rogue One trailer there!

Glad you posted this article. This has peaked my interest quite a bit. I'm really looking forward to what developers can develop for this thing. Now, I just have to start selling off all of my belongings so that I can afford to buy it. :)

I always thought it was peaked

Nope. Pique means excite or sharpen, as in piquant, used to describe a sauce for example. Class dismissed :¬)

Yeah, I thought it was peak, like heighten or something. I was reading something and I saw the word, I was like "oh, that's the word"

Thanks, Chris. I would edit that comment, but the site won't let me.

As it is now even if it was same price as VR, I would rather spend that money on VR like HTC Vive. I think the fact Microsoft is trying to make the Hololens into a both a headset and a PC at the same time is a big mistake and creates way too many compromises while pushing the price up. It would be lot more compelling if the Hololens had a version similar to HTC Vive where it it just a headset and is tethered to a real PC with a cable; this would allow unlimited or lot larger fiels of view, make the headset lot lighter and unlimited by thing like battery time. Plus the cable is not really a hidrance especially in situation most people would use it in. Sure you can't walk all over the place, but I would rather be slightly limited in operational areas than massively limited in the funcionality of the Hololens itself. If Microsoft drags its feet with this and waits forever for consumer version, they will end up like Oculus when it comes to VR, they waited way too long until HTC came along and created something lot more complete.

Your points make sense, however you're missing context. This is not primarily an entertainment device. For the use they envision initially, what they have opted for makes a lot more sense. Then as enterprise and research adopts the technology, further refinements can be made that can enable a more consumer entertainment experience including but not limited to: smaller form factors, wider fov, and possibly even a power/data tether for people that work in a stationary stances and don't require the mobility but do require battery longevity. This is a cool device, but this device isn't designed to deliver the immersive experience VR is meant to. It's meant to augment reality, not replace it. These are different classes of devices. Hololens is not competing with Occulus or Vive at present.

Adding to what RayWP7 has said I would also note the money, research, and capital needed to re-create this in addition to the SDK, framework and App Store thing puts Microsoft really far ahead of anyone. Like I said this already has many apps for it and it's not technically even out yet. Devs just create them using the Windows platform and there would likely be less incentive for a competing platform in a year or two.

You definitely are an idiot. Respect what's made uniquely and brilliantly. Respect MS. OR just go and lick some HTC's ass cables..

I don't know what you're saying, but I Lol'd. Nice. :-D

Ya know, this might literally be the dumbest crap I've read. Sorry, no way I'm going light on this. It's the exact miopic, tunnel vision line of thinking that holds innovation back. I could go on, but what's the point.


I think you're missing the point, VR is VR, AR is AR. Would you buy a lawnmower to cut down a tree? Of you want a VR experience then you would obviously go with Oculus or the many other things being released for it, but if you want AR then HoloLens is basically the only thing out there for it. I also think you and many others seem to pin all hopes for HoloLens to succeed on a consumer version being released, from what I can see already in the commercial market HoloLens is going to own it. A consumer version is almost certainly going to come along but I really don't think its necessary for it to sell millions of units to be a success. You might see Microsoft making a big mistake with HoloLens but what I see is another example of Microsoft pushing the boundaries of what we thought was possible and creating a completely new device category, they did it with Surface (Where they did make mistakes but corrected course on each iteration) and for sure they will do it again with HoloLens but I think they will make less mistakes this time as Windows 10 matures and their hardware business matures with the team learning valuable lessons from previous products.

If we had your views, laptops, ultrabooks, tablets and mobile phones would never have been made. Why do you feel the need to be tethered in one spot?

VR looks so dumb. You just sit there? Can you control it?

Just sit there? you clearly did not see a single domonstation of the HTC Vive, http://store.steampowered.com/steamvr

No I'm asking, I wasn't making an assumption. Do you have a controller? How do you use it?

The thing is, AR and VR are so very different. VR is replacing the whole world with another reality. AR is adding to it. They have different applications and potentials. Personally, AR is for me because VR makes me turn green, lol.

Every signal has to run through this cable, has to pass some busses, take some UI signal and be passed back. It's rubbish from an architectural POV. The holographic unit gas to be in the headset anyway. Fast forward, the question is, if the whole package will shrink down. Hololens is not MSFTs vision for VR, it is a competitor to Google Glass. A glass and a watch will ultimately replace the smartphone. And finally, HTC is developing VR for years. Besides MSFT only Google is in the AR game. The real problem would be a just well-enough Glass v2, running Android.

Talking about Google Glass and Hololens in the same sentence is like comparing Horse carriage and an automobile in the same standards. Way above in Tech. Google glass is a display unit or in lay man terms and it is a very tiny transparent monitor. Hololens is a way different animal. It has the knowledge of sptial environment and using/managing it. HoloLens is built on the years of knowledge of kinects spatial. Google glass did not help Google in MR development. Tango is less used or it just lived in Labs.

HoloLens is just a device to showcase Windows Holographic like Surface is a device to showcase Windows 10 Professionnal. ​Microsoft already mentionned that HoloLens has nothing specific besides the drivers for its sensors, everything is part of Windows Holographic and they expect other manufacturers to step in and build other Windows Holographic headsets. Also, the environment and user understanding are not even limited to Windows Holographic but mentionned to be part of other Windows versions as well, which means Windows Holographic provides the no-screen shell for pure-holographic headset devices, but a tethered AR/MR headset could connect to a Windows 10 computer and add support for holographic apps, with the user going through the monitor to start apps instead of the holographic-specific start menu. This means the tethered alternative could come very soon as a compatible set of drivers from MetaVision for the Meta 2 (https://www.metavision.com), and from Sulon for the Sulon Q (http://sulon.com).

Thanks for the in depth review. Looks promising. I hope it doens't take long to get a consumer version with lighter weight and longer battery life with 4k resolution.

The very first consumer laptop in 1984 cost $2,995. That did not stop laptops from becoming a thing. The price is completely irrelevant at this stage.

$3000 is nothing for bleeding edge technology. We spent $10,000 on a 20 megabyte shared hard drive for our office computers circa 1985. The $3000 price for the technology of HoloLens will drop dramatically in 5 years and the product will also be 10 times better. I'm placing my order for version 2.

$10,000 from 1985 is now worth $22,462.01 in today's money. I think we often lose site of just how inexpensive technology has become over the years.

It's why I chuckle when HP announced a laptop that is 11mm thin for $1100 and people scream "overpriced!". It's like, do you know what a marvel of engineering that thing is with a new Core i7 CPU? It's such an amazing time to be alive for tech and people still scream that the latest/greatest is too much. It'll never change.

Can someone please explain the whole "circa" thing? I keep on seeing it everywhere. Why do people use the word "circa" rather than "year"?

When referring to a year, "circa" means literally "around". It is a way of saying "approximately" when talking about dates. So instead of saying "On November 3rd, 1984 we bought a hard drive", one would say "We bought that hard drive circa 1985". You see this used most commonly with buildings or historical landmarks. For example, there's an old house in my town with a historical marker noting that it was built "c.1791". The exact date and records may have been lost to history, but we know roughly when it was built based on other information (family histories, tax records, documentation of sales, etc.).


I'd be interest for someone to ask microsoft how much these cost to manufacture to see the difference.

If I hazard a guess they are not really selling these for much profit. There are too few right now for that to make sense.

Yep, I had one and a laptop is a business tool that even back then was a NEEDED item. A pair of glasses that allows you to see holigrams is NOT even in the same ball park to comapare that to.

$3000 un 1984 is what, $18,000 today?

First thing I'm playing is Holochess, Star Wars style. :D Seriously, though, that stuff looks pretty neat.

Imagine watching porn on that ;)

I'm imagining interactive holoporn. $3000 is worth it.

Eating pizza with a monkey in a business suit - living the dream.

Can someone confirm that Hololens can work with someone wearing glasses. And specifically how the optics and readability work for short sighted glass (and contact) wearers ?

You can wear glasses with it.

Our very cool, but wanted to know is the site of type Stream netflix ??

"To be clear, HoloLens can get heavy on your head and after 30 minutes of usage, you may want to take a break. That's why battery life doesn't seem too bad. The chances that you will want to wear HoloLens for two hours or more without a break I would say are very slim. Your head will get tired and eyes may get tired too" can you compare this to an oculus or vive headset?

It weighs less than this https://atimetocastawaystones.files.wordpress.com/2011/09/beer-hat-beer-helmet-pic-8.jpg

>>It weighs less than this https://atimetocastawaystones.files.wordpress.com/2011/09/beer-hat-beer-helmet-pic-8.jpg Maybe so but, with that, after I empty the contents of it, it would not be heavy at all and I would not even feel it's on my head...from the contents..

You can play on the Occulus Rift 3-4 hrs without any fatigue.

Cool, now MS can spy people's houses easily :P

The government will try to FORCE Microsoft to write software to let them spy on you.

24/7 Cams are already doing it.

So, can this ever be used as a TV replacement? The part in the early demos that got me excited was putting a video on a wall and you can resize it as you please.

Technically, sure. But I'd rather have a 60" 4K TV if I had the space. The resolution on this is not nearly as high def.

Didn't see if you used it with an Xbox or not. I wonder if there's much delay.

it is not supposed to be used with an Xbox. It is a stand alone comuter.

I've seen videos of it streaming an Xbox screen....that's what I meant.

Hololens is going to be so much better than VR, simply because of the motion sickness factor. I won't even try VR.

Great article Daniel! A real hololens review, and not 3rd person views of everything looking perfect around the holograhpic wearer :) Must be really nice to talk about something other than windows mobile progress! :)


"Must be really nice to talk about something other than windows mobile progress! :)"

lol, it definitely is nice to talk about something else for once

"Surprisingly, plugging it into a Windows 10 PC does not seem to do anything right now regarding access as a drag-n-drop system." I don't think it will since it's like a PC kinda.

Someone start me a gofundme page. That would be cool, I could name my hololens Jarvis.

Weird Science girl anyone...anyone

Hey. I wanna watch some porn with this. Posted via the Windows Central App for Android

Give it time.... I am sure some one will create that...

Neat proudct but,the content that came with it, while it would entertain you for like an hour or so but, it would get old very quick. TV and music features, depending on the quailty it would be a big question for me. Content is going to MAKE or BREAK this item... At this point even if it was $500 I would not buy one till there is something besides demos to do with it Truth be told, I was really hoping the tiger attacked the bird... that would of been more entertaining...

For engineers, medical, schooling, architects, artists, 3D printing, construction, space, science, etc. HoloLens is huuuuuge. For consumers, the argument is quite not yet there. Microsoft knows this hence why pushing to devs and companies first to build up the system. It is pretty fantastic for gaming though, lots of potential there. But Microsoft is better going with professional career uses first as there is much more money to be found than from gamers at this point. This will let the system breathe and become better without the pressure of the open market/consumers.

damn I can already see this future, with everyone wearing hololens the size-shape of a pair of glasses, with a foldable keyboard with them all the time, essentially all types of current computing devices will be rendered useless if this thing really gets to that point, or all of them will simply become accessories to the hololens, and of course your desk pc will remain there with its absurd load of cpu power for certain tasks(maybe as a home server for stream to hololens?)

Seriously it will be great for porn.

This is the future of computer displays. Combine this with a powerful phone and a portable keyboard and you have a computer that you can use anywhere.

Will my epilepsy interfere with HoloLens? I know VR might. Posted via the Windows Central App for Android! (Nexus 5x)

Probably the other way around... ;) No I hear you, I am sure my propensity for motion sickness will make many VR applications a no go for me. And I am sure that there are several medical conditions that won't jive well with VR or even AR. Posted via the Windows Central App for Android

Oops ha-ha yeah the other way around hmm what a shame I want to try this one day. Posted via the Windows Central App for Android! (Nexus 5x)

Wonder what Intel 32 bit cpu that could run win 10 in hololens that smooth ?

WHY ARE YOU DOING THIS!!!! WHY ARE YOU POSTING THIS ARTICLE!!! Now I want to borrow this but 1.it is so expensive. 2. There isn't in my country!!!!! Now I don't know what I'll do!! Joking!! :( :( :(

huh.. that's a cool thing

It has Hey Cortana built in, yes.

A consumer version of Hololens will probably make it to my country before Cortana becomes available in my region lol.

That is so freaking cool!!! I hope I can develop an app for Hololens in my dreams. Hahaha...

VR and AR... The future is interesting in a good way.

It is, and even RR is! :) Posted via the Windows Central App for Android

Daniel, dude, you nees to delete some of your Skype contacts! ;) Posted via the Windows Central App for Android

They should add external iris scaning, so when you want to put it on it will automatically calibrate for you, like the driving seats of a car with multiple drivers. Electrical motors and stuff like that. What do you think? Posted from WC for W10 running on my 930.

I have already contacted several upskirt and down blouse websites (only the reputable ones of course) with an idea. Won't tell yous all what it is though! Posted via the Windows Central App for Android

Awesome device. What I would recommend is hiring an editor. I realize the excitement in reviewing this new tech, but there are numerous errors that shouldn't exist in structure and basic grammar. I'm not trying to be rude, just some constructive criticism.

Care to share any specific examples that aren't stylistic choices?

If only I were a kid again, because all I can think of right now is Yu-Gi-Oh and how I use to dream of having real hologram-projecting duel disks.

Will I ever get one of this???? Makay Chapulets | MTN CCR
Posted from my Lumia 640XL running Windows 10.

Serious question, has any porn developers bought any?!

Porn is more interested in VR... which I think is going to be bigger than hololens.

Can you use the HoloLens while it's charging?

Does it work well with farsightedness? You know, old people who have to hold a menu at arm's length to be able to read it. I'm asking for a friend, of course :)

of course I have not tried it, but the fact that you can resize things and fonts should help with that

"Someday, we may sport small, wearable holographic glasses that help augment our reality" This is my vision of wearable computing and something I believe this device can achieve. For me (an everyday consumer who is not even an 'insider') the real utility for such a device would be when it comes in the form factor of everyday glasses (I can live with the fact that it will be bit bulky set). I want to be comfortable wearing it for long hours (ideally whole day long), I want it to display my mails, messages, notifications etc. on the screen. I wish to watch movies on just this. I wish to drive with traffic information layered on top of my real-life view of the road. I want a Here City lens kind of feature to tell me about buildings, objects, places, flowers etc. I want it to help with DIY kind of stuff whether repairing things and learning new skills. The list can just go and on. They key thing here is that my wishlist above, does not seem like a fanatasy anymore. Looking at the way this device is designed, and how it is likely to evolve, it seems like my wishlist will be fulfilled after the next curve. (OK may be after a few curves, but it is definitely down this road!) So I am keeping my fingers crossed. I hope that first and foremost some developers prepare apps which can make the 'geeks' buy and use it. I hope that MS in the meantime works on the hardware to a) make it more comfortable to wear for longer durations and b) improve on things like battery life, resolution of photos and videos etc. Finally I hope that just like that firm Opuscope some other firms also think of innovative uses for this and deploy it for their buinesses and customers. My fanatsy will surely come true soon after that.

The problem with Hololens being a tool for specific purposes... currently all of the applications have counterparts that work perfectly well on a regular laptop or pc; with the obvious exception of placing holograms around the room purely for play. The device causing fatigue and having a short battery life will be very problematic; especially in the face of mainstream VR this year, that do not have the same limitations.
Windows Central Newsletter
Get the best of Windows Central in in your inbox, every day!
Thank you for signing up to Windows Central. You will receive a verification email shortly.
There was a problem. Please refresh the page and try again.