My Movies, keeping track of your movie collection from your Windows Phone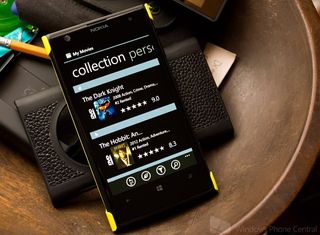 My Movies is a movie collection management app for Windows Phone that allows you to catalog the movie titles you own or have rented. The app also lets you track movies you have loaned out, list titles you are looking to add to your collection and those titles you are looking to get rid of.
My Movies database has more than 750,000 DVD, Blu-ray and DVD titles that you can build your collection from and if you find a title missing, you can easily request it to be added.
If you need a Windows Phone app to help catalog your DVD collections, My Movies not a bad choice to consider.
When you first launch My Movies, you will need to create an account with My Movies. This allows you to synchronize your collection with the online servers and allow you to switch devices without losing your data. My Movies has client apps for iOS and Android devices to give it a little cross-platform feel to it.
My Movies main pages include a Collection Page that lists all your movie titles. Titles can be sorted, filtered and searched by the control buttons at the bottom of the page. Persons Page that lists all the actors from your movie titles, Menu Page where you can add or preview a title, scan a barcode, access the app's settings, and view the online help/support pages
Settings for My Movies cover sync settings, options for viewing your collection, remote settings for Windows Media Center, and the ability to create a PDF report on your collection. While you cannot share individual titles with friends, My Movies will generate a My Movies website that highlights your collection. You will need to enable this feature in the app's settings.
Adding a title is simple. From the Menu Page just choose Add or Preview Title and a search page will pop up. A listing of potential titles will be generated and in tapping on a title, you will pull up detailed information on that movie title. This will include pages detailing the movie which often includes a video trailer, a description page, a cast listing, an audio tracks page listing the languages the movie is offered, and a menu page where you can add the title to your collection, report incorrect information or access the app's settings.
There is an option to scan the bar code of the movie to add it to your collection. However, I had no success in scanning titles into my collection. Titles kept returning as "not in database" but could be found by keyword search.
In adding a title to your collection, you will need to choose a group to add the title. This is where you can distinguish the titles your own, wish to own, rented, owned and hope to trade/sell, or have ordered.
Once added to your collection you will be able to pull up the same detailed information on the movie title but the Menu Page will change slightly. Menu options will be added to mark the title as loaned, edit any personal data about the title (ratings, grouping, etc.), mark the title as not watched, and remove the title from your collection.
While My Movies delivers a healthy amount of movie information to your Windows Phone and helps you manage your collection nicely, the user interface felt a little cumbersome at times. I think it would be more efficient to have the option to add a title to your collection on your Collection Page.
I do like that your collection is backed up and easily synced between devices and the My Movies database is rather extensive. The barcode entry has potential but whatever is preventing this feature from working needs to be fixed.
There is a trial version available for My Movies that is limited to fifty titles (perfect for the smaller collections). My Movies is available for both Windows Phone 8 and 7.x devices with the full version running $5.99. You can find My Movies here in the Windows Phone Store (opens in new tab).
Windows Central Newsletter
Get the best of Windows Central in in your inbox, every day!
George is the Reviews Editor at Windows Central, concentrating on Windows 10 PC and Mobile apps. He's been a supporter of the platform since the days of Windows CE and uses his current Windows 10 Mobile phone daily to keep up with life and enjoy a game during down time.
Great app, used it on Android, now happy to see it on my WP8 :)

I was the one who suggested they review this app.

This is a neat idea. I often forget which movies I own. The price of the app is too steep for the functionality. Entire games cost less than this title. I'm inclined to write my own app that saves data to Skydrive.

That's my sentiment as well. I don't have a problem paying for apps, but considering what this app does the price seems a bit too high. I'll stick with Better Movie Manager for now.

I believe that Better Movie Manager is a generic movie only collection management application, meaning that adding titles by batch barcode scanning is not an option - building a large collection in such application will take a long time. Best regards, Brian Binnerup (My Movies)

Thanks for this app Brian. I am a former user of Collectorz or CLZ these days and they are great but have a disdain for the Windows platform and very rude staff. Your app is superior in price and function.

We are glad that you like it. I do not hope you will find any of our staff rude, if so, we would love to know :-) The staff is there to ensure you have a well working solution overall.

Personally I use videobrary which has been a decent solution for this on windows phone for some time now.

I have been using videobrary also but it's just ok. The search function for pulling down movie data from IMDB is very hit or miss.

Screen scraping applications really cannot be compared with a proper data service API, and is bound to fail at any time. We hope users will try the trial, and see the difference for themselves.

Will give this one a try in the near future. I have experienced a few issues importing information etc. One thing I would love to see is the ability to import a db from for example an excel spreadsheet, when you own a few hundred movies it takes forever to add them manually.

There is an import option on https://import.mymovies.dk, but it requires importing either from files or applications that supplies barcodes or IMDB id's, to be able to match up your titles. Because of the approach where you can switch between multiple platforms, we do not simply store your own data, but link your titles to our global profiles, which also ensures you the data quality, rather than limited manually inputted data.

Ray: The price of an application is always a base of discussions, however, it is expansive to provide quality applications. Notice that the service costs of running such application is also impacted by the fact that there are several full time workers who are not doing anything else than ensuring the quality of the data in the service, by handling missing title reports and incorrect data reports - all services which ensures that you can batch scan your collection, and see that the manual work involved is very limited due to the coverage of the service. Best regards, Brian Binnerup (My Movies) Surely, applications without anything else but the application, scraping various websites, and without a service and support function can be delivered at a lower price, but the overall usage quality will be affected for sure.

we need to put Brian in touch with the guys from myAppFree!!!!

While the idea of these services are nice, you wont find many developers who find the long term success of giving the applications away is good for them, unless you have an application that otherwise would not get any notice at all. Giving away applications is also somewhat more doable on applications that does not rely on a service behind it, which has a running cost. Because of this, you will not see any of our applications in any such giveaways. Discounts is something we do at times, but never anything near giveaways.

I've been using Videobrary and I'm glad that you've introduced your app to the Windows Phone Store. It's replaced Videobrary given it has a better UI and functionality. There's only a few apps that I purchase from the store. I think that apps that use and have a full backend server with complementing services deserves a price that justifies it's capabilities and more. A few of my purchases include Weave News Reader and Runtastic. Hope to see more functionality and an improved database for the Windows Phone and web version!

This app is perfect for me! I had my little brother lose two of my movies this summer. With a 100+ DVD collection this is a must

I've been looking for/thinking about developing an app like this for a long time, except extending it to video games and books as well. I'm glad something like this seems to finally exist on Windows Phone

Oh mate, have you thought any more about a video game collection app similar to this? That would be amazing.

Such thing is not going to come from us - our focus is on movies, and is planned to continue to be. We believe in sticking to what we are good at.

So is this more like TV Show than FC is?

The biggest difference is that Film Closet uses generic movie data-data, which does not allow for easy managing a collection of disc titles on DVD and Blu-ray - that requires proper disc title data with barcodes.

Brian, what about the fact that the reviewer said that they couldn't get the app to recognize scanned bar codes?

John: We are trying to reach George regarding this, to see if we can determine why he is having problems. This is not something we generally hear about on our support. The barcode scanning does require resonable good light conditions, and a resonable stady hand, but besides that it should not be giving problems. Our recommendation is to try the trial - if anyone is having scanning problems, we would love to hear about them on support@mymovies.dk.

I would love to have something like this for a large CD collection. Yes, I still own CDs. Does anyone know if that exists?

Me too. 1600 of them. I have an excel file I use to keep track of CDs and movies, but I hope this is a prettier alternative.

Same here. I take sound quality serious.

You should try Collecto. It might work for what you need. http://www.windowsphone.com/s?appid=ef2b8553-0a18-e011-9264-00237de2db9e

+1 Collecto, been using it for my books, cds, movies collections, but will give MyMovies a try

Applications for other things than movies is not our table, and is not planned to be either. There are surely other alternatives that holds multiple options for content, but the quality of each individual option is very likely to be a lot lower than an application dedicated for one thing. Our focus is on movies, as we believe in sticking to what we are good at - there are still so many things around movies we would like to do, and it therefore would seem silly to spend our resources elsewhere. Best regards, Brian Binnerup (My Movies)

I have used it on all Platforms, have used ot for a while on WP. Faster scan, and Better layout on The Menus, and more views would be nice. Ok, price is a bit High. But its only one DVD movie bought twice, and you have saved your money.

Need one of these apps for video games.

??? People still buy movies on discs? I kid, I kid. And yet, I can't remember the last time I bought a movie disc, let alone *rented* one. Rented? Seriously? Probably been more than a decade since I rented a movie disc, I always use digital distribution for rentals. To manage my movie collection I just go to Xbox Video and click my movies. Just added "Pacific Rim" and "Team America: World Police" last weekend to my Xbox Video collection. And the Smartglass-enabled ones (like "Pacific Rim" and "Star Trek") even give me special features like the disc-versions would.

it's not just movies on disks. My Movies is basically a database of movies you have, be it on disk or digital. the app connects with the main program for Windows Media Center, so you can also use the My Movies app to launch movies on your Home Entretainement Center (Though Media Center). Like you, I have also not bought any disks in over a decade, but I do have around a thousand movies on digital format, none bought though Xbox Video, so unfortunately I can't use any of the cool Smart Glass features. Xbox Video of course also shows your movies, but only on MP4 format, where I use My Movies for ISO and Video_TS formats. To be honest, I was a big My Movies fan, unfortunately they will not transition to the Windows App style. If only Xbox Video would read subtitles and alternate audio tracks, I wouldn't have any problem of slowly transition all my DVD's to MP4 format.

There is actually an application on it's way for Windows 8, however, it will not be a replacement for our Windows Media Center application, but will be more compareable to our iPad and Android application. The Windows 8 apps are unfortunately extremely restricted, and therefore cannot be used to deliver a full blown solution like we can on Windows Media Center.

How about native for Xbox? I'd love to be able to launch my movies from a native xbox client rather than use via extender.

Developing applications for Xbox is an invite only option for select Microsoft partners only. Ours, and many others hopes are that Xbox One will get the Windows Store, and therefore will be a target for our upcoming Windows 8 offering, however, the limitations of the Windows 8 applications means that playback functionality will be an option only in relation to a My Movies server solution. Even if possible, developing for the Xbox 360 would seem rather silly with Xbox One on the market.

I was almost sold until you mentioned the scan feature didn't work. I don't want to type and search for the hundreds of movies I own. I'll keep an eye on it to see if it's fixed in future updates.

The scan feature works. Maybe that particular title was not in the database.

Thanks for the reply. Maybe I'll give it a go. Then again, George did say "titles", I wonder how many he tried that weren't successful. And if you own this app how often do you run into titles that won't scan?

I recommend giving the trial a go.

Definitely give the trial a go...I've used this for a while (and had it on iOS before then) and in that time only one movie hasn't scanned in out of over 100 (and that was a special cover edition of Buried - the actual bluray inside that case scanned fine) :)

I burned all of my dvds and blue ray to my home server so o can stream them anywhere I want. They are cataloged there. But the idea of this app is cool, dev should make it for just life things in general and ability to change it from movies to say... Books. The concept is awesome.

I had this on my iPhone 3GS. I had this on my Nexus 4. I actually like this version better.

Price does seem a bit steep for a database that I can't access via a web-browser (unless I missed something somewhere). I'll stick with MyDVDCatalog, yeah I pay $4.99 annually for unlimited titles but I can access my collection through an app on Windows8.1, WP8, iOS, any web-browser and if forced to use it...Android as well.

You can view the collection by creating an online collection (http://c.mymovies.dk/demonstration).

Wish Film Aficionado had an app. And I also keep everything on Excel...

I wish the iMDB app had that funcionatility. Also that they updated the app FOR ONCE.

George, thank you for the review. The barcode scanning solution surely should not have problems in any way - I would love to investigate this for you. Depending on your country, the coverage of the service should ensure that the titles are existing, but some titles exists in many editions, which means that the fact that a title can be found by title does not specifically means that it is exact release you have. I hope you will contact us on support@mymovies.dk with a few barcodes of titles that you could not find by scanning the barcode.

I was going to ask about this because different countries use different barcodes for the most part is this a case of the barcode scanning is a little more specific to where your company resides or are there multiple options for each particular film (where applicable).

Our service contains titles for almost all countries, however surely with a better coverage in larger countries. The country to scan in can be configured on the scanning page, and can be set to "Any". It is not uncommon for the same title to be available with same barcode in multiple countries.

Perfect, I'll give the trial a quick once over this weekend with my collection and if it does what it needs to consider me a customer.

I've been using my Movies for quite some time now and I'm really happy to finally see it on WP ! I'm glad I started the thread supporting WP on My Movies forum a couple of years back ! :) :) The big differentiator when compared to other apps for me is the fact that it sync accross your devices and also the possibility to create a website with your collection. On top of this you have the barcode scanner of course ! Thanks !

I've been using MyMovies on WHS for years now (over 7tb worth) and I'm happy to see Library suport for WP. Next on my list would be an Xbox One app which could actually replace the need for an HTPC as the end client. My DVD's and Blu-rays would thank you!

Great app for Movie addicts!! Some might say the price is steep,but quality of such service is very important. Definitely buy for me:)

Honestly, the price is a little steep (Brian, I DO understand the reasoning behind it, you do have staff to pay after all), but if the barcode scanning actually works I would consider buying it anyways. Been thinking it would be nice to have a program like this but I'm too lazy to manually enter them all. Brian, is there an option to create sub-libraries, like kids' movies and grown-up movies? Also does the app differentiate between DVD and bluray? So I could look and see, oh I have this movie on DVD but not on bluray. Let me buy this bluray copy that is on sale.

The barcode scanner surely should be working, and we do not have reports of anything else, except a few people who have trouble with some older WP 7 devices. Why George are having problems, we do not know yet, but we hope to be able to reach him on the topic. You can add categories such as "Kids" and "Grown-ups", and you can then filter by these groups. I recommend that you try the trial - it is not time limited, but allows for only up to 50 titles.

Doesn't Better Movie Manager allow barcode scans through Bing Product Search? Is that broken now that Bing killed their shopping/product web service? I tried it and it doesn't seem to work anymore. I tried the barcode scanner (off of some bing images) and it seems pretty impressive. Multiple scan seems very fast, and very useful. I am impressed.

I do not know Better Movie Manager, and how it loads data, but we surely hope that users will give the service, and the coverage of it a try - you cannot compare the data you can retrive through a scraping of a website or search engine with the coverage we have. The service we have is without comparison the largest service of DVD, HD DVD and Blu-ray titles, currently near 800.000 titles from around the world.

This is a great app, currently I filled up the trial and it worked great. You can scan the barcodes using your webcam (program only) or type them in. It's great. If you're hesitant on buying the app download the program for your computer, I don't think there's a limit on there. I've tried all the movie managers on WP. My Movies is the best one I've used. Some titles don't work but it's not hard to type the title or UPC label on the back or is it ISBN? You won't be disappointed if you get this app. Try it out its worth it. Oh an multiple scanning is such a time saver. Its great how you can search by actor or genre. Its great if you're watching a movie and you want to know more about it. This will tell you. I can't praise this movie manager app enough. Ita great.

We would like to encurage you to try the application, as compared with manually making a collection in excel, we are quite sure you will be thrilled with what it has to offer.

I love the app, but Brian has said himself on the my movie forums that: "We are taking a break on WP development until the platform takes off a bit more. The sales cannot cover running costs on further development, despite high store rankings, which indicates a general bad curve for paid-for applications on the platform." So i wouldnt expect updates like 1080P support, or if anything is broken that it will get fixed. I do love the app and use it all the time, and have had it on andorid, and IPhone, maybe this review will encourage them to update it.

It is not a secret in any way that the WP platform have been very difficult to get a decent turn around on. The amount of low-cost, low-quality applications, such as the mentioned screen scraping applications are many, which makes it difficult to sell applications with an actual service behind it. Having had a very long development period on a project such as this, we find it is an resonable approach to take a breath and consider how ones resouces should be spend. We are not in any way going to abandon anything - we ran a very long beta period, where bugs were removed, and have not had reports of bugs int the current released version - rest asure though that any bugs will be fixed, and any maintenance needed will be done - where we currently holding back is on new feature additions. Compared to our offerings on Android and iOS, the state of the Windows Phone store does indeed make things difficult. Hopefully reviews such as this will help improve the situation.

Syncs perfectly between my Android and Windows Phone 8!!

I've been using Invelos's DVD Profiler with DVD Register on my WP device. I appreciate that "My Movies" has a backup function. Perhaps when I researched these programs I was unaware of all the functions that "My Movies" can do. That said, while DVD Profiler is significantly more expensive I appreciate that I can log into their website, or run their program on any of my PC's and I like how DVD Register displays on my HTC 8x.

My Movies is available on your Windows PC as well. DVD Profiler was late to Android, is not yet to WP, is not available on Mac either, and on iOS and Android, it is available in English only. My Movies is soon to be released for Windows 8.1 as well. DVD Profiler also do not have options to report missing titles, nor report incorrect data - it must all be handled manually in the Windows software. There is no doubt that DVD Profiler with it's own database is a better option than all the mentioned scraper applications - we do however believe that My Movies with it's near 785.000 titles is superior to the around 640.000 of DVD Profiler, where the DVD Profiler count is based on many old titles, as it was a popular application in the early days of the DVD format.

Thank you Brian for the response (and I see that you spell Brian in the "correct" fashion). It seems that you have a good program and service and had I realized that at the time I was researching these programs I may have gone with your program at $6.00 rather than $30.00 with DVD Profiler. Given that I wish you success and I hope that you continue to support your product on WP. If you do continue to develop for WP I must say that I do really like how DVD Register displays it's information over a large gif/jpg of the movie cover art.

Just wanted to chime in, have been a customer and (small time, but still) contributor of My Movies for maybe 5 years now, and have been very pleased. Heck, this is the THIRD mobile app I've paid for now! It works great in combination with Windows Media Center and also allows you freedom to customize and tinker with your own collection (I have had a WHS and WMC setup, several TB of DVD rips now complete). Also, they are pretty darn responsive to customer feedback -- I think both the Android app and WP app are a reflection of that. (Now to convince them to setup some sort of Roku channel that will connect on your local network :D)

I really like this app, but there are a few things that I think might make it better. Add to collection should be accessible from the app bar on the Collection page (as George already mentioned). Moreover, everything in the Menu page could go behind the ellipsis on the Collection page. Maybe add to collection, scan barcode, filter, and sort could be on the app bar and everything else behind the ellipsis. Similarly, when you dive into a title description there should be an app bar with the menu options instead of a dedicated menu page. Maybe edit personal data, watched/not watched, loan to, and remove title in the app bar and everything else behind the ellipsis. Also, can you make it where I can just toggle between watched and not watched? Now I have to fill out an "even" for when I watched it. This is too cumbersome for a large collection. Just make it where the watched/not watched option on the app bar (if you add it) toggles between the two. As an option, we can still go into details and fill out an "event" if we want. Customizable info displayed in the collection. Let users select if they want to display just the title and poster or add release date, genre, rating, etc. Right now, I feel like it may be just a little busy, especially with a big collection. Other aesthetic comments. Instead of the large Blu-ray Disc and DVD icons that are put on the left hand side of the poster, maybe just use a small emblem that can be positioned with the rest of the title information (making it an option to be displayed like the other info). I feel these changes would make the app flow much better and would allow us to make it more minimalistic if we choose (following the whole aesthetic of windows phone) while keeping all the information you provide accessible.
Windows Central Newsletter
Thank you for signing up to Windows Central. You will receive a verification email shortly.
There was a problem. Please refresh the page and try again.