My Nokia app: Helping you get the most from your Nokia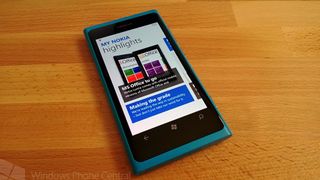 This one has just appeared for us in the Nokia Collection for Windows Phone 7, essentially a central place to get news, tips and apps for your Lumia devices.
The app seems to have hit the Marketplace a few days ago but could possibly have been released earlier if reviews for the app are anything to go by. We have reached out to Nokia for confirmation but in the meantime we take a look at what this seemingly new addition to the collection has to offer. Step inside, step inside.
The app has been designed to pull in lots of useful information about your Nokia in one place. That includes support information about the operating system and a heads up on the latest features. Of course this is all centred on what's new in Windows Phone 7.5.
The tips section has helpful features on how to transfer your contacts, personalise the phone, use copy and paste and much more. This is a great round up of tips that are mainly geared to those that are new to Windows Phone and just getting a new Lumia. It could even be useful to those who haven't been avid readers of wpcentral over the years?
Further along Nokia have a section for their rapidly expanding accessories range; everything from wireless charging to Bluetooth headsets is covered. We're not sure why there is a section for wireless charging being shown for Windows Phone 7 devices though as there are no devices on the market which will do that. Are Nokia already trying the upsell to Windows Phone 8? We suspect it's just grabbing the feed from Nokia's online feeds, but a little more consideration here wouldn't go a miss, especially for someone who has just bought a Windows Phone 7 handset.
They also have a spotlight section to get you started, providing some focus on app highlights and some more info on things like Nokia Drive and Microsoft Office. Again this is suited more to a newcomer on the platform but it well handled and shouldn't overload the beginner.
You can download the app from the Marketplace here or use the QR code below.
Windows Phone 7
It isn't available for Windows Phone 8 devices. Oh well, no biggie.

Yeah, seems to be a Windows Phone 7 app only for now.

Do you know if it will be coming to my beautiful 920?

It is not a new app. I tried it in may and deleted it after a month.
It good for new users of Lumia but after a while it becomes useless.

I have to Agree it actually came out April 10th 2012, I Instaled it also in the Spring but it's only good for a couple of day's

The Windows Phone Central app is all the help I need to get the most out of my phone. :D

This app is actually preinstalled on some Lumias, and it used to go with the name "Lumia Highlights".

Viber HD isn't even on my 920 yet. Bad Nokia.

How is that Nokia's fault...or relevant to this article?

Because this app isn't a wp8 app too, and Nokia needs to get their act together with their exclusive apps. Like soundtracker (or whatever), Viber HD, and more aren't on WP8.

Viber's not available but Soundtracker is.

Updated my Lumia 710 to WP7.8
Its good I'll wait for April release of WP8

As some suggested, this isn't a new app.
I do suspect that this paves the way for a new name for upcoming models from Nokia. It's My Nokia now, after all, not Lumia Highlights.

I have ben using this nokia apps for 2 years now. gel fuel fireplace
Windows Central Newsletter
Get the best of Windows Central in in your inbox, every day!
Thank you for signing up to Windows Central. You will receive a verification email shortly.
There was a problem. Please refresh the page and try again.