myAppFree, PacMan Tiles, Asphalt 8: Airborne, and Nokia Camera Beta get updated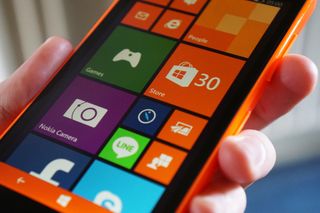 We've just hit the halfway marker for this week and already we're seeing some updates be pushed out through the Windows Phone Store. Luckily for you all, not only does Windows Phone 8.1 make updating apps simpler than ever, we're still compiling some of the highlights, just in case you happen to miss them (and have updates set to manual) or you've failed to download the apps yet.
myAppFree
There's nothing better than bagging some sweet deals on the Windows Phone Store for your brand new smartphone. myAppFree is a cool program that takes highly-rated apps and partners with the developer to throw the app up for free in exchange for publicity and promotion. Our own Windows Phone Central app is currently listed for free through myAppFree, but today's news covers the app itself getting updated.
According to the provided changelog, here is what's new in version 2.0:
Earn points downloading and sharing app
Worldwide leaderboard
New transparent Live Tile for those personalized Start screens
It's a definite must-have for those bargain hunters and we're sure the latest update will please those who frequently use the app with more functionality being implemented.
PacMan Tiles
PacMan Tiles is an awesome app for Windows Phone, especially if you were (and still are) a fan of the classic arcade game. The app itself enables you to pin customized tiles to the Start screen to add some personalization to the Windows Phone. What better way to stand out than to have PacMan chasing after (or being chased by) the iconic enemies.
This latest update (version 1.2.1) includes yet more tiles to choose from, as well as the option to have black, white or transparent backgrounds for the loaded tiles.
Nokia Camera Beta
Microsoft has released an update to its Nokia Camera Beta app, which is available on the Windows Phone Store. Luckily, the team appears to be on a roll with not only releasing the updates themselves, but also change logs to detail what's new.
Version 4.8.0.1 brings the following:
Improved Inline Video Playback in Camera Roll
Improved Living Images Playback in Camera Roll
Improved Focus Indicator on devices with Continuous Autofocus
Other Bug fixes and Improvements
That's quite the update to a great app for photography.
Odds and ends
Windows Central Newsletter
Get the best of Windows Central in in your inbox, every day!
Rich Edmonds was formerly a Senior Editor of PC hardware at Windows Central, covering everything related to PC components and NAS. He's been involved in technology for more than a decade and knows a thing or two about the magic inside a PC chassis. You can follow him on Twitter at @RichEdmonds.
Today I installed myAppFree for the first time and after 10 mins it got updated. :P Asphalt 8: Airborne has got a long awaited and decent update with news cars. Gameloft is doing well with WP.

Dear danny ,sam ,rich ,jay ..!!! When are you guys gonna post a full fledged review of Lumia 630..!! Its been a lot while since it is at your desk ..!! Plz post soon

That should be done already

Living images doesn't work anymore on my Lumia 920 :-(

Same with Lumia 1520, living images stopped working.

I thought I was the only one. 925 here. It works with the Smart Sequence option, though not as smoothly.

My 1020 doesn't work anymore either. Boo! I loved living images. Hope it comes back soon.

I figured it out. You must open the nokia camera app and click the preview photo button in the top right corner and go ton your photo. It doesn't show when going through the photos hub and clicking Nokia camera that way.

That's how living images has always been. Today's update disabled taking and viewing living images all together.

At first I was able to go through the photos hub to get live images to show I remember. Then it stopped working like that. I just tried only going through the Nokia camera app n it worked. I just saw that the app hasn't updated to the latest yet for me. The others have though on the list.

i curse myself for updating without reading the comments, i love living images and now theyre gone. i wonder if this means it wont come back for previous pictures? shame

I sure hope so. I have a lot of great ones sitting in my camera roll.

Same here lumia 1520 :( pretty bad that i have a lot of pictures with that feature . Maybe they know the trick after all

I really don't know what to do with the points were earn with MyAppFree? Can anyone tell me please? Thanks

hi Heecham, points are used to generate the charts and check your personal rank. In the future we will use points to customize the user profile, I can't tell you exactly all the news now but stay tuned and you will see it!

I don't see anything in the changelog that is new. Points have been around and I swear that the leaderboards have as well. The transparent live tile was released weeks ago. Nothing listed in the changelog is new!!

Previous points was only the money saved (estimated) counter. Now you can collect real points by downloading or sharing the app of the day. Transparent tile was already released but we have a new one and we hope you will enjoy it. Keep supporting us, the more myAppFree grows the best apps we can provide for free to our users.

630 looks great in orange! I am falling for it...

Wasn't there a rumor that in wp8.1 app updates do not download the whole app again but only the update....must have feature to update games like asphalt

That's one of the most wanted features that I want to see in Windows phone

I don't think its available on other platforms..my friend owes Moto x,he had to download. 1. 5 gb all over again..

I think Google Play store has something called delta updates which downloads only the required files while updating an app. I am not sure, though.

Yup, Delta updates only download what's changed between versions. It's a great idea, but it has to be supported by the dev so some Android apps have it but not many. Would be great if it came to WP.

Most of publishers don't push such updates. Gameloft will NEVER update just a portion of a game and provide you that updated portion, it's their policy. I work for Gameloft. ;)

Pity on those users who downloaded Asphalt 8 before latest update and yesterday ;) :P

Dose devices with 512 mb ram support living images?

And OneDrive was updated.

Lumia 525 still no proper Asphalt 8
We still stuck with the workaround version which is old

I do use the same phone.....earlier it used to rock my phone. But now m unable to re-download it. Please help.

Anyone else lost Live Images after updating Nokia Camera Beta? I'm in Europe on vacation and was all happy ill get to use my camera to its full potential

For me, even the earlier captured living images are not appearing as living images.

Living images doesn't work after update! 09.07.14 Lumia 920

I hope Nokia camera is faster :-)

Not faster than Usain Bolt..

Living images have actually vanished. Man do we guys go one step forward and two steps back.

To be fair, it was never supposed to be there in the first place. Not until Cyan at least. Agree it sucks, but...

i'm doing a campaign to bring the game DeadTrigger for WP. Please Transfer: "@MADFINGERGames #deadtriggerforwp"

Living images doesn't work anymore on my Lumia 925
=/

Any new Nissan cars added to Airborne?

A thanx a lot. To bad :'(

Wow they killed living images

Missing Living images on my L920 :( Loved this feature..

Did anyone notice that asphalt 8 vanished from the app list and games hub after the update or it's just me? You can start the game from Cortana though.

Even me ...i am unable to download it once ii deleted.

Why can't i download Asphalt 8......i am using Nokia lumia 525 with windows phone 8.0 os. Please help me.....
Earlier it used to rock on my phone but now i am unable to redownload it once i deleted.

My Nokia camera is still messed up from one of the previous Nokia camera / beta updates...lack of focus in video when zoomed in...and this update does nothing to correct that. Cyan better come soon and better correct all of this mess...get with it MS

Yes...8.1DP. I don't believe I had this issue until they started updating Nokia Camera and Nokia Camera Beta a few weeks ago with references to auto focus enhancements etc so I am.pretty sure whatever they tweaked screwed up focus at least in video zoom on the 1020...

All my Pacman tiles are now blank. And the cherry I got for rating the app now costs $$. Not cool.....

Lost Living Images capability on my 920 when i updated Nokia Camera Beta. Sad.... :(

Seriously!! Thanks to no more living images on my 1520. I mean I'm addicted to them things. Especially when I go out in the ocean to fish. Its awesome. I knew I should have waited to read the reviews like I always do before updating. Dammit!!

Damn it, now Living Images doesn't work on my Lumia 925...

Can't download myappfree, just PENDING. What's wrong?
521

Asphalt 8 not available for Lumia 525. It's been 3 months now.
Somebody complain to gameloft!

I hate the fact that my living images are gone, probably never to return either :'(

Why? In the changelog living images are mentioned. So it seems to be a bug for me...

Pacman just destroyed my design

Myappfree's tile changed back to the old one after I unpinned and pinned it again.

I updated My Little Pony today and it can't open anymore

The promise of more type of tile apps like PacMan tiles is the only reason why I would switch to the 1520 or some other big phone. Not enough tile space on my 925!

Only one the gameloft making best game for wp I love asphalts' series.

I wonder is asphalt 8 now can run in full effect like ios...

Is the tile for myappfree supposed to be a live tile?

Why is asphalt 8 not available in the store!!!????

which are better? Nokia Camera or the beta one?
Windows Central Newsletter
Thank you for signing up to Windows Central. You will receive a verification email shortly.
There was a problem. Please refresh the page and try again.