Start the New Year's right with these calories counting apps for Windows phone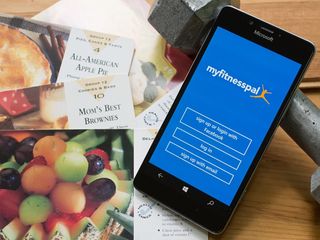 As we head into 2017, it's always good to be thinking about health and fitness. While MyFitnessPal is no longer available here are some worthy alternatives worth considering.
FatSecret
FatSecret is a free app in the Windows Store designed to track both your diet and fitness activities. You can look up the nutritional information for the food you eat and track all your meals and snacks. An exercise diary is available to track your fitness activities and your weight.
The layout for FatSecret is very user-friendly with navigation tiles on the primary menu to send you to all the app's featured sections. All the data entered into the app can be charted where you can review your, fitness and diet progress, and a diet calendar is available to let you plan your meals in advance.
FatSecret is an easy-to-use alternative to MyFitnessPal. The hard part is going to be passing up on that chocolate pie for desert (as it always is).
Download FatSecret from the Windows Store (opens in new tab)
Nutrition Hub
Nutrition Hub is a Windows 10 app designed to track your diet and weight loss. The subscription based app lacks the ability to track activities but provides a host of features to monitor your diet, set goals for weight loss and chart it all out for easy review.
Nutrition Hub includes Fitbit integration where you can sync consumed foods to your Fitbit account automatically, support for scanning food product bar codes for quick and easy searching and can track carbohydrate intake for those partial to the Atkins diet plan.
This Windows 10 app has an extensive food database of restaurant foods, generic foods and packaged items. If you cannot find an item on your dinner plate, Nutrition Hub has the ability to add custom foods to the database. Meals can be created for easy reference (great for items you eat, with regularity) and individual items can be tagged as a favorite for easy reference as well.
Nutrition Hub is free to download and try for seven days. Once the trial period expires, Nutrition Hub offer subscription periods ranging from $.99 for a thirty-day subscription to an annual subscription costing $4.99.
Download Nutrition Hub from the Windows Store (opens in new tab)
Food Diary
Food Diary is a calorie and diet-tracking app for Windows 10 Mobile. The app is designed to help you control your diet and eat healthier by tracking what you eat. While it lacks an exercise tracking feature, it offers plenty of nutritional features that include:
Full off-line support
One-tap entry with personalized suggestions: The most common food items can immediately be selected. Starting on the second day, your recent items are suggested — we humans are creatures of habit, you're probably going to eat that again.
An extensive food database for pulling up nutritional values (limited with the free version)
Easy and intuitive design
Daily Reports
Personal reminders to help you stay focused on reaching your diet goals
The free version of Food Diary is ad supported. You can remove the advertisements by upgrading to the Premium Version for $5.99. The Premium Version also includes access to the complete food database, the ability to email your food diary and configuration options to add more meals per day.
While Food Diary is more nutritionally focused and lacks an activity component, it comes across as an easy way to track what you eat during the day and adjust accordingly to meet your dietary goals.
Download Food Diary from the Windows Store (opens in new tab)
You also have the Fitbit app and Microsoft Health in the Windows Store that could be a great alternative to MyFitnessPal. Fitbit offers both activity tracking and dietary management. With the ability to manually enter activities, you could use the Fitbit app without a Fitbit device. But to fully appreciate the Fitbit eco-system you really need a Fitbit device.
Download the Fitbit App from the Windows Store (opens in new tab)
The Microsoft Health app is a fantastic option for tracking your daily activities and find guided workouts. While you can track your weight with Microsoft Health, it lacks nutritional or dietary tracking (which it could use). While best used when paired with a Microsoft Band, you can use the motion sensor on your Windows 10 Mobile phone to record your movements.
Download Microsoft Health from the Windows Store (opens in new tab)
These are just a few of the many possible alternative Windows 10 apps that are solid substitutes for MyFitnessPal. If you have given any of these titles a try or have another recommendation, let us know what you think in the comments below.
George is the Reviews Editor at Windows Central, concentrating on Windows 10 PC and Mobile apps. He's been a supporter of the platform since the days of Windows CE and uses his current Windows 10 Mobile phone daily to keep up with life and enjoy a game during down time.
The alternative: Android. Just hurry up and do it, you'll be happier, and your phone will be able to do so much more

Does that include get viruses, lag to all hell, and never get updates??? If so, sign me up!

Maybe version 1 of Android. Get some new material dude.

New material? So says the "buy an Android" guy.

You have been using the same schtick forever, little boy. Maybe you should get new material. And all I stated is still present with android.

Android hahaha...had one..never again

Version 1, 2, 3, 4, 5 lol 6 is nice I've had some issues but not bad much better than 1-5 Posted via the Windows Central App for Android

It's two days since we got the news of a malware spreading on Android through Google Ad-sense...

Don't tell this guy that. He is delusional and thinks those days are gone. PLEASE... LMFAO

what new? last 3 versions have hardly any difference.

I love MS, but um, I've never had a virus. Ever. My S7E has had more than enough updates since my purchase. As well as my Priv that gets all the monthly updates. And lag is very non existent. Truth is WM just can't keep the apps that count. So it's not like he's lying. Android and iOS is the way to go for rich enhanced apps. I wish the best for WM. But in realty... Posted via the Windows Central App for Android

Exactly. These people are freakin delusional

Why don't you cool your jets, Alice...

97% of all mobile malware is on Android. Its estimated that 1 in 1000 apps (even if only briefly) contains malware. Given the high number of users/devices, thats a pretty high number. You might not even know you are infected, as most users don't run AV, whilst the malware silently steals your IDs, credit card details, personal info, accounts etc. Android is horrible though not because of malware, because of its inconsistency, its horrible UI, its non gaurantee on updates. Get a Samsung device, get smattered in apps you just cannot delete. ROM it, put up with random battery drain and odd things happening to your phone, crashing and weirds. The only "upside" of Android is the numbers (and therefore app availability) and your ability to tweak and fiddle. But I personally don't want to "twiddle" with my running phone OS, like I don't want to tweak the engine on my car. I just expect my phone to be clean, supported and work - and buy the best quality. Right now, thats the Lumia 950 and the iPhone 6 series. I have both, and there is not an Android device that matches either of them for quality of experience.

Our security group tells us that around 94% of all Android units globally have already been compromised. Android is designed with zero integrated security whatsoever.

Preach, brother! The beat commentary on OS ever

You cannot know that for sure. Most viruses now are silent because they realized that killing your devices functionality will get them caught. Ask any security expert and they will tell you they can't guarantee you are virus free. The most they can say is none have been found. Some viruses took years to discover.Yes sticking to the play store is better but it wasn't long ago it was shown the top flashlight apps in the Play store contained viruses or spyware type code. Fact is Android by far is the least secure and has the most documented viruses. Putting your head in the sand and saying its never happened to you is a recipe for disaster.

I have never had a virus. Ever. Has nothing to do with head in the sand. I've had virus issues on Windows. I know that's hard for you to believe. But I have used Android since Eclair. I know how to watch and protect. This isn't something new to me. Posted via the Windows Central App for Android

How do you know your Android device hasn't been compromised? There's a better than 90% chance it's already part of a botnet and can be controlled any time the hacker feels like it. It's just sooooooo easy to infect and hide viruses in Android so the user will never know.

Realty? U sell homes? Posted via the Windows Central App for Android A new home for Windows phone users lol

I am still able to use myfitnesspal on my windows phone. I also have a Galaxy S7 and I much rather use my Windows phone. Every time I try using my Galaxy S7 it frustrates me with its heating up and its sluggishness. It just is a pain to use. I dread the day Windows phone is taken off the market. I really hope it doesn't happen. Because I just don't like the Android experience. I hate that the iPhone took out the headphone jack too.

1) Never had a virus on any of my Galaxy phones. Just stop clicking pr0n links and you're good.
2) Lag hasn't been a problem for me. I get unlocked phones and deactivate what I don't need. Flash ROMs when I want. Please stop perpetuating lies about Android. Windows phone can be promoted without using political campaign tactics.

Its good you haven't been hit but your experience does not change was security experts say abut the security of Android

Common sense is a great factor in security. The last time I had a virus in my pc was 5 years ago. So when a mac user spouts stats about how their OS is safer, it doesn't affect my security or choice in OS. If you want to put a virus on your Android phone its easy. If you curate what you put on your devices then you're good to go.

Be careful with that thinking. There have been documented cases of malware infection as a drive by on legitimate sites. All it takes is one bad advertisement. Even big news sites have been hit and their readers paid the price. Not all malware announces its presence or is found by security.

I somewhat get the attraction to iOS. It's not pretty, very bare bones, but it just works. The Android thing baffles the hell out of me. A mess on every aspect.

People who tout Android not because its clean rather because its flexible.

Yes, but it is flexible o the point that it becomes a fragmented mess.

Lag depends how bloated the os is, Samsung will lag. Nexus will lag not as much. I would put android lag in the same category as "resuming" for windows phone. Updates well my note 4 launched with KitKat, got lollipop, got marshmallow. Also gets security monthly updates. My Nokia 920 launched with windows 8.0 got windows 8.1 a year later and then was considered unsupported. In the 2 years I had it I never received a security update. Even better.. People who bought Nokia 800 phones launched with 7.5 then maybe 6 months later were told no more updates you're unsupported now. Microsoft track record of updating their phones is not Stella. Posted via the Windows Central App on my 286

None of those are actual anymore. Installing apks from unknown sources can get you a virus. All up to the user. Lag depends if you buy a cheap phone. NO updates if you buy a branded phone. Root, unblock bootloader, and you can update to any ROM.

Funny. Everyone u with with judges **** the exact same things. Denial is ugly.

Android isn't an alternative to MFP, but nice try at a smug, sarcastic answer. Is that a feature you picked up by using Android?

It's called denial, and you're a pro at it.

Is that some "new material"?

Why do you keep repeating what I originally said? Stay on topic, that's the first indication of someone in denial

You don't say anything important or original.

I'll tell you what, if my life came down to trying to push a phone system on everyone else while trying to insult people for their choice of phone (look in a mirror), I'd have to seriously look at reevaluating my tiny life (look in the mirror again).

On topic would be a discussion about fitness apps on Windows as an alternative to MyFitnessPal. You haven't been on topic, yet. You're over here evangelizing a competing platform as if you are our savior. Repeating an insult, over and over doesn't make it true that people who make different choices than you are "in denial". I'm not sure how you were coddled as a child to make you think that you are always right and anyone who disagrees with you, must have a defect, but welcome to a world of choices and people who make them. I'd suggest that you stay on topic, but you probably wouldn't listen. You seem more comfortable throwing out insults' that don't even apply.

Love the way people always slate android. I bought an android this year. After having two windows phone. There is not a single bit of lag. Lighting fast, don't need interaction notification s like so. Because your there in an instant. As for viruses. Avg, and anti maleware bytes. As long as you're careful with browsing. You shouldn't get anything. On WP, no protection,when browsing. Posted via the Windows Central App for Android

That's because you dont need protection on wp. The apps and os are sandboxed. You cant simply install a bootstrapper or malware as easily that's been disguised as something else and have it root the os then take over. That sorta ***** only possible on Android.

They slate Android because this is a site dedicated to Windows Phone. As for protection on Windows Phone no protection has been needed because of the design. There has only been one virus found and it never got off he ground. XDA has even had a hard time cracking it except with weak Samsung firmware. As least, so far, protection has been unnecessary.

The site is dedicated to Widows not Windows phone. Many of us who like using Windows 10, on our PC's. But choose not to use Windows phone. So you're going to get Android, and Apple users in here commenting, whether you like it or not. I don't use Samsung. And If I stayed away from something. Just because it might get a virus. I would never use the internet full stop. Android is quicker more responsive than both Wp8.1, and Wm10.

This site was originally dedicated to Windows Phone users if you've been around long enough to do that. That said I own both Apple and iOS devices because I need to know they but avoid telling people they made the wrong choice by choosing Apple or Google on their site. I might say another platform has a better feature that platform XY, or Z could use but coming to troll is just wrong. Its wrong even if a Windows Phone user goes to iMore and says get a real phone, get a Windows Phone. You can compare and contrast differences but to come to an articles with irrelevant information off topic muddles the conversation. When people from another platform come to bash it makes you sent their platform even less. I used to love Linux until I ran into too many arrogant people who instead of being helpful wanted to berate you. That said, if you want to have a discussion about Android then lets talk over on Android Central or Android Authority. We can talk about its faults there. If want to talk about this article, then lets talk about Windows Mobile.

Good job. Now go collect that paycheck from Google.

Because obviously fan = paid employee

I'll just go and buy the cupcake (1.5) version then.

You misspelled "oblivious"

I was a devoted WP user for 5+ years having owned a Focus, 920 and 1020 (still have the 1020!). However I couldn't wait around anymore. After MS bought Nokia everything just went to hell. Every MS service I use is available on Android and then some. I hate that it came to that but as of now, MS is in the doldrums of the mobile space. If they make a comeback then I'll be one of the first to go back over.

I'm glad for you that you're happy with Android. I can tell you, though, I would not be happier with Android, and I doubt my phone will be able to do "so much more" beyond what I need for it to do. By the way, I used the quotes because I am quoting you, not mocking you. Your suggestion is noted. I will stick with the Windows Phone.

You are an idiot. Get off this platform if you don't want to be here.

That's ironic because myself, my wife, and my parents both switched from Andriod to Windows Phones because they were so buggy, slow, constantly rebooting, and just all around frustrating. My dad and I had Samsungs, my wife had an LG, and my mom had a Motorola. The Windows phones have been fast and steady as a rock. The apps aren't an issue at all. What's really funny is my wife expressed frustration at losing this app (MyFitnessPal) because she does use it daily. So I got her LG back out, recharged, and told her to use it for that one app (or whatever else she may miss) and in about 10 minutes she started cussing and said she now remembers why she switched. Its a POS. I'm about to wipe it completely clean to see if it helps, but its damn near unusable. And its only a year and a half old. My Nokia Lumia Icon is just as fast now as it was when I got (2 years ago) and I'm running Win10 beta. No way I'm going to back Android. And Iphone is out of the question. But thanks for the advice anyway.

Won't have a choice when WOA replaces Windows Mobile next year. Microsoft will have no reason to continue support of W10M at that point. They even said themselves they only keep it around for ARM and LTE support. The Surface "Phone" won't be a phone and will be running WOA, not Windows Mobile.

Poor sad little rld82982 so bored with his Androob he has to troll windows threads.

My partner has latest Android, biggest load of confusing garbage I have ever laid my hands on. Overlays that have to be turned off for other apps to work, please, I almost threw it out the window and it wasn't mine. You clowns that recommend Android and Apple you really need to wake up. WE DON'T WANT THEM, PERIOD.

I see no reason of why you'll be here. But thanks anyway. Your ignorance shows again that Android users, in most part, are some spoiled kids.

Fat secret is OK. I tried Nutrition Hub and it seemed too long winded to add any food to your diary. (I had to go to each individual foods nutrition facts to add it to a meal) Haven't tried food diary but it looks promising.

I was going to look at Fat Secret, but it doesn't look like it auto imports data from MS Band/MS Health.

Wish the whole Astoria/loseit! didn't get cancelled. Really would like something integrated with the Health app to take my step/activity data into account without having to manually enter.

MyFitnessPal still works on my 950 and I'm runing RS2 preview build. The posts screen does work but no one uses it anyway. Food and weight logging work fine. Even the live tile updates like it should. Everyone should simply send a POLITE email to MyFitnessPal extolling the benefits of Windows 10 as a platform. I even pointed out that, as of late June, iOS is actually now the third-largest platform behind Android and Windows 10.

Already did that. I asked for a UWP app.

Can someone please answer why is Microsoft Health not available to all? Is it US only?

it was canceled by Microsoft

I think its US only, I changed the region and downloaded the app.

I get it on Android & WM (Australia).

I am in India. What's the limitation in this app that Microsoft won't release to all?

Why ask me.... Is Band/Band_2 officially sold in India? If not then it makes sense that you can't d'load Health. Health is pretty useless without a Band, mostly just a glorified step counter... The Website's much better in many ways anyway, you might be able to access it... If you got a Band/Band_2 thanks to it being brought into India by 3rd-parties & not MS. Then try changing the region on your handset, then you might be able to d'load...

Don't say things that aren't true....

It wasn't canceled, but its expanding by adding more plugins and there are rumors of new features coming soon. Its more than just an app too, its a full web interfaced dashboard. Great for creating custom workouts that I can sync to my Band. https://www.windowscentral.com/e?link=https%3A%2F%2Fclick.linksynergy.co...

Available in Canada. Only makes really sense if you have a Microsoft Band. I have it as I have the Band 2. If I had any other fintness tracker (i.e. Fitbit), would make sense to download their app. Try to start from the MS Health Portal and see if they link for the app for you: https://www.windowscentral.com/e?link=https%3A%2F%2Fclick.linksynergy.co...

Yes, but why regional limitations?

Kinda off topic... But... My fitness, I n
Did not use my fitness pal. I tried it for a second I know my cousin used it. All I ever used was endomondo since runkeeper did not work for Windows anymore. Thr Microsoft and replaced it as I wanted was a simple calorie/exercise tracker. I don't track calories in food and drink because I am pretty good at portion control or just can balance that out... Intake of calories is more important than output any day... I k ow that for a fact... But I don't have time to stay in an app. My band is always there and that's all I need fitness wise... Surprisingly More companies will drop, I don't care. I like Windows phone before they even attempted to support it... Which was minimal. They made an app which they hardly updated. The devs early on killed windows phone. Everyone had this vendetta against Microsoft like it was the thing to do. Many people wanted to and or tried windows phone... But when they did, the apps were not there. so they left. If the apps would have been there, people would have stayed... The apps would have gotten better. Now devs shout out there are not people there... It's cause they were never there first. Not blaming all devs... But you all know the ones who just earnestly wanted to kill windows phone. Those killer apps were important in the past. Now Microsoft has had too many hardware versions of low quality to get people in and more importantly just too many resets. The windows phone experience has been a beta test all alone. Microsoft has finally figured out how there services are key. They are the trojan horses to all ecosystems.. like how apple put iTunes on windows PC os... Ans how all Google services work on Windows PC os. Microsoft is doing the same with software/services. My only question is will Microsoft stay in the hardware businesses? I love windows phone... But I am no going to pay for bugs for foe a device that just has little shelf life... Pay so much for something that it's value is not held. I am never going back to iOS... Android is just here cause it was cheap. I really want a Windows phone again... But thr 950xl is buggy and thr whole experience is not something I want to pay for. My fan and loyalty only go so far... I am not being paid by any company to have/understand/apologize for a sub par experience. I mean with bugs alone. Apps, I could care less. I have been with Microsoft from the tilt, tilt 2, focus, lg, 900, 920, 1520, 640, surface RT, rt2, surface pro 3, surface 3, band 1... How many are still worth it now? How many were worth it when they started?! Don't get me wrong... I sold all my appl crap... I sold all my Google crap. Google crap at thr bott of thr list... Fact. Apple did ole, but thr apple way made me sell it. I want Windows, bottom line. The whole world does phone hardware... I loved it, but I need it to finally come out of beta with thr surface phone... Windows 10 PS os is a winner. If the devs will make universal apps, the phone will have apps. But most apps that are on a website are not needed... Maybe we need web browsers have a better launcher for sites and to give notifications... Like the Amazon extension... That is a huge potential. Most apps should have never been an app, but because their website suck on a mobile browser, they mad an app. Well... It's 2015, most sites have a good scaling foundation to be device agnostic. Anywho... #BrowserOverApps Posted via the Windows Central App for Android

It's 2016 man. Your Calendar app live tile may be broken like mine.

Are you trying to take Jason Wards job?

Can someone tell me of an app that's integrated as much as MFP?
I need something to synch data from Garmin Connect for activities, Fitbit scales for weight and calories.
MFP was the best for all this and I can't find anything close to it.

Nice, just what I was looking for, but haven't had to time to research myself yet...

I really like FatSecret... but it needs a barcode scanner. I am having trouble finding many things in the database.

I don't know if I would enjoy using something called *FATSECRET*. Kinda makes me feel like I secretly like being fat, or doing fat girls or something......

More cushion for the pushin'

Kinda like a secret tinder app for fat chicks......lol Not that I'm against that.....that actually sounds like a good app idea....

do any of these connect to the Health app?

To be honest I have not used the MyFitnessPall app that much. I find it easier to log food on the website anyway and the MS Health Syncs with MyFitnessPall behind the scenes to post my workout activities that I track with my Band 2.
That said, would be nice to see a UWP app from them. I still think companies are underestimating the value of UWP apps which is a shame.
MyFitnessPal would be great as UWP app. If I were in cahrge of defining which apps a Company would develop I would for sure include UWP as a must.

The MyFitnessPal website is broken as well. Maybe this is not an app issue, but some other problem they are having. I can't access my home feed on the website.

I wouldn't be surprised if UnderArmor dropped the MyFitnessPal service all together. They haven't updated any of their apps in so long, and their web app is ridiculously dated and slow (doesn't even use the latest web standards). None of their staff (if they even have any) ever respond to customer support questions in their forums anymore either. I noticed all this started happening since UA bought them out.

I'm thinking of replacing my FitBit with a Garmin, but I'll miss FitBit's food logging as Garmin seems to only tie in with MyFitnessPal. Does anyone know a better way to get calorie in data to compare to Garmin's calorie out data?

I'd rather not be bummed by anybody's fitness pal, thank you very much.

The MyFitnessPal photo at the top is a big tease. That is probably the vanishing app that I miss the most. Looks like a FitBit purchase is in my future.

App which support sensecore.

My Myfitnesspal app is still working - but for how long? It is too bad because it syncs with my band and it is the most popular fitness tracking site. Frustrating...

It's strange that Nutrition Hub keeps popping up on these articles and yet the developer has abandoned the app. The scanner hasn't worked in a long time and even people who have paid for it never got support to get scanning fixed. The domain related to the app is gone and now it just goes to LinkedIn. I ended up giving up on it a while back. Furthermore, the Fitbit app has similar functionality,is fully supported, is free, and doesn't even require owning a Fitbit

I need an Oreo app. Kinda like Uber, except for oreos.

i hate these, "Best <something> for your <something>", lists. they are all written and researched so lazily. it's like they just name off a few things off of the tops of their head.

In this case it's even worse, it's an old post with a new headline. No effort was made to check if there's any new apps, they didn't even bother renaming the Microsoft Health app to Microsoft Band, something that changed a long time ago...

Too late. Im already celebrating with a box of pizza.

"Start the New Year Right...". Poor grammar in headline, chief.

You guys... A screenshot with an app that declared to not support Windows 10 mobile anymore???

I think I would have kept diet apps and fitness apps distinct. Fitness makes me think more like Runtastic, not calorie counters.

Not going to lie - the image for this article is very funny. Pour some extra salt in that wound, why don't you? :) (image is of the MyFitnessPal app, which is not featured in the article b/c they pulled windows phone support some time ago.)

It's funny because I remember when I used to use MyFitnessPal web version (which i don't anymore), there were lots of articles in the support forum saying to update their Windows app... but rather than listening to their customers, they simply discontinued the app. Pretty bad on their part. But I noticed ever since UnderArmor bought them out, they haven't really been updating ANY of their apps or web services (look how dated their web app is). It's pretty sad since it used to be really good.
Windows Central Newsletter
Get the best of Windows Central in in your inbox, every day!
Thank you for signing up to Windows Central. You will receive a verification email shortly.
There was a problem. Please refresh the page and try again.