MyFitnessPal ends support of its Windows Phone app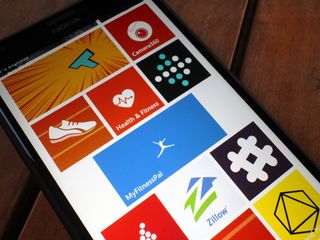 MyFitnessPal is informing Windows Phone users of its popular fitness and food tracking app that is no longer supporting that platform.
The problems with the app began earlier this week, when readers in our forums reported that the MyFitnessPal app could no longer be accessed on their phones. Windows Central readers emailed the company to find out what was going on and received the following response:
MyFitnessPal launched an app for Windows Phone 7 in 2012 and updated it on a regular basis to work on Windows Phone 8 and 8.1. In 2015, the company behind MyFitnessPal was acquired by Under Armour for $475 million.
Thanks to George and Craig B for the tips!
Tonight we gained one great app, lost another. So same as yesterday.

That app was good but not great, it would alert 9 times for each thing my friends did...very annoying but a very good app still

Yeah, it was cool back in the day when we didn't really have a social health platform to call our own... but honestly I haven't even touched it since we got Microsoft Health (not that I think MSHealth is perfect or anything).

MS Health and MFP are two totally different programs.

I liked it, I used it for my running. Dammit..... No good fitness apps.....

For running I recommend Adidas MiCoach, it is awesome

It could have been a lot better. I liked the app but they really put minimal effort into it. Posted via the Windows Central App for Android

This is what I replied to MyFitnessPal after getting the response to a contact us I did, re unable to sign in. "Screw you guys. Everyone that is bailing on Windows can go jump in a lake! I have used my fitness pal for 3-4 years, I will now use something else. Go to Hell!" Yes , I'm a little bit pissed, but come on! I seen an article on the new Samsung something or other, and they praised the iris scan! Well Windows did it first! getting tired of this media BS! I showed continuim to my family, they were blown away! The windows platform is much greater than the media is letting on, which means the media is very biased, which we all know. Thanks Windows Central for at least keeping us current on the state of affairs.

No, pretty immature, I admit. I was blowing off some steam. On another note, I am posting this reply from my Lumia 950xl through continuim which is pretty awesome!

What would you reply to MS then? http://www.windowscentral.com/skype-windows-phone-81-and-windows-rt-will...

That's quite different and you know it. Dropping an old platform to focus on the current version is different than dropping the platform entirely and you had to know that.

old platform? WP 8 isnt an old platform, stil majority of devices are on 8/8.1. and Are they dropping support for MAC and Linux, no they continue to support that but dont want to support their own platform. why? due to low/sorry negligible marketshare, if MS itself isnt bothered then why should other devs be? and it not like any hardware limitation etc, its purely unwillingness of MS in this particular case.

They offered a free upgrade to Windows 10. And windows 8 market share is surely more than linux

True... they offered a free upgrade to Windows 10 for PC, Mobile gets it if your phone allows (A lot of low end didn't), and they cut off Windows RT.

Yes, I can see how that sort of response is going to encourage companies to continue to support the Windows Mobile platform. Just the type of intellect they wish to cater for. Toys, pram, throw...

Well said Bro. Well said love what you told those friks

I completely agree, although Microsoft have played their part in this :'( they could have kept producing lower end phones and kept the momentum going. Even I, who think Microsoft are doing so much more right than apple and google, have jumped to android after 5/6 years of windows phone love. While android has its issues, it's now much faster and more stable than windows 10 mobile, which is not a good thing. I hope one day to come back to windows mobile, i still use Windows daily too, and favour Microsoft services... Although full cortana support and better calendar integration on android would be fantastic. Microsoft continue to be platform agnostic, and one day i might just come back :) Posted via the Windows Central App for Android

thats exactly how i feel, i have a s7 edge now but miss live tiles and most parts of windows ui.

The app was really buggy and lacking features. On top of it it was not really nice looking if you compare it with ios or android version. I'm just going to use Fitbit and MS band only from now.

Except that Fitbit will no longer use health vault.

How did they expect a rise on users if they dont update their apps. Wtheck

those who were stuck with them and want to switch over to something better try nutrition hub, there is a 5 dollars subscription fee but its universal and the calorie tracking is more accurate.

Interesting. Thanks for the heads-up.

Glad that there is an alternative, but, MyFitnessPal is king in this category. MyFitnessPal hasn't been actively supported for a few years now. It has been severely behind iOS and Android. I have been waiting for them to drop windows. Sad. Another big missing app.

Blame Microsoft for all the isolations.

Interesting is since they dropped the isolation and welcomed everyone in now people are leaving. Posted via the Windows Central App for Android

can you connect this to coincide with Microsoft Health app? like you could with my fitness pal?

Checked nutrition hub but can't find any option to set weight loss goal?

Nutrition Hub has a horrific rating in the Store, not a good sign. And it doesn't seem to be optimised for W10/UWP... https://www.microsoft.com/en-au/store/p/nutrition-hub/9wzdncrdccs7 Then again, I guess that's good for those on devices who feel "left behind". Here's hoping it really is a decent alternative, or that there's a better option. Maybe MS has a big update for Heath coming that'll fill most of the gaps.

I think myfitpal remove the app because it didn't have a crap ton of ads in it like the ios version. I guess they couldn't make money.

I do love reading these replies from some devs. I understand that if there is a lack of support/interest for their app in the WP/M market, sure, they have every right to pull out. But what gets me is when they say (more or less) that we should go buy an Android or iPhone if we want to keep using their app. Ultra above mentions an alternative app for $5. Let's see.... Pay $5 for an app that seems more accurate or shell out a few hundred bucks for a whole new phone, OS and fiddle around setting up your account on that new phone? Just to use their app??

even funnier to me, in the area that counts (the actually calorie checking) no matter what platform anyone's on they are mediocre at best

I totally agree. Also go see the miserable ratings of the app on wp.

it's cycle and they perpetuated it. don't keep support people lose interest and you don't support because interest is gone lol.

First Fitbit and now this! What the hell is happening? We are losing apps more quicker than we're gaining them. Every f..king company says the same crap, due to low demand, store limitations, OS limitations, phone limitations. That's bulsh!t. Lame excuses to hide their incompetence at developing stuff or cutting costs for another developer.

Wait, we lost the fitbit app? I didn't read that. When?

Well, we didn't exactly lost it, but we will lose a great feature for it, about syncing with heath vault

Fitbit is killing health vault integration. Not the app (unless there was a follow up story that I totally missed)

They want to keep the data themselves. Probably little to do with the APIs. Data = $

It was only the health vault integration. They have a nice app and keep it updated. I was a pretty regular user until i lost my fitbit that is :/

Are you really going to argue the point on low demand when every quarter shows the install base shrinking?

The quarterly numbers are new sales.

In Fitbit's defense, they updated their entire api, dropped a whole lot of other apps but kept a very special unique way for only Microsoft health. That they kept it this long is actually surprising.

Well this sucks big time. Have been using it left and right. WP is turning into a platform I can't stay because it's losing my daily apps and that saddens me

I hate the remedy some of these app are giving you.... You can still access the web version..... Lame....

Uh, ya, have you ever even used MFP? Their site isn't exactly great to use in a browser, even less so from a mobile browser. Never mind that the browser version doesn't have the bar code scanner the mobile app did, which I personally found very useful.

Uh, ya, have you ever even used MFP? Their site isn't exactly great to use in a browser...

Try re-reading.... He's saying it's "lame" that some of these devs suggest using the web version of their app. He is not saying people can just use the web version of MFP, or any other dropped app. As for me personally, it's not as simple as that; Sometimes a "Web App" can be better than a Native one, depends on the use-case/scenario. In the case of MFP, perhaps not...

Windows is not doing well right now and things need to be made to stop it! Fix bugs, polish OS, add more developer incentives, advertise, bring new phones, and things will slowly start to roll again. Posted via the Windows Central App for Android

No, they won't. Consumers have already decided. They don't have any interest on Windows Phone. Even Microsoft has realised that already. That's why they're trying to salvage the Titanic by turning it to enterprise. Posted via the Windows Central App for Android

Yeah they don't have interest because of the issues I just listed. If MS fixed that they could turn it around, but it's not gonna happen and I agree with you 100% as that is correct. What you said is the way it's going. I just wish it didn't have to be that way and I wish MS didn't have all these issues causing ordinary consumers to turn away.

Don't argue with DJCBS. He's a broken record that only shows up when there's bad news. He's just bitter about Nokia and an MS hater. If there's nothing to bash you won't see DJCBS.

I told him he is correct? Posted via the Windows Central App for Android

Well showing up when there is bad Windows Mobile news isn't hard. There is an endless stream of it here and any other techblog cause there isn't much good news to report on

Well, that's called confirmation bias. You want it to be true, so it is to you. If you look at the stories and start up a tally, you'd sew that there's more good news than bad, and it's not even close. Regardless, it's still pathetic to wait on the bad news and then pounce with the brilliance of copy/paste bashing.

Of course. Esp here. This is the only website that writes articles like 5000 reasons why our platform is doing good and the world will finally see the light and drop their Android or iPhone. While Thurrott, Neowin, Ars are not wearing those pink WC logo glasses and post the harsh truth and are hated around here. But I think a lot come here for the drama comments. You know I was fairly neutral against WP/WM but sites like these actually made me want the platform to fail now. It is nice to see this reality drama unfold daily. Soap opera at it finest

I've always found Thurrott to balanced in his views. Like most of us, he is having his patience tested. If this site if for all the drama queens and those with nothing good to say or troll, I think we can find you a nice pidgeon hole. The problem with these doom merchants' is that their posts have very little thought put in into them. They see a 'bad' news item, wet themselves and giggle away whilst making a nonsensical post. The you get to the signature and it will say, posted on my iOS / android device.....

@rufflow >I was fairly neutral against WP/WM but sites like these actually made me want the platform to fail now Guess you are going into the same childish pot with DJCBS, Rodneyej, Vhyr, Theefman and all the other overly emotive / taking it personally commentors on here. Why do feel the need to treat your mobile phone as a religeon? You do realise that "wanting a platform to fail" how childish that is as a statement?

Rodney is actually a cool guy, and not a troll :D Or at least I thinks so. But the others... Yeah, I get what you're saying...

That's a bit harsh. I've seen at least one well thought out post. Just the one..... ;-)

Yeah. It has to be a broken record when people like you refuse to take the blindfold you've put on. Reality keeps hitting you in the head yet God forbid people should rebuttle your delusions, "dailydose". You're like the Black Knight from Monty Python and the Holy Grail. Except you're far sadder. ;)

You're under the false impression that there is some virtue in being a constant hater. As you prove over and over, one can be deluded while being negative. Things aren't reality because you say so and there is as much promise as despair, but you only exist to exaggerate the despair. That makes it kind of funny that you say others have blinders, when you are about as monotone as it gets. At least your insults have some diversity. Nice Monty Python reference, but again, it's you that babbles on repeat, convinced that your word is absolute truth, to the point of annoying obsession.

You have just hit the nail on the head. Consumers. It doesn't help when innovations are not shown in a positive manner, if shown at all, by the somewhat biased tech media. I agree with a post above about Samsung being praised for Iris, yet MS hardly got a mention. Some of that is MS's fault for releasing it before it was reliable. Apparently, I dont have any eyes!!!! The thing that sways the tech world is all the other OS's are swamping them with tech to review, and despite what anyone says, if you are getting the latest device land on your desk, human nature will kick in and skew any subjective review.

Plus there was no marketing push from Microsoft for the 950's so no one actually new it had an iris scanner

How would fixing the OS help if there's no bloody phones to buy??? A friend of mine just took out a new contract and which phones is available? All old crap. No new phones since the 650 which isn't even available in my country

Both would help, Getting new phones with buggy software? Still wouldn't work. Posted via the Windows Central App for Android

I work at Vodafone now, and guess what, they have quite many Windows phones here. 435, 550, 640, 650, 950 and 950 XL. All of these available for regular costumers for fairly good prices, and for employees with deep discounts after the third month they're working at the company :D I'm thinking about getting a 950 XL this way shortly :D So there are phones to buy, at least here.

but thats the trouble only 6 phones only 1 premium as 950 and 950xl really the same, how many android would I have the choice of?

There are plenty of android phones, like always were. but at least 90% of them are pure sh*t :D

Thats a better ratio than windows phone....where 99% of them are ****!

Really? :D I don't think so :D

I use this app every day :(

Wow, this is crap! I use this app daily. Thanks for the tip from Ultra re nutrition hub! I will check it out

Nothing to see here.... If iPhone wasn't so stupidly overpriced I would be rocking it by now. I still like my Lumia 930 but I've given up any hope that we're going to see more big name apps show up. Just gotta save my pennies so i can get away from the constant stream of apathy and abandonment that windows mobile is.

Whelp, there goes my 186 day login streak. Any other apps on the platform that will let me create my own recipes, and add my MS Band/ MS health workout stats? There's two apps on the MS health site that never materialized or now have become unsupported. I swear its half a solution for everything, due to poor marketshare

the good question is when will Microsoft start taking windows mobile seriously and compete like they do on xbox, office, surface, windows, azure... why are they doing all they can to make windows mobile stay almost alive not alive but almost alive on medicine

I am starting to lose hope in windows Mobile. Note 7 looks really good and Surface Phone is really far away. I like live tiles and would miss that but note 7 has peaked my interest.

I brought one last night. I'll still be here with my 950XL DS for work but will have my feet in the green water for a while with my personal phone... Not looking forward to it one bit, the WP OS is still by far better! With no new Phones slated for release until next year, Telstra set to kill the 2g network here and everyone discontinuing support for my beloved WP... It's harder than ever right now to not look elsewhere! I will be rocking this droid with as many MS apps and tweeks as I can though!! Lol.

No new phones? What about the Elite X3?

Would have loved to spend another $1000+ on a new phone (if I had it)... My contract is up and im getting an extra 4gb data for $30pm less than I'm currently paying on my old plan. I don't have to keep it I figured, there's a few android users around I could sell it to when it starts to sht me. In the end, I'm saving money through picking up this deal. I can upgrade after 12months, which should work out well for new handsets next year.

If you dont mind me asking, what carrier are you with?

Same here exactly! I wanted to wait for the surface phone, I really did, but I can't wait any longer with apps being pulled out and not being available to begin with, I'll keep this old WP, but I'm getting the Note to be on the safe side, maybe when Microsoft get their act together I'll return to it, but for now, I lost hope...

I haven't exactly lost hope, I can still see how much potential WP has... I'm definitely not giving up! I have been with WP forever and am still an avid, blind supporter.. Just looking over the fence I guess. I think if I only used one phone, I wouldn't consider it. I hate gooble with passion and will be giving them as little information (if not dodgy info) as I can. I'm sure ill be on here complaining about random restarts and hang in no time :D

Who is gooble and why do you hate them so much? Posted via the Windows Central App for Android

Google, and it's a long story...

google....please humor us with the abrivated version of the long story, im sure its good!

Well can't really shorten it up but it began with them asking for my personal details when they brought YouTube, then it turned into demanding, then to threatening to shut down my account... It has gone on since then with emails and phone calls. I have kept my account going without handing over my address etc... Just.

Looking at the ZTE Axon 7. It's time to move on. I've been with WP since 2010 with the HTC HD7, 920 on up to the 1520, but with all this bs happening, it's time move on. I'll keep my 1520 to keep an eye on wp, but until Microsoft gets a grip which I doubt they will, I'm leaving.

It's very interesting to me the various straws which break the camel's back. I guess I'd have to have used this service.

I don't use the app, it's not so much about this app but the pattern of gaining an app, losing 1 or 2 plus not having certain apps. In addition surface phone is no where to be seen for a while and there are issues with w10m. For example one of the biggest things I like with the 950xl is the camera, it takes great photos but the software is really bad. Take 6-10 photos and it starts giving "Saving ..." message and takes a long time to go away and you can't use the camera during this. Also almost everytime I take a video now and hit stop and it takes a long time to process the video and allow you to use the camera again and if you don't wait for it to finish the video doesn't work. Sometimes the camera app locks up the phone and it restarts. I think universal apps are great, but really late to do much for w10m. They will be great for pc/xbox/hololens etc., but really mobile has too much to battle. I have been with windows mobile since 6.5 and I still have my 950xl but I am starting to consider moving away.

I ended up buying a Moto G about a month ago... It's very nice to actually have apps. Since I was using mostly all MS services, those transferred over relatively easily. It's also really sad because Windows Mobile is a vastly superior OS to Android (Marshmallow) in terms of features and usability. Even Windows Phone 8/8.1 were better, just never got the support... Now with Microsoft just about dropping it (no new phones, especially for Verizon), throwing support to everything but Windows Mobile, I feel I made the right decision. Especially since my Surface 2 is limbo'd, my second Band (original version, 1st replacement) died, and phones just keep losing apps. If MS goes paid Windows SAAS for home versions I'll probably drop all their services and go Linux.

Well, here I am.. on my new note 7... 3 days in with this device... apps are great, everything else sucks! Settings are all over the joint, Facebook contact Photos wont sync, I think its just too cluttered. Very nice phone though! Cant fault quality of the handset, but its just a headache to operate compared to WP. I definitely wont be loosing my 950XL in a hurry ;)

You'd really quit due to one crappy app that does (sub-par at best) count how much food you whack into your gob? You need help with that?

Not just one app...and count those that WP doesn't even get to start with....been with WP since the Blackjack but it's time to move on

More like they closed your account :D Posted from my Note5

This news just in time for the Note 7 and iPhoneb7 releases. Coincidence? Posted from my Note5

Notymetoworkout that's my motto

looks like some app cant keep up with a true UWP for windows 10, first it was fitbit and now myfitness app, whats happening with all the wearables? well there's joy with the introduction of Vinci anyway

If you wanted an app to replace it, what would you want it to do??? What did MFP get right and what did they get wrong??? I get the calorie thing was messed up, what else?

Well I guess that settles it, I'm giving up on my Lumia icon, I really did like my Windows Phone. I guess I'll be getting a Xperia Sony phone.

Glad they are keeping the app running as long as already logged in, sad to see it go. Hopefully will return in the future. Posted via the Windows Central App for Android

As developer, I come with conclusion, developing and maintain WP/WM (only) app is not worthy right now, the market share is too low. I have released WP 8.1 app more than a year, but only generate 2K download and it's revenue don't even cover store registration fees let alone development cost. I hear the similar story from other developer, he even only got 10 download in average weekly (sad face). I hope my next UWP app will do better.

Maybe make a better app? One of my apps has hit 250,000 downloads. U just need to find a niche...though getting people to pay for anything is a different story haha.

What is your app name, so I can check it. Yeah, maybe I develop app that nobody need except me, haha.

Beats yo. Yeah I have a bunch of apps with low download count, but that one people wanted apparently!

My app is : WritersPad I only have one app, but I have one UWP app in development.

The app looks good. But like some of my other apps don't think it has a large target audience. Just keep making apps that you find are missing on Windows. That's what I Do. You are bound to hit one.

Fortunately, I don't hang my financials on revenue my wp app, I just write an app that I want to use but not yet available on windows store. I haven't check myFitnessPal app yet. To summary my statement, from business view I can understand why developer halt/stop/pull app from store because demand for their app is lower than expectation, in case of WP the user base is very small compared to other platform.

Some big issues I've seen personally with using Windows Apps is often the are either poorly supported or poorly advertised. In the case of your app it seems interesting but looking at it I wonder what value it would give me over just using Word. Others may think the same and bypass it. I do know there have been some advertising supported games that have done really well. They had unique games and have kept them well supported. The saying goes it's better to be a big fish in a little pond than a little fish in a big pond. That said you do have to be creative in execution of the idea but also marketing. I've accidentally found some stellar apps in the store that have barley any downloads because of little to no marketing. I've also seen crappy apps with lots of downloads and a low score because the developer didn't really polish it. Myfitnesspal was in the territory in between.

Yea, when start developing this app I ask myself similar question and why would anyone use their phone writing a novel. The author that review my app may have answer this question: http://mspoweruser.com/unleash-inner-writer-writers-pad-windows-phone/

You will have an even harder time getting downloads on the other two platforms because they are saturated.

Saturated? Yes, but there are a billion Android users to kind of make up for that. Posted via the Windows Central App for Android

This sucks, I use it everyday and it integrates with my Garmin perfectly.
Website is the answer when the best thing about the app is ease of use due to barcode scanning!!!

same for me with garmin sync, gutted if it stops working

I think that's the end of WP for me - one of 2-3 apps I used every day. Website is not a replacement. Also, as a coincidence, my 1 month Lumia 650 stopped charging today.

It looks like Under Armour is set on killing WP app on any platform that they purchase. See Endomondo. I hate it that some devs seem commited (like Plex), but others use "not enough demand" excuse (which is often a cover-up for their personal hatred/prejudice against the platform) to kill the WP app - and effectively the ecosystem, fragile as it is. Thanks to this approach I still use Endomondo to track my cycling, but when it's killed I'm left without any social platform for that.

There's no personal hatred, the companies don't want to waste time and money on a platform with less than 1% of the mobile market.

Sad news again, a shame because the windows platform is great! Everybody who tries my lumia 950 is blown away but the most persons just buy an android or ios ohone because they are available in the stores and just don't know about Microsoft phones :( Microsoft needs a all out marketing campain to reach the public

Ditto dude the phone's are amazing and powerful but the support isn't there but I'll stick around because development is a process and WP has potential

Not for anything, but offering their app on Windows 10 is a no-brainer. It would not have taken much in the way of resources to port over an iOS app so why did they do this? The most logical reason is MS showed them something and they didn't like it. My bet is it was the Band 3 and an updated Health app. And I will also bet their is functionality in that device that is only usable or more easily available through Microsofts own app. I will keep watching to see if their are more health or fitness tracker apps being dropped from Windows (It's not just the phone anymore, it's all Windows 10 devices).. There are 300+ million dievices with Windows 10, having your dashboard show up on a TV, tablet laptop etc, isn't a poor investment so it has to be something else. Also, fitness trackers and watches are a niche market like consols so MS might be trying to make the band a device, not a refrence device....

Nobody supported the app because it was never updated.

Another one hits the dust

Sorry, the mobile app didn't respond, so I tapped Send multiple times. and the result is below :D

So another major app drops Windows - the biggest computer company in the world. Amazon app has a new friend.

I'm not really sure what you're talking about polishing OS? Windows 10 is definitely several steps ahead of Android. I'm talking from my experience since I also use an Android phone and tablet plus an iPad. Of these three operating systems Android is definitely the worst.

Yes, you're definitely right. Windows 10 and iOS are great. I have an Android Marshmallow device but still unhappy.

Yeah no really eh? Like Windows OS is slick, functional, and powerful... OS limitations my ass

And there part of the ease of using my Garmin app disappeared. Way harder and slower to use the website for myfitnesspal even if it still works

If you still want to use it hook up with Microsoft Health app and through Strava in Health app you can sync you tracking.... Don't forget to link Strava to the discontinued app in your Strava profile... It works for me!!

Okay bye Myfitnesspal. I've stopped using you since 2014.

It's a shame that they've dropped support, but not surprising as its been a while since they last updated the app. On the plus side, they seem to offer an API, so maybe a third party app will arise from the ashes. Third party apps never have the same consumer appeal as first party, but sometimes come off as better apps

Another one bites the dust.

MyFitnessPal ends support of its Windows Phone app? LOL, I don´t remember when did the app actually work on my WP in a first place. :)

Nadella needs to realize that a mobile strategy is crucial. PC is nowhere near the footprint Mobile can reach. The OS is solid, but this guy is clueless.

MS's stock price shows otherwise. MS doesn't necessarily need a hard mobile device presence, as long as they have software presence (aka apps on iOS/Android)

I wasn't referring to profitability, I was referring to relevance. To make an argument as a software giant and cannot penetrate 1% market share on Mobile is weak. They can do it IF they want to. I believe this is a leadership issue.

if windows dont have decent mobile offering which seems to be prety much now cause of the growing app gap then all it takes is apple to supoort pc gaming a or android to create a desktop os, not linux and ill be gone. honestly i want all my devices talking, i want all my phone calls and textest on any device and if windows cant do that ill go to someone who can, after all its 2016 not 2008.

As a Windows Mobile user since the 6.0 days, buying both a WP7 (LG E900) and WP8 (L920) devices on their respectives launch, I already know this platform is dead for both the customers and for MS. I am still using W10M on my L930 because despite all the current bugs, lack of apps, lack of support, etc, the phone and the platform itself still fulfill my needs, but soon I will need a new phone and I simply can't stand iOS and Android UI. After all these years on Metro/Modern, that grid of colorful icons seems too strange and oldschool to me. It will be a huge pain in the ass to get used to their design language and this is basically the only thing that still makes me use my Lumia. I will miss a lot this OS. It's hard to say goodbye to a platform I believed, used and liked for the past 10 years.

It's sad for me too, but try out iOS, I know its boring but at least everything just works.

I lost hope in MS as well as any other windows phone, no new feature , no value for money phone or no new phone at all, win10 is slow and buggy if u compare it with win8.1.
I am bored from this platform now kinda want to kill stephen elop as well as other microsoft top guys who is heading the company, bcz it full proof that people loyal to wp is no more important to Microsoft and lumia series doesn't stands for them, what they are caring for is continuum but someone tell them that basic feature and productivity comes first not the gimmicky features. God teach them a lesson. I am selling my Lumia 640 buy it from me ao that I can switch to XIOMI mi phone

I would of hoped that MS pushing the band would step in to try and help on this with a new app like they did with their version of FB app.
This takes a lot away from the band and MS Health as a whole for Windows mobile.

This platform is broken! I am by no means a heavy app user, but here lately all the apps I do use are disappearing... Mfp always worked for me. It may not have been as good as ios or android app but I wouldn't know because I've only used it on my windows phones. It served what I needed and now its gone along with Amazon which I also use daily. I have no bank support and tap to pay is only supported by a few... And apps I do use are more or less abandoned. I don't see how a rumored Surface Phone or any phone for that matter Can fix anything when there is literally nothing to run on it. Nobody is porting ios and would rather cancel then do so... I'm a huge fan and supporter but even I can admit this is the end! We are immersed and supporting a platform that is not even supported by its Parent company, it's just milking us. At this stage the only questions we should be asking ourselves is , ios or android?

What's the point of down voting the guy? What he says is accurate and is how the majority of us feel. At this point address your customers and tell them you are full in, going to put a full court press on, and start hitting the consumer market hard. And we aren't talking about all these porting programs and crap like that. Start charging next to nothing for devs in the store. The app store won't exist soon if you don't figure this out. So making penny's now won't do you any good. You have Panos working on a phone, which is awesome, but I think he is really the only one in charge that gets the consumers. Give this guy more control of the phone division beginning with grabbing control of the clowns developing Windows 10 Mobile. That ship is so misguided its not funny anymore. I said sometime ago, they should have been Trojan horsing these things back with Zune and packaging one with each Xbox package at a loss. We know the OS is better than iOS and Android. Problem is those over there won't even try them. Going the original Xbox route and almost giving these things away may be the only way to get them to try them at this point. Start giving the phones away with the Xbox One S. Lord knows you aren't selling them.

I agree with this. They are doing great getting everything integrated as one OS, but honestly they are moving SO SLOWLY when it comes to the part that matters most to consumers and that is the application store. They really need to forget what they are attempting to make on the store at the moment and offer developers some crazy incentive that costs Microsoft nothing to do. 30% of $0 is still $0. Remove barriers in the way of developer profit. Take a pay cut by not charging for 6 months or something if developers take the time to use the iOS bridge and customize it as a UWP. I don't know!

Thx guys... I just had to rant. I'm tired of trying to stay positive. I know Ms has made tools readily available to change the problem, but they themselves don't market or advertise or use their own product. I truly do love all my Windows devices, but at this point its really just a pc only platform for me. We have photo/camera and calendar and notes apps in spades and that's fine.... But I'm tired of seeing these headlines on my awesome live tiles. Try finding decent and updated home automation apps that are updated regularly or function as they should! Hueteo is without a doubt the best lighting app but its hit and miss functionality leaves it mostly broken with the amount its updated. I mean we are at like 1% on mobile, I understand developers' attitude in saying "what's the point?" It all falls on MS giving up on mobile long ago. When is the last time you seen an advertisement or marketing campaign for anything mobile? It's because they have given up on it and don't care... Hell, even Nadella and Belfiore use Iphones instead of windows phones.

Belifore is a stooge. When I see someone front to sell me something while they are using a completely different device, "liar" it's all that comes to mind. I work for a major car company. If I came in driving anything other than our car, we would be sitting in the street.... Mainly because the car would be in pieces when you got back out to the parking lot. It's an embarrassing and makes you come off as a fraud. Don't try to sell me something you don't believe in enough to own yourself.

Agreed! I think the average user has more passion about this product than anyone at Ms does...

if MS decides to abandon the bulk of wp users and explicitly state they are sticking with businesses, it only makes sense that all non-business apps will be discontinued sooner or later. This message in combination with not allowing the bulk of current WP users to switch to mobile 10, not having a simple update proces for wp users to mobile and discontinuing ms apps on wp will result in a 90% drop in mobile users. This will result in even fewer apps, effectively killing windows mobile. I don't see anything in MS their strategy that will be able to undo this. They have frustrated their fans so much that they will not come back to the platform and they offer android and ios users no good reasons to switch to mobile. They could have turned things around with the release of the 950, the vibe was good and ios and android users were giving the 950 a try. But both the hw and sw just were not mature enough, forcing people to return their phones and going back to their old os. Since then app developers and current wp users have completely given up on the OS. I don't see any way for MS out of this, and as usual they have no one but themselves to blame, bunch of incompetent bureaucrats. Rocking my 1520 till the end!

i agree, i think this stratagy of microsofts is gona cause alot of developers to leave and really its microsofts own doing. Very disapointed. Microsft must have known and predicted this.

I do hope you're not going to exhibit poor ettiquette by addressing every post here ~1mth+ after it was active. Surely you'd know that's poor form. A couple of posts is fine, spamming with several or more, is not.

Whatsapp beta updated with some ui changes

Ugh, another useful (if buggy and fugly) app bites the dust. Now would be a great time for MS Health to pick up calorie logging...

"If you wanted to reach a lot of phone customers, Windows Phone isn't the way to do it." - Terry Myerson, Microsoft's Executive Vice President of the Windows and Devices Group

A serious company would have fired that incompetent immediatly

they should also fire the people responsible for the onedrive free storage removel and timing of the 950 release with those negative statments. That cost microsoft some of their long standing customers on mobile.

He ree should be fired by now

When MS itself isnt interested to support the apps, what else do we expect of other devs. http://www.windowscentral.com/skype-windows-phone-81-and-windows-rt-will...

good point. I waited 2 years to get gestures or at least gestures speakerphone either in app or built into touch yet windows 10 its never worked. Windows 8.1 it was awsoem and that was a micropsoft app lol.

26Billiins for Linkedin, 30% royalties asked to developers, bad phones, forever beta OS, flash promises about phone update, what to expect ?

love the lumia 930, 1020 the 1520 and the mid ranged 830 all great phones and great built qualityes hell the 930 is so over the top premium feeling and a amoled screen unlike say the iphone, wireless charging too, say unlike the iphone. Forever beta is for people that go on the insider program, are you telling me you thought insider was a final product? The rest i agree with you but i do sence alot of biasy here. I use a lumis 830, 930 and a galaxy edge 7 and a iphone 6 and windows 8.1 mobile is my favorite, 10 is great but the hamburger menu sucks and thats from android lol. I love my edge and like touch wis and my iphone 6 just feels old no wireless charging hell amoled and high resolutions are even on most midranged phones now and have been last 2 years lol.

Zzzz, same old. I'm leaving etc. Some of us are happy with where we are, and where, potentially, this could go. Unfortunately, many others keep looking over the fence to see if the grass is greener. It is human nature. I have difficulty with those who arrived at windows, knowing it was a 1% club, and then kicking off about it. You need to *man* up and evaluate what is right for you, not what someone who agrees with you says. Take tech blogs etc with a pinch of salt. Many of them are swayed by the fact that they are swamped by new devices. Of course they are going to show something in a better light if the OEM 'looks after them'. If you want to go iOS or Android, then do it, without the need for assuming the moral high ground and belittling those who are happy where they are. As with all things, what happens when the honeymoon period is over? There are many posts where people have left OS a,b or c, and missed certain features, and have some regret in leaving. The same will probably happen with the best thing since sliced bread, aka the X3 elite. After the honeymoon period, what do you have? Another windows device. It may be slightly quicker, it may be slightly nicer ( a lot nicer compared to the 950 series! ), but the buzz won't last long, especially when HP, as I'm informed, will only support this in the enterprise sector. Many are waiting for the urban legend of a surface device. No one really knows what's happening there, its all rumours and supposition. If it does happen, Id be interested, but you can guarantee MS will **** up the media / advertising side of it, and so the love's and the hate's will be at it again, going round in circles, until they disappear up each others backsides. There's no real need for the vitriol thrown around on here. Unfortunately, those bloody minded enough will always take pleasure in the anonimity offered by the Interweb.

But people ARE leaving because the platform no longer has what's needed for them. I got the biz focus comment when placed in context of missing Snapchat, Pokemon Go etc. But MFP is an industry leader in a segment that appeals to people across demographics. For me, if MFP goes, I leave the platform. One more thing: I had Nokia 620, Lumia 640XL and Lumia 650. Nokia 620 had a warranty repair due to a faulty motherboard. Lumia 640XL developed the yellow screen stain and data on SIM1 was dropping when second SIM was active and 1st SIM band was 2100MHz (reproducible, never addressed). Today, my Lumia 650 stopped charging (a few months old). So - there is literally nothing left in there for me.

Fitbit it's a worthy replacement (I think better even, I tried to switch from Fitbit to MFP and the simplicity wasn't there). Plus there could have been demand for the app if it wasn't in such a crappy state for a ridiculous long time. MFP dropped support such a long time ago really. They've just made it official now.

I use fitbit for activity tracking but it has a much worse food database, no ability to add recipes, no full calorie sync to Garmin... etc.

I use the new Fitbit dashboard, and I would like a dark theme! Agree that it is missing some elements. The worst thing I have to put up with, and I hope I'm the only one, is synch. It takes an age with the Blaze! If you put app to Background and check emails etc, it stops sync! Then it occasionaly mishandles the sync'd data and you end up with less steps shown than the device shows???? It's the same on TH and RS

they will make a surface phone but they kinda already said that it would be in 2017, they didnt full out say it but in 2015 surface book thingy they said it takes about 2 years for a new device to come out and for it to be a surface it needs something special, thats telling us 2017 surface phone. it also lines up with redstone 2 and maybe theyll have a fuller os.

DR already revealed earlier in the year that it's "def." coming in Mar/April 2017, latest findings from MJF (see source article in this one) are a bit disappointing though (if they're solid). Really, any later than Oct. 2017 would be quite the fail (would have to be truly mind-blowing), here's to hoping it's not heaps later than ~April. Anyway, lets both try to keep it to a minimal & let this dead thread RIP, rather than necro-ing all over the shop.

ANother one bites the dust. My wife and I use this app and its great....On android and IOS.

This is a major blow for me. I literally use that app all day long. I recently had surgery on my throat and now have to keep a log of everything I eat. This was the perfect tool for that. :(

Well there are probably like 5884 WP users in the world left. No wonder companies don't want to support apps for it.

5885. You forgot to included yourself.

In all honesty, when is this Universal App thing going to start changing things? Seems like we are in the same boat as always.

Great... the second fitness thing that i actually use is being canned. I found the MyFitnessPal app useful for tracking that i'm actually eating enough and it was quite nice. I think Microsoft should get their act together and bring food tracking to the Health app so we don't have to use third party things which give up on us.
I think the main problem is UnderArmor who really don't care about the Windows platform. I've contacted them a few times about bringing their apps to Windows (and even giving tips on the iOS bridge) to which i've always been met with a generic response. I guess a third party dev could also make a new app, i'm quite tempted myself as i don't imagine their APIs are very complex.

So am I using a ghost phone? Cool!

No, were more grown up than that. The only ghosts are the dissenters. They pop out of the closet with a white sheet, go wooooo, WP is dead, then go back to the rock from which they crawled out from under

You have to decide. The "dissenters" (ie. the realists) can't "pop out of the closet" and then "go back to the rock from which they crawled out from under". Pick one. It's either a closet or a rock.

OMG the Rock is in the closet? The gay community is going to go nuts over this.

This app was NEVER great for me. Always had issues with it and stopped using it 2yrs ago. If they had actually EVER made it, at least, reliable I would've continued to use it. This is another, "We're blaming Windows and not actually admitting that we never really cared to try."

The app never really worked for me. On my 1520 it crashed on launch, and on my 950XL and 830 it was slow and buggy when adding stuff to the diary.

Microsoft has about 9 months to figure out if they want to be in the mobile device industry or not. These half ass phones and no Verizon support and hardly any apps that every one else has. I'm tired of using web versions on my phone for everything. 9 months or back to android.

I preferred the Calorie Counter app by Fatsecret anyway. Being diabetic, the carb count is more prominently displayed. Also, since May, I've tried to switch to Android twice, even bought a Nexus 5x on Google fi, only to switch back to a 950XL. Couldn't be happier to be back. The "app gap" is really only about what *you* use, or don't. Windows 10 and the 950's are excellent now. I had a hard time leaving behind my beloved 1020, but it was having focusing issues. Bottom line: That grass over there isn't really greener.

You tell people it's personal and then state your opinion as if it were fact. Hilarious. The grass IS greener. Over there, you don't have to care about apps cause they have all of them. Only on Windows 10 do you have to ask yourself which apps you do or don't use. Think about that for a second. So yes. Greener grass, compared to the desert in Microsoft's store.

Feature I liked the best was the barcode scanner. Unless it was something that was on my Recent or Frequent list, it was a pain to find it and guess which one was correct. Any others that have the barcode scanner and access to maybe a universal calorie database? Now if only Untappd would do the barcode scanner I could track my beer and calories faster!

What support? Did they support it? When was that?

Well I have just closed my account with this bunch of idiots and deleted the app. Will now focus on entering my food data in Fitbit.

MS has to do something to keep the following they do have. Be it paying companies to keep their apps afloat or hiring developers to build competitive 3rd party apps with permission from said companies.... I dunno, I know nothing about app development and have even considered trying to learn. I don't claim to have the answers or solutions, but MS refuses to admit the problem and I know that should be step one!

Useless app. I used for a couple of weeks and unless you live off ready meals (a bad idea) you might as well pick calorie counts at random

When will microsoft stop supporting their own mobile OS, that day i will bath in ganga

You see only two high end phones. Dont get me wrong I have 950xl and i love it. But i cant find reasons anymore to recommend it people anymore.

One Windows does not matter when your smartphone platform is irrelevant. The legacy is that desktop users get to deal with Microsoft lobbying for mobile apps on their matching. Ugh. Without a phone strategy, the Window does 10 strategy is completely non-factor.

This really sucks. I only have 4-5 third party apps on my phone so I never cared about the app gap, but this is one of the few apps I use so I'm pretty bummed. Things have been looking pretty bleak in the last month. I think our only hope is a surface phone running android with a metro looking launcher.

feel the same apps I used in w8 now going, I cant see it changing, how can the surface phone running android apps help, i'll just get an android phone the apps will run smotther

I can't believe we live in a world where Android is more well recieved than Windows Phone. Everytime I pick one up, a friend's device or a device on deisplay. it's a horrid experience in comparison to WP or even iOS. Especially that bad keyboard. Android is never the answer. iOS with all it's "basicness" is a better alternative to me.

I just started using the app, and I loved the live tile info and when it would tell me my daily step goal has been completed. #appgapjustgolarger

"Unfortunately, due to several issues with the app, and not enough demand of the app from our members, we have decided to no longer offer an app on the Windows Phone platform." If they want a particular number of users to hit and aren't then I can understand why they don't want to continue support. Would help to explain what those issues are (apart from the apparently poor store rating). "Due to limitations of the Windows Phone store, we are unable to provide ongoing access to the app for existing users." This I don't get - what limitations? Explain what they are, allow Microsoft to address them if necessary. Otherwise it's borderline libel if they don't state what those issues are, poor press for Microsoft without the ability to counter.

What is a good calorie counter app? Now that this is going away. :(

Read this sub-thread... http://www.windowscentral.com/myfitnesspal-no-longer-supporting-windows-... No idea how good/bad it really is.

Garbage news for WP again. Why doesn't MS step in to assist. More and more I see MS lacking support. Dumping a phone is one thing, but you have to dump an ecosystem. Moving to Android means dropping Office 365, Onedrive, Outlook etc. I will go to the full Google. MS support the apps I use and quit being useless. Show support to your users. You can't do it - come out and explain your road map. I am with you because you have purchased Nokia. My loyalty you to you is faltering. You do less and less for your base....

Damn. My mom depends(ed) on this daily. Going to have to explain why this app is now also gone. That's it guys, I don't think I can recommend a Windows phone to anybody else, friends nor family. It's just ridiculous now.

I stopped using it because it was glitchy. I think that was the reason there was low usage.

Oh F'in Kay already.... We get it... Apps are gone and we are to use web apps. Fine. No problem. Just let us modify notifications and provide a way to "sync" data through your web app and we'll accept it. We wont like it as much, but we'd rather have a decent web app than a lacking/broken dedicated app anyway.

I log my food with MFP but what I really liked was how it synced my workouts. Suggestions on what to replace them with? Too bread MS health didn't log food.

i left windows 4 weeks ago, yes its the best mobioel os but wehen paypal left that was one app to many. Here maps, no google apps,i wanted snapchat and poki mon, no santander app and no wireless paying method like i was promised on my lumia 930. I have a s7 edge now and even windows centra works better on that. I hope i can return to windows one day but the app gap would now need to be gone for me to return and truth is without google apps windows mobile even with surface phone is gona struggle. Metro tube and tube cast both crashed in the last 3 months so much, it only took paypal to leave with those issues and i was gone. Still android is not as good a os in my opinion as windows 10 but we need the apps, other wise whats the point, unless you just phone text and facebook on your mobile. Truth is ive always missed apps but nothing i really desperatly used alot but compared to 2014 and 2015 2016 is proving that for me the app gap has become biger and is now a real issue.
Windows Central Newsletter
Get the best of Windows Central in in your inbox, every day!
Thank you for signing up to Windows Central. You will receive a verification email shortly.
There was a problem. Please refresh the page and try again.