MyFitnessPal recognizes beta release failure, says new update is coming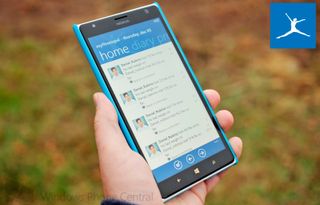 MyFitnessPal is working on beta testing new updates to fix major stability issues with its app, but unfortunately has missed the mark on its first beta release. The first beta release, which was set to improve many stability issues, really didn't do a whole lot to fix things, while some even claimed it made things worse. Snowballing from there, MyFitnessPal wasn't very clear to beta testers what was changing or the status of fixes, even making it tough to leave feedback for the app.
According to some tweets from MyFitnessPal to disgruntled beta testers, new beta releases are on their way that should be fixing at least some of the issues. Purportedly current beta testers should have seen messages in the app to indicate it as well, though that doesn't seem to be the case. In the meantime, they're hoping you just hang tight and wait for the updates to roll in — maybe going forward a better feedback mechanism can be put in place as well.
Are you currently using the MyFitnessPal beta and experiencing issues? You can at least know that complaints have been heard and fixes are on the way.
Source: @MFP_Staff; (2)
Meh, I'm just moving to the iPhone 6....no need to worry about being left behind.

Ok, bye. You will not be missed.

Troll, why that statement, nobody here cares, So good luck with the overprices totally locked in Apple world been there and so glad to be out.

Umm, You cared enough to reply to him

If you read the T&C, you should note that calling someone a troll also makes you a troll. Just fyi.

Why does your profile show you use an iPhone 5??? So you don't have a Windows Phone.

Well he is probably using Windows phone in iPhone.

And that's the best you can do. Not much you can do about the failures in innovation the past few years. Seems like Steve Jobs was the only one who ever really cared about Apple.

I can understand your worry about being left behind. Once, when I was at the mall, a six year old was crying at the customer service desk because he thought his parents had left him behind.

I'm using it and so far I have not been experiencing any issues. Just some features lacking, which I believe, should be updated too.

I find after 4-6 week it stops finding results and you have to reinstall it.

Beta, how do we get on it?
This is EXCITING news! I've felt they have neglected us for about a year now with buggy software. It's nice it is in works.

Also interested in beta testing

I got on by complaining quite loudly to them via facebook, twitter and website feedback. The beta is crap though. Didn't fix the loading issue at all.

How about the scanning issue?

Didn't try that, because I couldn't even add entries due to the loading issue. Ha

This is the best news for the platform since the WP8.1 preview.

I don't see why they can't just give us the WP7 version for now. It worked fine on my Lumia 800, and should on WP8.

Yep, this. If they just rolled back to the pre December version, that'd do for now. Less features, but at least it worked reliably.

I hope they fix this soon. I would like to use it but not in its current state.

I've always experienced the app getting stuck on various loading screens. Reinstalling the app everytime this happens is the only thing that seems to help.

MyFitnessPal is the best buggy app on the platform. I put up with the bugs becuase the overall offering is good. I tried Bing Health and Fitness but it doesn't come close. But it does do a few things well.

Daniel has lost 20 lbs? He doesn't look like he needs to lose any weight. I actually use the app to track weight gain for strength training.

F_ck MyFitnessPal. I left them after the app first broke last year. I contacted support and they responded with it being difficult to account for all the devices and variations of the Windows Phone platform.
SERIOUSLY?!?! And they never had a problem like this on Android. So I just stopped using it and have no intention of going back.

Yep they told me the same thing. I was dumbfounded. The WP just don't come close to what is offered on Android or iPhone. So frustrating loving an OS with shitty apps half the time.

It has never worked properly as long as I've had my WP, which is about 7 months now. Always freezes when scanning barcodes, fails to update meals or exercises, fails to update weight, it wasn't even allowing me to log in with my username and password, so I finally connected it to my facebook account to see if I could get in that way (yes). Right now, it's about as useful as the x-box music app

only beta release hope not have much bugs

Ok? I use the app on my Lumia Icon and don't have problems with it.

I am using it on my lumia 1020 and all of a sudden i couldnt add any items to the food diary. i had left a feedback and got a reply from them asking a bunch of info which i did provide. lets hope they fix this issue and put a better feedback system in it.

I no longer bother to reinstall, just log in IE and use the tile for reference on cals left..

I hope that the problems are solved. I'm tired of reinstalling the app over and over again when it stops adding food to my diary. Anyway to download the beta ?

I love the features of the MFP tool but wish the app would work more consistently. Here's something I received from their customer support, on June 11th 2014, about the WP app not supporting negative calorie adjustments (i.e. fitbit senses you haven't done much yet today and gives you fewer calories to eat) "I know you had reported trouble with Negative Adjustments in the Windows App. Our developers have isolated this issue, and do have a fix for it. That being said, unfortunately, we are not yet ready to release a new version of the Windows App to the Windows store. There are a couple of major issues (like app not opening or continuously loading) that we are currently addressing that need to be ironed out before we can update this version, though, when it is released, there will be a fix for the adjustment issue you are experiencing. I wish I had a time frame to give you, but we do not have one. I would rather be honest with you on this. We know these issues have been occurring for months, and are diligently working to get this Windows App working."

I have not used this app before, but I can not understand all this outrage for something not working that is in beta, that is the whole point of something being in beta, it might not always work and can take time to fix these bugs. I think people are spoiled with "beta" apps, it is almost as if beta is now the word for released when it simply isnt. Granted looking at it the communication from the company has not been great, but its a beta, so suck it up Kimbie

Kimbie, You might have missed the point, in that the old MFP app worked ok (albeit not as functional as the ios or android versions). Since this was updated at Christmas time it now barely works at all. This beta release is much awaited as a fix rather than a new app. MFP is one of the best/most popular diet and exercise tracking tools and all other alternative apps are a poor replacement. It's quite difficult to move all your custom foods/recipes/cached entries for quick input into something else (especially when its less functional). Even trying to use the phone browser to update directly to the MFP website isn't easy as it doesn't format well on the smaller screen, or have nice extras like the barcode scanner. Its a bit flippant to tell people to suck it up when plenty have volunteered to provide logs, run tests, join the beta test group or even pay for the app to help MFP improve Development time. Jim
Windows Central Newsletter
Get the best of Windows Central in in your inbox, every day!
Thank you for signing up to Windows Central. You will receive a verification email shortly.
There was a problem. Please refresh the page and try again.