myHealth for Windows Phone 8, tracking and organizing your medical information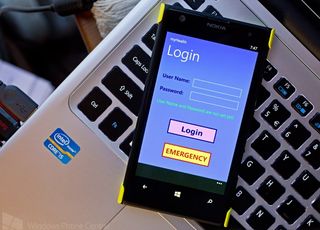 If you have the need to track yours or a family member's medical information, take a look at myHealth for Windows Phone 8. It is a simple, nicely laid out Windows Phone 8 app that will help you manage everything from medical contacts to medications to doctor's appointments.
The app can be password protected and individual accounts can be set up for yourself and other family members or even friends.
myHealth is cleanly laid out, easy to navigate around and is fairly comprehensive on the information it manages. It is an option worth considering if you need to keep medical information on you, friends or family handy.
When you first launch myHealth you are greeted by a login screen that has an emergency call button. Just tap the login button to dive into the app. You can establish a username and password in the app's settings or leave it unlocked.
From the login screen you'll be sent to the app's Members Page that will list everyone you are maintaining information on. Control buttons to add a member or delete someone are located at the bottom of the page. myHealth's settings can be accessed from beneath the three-dot menu and cover your login settings, adding emergency contact information, adding any measurements you want to track (blood pressure, weight, blood sugar, etc.), and the option to load test data to demo the app with.
myHealth is sorted by five main pages for each member that includes:
Members Page: The vital statistics for the member that includes date of birth, blood type, height, weight and contact information.
To Do Page: Here is where you can create a list to remind you of medical appointments, medication schedules, exercise times, or any other medical or non-medical action. A reminder can be set for each entry.
Log Page: This is basically a free form entry where you can create notes that pertain to appointments, medication, measurements (established in the app's settings) or catch all "other" category. If you have a question about an upcoming medical appointment you can log it here as a reminder for when you meet with the doctor. Have an adverse reaction to medications? Need to monitor blood pressure or weight measurements? Note it all here for future reference. If the need arises, reports can be generated from the logs that can be emailed or charted.
Contacts Page: Here is where you enter your medical contacts. Be it the doctor's office, the pharmacy, the physical therapist or an emergency contact. If the contact already resides in your Windows Phone's Peoples Hub, you can easily import that contact into myHealth.
Medications Page: This page will list all the medication (or food supplements) the myHealth member is currently taking or has taken. The listing covers the medication type, dosage, frequency, purpose, manufacture information and the prescribing physician. You can even add a photo of the drug for reference. Once entered, you can search online at MedilinePlus (opens in new tab) for detailed information on the drug.
The information you choose to enter into myHealth can be as detailed or as brief as you'd like. The only downside I see to myHealth is the lack of any method to back up your data. Ideally, it would be nice to be able to backup and restore the information to your SkyDrive account.
Asides from the lack of a back-up option for your data, myHealth comes across as a very comprehensive option to track, manage and maintain your medical information. I can see it coming in handy for those who have persistent medical conditions or simply have the need to keep track of a family member's information should an emergency arise.
myHealth is available for Windows Phone 8 and there is a free trial version available to let you try things out. The full version is currently running $.99 and you can find myHealth here in the (opens in new tab) Windows Phone Store.
George is the Reviews Editor at Windows Central, concentrating on Windows 10 PC and Mobile apps. He's been a supporter of the platform since the days of Windows CE and uses his current Windows 10 Mobile phone daily to keep up with life and enjoy a game during down time.
Even though I am as fit as a butchers dog still going to download it just in case

i agree. plus healthvault syncs a lot of information with other apps, such as bing health and fitness and livescape. both apps are great at adding exorcise and counting calories. plus with the sync option it gives your doctor a history of what you have been doing to help yourself stay healthy.

Me too, although this looks like it holds more data. Hopefully healthvault gets that capability as well.

I use free MS HealthVault and feature list outperform this app, IMHO.

Personally, I find the UI layout and colours horrible ... but that is my own opinion. I've been using the Microsoft Health Vault, which ties in with the Windows 8.1 Health and Fitness app, both are very nice.

Nope, you're right. This is plain ugly.

I thought I was the only one that noticed that.

How do you compare this with MS Healthvault??

off topic where is Daniel??

This kind of information needs cloud support, is it there? I hate having to enter everytime I reset my phone

skshandilya, the next version (3.2.0.0) has it (in Microsoft Certification now). Eitan

Looks good, but I won't use it as there is no backup option.

Jeffmparker, the next version has it (in Microsoft Certification now). Eitan

George, Thx for the review! Some of your comments/suggestions, new features and bug fixes are in the next version, 3.2.0.0, which is in the Microsoft certification now. Thanks
Windows Central Newsletter
Thank you for signing up to Windows Central. You will receive a verification email shortly.
There was a problem. Please refresh the page and try again.