MyTube gets huge update with new design, Xbox One support, and much more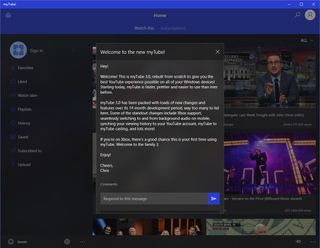 Popular third-party YouTube app myTube has picked up a pretty massive update, with a new design and complete rewrite. As if that weren't a big enough deal, myTube is also now available on Xbox One for the first time, offering a pretty compelling alternative to the YouTube app itself.
Other tidbits in the version 3.0 update include a bit of translucent blur that is reminiscent of Microsoft's Fluent Design flourishes, myTube to myTube casting, and much more. Here's a detailed look at some of what's new:
New, more modern and simpler UI
Launching on Xbox for the first time
Switch to and from background audio with zero pause
myTube to myTube casting: Cast from myTube on your phone to myTube on your PC or Xbox
Videos watched in myTube will now appear in your YouTube history
You can now select subtitle language
Channel search integrated into channel page
Option to use YouTube's official web player in order to support YouTubers financially
Main tile will now show subscriptions
A lot of these features have been in testing with the myTube Beta for quite a while, so it's good to see them make their way to the main app. If you're already a myTube user, then the app just got a whole lot better. If you have yet to give it a shot, however, you can check it out with a free trial on the Windows Store now.
Download myTube from the Windows Store (opens in new tab)
Dan Thorp-Lancaster is the former Editor-in-Chief of Windows Central. He began working with Windows Central, Android Central, and iMore as a news writer in 2014 and is obsessed with tech of all sorts. You can follow Dan on Twitter @DthorpL and Instagram @heyitsdtl.
Solid, been waiting for this update for a while.

Nice. Best YouTube app I've ever used across any OS. Love it.

Well, not quite 'absolutely'. The missing feature so far has been DIAL support which is why I keep a copy of Tubecast on my phone as well as MyTube despite the lack of other features. As soon as MyTube supports DIAL so I can simply cast to a Roku or other stick without sucking the battery from my phone dry, I can dump Tubecast (since it is confirmed Tubecast will not be updated to support W10 properly). Really hoping for DIAL in the improved casting in this MyTube update... Come on DIAL! Ta for an ALMOST perfect app in MyTube. Just one last step and Tubecast will no longer be needed.

It's a shame Tubecast is virtually abandoned. When 1703 came out I think it took a month before he fixed the problem where the bottom ribbon menu was empty. I reported this issue back in September and he had no interest in looking into it while it was insider. I think the last time I tried out mytube, I thought I remember that it didn't work under lock and it certainly seems to now (atleast on my phone) so I may switch to this as my primary client on pc/phone.I tried client for youtube but it has horrible performance on mobile, even on my idol 4s.

the mytube beta v3 app have dial and have a function to open from mobile mytube app to pc mytube app. I ditch tubecast when I get the mytube beta app

True, I use it even in my PC. Stopped using web youtube.

I love this app, especially considering that YouTube isn't available on Windows phone 10, so I'm going to make this my go to app for everything it's available for!!! I like using the app as well, it has some good features that YouTube doesn't have, so it's quite a good contender for a YouTube rival!!! Many Thanks to the Creator who has shown Windows so much support and constantly updating the app, not to mention listening to our ideas and acting on that feedback, also shout out to Windows Central who I think put this app in the spotlight since its arrival and had helped it become as popular as it is!!!!

I normally feel really uncomfortable using third party apps but this one is SO good. I'd happily recommend it to anyone.

Been running the beta on Xbox One for a while. It worked well, certainly better than the official "app", but it still needed a bit of tweaking here and there. Definitely be checking it out when I get home.

Maybe you can help me. When I'm playing a video and I hit the O button to return to the list view, the video I was watching plays in a small overlay. How do I stop and close that video without returning to it?

I'm assuming you mean the B button as there is no O button on the Xbox controller. While the video is playing, if you press the A button or move the stick to get the control overlay to come up on screen there's an X in the top left hand corner of the screen. It didn't work for a while and I honestly haven't tried it recently, but I know he was working on fixing it so it would stop video playback and take you back to the previous screen. My work around was to just pause the video first and then use the B button to go back.

Thanks. Yes, I did mean the B button. I actually found an easier way - hold the menu button on the controller closes the video playing in the overlay.

Confirmed. Press the A button on the controller to bring up the on screen menu, navigate to the X in the top left corner, press the A button to select it. It will stop playing that video.

I've been beta testing this version and it's finally good to see it being available to everyone

This YouTube App is just awesome. And the updates for the beta were really frequently. It's way way better than the original YouTube App on XboxOne. And I actually prefer this app over the new YouTube design on PC too. Only thing missing are the notifications for comments.

And I just received some sad news. Dutch bank ABNAMRO will stop supporting their Windows Phone app by June. 😭😭😭😭

All hail this developer!! Now if Microsoft would fix the god damn title from going away in the volume controls after GODDAMN HOW MANY YEARS!!!!

How the **&%@**&%€¥ can anyone with a sain mind downvote me on this. This is the most ridiculous piece of programming on the entire planet.

Google must really hate Microsoft with a passion reserved for mortal enemies if they won't even release a YouTube app for the second most popular gaming console in the world. Google sucks.

There is a YouTube app for the Xbox One.....it just really sucks like it does on all consoles.

A very good app indeed. Man the amount of effort put into making this app is astounding. Only way I know how to show appreciation is to donate a couple of bucks here and there. Kinda sad the Mobile OS for Microsoft is pretty much dead. At least it is a UWP app and I can get it for Windows 10.

He's finally done! Congrats to the dev.

Google's one saving grace, YouTube.

Looks fantastic. I love how it finally adds videos I've watched in myTube on the phone to my YouTube history, because I don't use the app on my desktop, I just use the desktop site in my browser like most people do on a PC. I'd love for them to add the ability to go straight to myTube when a YouTube link is clicked from an email or Twitter etc... rather than opening in the browser. I get email notifications from all my subscriptions so I don't miss their content (because the YT subscription feed has never worked) so it would be nice if the myTube app would open links instead of Edge opening them on the phone. This is the way it works in Android (and presumably iOS too but I don't use it so I wouldn't know) so if the myTube devs could add that feature it would make the experience complete for me.

In one if his messages to developers he said, that he can't add this feature, because the third party apps need to also have a web page, which belongs to the app. In this case it's impossible to remake the app into the web page 😕

Aw man that's a total shame, but definitely understandable. Kinda annoying to have to find the video manually but now that the history will sync up between myTube and the website, as long as I stay signed in in the browser on my phone it should appear in myTube's history so I can find it easier.

Or you can copy the link of video, open the app and it will show you the video in clipboard, so you just click it and you can watch it 😉

As Tommy mentioned, you simply have to copy the URL and then open the MyTube app. The video of the URL showed at the bottom right in a small overlay window for the previous version. Haven't tested for v3 but I guess it should be the same.

Nah doesn't seem to do that, at least on Windows 10 Mobile. Oh well, was using it extensively last night and it works well enough for my liking.

Can't find it in the store on Xbox One

Me either. Maybe US only?

Give 12 to 24 more hours. Since this is the first Xbox release, it'll take a short while for the app listing to be updated to show Xbox support. You'll notice the app listing on PC and mobile still have the old 2.0 screenshots. Once the app listing is fully processed later today or tomorrow morning, it'll be available on Xbox :)

Thanks....was desperately looking for it on Xbox...lol

Desperate, please... Life will go on...

Shame on Amazon ebay aliexpress.Time to learn from mytube devs how to build a perfect 👆 uwp for w10m.

They need to fix the comments section

Happy to contribute to developer. Great software, keyly with Windows 10 mobile support, I'm happy to pay towards.

Same. Made a donation to support them. Been using mytube for 3+ years now. Got it when it was free so considered a donation now that its possible to do so.

You all should try Awesome Tube its great!

Really great app, donation on the way...

Quick download now! Now that it's on Xbox One there's a chance Google may actually give a **** about it and get rid of it soon lol 👀

Not sure why you got downvoted. Have an upvote. It's actually a genuine fear. Wouldn't wanna loose one of my most used app.

@IBMThinpadR51- The reason your YT sub, or feed, isn't working is bc The Young Turds are pure trash, total establishment sellouts, and they wouldn't know truthful reporting if it kicked them in the face, (which I wish it would). Klank, or whatever his name is, has to be the biggest cry baby tool alive, & Ana is such a self absorbed b**ch, (remember her election hate on woman, discusting), she should be locked in a cage with a badger! Honestly, the whole crew are a bunch of douch bags, and they should all be tar & feathered!! If Google had any brains they would ban those shills to Narnia... Once it's been overrun by badgers!!

That is literally the stupidest reasoning for the YouTube sub feed not working. I don't even watch TYT, nor do I give a **** about political **** on YouTube. All I care about is my dank memes from h3h3 and some tech **** here and there. I don't get involved with the cancerous side of YouTube which is all the political channels, both extreme left and alt right are cancer, both spew out bullshit so I have no desire to care.

This is without a doubt one of the best apps in Windows Store.

Hooray! Instant donate for the developer!

Can't see it on my Xbox store with or without searching.

great app with fluent design

Good apps deserve to be supported.

Microsoft should really push MyTube.

For PC, MyTube also have xinput support now 👍👍

I don't see it in the Xbox app store 🤔

This is bullshit, it's not on the Xbox store at all. Says not available, then you look at compatibility and it doesn't include Xbox.

My Tube is een fantastische app.

haven't checked the xbone ver. But I'm using the WP10 version and it is so great.

Always failed to cast to DLNA stick while Tubecast does it without any problem, what a shame !

Exciting! Can't wait to use the new features, however, I wonder when MyTube will get multilingual support
Windows Central Newsletter
Thank you for signing up to Windows Central. You will receive a verification email shortly.
There was a problem. Please refresh the page and try again.