myTube is getting a big update soon with a redesign, here's your hands-on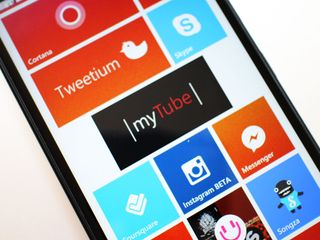 We're halfway through 2014 and still lack an official (and likeable) YouTube app from Google on Windows Phone. No worries, we've got exceptional third-party YouTube apps on Windows Phone thanks to enterprising developers. One community favorite, myTube, is due for a major update shortly. Here's a hands-on look at some of the new features and design coming to myTube on Windows Phone.
A new, cleaner redesign is central to the next version of myTube. You'll notice things have been polished and changed up a bit from the version currently available in the Windows Phone Store.
Here's the list of new things coming to myTube:
New, much cleaner design
Landscape browsing
Multiple account support that syncs across all your devices (PCs, tablets and phones)
This version of myTube also lays the foundation for a Windows 8.1 app. That's in addition to a cleaner design, landscape browsing and multiple account support. Watch our hands-on video of some of the design changes coming to myTube below and let us (and the developer know what you think).
Awesome! When do I get it?
myTube developer Christopher Blackman ( @Ryken100) is hard at work on the beta right now. He's a full-time student throughout the year and is currently doing a summer internship. When he's not busy kicking ass, he's making myTube for you. He expects the functionality of the myTube beta to be fully complete in three weeks. After that, he expects a month or so of beta testing (from all of us) to help get rid of all of the bugs before the app is ready for primetime. We will, of course, let you know when myTube is updated with the new design and feature set. Or you could join the beta today to play around with it.
Bonus: Want a sneak peek of myTube for Windows 8.1? Check out the layout of this beta in landscape mode.
Join the myTube beta
Want to join the myTube beta right now? Of course, you do, and you can easily join today. Here's how:
Download and install myTube from the Windows Phone Store
Launch the app
Pull up the app bar (three dots!)
Scroll down to find and click 'Join the beta.'
Enter your Microsoft account and click submit!
You'll then see the Windows Phone Store link to the myTube beta. Give the developer a few hours to add your Microsoft account to the beta list, and you're good to go!
Going to join the beta? Already in it? Sound off below and don't forget to tell us what you think of the next version of myTube.
Windows Central Newsletter
Get the best of Windows Central in your inbox, every day!
Great app is getting even better. One of my most used apps on Windows Phone. Can't wait to see it in action on Windows 8.1.

I love this app, can't wait to get it on my tablet as well

Best YouTube app on WP developer is a Beast!

Speaking of developers: What happened to Rudy Hyun? Had he jumped off the WP ship?

No dude, he is the caption of ship ;)

Yep. My fav YouTube wp app as well!

I've been on conversation with the dev via his Twitter account, I can recommend the app, which was recommend to me as a great app for devices with only 512MB! The dev is great, very hands on & responsive to questions etc. He recently tweeted regarding this update had been submitted. Just last night he put a message on the app regarding Vevo... & the best bit? No Google YouTube ads!!

So how can be omit ads and Microsoft's app was pulled because they blocked ads

I would suggest, one was made by Microsoft & was so good it showed Google up, & this app is still very good, but is made by a private dev, so Google don't care...

True. It's the best. Got it when Italy winning a match in FIFA ;)

Need a YouTube app that lets you browse and watch videos at the same time. That's the #1 feature I love most about the official versions on IOS and Android.

myTube does this already. There is an option in the settings.

Great app .. Really love it.
If the developer is reading this, he need a really new GOOD live tile and icon for this app. That was my only complain so far.

Mention it too him via Twitter & take part in the beta if you want ;)

Did join the beta, and ill try to post this suggestion on his twitter..

Oh good, yes do tweet him, I'm sure he's open to constructive suggestions...

It's great, but like all of YouTube apps, doesn't support CC . None of windowsphone apps has this yet!

I almost thought you meant for the phone lol

This is great! Glad they are using Metro UI while giving user as much screen space as possible. Too many apps tend to adhere so much to Metro UI, it ends up robbing precious screen space.

+1 ( I'm using HTC 8x :D )

But the search on top is just terrible :(

Just wait for the official app..!

What official app... Google doesn't care about WP you know.

Lol, you're true..!!! Waste my time to wait for the official YouTube's app ...!

The official YouTube app is probably never coming.

Unfortunately, OsamaAdam98 is correct. I don't see an official app coming in the foreseeable future.. :/

I found this app much nice and user friendly than the so called official app.

So the point, app which contains good and user friendly called official app.. ! I'm be confusing..??

You cant even download videos in the official app.
I'm happy with this one.

Only official app will support cc function !

Official YouTube apps on iOS and Android play ads before the videos, just like on the website! So, definitely happy with this, but it's been 2 months. Where's the big update?

I have already suggested it tot he developer but chromecast support would basically make this the only YouTube client I would ever need to use. Currently only tubecast has that functionality

Google has very strict terms and conditions that doesn't allow WP devs to use it. (see Plex)

Developers are not officially allowed to stream videos to Chromecast from Windows Phone, but then we're not officially allowed to stream videos in the first place, soooo maybe Chromecast support will come :)

Why would Google do that( apart from the obvious intention of crippling the competition)? Can iOS/Droid devs use the API? "Don't be evil" my arse

Well, I lot of companies do stuff like that so I wouldn't hold it against them :)

My favorite YouTube app is getting even better! Great news...

I hope there will never be an official YouTube app in windows phone loaded with adds and BS.

myTube on Windows 8.1 ? I'm curious to see how it can surpass Hyper, which is for me the best Youtube app ever made, wait & see.

PrimeTube had so much potential..

I wonder what he will call it, seeing as somebody else made an app called myTube on windows 8.1 that is horrible. Can he get it taken off the store for his app? Or will the name be a bit different?

I'm not sure yet honestly, I have no copyright on the name so I'm not sure if there's much I can do besides trying to the developers of that app.

I mean you could try to contact MS about it. If your app was published before "MyTube" on W8 I think MS will side with you.....

MyTube on W8 was actually published first it seems, but I'll still talk to MS

The best ever was cuteTube. Simple.

I've "signed up" for the beta months ago and again a few weeks ago and have never been added... (And yes, the email is correct,) but I don't care. The current app rocks already!
That said, the update looks fantastic and I can't wait to try it out! :D

Hey Anthony, add your email again :) If you added it months ago it must've been during school where I wasn't updating the beta at all. Chances are your email got lost as a few thousand applied during that period. Sorry!

I signed up a second time before you had started the "limited feature" beta back a month or so ago, but just signed up again. I can't wait to try it out. It looks so clean! :D

I also signed up a while ago! How will I know when it has been "accepted"?

I too added my e-mail a couple of weeks ago and again the other day but I don't know if it went through. After entering my e-mail and then tapping enter, I get a blank dialogue box.

@Sam, does Songza work for you? Their "Indie With Strings" playlist is Awesome!

how about a review of the tweetium app too ?

Why microsoft make app youtube itself just like this app...? This is the reason why i must write a suggestions that microsoft can't refused it !!!

Licensing and a bunch of other nitty gritty details. TLDR: Microsoft and Google don't play nice. :D

Yeah... Microsoft and google are rival..! I got the point :)

they tried, the second last version of the app was amazing, but google kept complaing about small details until microsoft said fuck it and just released the app as a webwrapper for the mobile webpage

I had that app for months, and it was awesome, except I couldn't view any videos on it besides the launch day.. :(

What about the possibility of share the video on tv?

That's coming with Play To support :)

Awesome, keep up the amazing work dude!

The beta is already outstanding once he polishes the app this would be the best YouTube client, I like it gives you a portrait interface, I wish I had a L1520 to really enjoy it.

I love it on my phone and it might give Hyper a run for it's money on my Windows 8 machines.

So what's required to get one of these YouTube apps to support live streams? That and a watchespn app would fill maybe the last gaping hole in my windows mobile experience.

I honestly don't think Google has made that available to developers. :o

I haven't looked into it much yet, but I'm sure the video format will require expertise I don't have yet (just like with 1080p videos). I'll take a look and see

I joined the beta months ago and forgot about it (I fell in love with OneTube, which seems to be in limbo..) and damn! This beta is beautiful :D

Always preferred MyTube over Metrotube, but following new channels was a hazzle, the app never rememberd my choices. Time to give it a try again.

That should be fixed in the beta (I think, I don't remember anyone complaining about it so far lol)

Ryken100 there's a bug I think, the screen goes dim while videos are playing. Like the normal timeout if the phone is not running a task. #beta

I love this app. I can't wait for a Windows 8 version.

Shout out to the dev for making such a nicely designed app! Its apps like these that make me love windows phone.

When will they add the full YouTube functionality?

When Google makes it available :-)

I got a problem with mytube. I love the app but I have this issue that I dont know how do fix it. I can install mytube and it work great. After a day, I try to open it and it wont open at all. So I have to uninstall and install it again. Does anyone know how to fix it? I have a 920 8.1DP.

Hi Vitor, this has to do with the OfflinePlaylists I believe. I'll fix that over the weekend when I update the 8.0 version :)

Thanks a lot man!!!! :) \o/

I've been a beta tester of myTube and the brand new design and features are really great and everyone should be looking forward to it!!

Mytube is my fav on windows phone and I've been waiting for the universal app, which appears to be around the corner! I still want a true dark theme with black in the back and not just dark gray.

Hi Khundara, WinRT only supports two themes by default, Dark and Light. There might be a way for me to apply a 3rd theme at run time, but I haven't tested it yet. I'll find a solution before launch :)

I already got tha new one with tha 8.1

This is the one I use, love it. And, the guy that develops it seems to be extremely eager to update and please users. He also frequently posts messages to the app that explains when something is not working as desired. Good dev.

The metro design of this app is really phenomenal. And the scrubbing done by just by swiping through screen,really makes it No.1 YouTube app

I'm using Toib app which is really cool, but some videos cannot be shown because are made for original format. This app comes with the same issue? Thanks

Looks just like MetroTube now not impressed

Search button on top is just terrible.

I like some changes, but search on top is always worse.. :(((((( I use this the most..

I use "YouTube HD". Works out great for me, so far. What you all think of that one?

I love the VOLUME CONTROL

Love this app. Great work dev, I cant wait for the new app.

Just signed up for the beta and immediately get the app. Now I'm gonna try it. Sweet!
...
The landscape browsing looks and works so good.

I've been on the beta for awhile now. Can't wait for this version! :D

Still missing the most important feature!! Volume control!! Add that one

I'm just wondering when ill finally see Youtube app on WP platform which will allow me to watch all those videos I've bought, when I was having Android tablet via Google Play store. You see, YouTube apps on Android or IOS or even Android Tv allows you to see "Purchases". None of the current WP ones, don't even have those options (maybe limited API I am not arguing). But on PC you could watch it on youtube page at least but on WP (using desktop mode) Purchases are visible, but when I try to play anything "Your browser does not currently recognize any of the video formats available. Click here to watch FAQ about html5 videos". So, would be nice to have this functionality...(I guess my Christmas wish to Santa :()

dont get your hopes up, google has proven they dont want a true youtube app on wp, and they arent gonna open up the api's for their purchase section either

Well even official MS one (when it came,out before been closed by Google) didn't have this feature.

oh, Im not saying it did! microsoft had the samew api's we have, I'm just saying that said feature would only come in an official app, which google has no intention on doing in the enar future

They could at least try to fix the web page, cause we do have html 5 support but, well just dreams I guess.

Beautiful app! But the logo, no.........

Please add 1080p support, I think Google already did this on android.

I hear 1080p is really difficult to add, something about being multiple streams for it

That's correct, it is possible but it requires knowledge of video decoding which I don't have. The new MediaElememt (the video and audio player) in WinRT has a game mode which may allow me to play the audio stream while another MediaElememt is playing the video stream. I haven't tested yet though, but I'm crossing my fingers!

Hire someone to help you add 1080p support. ;-)

It's amazing!!! I can't believe he actually made it even better than before... Amazed at the results! Keep it up!

who need offcial youtube when we have apps like mytube metrotube toib

Tubecast is a very nice app, too. With the ability to playback the video on your TV via Miracast. The UI is nice, too! MyTube is the greatest, though.

The best Youtube app in Windows Phone Store!

Does anyone know if that loud popping noise while scrubbing video bug (present in Sam's video) in WP8.1 is being worked on? Does anyone else experience it? It is not specific to MyTube.

Just watched this on myTube; can't wait to upgrade!

Seems like I'm not the only one getting a bad noise whenever I skip forward or backwards on a video playback...

I'm getting that, too. Hope it gets fixed when officially launched.

he didn't add me to list. i submited yesterday but not responted. :(
i hope he will see.
my acc is vuduccuong.hust@outlook.com

Hi, I haven't yet added anyone who has joined since last weekend. I'll add everyone soon :)

I love this app and hearing it will come to Windows 8.1 is great.

He's not letting grass grow under his feet where Youtube is concerned. Good news right there

Maybe it's just me but I like the current design better. It will be a sad day when I have to update :(


Psssttttt... You can keep the old thumbnails by going into the settings and switching back :)

I saw your video Sam. Not just that though: tiny header, text based categories, tile menus. I get that he wants to have the same design across WP and W8 but still...

Looks like will have to bump this upto the 2nd app to download when I get my surface pro 3 lol. The app looks pretty darn good.

Awesome indeed, much loved app. keep up the good work. And don't stop the info message popups, its a nice touch.

Great app! I enjoy using it alot!! Keep up the good work!

I'm using the beta version of My Tube now and it's awesome !!!!

Either Christopher or Rudy needs to make an Xbox music app

Right bro.. Rudy is the best developer.

Waiting for permission...

Looks even better than the ad bs that google makes for ios and andriod. Coolest Man Alive

Does any third party youtube app download videos directly to music+videos hub just like tubemate in android? Please tell.

I screwed up and switched from a L920 to a moto x. I actually liked my tube and metrotube better then the official app on android. Live and learn I guess. Posted via Windows Phone Central App

Someone mentioned Chromecast - the Tube Cast app is already available to do the job on WP8.

My fav YouTube app but I'm very happy and satisfied of the current design, why making it worse?

My go to youtube experience on WP. The current UI kinda kicks ass to me so hope it doesn't change too drastically.

mytube drains my battery and data. i'll stick with metrotube.

Looks remarkably similar to toib, on the dark setting.

I have the beta. It is different. I liked the original Mytube more, then I got used to it. Now, I deleted the original mytube and only use the beta. I'll reinstall when beta is finished.

It should be noted that this is a very rough and unfinished version compared to the previous beta. Lots of missing features and animations which I'm sure will be added soon. Looking forward to it.

I want a youtube app the lets me download video - quality of my choice while downloading the video (not predefined or set on 720p) - nd the downloaded video should be available on phone storage nd not inside the app...

I just want "download videos directly to SD card option". Like UC browser.

Definitely one of, if not THE best YouTube apps on the Windows Phone platform. I honestly don't think google could be doing any better on their own but then again, f**k Google! Awesome job Christopher!

Guyz I m getting blank server response when I try to submit my mail id

I'm testing the beta and it's awesome. Smooth, responsive, a great UI with nice transition effects. The best YouTube player period. When it
will be released, I think people will be shocked.

Does the new version support 1080p ?

For those on the beta, does the new version support 1080p?

Why can I still not download this app. Had to uninstall and now keep in getting an error when trying to download again.