MyTube is on its way to Xbox One with background audio, here's an early look
Google supports Xbox One with its YouTube TV app, which provides us with some of the service's most basic functionality. Thankfully, Ryken Apps is on the way to improve things.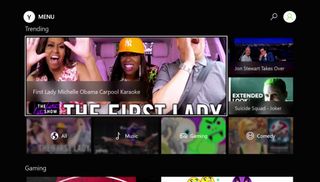 MyTube isn't just one of the best YouTube apps on Windows 10 and Mobile — it's one of the best ways to browse YouTube, period. Not only has MyTube provided Windows Phone users with YouTube Red's premium features for years, such as background audio and downloads for offline playback, but it's arguably more intuitive than Google's official apps on Android and iOS. And now, it's coming to Xbox One.
YouTube famously refused to allow an official app on Windows Phone a few years ago, forcibly blocking a Microsoft-developed solution with a somewhat spurious excuse. Considering YouTube's streaming push into Twitch territory with YouTube Gaming, the company is arguably unable to ignore Xbox as a platform, given its living room dominance. Whether or not the Universal Windows Platform leads to a responsive YouTube app for Xbox One, Windows 10 and Windows 10 Mobile remains to be seen, but at least in the interim, Ryken Apps is bringing MyTube to Xbox One in a big way.
Ryken Apps is hard at work building MyTube 3.0, which is gearing up to deliver YouTube to the Universal Windows Platform across Windows 10 Mobile, Windows 10 PC and Xbox One. Unlike some of the other UWP apps currently available on the Xbox One Preview, MyTube will have an interface optimized for use on the console.
MyTube for Xbox One will allow you to navigate different category panels with the joystick. You'll be able to select between your subscriptions and YouTube's own trending recommendations, and browse YouTube as you'd expect from its website.
While MyTube 3.0 is only around 10% complete for Xbox One, it already plays videos in the background utilizing the Xbox One's all new background audio feature. This will be handy for listening to podcasts, interviews or music playlists while multi-tasking or gaming. Using the Xbox One's background audio media controls, you'll be able to skip through videos in a playlist, as well as adjust the volume mixer between MyTube and game audio. Since YouTube's official Xbox app isn't based on UWP, it will remain unable to access background audio.
When MyTube 3.0 is completed, Ryken Apps is targeting support for the following features on Xbox One:
Background audio.
Playlist management.
Downloading for offline playback.
Comment posting.
Acting as a casting target from MyTube on Windows 10 phones and PCs.
Live streaming video playback.
MyTube 3.0 is currently in beta for Windows 10 PC and Windows 10 Mobile, and you can pick it up and contribute feedback using the link below. Ryken Apps is targeting a late 2016, early 2017 launch window for MyTube on Xbox One, so keep an eye on Windows Central for further updates!
What other popular UWP apps from Windows 10 and Windows 10 Mobile would you like to see on Xbox One? Let us know in the comments.
Windows Central Newsletter
Get the best of Windows Central in in your inbox, every day!
Jez Corden a Managing Editor at Windows Central, focusing primarily on all things Xbox and gaming. Jez is known for breaking exclusive news and analysis as relates to the Microsoft ecosystem while being powered by caffeine. Follow on Twitter @JezCorden and listen to his Xbox Two podcast, all about, you guessed it, Xbox!
MyTube has probably been one of the most important, and useful apps on my phone for the past couple of years. Such a nice app to use, kudos to the Devs.

Finally I will be able to delete another app made by Google.

Yes. That app they created it's just crap.

Looks like UWP on Xbox One could end up being huge. Can't wait to see where all this goes.

I agree. It's been a long wait, but I finally feel that going Xbox One over PS is paying off. More apps I like to see:
- Ring: Would be great to check who's at the door in a Snap screen.
- Messaging: Read and respond to text messages in Snap
- Phone Calls: Integrate it with your Windows Phone like iPhone to other Apple products.
- Insteon (other home automation)
- Amazon: Order, check on status, etc.
- Audible:
- Remote Desktop: After Mouse & Keyboard Support
- Windows Central: Why not?

The windows central app would actually lay out pretty well in it's current form on a TV - I can definitely see myself using that, probably my most used UWP app outside of those built into the OS.

Messaging from the console probably will come with the Skype UWP for Xbox One.

Awesome!!the best youtube app ever!!was waiting for this one to make it to xbox even email de developer about it!!youre a legend dev!!!

I like Metrotube, but MyTube jumped on this opportunity.

Metrotube. That stopped working for me around 6 months ago. I tried it a couple different times since and its still a no go. It was the original you tube app for me, but now I use MyTube.

Looking forward, just wish I could subscribe or comment without having to faff about with giving my email to Google. Gonna have to give in soon as I have several broadcasters that I really enjoy content from.

Google service wants you to log in with Google. Not going away any time soon am afraid.

And that's why I will never have a YouTube account unless I can use my Microsoft account with it. Googles loss.

I have been using my hotmail account for youtube subscriptions and comments for the past three years. So its not a must to have a gmail account.

I have a google account, that I only use for YouTube, since I left android last year. But I want it separated from my Microsoft account, that was always my primary e-mail address too. So I don't want google let in it :D

Goodbye YouTube app and hello MyTube!

I can't wait to have MyTube so I can delete that **** of my Xbox.

An awesome app that puts the official YouTube app on Android to shame. This is the first app I bought from the Windows store. The best thing about this app is its interface and add free videos.

This is a good App. But I prefer Tubecast

To be honest the you tube apps on Android and IOS are slow and cumbersome next to metro tube and mytube. So I'm over the moon.

Did you miss the part where it said "10% finished"?

awesome, im looking forward for this app :)

I would love to see audiocloud make it over to the Xbox as well as Spotify.

I've had MyTube on windows for a while, but cant seem to figure out if there is an auto play feature like YouTube? If so, can someone point me in the right direction? I like watching a playlist of videos or a bunch from the same uploader, but currently I have to select a video each time. Super annoying after a while. Thanks

Playlists should play videos one after another, at least that's how it works on my devices. You could try installing the Beta version? Maybe that has playlists working properly. Though in settings you can make it auto play videos you click on, instead of clicking the video, seeing the description and then hitting the play button.

I like MyTube, and Hyper For YouTube... better than the stock Youtube App.

xbox has livingroom dominance? Is the author living in some other reality where every 3rd PS4 owner also bought and Xbox ONE?

Living room. Not the kids bed room. LIVING ROOM.

I was more thinking about Apple TV and the Google equivalents when I wrote that. PS4 is a closed platform for app development. PS4 having sales lead doesn't mean Xbox One isn't dominant. There's millions of Xbox consoles out there.

Make it for android please...even Microsoft makes better apps for android... Posted via the Windows Central App for Android

GTFO... And be happy with your "official" YouTube app, that can't even download anything, or play in the background, and has ads if you don't pay for yt red EVERY FRICKIN MONTH :D MyTube belongs to Windows. The "one OS to rule them all" :D Android is a toy :P And no, MS doesn't make better apps for lagdroid...

The MyTube UI looks like it's been hit with the W10 fugly shovel. A shame.

I use Awesome Tube, but I can't deny, that MyTube is amazing. I have it installed on my phone as well (the regular and the beta one too) to keep in touch with how it evolves ;)

Does myTube support YouTube Red? I know it has background audio and no ads from the app itself, but I would love to be able to watch the exclusives. If not, I'll have to stay with the webapp :(
Windows Central Newsletter
Thank you for signing up to Windows Central. You will receive a verification email shortly.
There was a problem. Please refresh the page and try again.