NBA 2K21 is $70 on Xbox Series X and PS5
Next-generation game prices are going up.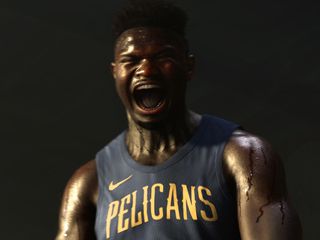 (Image credit: 2K Games)
What you need to know
NBA 2K21 has been announced by 2K Games.
It's coming to Xbox One, PS4, PC and Stadia with a planned release date of September 4, 2020.
The Xbox Series X and PS5 versions will be released sometime in Holiday 2020.
These versions will also be $70, which is $10 more expensive than the current geenration versions.
NBA 2K21 is $70 on Xbox Series X and PlayStation 5. The Xbox One and PlayStation 4 versions remain at $60, meaning there's a $10 bump for the next-generation version of the game.
The Mamba Forever edition of the game, which features Kobe Bryant on the box art, will cost $100. It includes both the next-generation version of the game with extras and a standard edition on the current consoles. If, for example, you buy the Mamba Forever edition on Xbox Series X, you'll get the standard edition of the game on Xbox One. This infographic helps break it down:
2K Games also confirmed that NBA 2K21 is coming to Xbox One, PS4, PC, Nintendo Switch and Stadia. It's currently aiming to release on September 4, 2020. The Xbox Series X and PS5 versions of the game will be available sometime in Holiday 2020.
Xbox Series X/S
Main
What is the Xbox Series X release date?
How much does Xbox Series X cost?
Why you can't preorder Xbox Series X yet
Windows Central Newsletter
Get the best of Windows Central in in your inbox, every day!
Samuel Tolbert is a freelance writer covering gaming news, previews, reviews, interviews and different aspects of the gaming industry, specifically focusing on Xbox and PC gaming on Windows Central. You can find him on Twitter @SamuelTolbert.
Yeah, that's going to stay on the shelf at the store...... I rarely ever pay full price for games as it is. considering how poorly the last game was received, they decide to go up on the price? Okay.......

I'm... okay with games going up to $70... I think. Here's the thing, between Xbox Game Pass/Ultimate, first party Microsoft games free on Game Pass, Games with Gold, Epic Store free games, Steam sales, everything Sony offers (which I don't currently partake in), and weekly discounts from every major store - games are, to a certain degree, incredibly cheap. I can't even remember the last game I paid $60 for. And my backlog is so huge that I can wait for $60 titles to drop in price. It seems fair that prices would increase to compensate for people like me.

Yeah, games are "cheap" because they load them up with post-purchase monetization with skins and trash like NBA 2K's VC that speeds up your character progression. They implement stuff like EA's Ultimate Team trading card gambling. They re-release the same games across several decades. The games are "cheap" in the way the console is cheap before you have to buy the games and the online service and the accessories to get the "full" experience.

I'm all for developers getting paid. They can make some great content but $70 for NBA2k21?! If this had some well thought out story, a campaign mode with hours and hours of content, an open world environment to explore along with a large online multiplayer then I could get it. Seriously though, this is a rip off and if anyone pays full price for this... well they are nuts. Calling it now, Madden just got more expensive. Another full price waste of money.

How can they suggest they need to raise the cost, as if they haven't been doing that by milking people with microtransaction nonsense for the last decade? This is the same parent company that's about to release GTA V for the third straight generation. NBA 2K is one of the very worst at prodding you for extra money to get an advantage in their progression grind. With as much as they lock things behind slow "RPG" grinds that your credit card can magically bypass, they have no excuse for wanting more money. I'll not be paying $70 for a single base game whatsoever.

lol I can already see the excuses, "it's so expensive to make game now!" They don't need this, they make loads on gambling, sorry, surprise mechanics. All of these sports games sell so much and make so much on microtransactions that they don't need this.

I bought the last one for $5, 3 months ago. I'm not their target, obviously.

Needless to say, 2K will not be one of the companies that will be taking advantage of Xbox's "smart delivery." Either pay $100 for both or $130 separately.

And the "next gen" is not available on pc because it would be even harder to justify the price...
Windows Central Newsletter
Thank you for signing up to Windows Central. You will receive a verification email shortly.
There was a problem. Please refresh the page and try again.