NBC's Breaking News app supports Windows 10 Mobile with latest update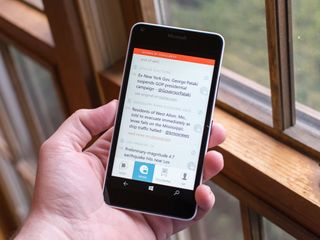 Earlier this month, NBC updated its Breaking News Windows app after over a year with a new look for Windows 10. The app was recently updated yet again to add support for Windows 10 Mobile smartphones as well.
This makes Breaking News the latest app to join the universal Windows 10 family. It offers users alerts for major and trending stories, with push notifications for the biggest current news items. Here's a breakdown of its features:
See what's breaking right now around the globe
Get just the facts with quick updates
Get push notifications on the biggest stories
Get alerts for any story or topic you choose
Follow your favorite topics, mute the ones you don't want to see
Share your surprise and see the most surprising stories with "Whoa!"
Alert your friends via social media
We are big fans of Breaking News and we are glad NBC has added support for Windows 10 Mobile to the app.
Download Breaking News for Windows 10/Windows 10 Mobile (opens in new tab)
It's raining apps on windows 10 lately

Dude, are you serious?!? That's my line!!!

Let's say a "Steady Drizzle"
To quote Cortana "Rain will start at the top of the year"

Yes. In a year or 2 all current WP8.1 apps will be available for W10M users.

This has been the go to comment for years. Nah.

Don't know what's up over at the NBC/MSNBC family, but the "MS" folks need to step it up over there with their apps. I'm a long time NBC-MS loyalist, but NBC News's Windows apps are horrible. Only a few weeks ago did they remove Brian Williams's picture from the Nightly News tiles. NBC News top story is still the San Bernadino shooting. They have no MSNBC streaming apps for mobile. They're ridiculously slow to load. It's brutal...

I don't think Microsoft and NBC have any relation anymore. Besides, MSNBC is worse for your brain than crack.

Well, that's a shame and a missed opportunity to flaunt their wares. The big touchscreens they use on the Today show used to have the MS logo on it - was it the first line of "Hubs"? They should have Surfaces on all the anchor desks, the reporters should have Windows Phones. Such potential... [To add] - I agree with your assessment of MSNBC's coverage. Besides Morning Joe, I can't stand every other show/anchor. Maybe that's why MS pulled out...

That's why they use the term Breaking News, not to be confused with Breaking News.

Did they port that with Islandwood? Looks an awful lot like an iOS app to me. Good if they did.

Maybe it just hasn't loaded yet, but it appears to not have a live tile... that would be an auto-FAIL.

Live tile not on my Lumia 640 WP 10 insider. Either the app doesn't have one, or it isn't working properly.

I'd rather have the old Windows 8.1 app if there is no Live Tile. News apps benefit from Live Tile possibly more than any other type of application.

Sadly, I'm using their old app again for live tile support. What a shame. Hopefully this isn't the trend with iOS ports. Maybe they will add live tile in a future update.

Why doesn't the wpcentral app have a download link anymore? So frustrating

Probably so you have to go to their webpage and suffer through their ridiculous ad placements. Or so you'll click 'view links' get sent to that trade-doubler crap. I hate it, but all we've gotten in response to it are snarky comments from the editor and ridiculous excuses.

Yep, it's terrible here these days with ad overkill. OpenDNS blocks tradedoubler as being adware which means the app links don't work from the website or app. Makes articles like this worthless. Can't believe they get commision from a link to a free app either!

I can't even use Ie or Edge browser on the web site because the site loads soooo slow

I'm on IE11 at work and it's not uncommon for Windows Central to take 15 to 30 seconds to load. Not to mention their commenting system is horrific. Typing comments often results in characters not being recognized. It took me a couple of minutes just to type this little comment. Windows Central needs to be a business case about how not to design a website.
Windows Central Newsletter
Get the best of Windows Central in in your inbox, every day!
Thank you for signing up to Windows Central. You will receive a verification email shortly.
There was a problem. Please refresh the page and try again.