Nearby Numbers Windows 10 Mobile app launched by Microsoft for Chinese market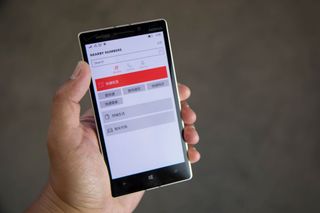 Microsoft has launched a new app specifically for the Chinese market called Nearby Numbers for Windows 10 Mobile. It's been made to integrate with the Phone app to help users find a phone number from the 80 million that are listed by China Telecom 114.
This app was actually seen a while ago in earlier Windows 10 Mobile builds but has apparently just gone live to the public in China. Here's an overview of its features:
Start searching online right from the Phone app, then call right away.
Find phone numbers for places quickly. When dialing in the Phone app, press the keys that match the first few characters of the place's name, then start searching online with Nearby Numbers.
Search by category or keyword when you don't know the exact name of the place.
Open Nearby Numbers from the App list to do more. For example, track the status of a package you're expecting.
Again, Microsoft has launched Nearby Numbers for Chinese users only. It's unknown if the app will be adapted for other markets like the US. There's also apparently a Windows 10 version of this same app planned but at the moment it doesn't appear to work for that platform.
Download Nearby Numbers for Windows 10 Mobile (opens in new tab) (China only)
Via: WMPU
Ooh, sorry, 2021. Microsoft has a policy of delaying everything in India for one day everytime someone asks that on this site. It's why they haven't gotten the Surface yet.

Omg, I wish this was fucking true.

Why the F do they make WM10 exclusive apps?
WTF with WP8

At least Microsoft launched something today..

It's a "holiday" in the US today, so don't expect any major releases or announcements from Microsoft until Tuesday, at the earliest.

Cool at the same time disgusting... Why only China??

You can't just whip up a phone directory app for a whole country/region. This is likely already tapping into an existing database for China. I mean, they don't even have this for the U.S.

Microsoft wants to make a dent in the non-existent WP market share in China. I wonder how Xiao Na (Chinese Cortana) is coming along?

Pretty sure better than the Spanish one.

Microsoft can always ask China the list of US phone listing, they can sort it by category, name or hack date.

Installed it, but it's all in Chinese or should I say Mandarin.

No shit Sherlock! I wonder what articles are good for.

Hihi... Why isn't the name in Mandarin? ;-)

Good catch, but the phone is Verizon. Must be an American photo.

So it's like truecaller right ?! Posted via the Windows Central App for Android
Windows Central Newsletter
Thank you for signing up to Windows Central. You will receive a verification email shortly.
There was a problem. Please refresh the page and try again.