Netflix will stream CBS' new Star Trek series in 188 countries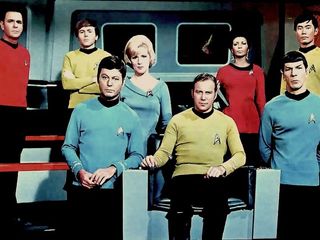 Netflix and CBS have announced the former will hold exclusive rights outside the U.S. and Canada on the new Star Trek series set to launch at the start of next year. As well as the new CBS series coming to Netflix, the company will also ensure 727 existing episodes from the show library are available for streaming worldwide by the end of 2016.
Sean Carey, Vice President of Global Television at Netflix, commented on the announcement:
The first episode of the new series will premiere on the CBS TV network in January. All subsequent episodes thereafter will be exclusively available on CBS All Access in the U.S., while those located outside the U.S. will be able to leverage their Netflix subscription.
Press Release
LOS ANGELES and AMSTERDAM, July 18, 2016 /PRNewswire/ -- Netflix and CBS Studios International today announced a landmark international licensing agreement for the new "Star Trek" television series. Netflix will be the exclusive premiere home of "Star Trek" in 188 countries (excluding the US and Canada). Each episode of the new series will be available globally within 24 hours of its U.S. premiere.
Additionally, all 727 existing episodes of the iconic "Star Trek" television library – including "Star Trek: The Original Series," "Star Trek: The Next Generation," "Star Trek: Deep Space Nine," "Star Trek: Voyager" and "Star Trek: Enterprise" will be available on Netflix around the world by the end of 2016.
The all-new "Star Trek" will begin production in Toronto in September for its January 2017 premiere. The iconic and influential global franchise will return to television for the first time since 2005 with a new ship, new characters and new missions, while embracing the same ideology and hope for the future that inspired a generation.
"The launch of the new 'Star Trek' will truly be a global television event," said Armando Nuñez, President and CEO, CBS Studios International. "'Star Trek' is already a worldwide phenomenon and this international partnership will provide fans around the world, who have been craving a new series for more than a decade, the opportunity to see every episode virtually at the same time as viewers in the U.S. Thanks to our world-class partners at Netflix, the new 'Star Trek' will definitely be 'hailing on all frequencies' throughout the planet."
"'Star Trek' is one of the most iconic shows in television history and we're thrilled to partner with CBS to bring the beloved series to Trekkies around the world," said Sean Carey, Vice President of Global Television at Netflix. "The newest chapter of the story promises to continue the rich tradition of adventure and is sure to excite fans everywhere Netflix is available."
In the U.S., the new "Star Trek" will launch with a special premiere episode on the CBS Television Network in January 2017. The premiere episode and all subsequent episodes will then be available in the United States exclusively on CBS All Access, the Network's digital subscription video on demand and live streaming service.
As previously announced, the new "Star Trek" marks the first original series developed for U.S. distribution on CBS All Access, which provides viewers thousands of episodes of CBS's current and past seasons on demand, plus the ability to stream their local CBS Television station live for $5.99 per month.
Alex Kurtzman and Bryan Fuller are co-creators and executive producers for the new "Star Trek," based on Gene Roddenberry's original series. Fuller launched his career writing for "Star Trek: Deep Space Nine" and "Star Trek: Voyager." Kurtzman is co-writer and producer of the blockbuster films "Star Trek" and "Star Trek Into Darkness."
The series is produced by CBS Television Studios in association with Kurtzman's Secret Hideout, Fuller's Living Dead Guy Productions, and Roddenberry Entertainment. Alex Kurtzman, Bryan Fuller, Heather Kadin, Gretchen Berg & Aaron Harberts, Rod Roddenberry, and Trevor Roth will serve as executive producers.
Rich Edmonds is Senior Editor of PC hardware at Windows Central, covering everything related to PC components and NAS. He's been involved in technology for more than a decade and knows a thing or two about the magic inside a PC chassis. You can follow him over on Twitter at @RichEdmonds.
Thank you CBS for thinking of us fans outside of the US, I think HBO, amongst others, could take a leaf out of your book!

Well, CBS owns their own content. HBO has to license most of theirs and thus is more limited in options.

No, they shouldn't. CBS took live TV streaming out of their Windows apps for sports and TV series. Also, they are forcing people in the US to buy into yet another subscription for streaming online-only content, with a bad value for your money. This is even if you already have access to their TV network. So no, I don't think anyone should emulate them :S. /endrant, sorry for the long post.

I guess as the others take only this leaf out of their book, it's fine haha.

Agreed Soypan. Horrible model for U.S., looking good for everyone else though. No way I'm paying the cash, or the PITA of another subscription, for this limited original content. I predict a huge fail in the U.S., such a shame.

And when it fails, they'll blame the show and cancel it. And THEN it will show up on Netflix USA.

Yep, that sounds about right. "Why is it only popular abroad?" They will wonder, lol

That suck. I meant the exclusive right. I'm on different streaming services in my country.

Boo! Not paying for another sub. I'll wait for it to hit Netflix or Hulu in the US before I watch it.

Way to get my hopes up with the headline... :-( At least it sounds like we'll get the back catalog though

Win10 Mobile app still crashing upon opening. I've had to revert to 8.1 to access app.

I don't mean to judge. But why would your revert your entire OS for one app?

The web app works pretty well, too.

Maybe try going back to 8.1 and then back to 10. The CBS app works perfect for me on my 640XL. We watched Supergirl and Elementary on it all season with the phone screen thrown to my Xbox 1.

So in the US I would have to pay for CBS's subscription service to watch this? No thanks.

I believe in the US and Canada it will be a normal broadcast on CBS affiliates. If you don't have cable you can pick it up with an antenna for free. You can always Tivo it and watch at your leisure.

Nope, it will be exclusively on their CBS All Access subscription. Only the series premier will be broadcast on TV.

Wow! That's really surprising that they would exclude a large portion of their audience this way.

Hmmm I wonder if changing the local country in Netflix settings would open it up in the US?

I wouldn't count on it. Netflix has been cracking down on stuff like that lately.

Sucks you'll have to pay yet another subscription to watch.

Thanks CBS for making those of us in the US have to pay more money. UGH.

CBS thinks their streaming service in the US is worth $6? Hulu has multiple networks (CBS not included) for $8. If we start paying each network/channel a sub, that old bloated cable bill is going to seem like a bargain.

I said the exact same thing when the CBS service came out!

I guess that means I will not be watching the show. I will not pay for just one channel.

I'll wait until the entire season is available, signup for a single months trial, and binge watch the whole thing in a week. Cancel and repeat next season.

I will just wait for the SKGTV copy to appear 1 hour after being released.

Awesome. I hope it will be Games of Thrones like. As in, not too squimish to show some nud edity and violence. More depth than the modern movies, but not as slow as some of the TNG shows.

Not really a Windows article but as a Trekkie, I approve! :D

so if i live in the USA but want to watch the show via my Netflix subscription can i just change my local country and DNS to make netflix think i'm outside the USA?

I just wish they'd put out the HD versions of them. Re-watching if them in SD was such a let down.

Yes Yes Yes!n I used tip user a VPN to het Netflix USA to watch tuis. So happy they are bringing It globally!!!!!

So now CBS has no new idea instead of old series reboot?