Netgear Orbi RBK50 vs. Netgear Orbi RBK33: Which should you buy?
We're a virtual company made up of tech experts from across the globe. If you're looking to upgrade your Wi-Fi abilities, we're here to show you all your options for the best routers.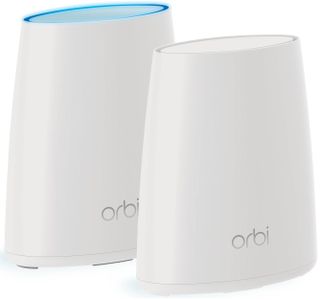 Better coverage, better speed

The RBK50 has a USB port that gives you abilities to print with ReadyShare. It's truly the best option for the all-in-one router you're looking for to complete your home. Not just that, but it also comes with more Ethernet ports and memory to help out with homes that have more internet users.
For
More LAN ports to use.
More memory.
USB port.
Plug-in Internet Options

The RBK33 package is the same as the RBK30 package. The only difference is that it comes with two satellites instead of one. These satellites plug directly into your walls to give you discreet coverage. But, unlike the RBK50, you won't have a USB port, or Ethernet in your satellites. It's still a good package for a dorm or small apartment.
For
Smaller and more satellites.
Cheaper package.
Appearance more discreet.
Against
Less memory in the satellites.
Netgear Orbi RBK50 vs Orbi RBK33 tech specs
While most of these specs appear to be similar, there are a couple of notable features you should check out.
Swipe to scroll horizontally
Header Cell - Column 0

Orbi RBK50
Orbi RBK33
Coverage
5,000 sq ft
5,000 sq ft
Performance
AC3000
(1733 + 867 + 400Mbps)
AC2200
(866+866+400Mbps)
Frequency
2.4 GHz, 5 GHz
2.4 GHz, 5 GHz
Wireless standards
Radio 1: 802.11b/g/n 2.4GHz, 256QAM support

Radio 2: 802.11a/n/ac 5GHz, 256QAM support

Radio 3: 802.11a/n/ac 5GHz, 256QAM support
Radio 1: 802.11b/g/n 2.4GHz, 256QAM support

Radio 2: 802.11a/n/ac 5GHz, 256QAM support

Radio 3: 802.11a/n/ac 5GHz, 256QAM support
Processor
Qualcomm IPQ4019
Quad-Core
MU-MIMO
Yes
Yes
Memory
4GB Flash
512MB RAM
Router: 4GB Flash and 512MB RAM
Satellite: 256MB Flash and RAM
Ports
USB 2.0
No USB
Ethernet
Router: 1 WAN, 3 LAN

Satellite: 4 LAN
Router: 1 WAN, 3 LAN
Satellite has none
Beamforming
Yes
Yes
Performance
While the Orbi RBK50 offers AC3000, the RBK33 offers AC200. As you can see above, the AC200 offers 1,046 fewer Mbps at 867Mbps for the first band, but the other two remain the same. This means you'll get slightly less backhaul performance, but the other bands will remain the exact same.
On top of this, the plugin satellites with the RBK33 have significantly less memory at 256MB Flash and RAM then what's offered in the RBK50. While the routers themselves have the same memory, the satellites in the RBK50 offer 4GB Flash and 512MB RAM. So with the RBK50, you get that additional room.
The only other difference that's important to note is that the RBK50 satellites will require shelf space and, while it doesn't take up much space, it might be unappealing if you like your routers invisible. In this case, the RBK33 would be a better option for you. With that one, you can just plug the device into your wall and forget it exists.
Features
The Orbi RBK50 router has a built-in USB 2.0 that you can use for ReadyShare or compatible external hard drives. With ReadyShare you can print directly from your phone, laptop, or computer as long as they're all connected through the same Wi-Fi network. Unfortunately, the Orbi RBK33 doesn't have a compatible USB port on the router or either of the satellites that come in the package. This only leaves you out of ReadyShare and more memory expansions, but if you're not one to use too much memory in your routers anyway you'll be just fine (most people only use the router space to store image files or computer backups).
One of the amazing things about both of these routers is the Parental Control options they both have. This is run through Disney Smart Parental Controls, which allows you to manage content and Wi-Fi times on any device connected to your network. Not only that, but all of your internet is managed by one Wi-Fi Network for your entire home, under one name.
Our pick
Mesh Tri-band for performance

With this mesh system, you get 5,000 square feet of coverage and up to 3.0Gbps on your internet speed. There are eight total Ethernet ports between the router and satellites, and even the ability to take it a step further with the indoor and outdoor expansions.
Hide your Wi-Fi
Discreet tri-band performance

The RBK33 covers 5,000 square feet of coverage with two plug-in satellites. This gives you the ability to hide your boosters in a wall without taking up more shelf space. You can also get a single plugin for $150 on Amazon.
Get the Windows Central Newsletter
All the latest news, reviews, and guides for Windows and Xbox diehards.
Essa Kidwell is an expert in all things VR and mobile devices who can always be found with an Oculus Go, a Pixel 2, and an iPhone 7+. They've been taking things apart just to put them back together for quite some time. If you've got a troubleshooting issue with any of your tech, they're the one you want to go to! Find them on Twitter @OriginalSluggo or Instagram @CosmeticChronus.