New and rising games for your Windows Phone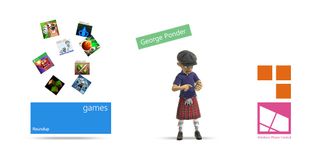 Windows Phone Central Game Roundup: New and Rising Games
We're turning the spotlight on to a few New and Rising Games from over in the Windows Phone Store in this week's roundup.
These are games that have caught the attention of Microsoft and Windows Phone users, earning them the distinction in the Windows Phone Store. This week we take a look at two racing games, a destroy the zombies game and a game that will test your concentration and patience.
Prison Break Rush (free): Sometimes the simplest games can be the most challenging. Prison Break Rush definitely meets the criteria of a simple game but it will test your concentration, reflexes and patience.
You play the role of a prisoner set on escaping. You have a "To Do" list that must be completed before you can break out. You have fourteen days to complete your list and escape.
Game play to accomplish each task has you tapping and holding the screen while the prison guard is not in sight. A red progress bar rests above the cell door and when you've held the screen long enough, you advance to the next task. However, if the guard comes into sight while you're holding the screen, you lose a day. Lose all fourteen days and you're stuck in prison.
Graphics are simple, game play uniquely challenging, and Prison Break Rush is worth a try. You'll be surprised that glancing away from the screen for just a second can be enough to allow the guards to catch you in the act.
Prison Break Rush is a free game for Windows Phone 8 and 7.x devices. You can find Prison Break Rush here in the (opens in new tab) Windows Phone Store.
AE 3D Moto - The Lost City (free): AE 3D Moto - The Lost City is a fast paced motorcycle racing game that pits you against the world.
You steer your motorcycle by tilting your Windows Phone left or right and tap the screen to hit the accelerator. The goal is to dodge traffic and collect coins, gems, puzzle pieces and other bonus items along the way. The further you go, the faster you get and the more congested traffic becomes.
AE 3D Moto - The Lost City has four motorcycles to race and your coins and gems collected can be used to upgrade your motorcycle fleet. If you need to get a jump on things, you can always buy coins or gems through in-app purchases.
Graphics have a bit of pop, game play can get rather challenging and overall AE 3D Moto - The Lost City is a nice Windows Phone game to pass the time with.
AE 3D Moto - The Lost City is a free game for your Windows Phone 7.x and 8 device. You can pick it up here (opens in new tab) in the Windows Phone Store.
Blondies Killing Zombies (free): With Blondies Killing Zombies you have a physics-based, 2D motorcycle game where you race to escape the city and avoid the zombie onslaught. Your motorcycle riders are all female, who are apparently immune from the zombie plague.
On screen controls provide breaking, acceleration, and balance for your motorcycle rider. As you navigate through the various levels of the game, you have to keep your balance on the motorcycle and run over the zombies. A portal drops you into the level of play and you have to survive racing the track to make it to the portal that will let you exit the level.
The game has a selection of female motorcycle riders and motorcycles that become unlocked as you progress through the game. The game includes a built-in track editor with the ability to share your tracks as well as download other user-created tracks.
Blondies Killing Zombies has an odd sort of appeal that keeps you coming back for more zombie destruction. Blondies Killing Zombies is a free game for your Windows Phone 7.x and 8 devices that you can find here (opens in new tab) in the Windows Phone Store.
Starship Racers (trial/$.99): Starship Racers is a racing game for your Windows Phone with a bit of a combat twist. It's not a demolition derby styled racing game but you can blast your competition with laser cannons.
You control your racer with tilt steering or an on-screen D-pad, with acceleration and weapons control done through on-screen controls. Starship Racers has six starship models that are progressively unlocked and can be customized prior to each race. there are six race tracks that are also progressively unlocked as you play Starship Racers.
As you complete the races, you earn cash that can be used with the starship upgrades/customizations. Obviously, the goal is to win each race. Your results are compiled on an online leaderboard.
Gaming controls are nicely responsive in using the tilt controls but the D-Pad controls feel a little cumbersome. Graphics and animations have a Tron (opens in new tab) like feel (okay... maybe that's a reach) and aren't too shabby. Overall, Starship Racers comes across as an appealing Windows Phone racing game.
There is a trial version available for Starship Racers that limits you to one starship style and two tracks. The full version is running $.99 and you can find Starship Racers here in the (opens in new tab) Windows Phone Store.
The New and Rising Game category is full of hidden gems and hit titles just lying in wait. We picked out four games that have potential and are easily worth trying.
If you've run across a new and rising gaming title that you'd recommend, sound off in the comments below.
Windows Central Newsletter
Get the best of Windows Central in in your inbox, every day!
George is the Reviews Editor at Windows Central, concentrating on Windows 10 PC and Mobile apps. He's been a supporter of the platform since the days of Windows CE and uses his current Windows 10 Mobile phone daily to keep up with life and enjoy a game during down time.
Blondes immune to zombie plague....hahahahahahaha that is rich.

It's common sense. Zombies eat brains. Do blondes have brains? NO! So they are immune. ;)

that's rude dude.. you made me laugh there but I must agree.. hahaha..

I'm not sure you know what that word means.....

Racism- "discriminatory (or abusive) behavior towards members of another race" example: believing/saying blonde haired people have no brains/are stupid.

"Blonde" isn't a race. Saying "asians can't drive" is racist. Saying "blondes are stupid" is stereotyping, but not racist.

discrimination against Caucasians is stereotyping but discrimination against any other race is racist?

They didn't say "white people are stupid" as that would be racist. If I say "brunettes are stupid" which race am I offending? Blondes are a subset of caucasians and there's far more to race than hair colour alone. Anyway, the stereotype is about blonde women - not every blonde that walks the earth. It's a common joke among white people to call someone "blonde" when they do something stupid. Even my blonde friends say "sorry I'm being blonde" when they do something dumb.

Aryan please blonde is not racist....i argued with you before n still you did not change

"blonde is not racist"? What? Are you saying the word "blonde" is not racist or one cannot be racist towards blondes?

dude...for real? Do you even work out?

I am actually on my way to gym, I'll send you a picture if you want ;)

Achievements have spoiled me.

Tell me about it. I'm a slave to Xbox :(
The thing is, NONE of my friends compare or care about achievements... its like some personal OCD-thing...

What about Dogfight...free and challenging...legit game!

What about new upcoming "premium" Xbox wp titles? Like Gameloft games?

Waiting for Minion Rush.... Hmmm

Agreed, waiting for the game

Has anyone seen Jetpack prisoner escape in the Windows Phone store? It's an awful Jetpack Joyride knockoff that's managed to earn over 1,600 reviews in a fraction of the time it took the real thing to earn that many. Somehow it's averaging 4.5 stars despite being crap. Looking at the reviews it's pretty obvious they've found a way to exploit the system. Unlike most other games the postive reviews consist of 1 word comments. Despite the blatant abuse Microsoft has yet to call them out on it.

Lol...I see what you did there.
Windows Central Newsletter
Thank you for signing up to Windows Central. You will receive a verification email shortly.
There was a problem. Please refresh the page and try again.