New editing features added with Adobe Photoshop Elements 2021 & Premiere Elements 2021
Adobe continues to make Photoshop Elements and Premiere Elements easy to use by adding new features and tutorials.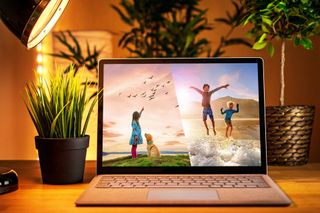 (Image credit: Windows Central via Pixabay)
Now that Adobe has released both Photoshop Elements 2021 as well as Premiere Elements 2021, you're probably wondering just what additions have been added to either program. Adobe's Elements titles are known for making it easier to edit your favorite photos and videos. I'm absolutely giddy after seeing the most recent updates since they make it even more feasible to create the perfect photos in little time. Here are the most important features added to both Photoshop Elements and Premiere Elements.
To keep things organized, this page is divided into two sections. If you're only interested in the updates for Photoshop Elements or the updates for Premiere Elements, skip down to the one you want to learn about.
What's new with Photoshop Elements 2021
Several features and tutorials have been added to Photoshop Elements. I'll go over the best additions and explain just why they are so important.
Moving Photos
Photography is a gorgeous medium, but sometimes giving images a bit more movement can really add to their charm. Adobe makes this easier with the Moving Photos feature, which allows you to choose from both 2D and 3D effects that basically turn your photos into GIFs.
For example, let's say you have a picture of your dog sitting in a boat. Choosing the Clockwise effect within the Moving Photos menu will cause Photoshop Elements to assess the image and identify the foreground and background. When that's done, the software will apply the effect, making it look as though there's depth with your dog bobbing up and down with the waves. There are several different effects, so you can experiment with them and see what fun ideas you come up with.
Adjust Face Tilt
Source: Adobe
I don't know how many times I've tried to take the perfect picture of family members and friends only to discover that someone has blinked, didn't smile at the right moment, or got distracted and is looking away from the camera. This is often the difference between a good photo and an undesirable one. Now, Photoshop Elements already had tools that allowed you to fix ill-timed blinks and lackluster expressions, but now the new update brings with it the ability to turn faces with just a few clicks.
Select the area that needs to be adjusted and then use the sliding tools to adjust the angle of the face, move the face left or right, or shift the face-up or down. This even works when people's faces are pressed together like when two people are hugging. In little time, you can get everyone looking in the right direction to turn that nearly-good photo into an amazing photo.
Quote Graphics
If you adore inspirational quotes, have a passion for graphic design, or love making your own photo cards, then the new Quote Graphics feature will be very exciting for you. To start, you select the style of graphics you want to use along with the dimensions you want for your project. Then you drag and drop the image you want to use into the software.
These graphics are customizable, meaning you can change the font, color, size, or even add effects to the letters. There are also a number of static and animated photo effects at your disposal if you want to add a certain feel to your work. These options really make it easy to create Christmas cards, special family photos, or announcements.
When you're done, you can send your completed photo to someone via social media. Or, if you're willing to pay for a tangible copy of your completed work, the software allows you to send your project straight to FujiFilm Prints & Gifts.
3 New Guided Edits for Photoshop Elements
One of the things that makes Photoshop Elements so easy to use is the long list of editing instructions it provides for users. Here are the Guided Edits that have been added to Photoshop Elements.
Duotones: This allows you to create a cool effect where an image is represented in two colors. It's kind of like a greyscale image, but instead of just going from white to grey tones, you choose which two hues get used, like a light blue and a dark purple.
Perfect Landscapes: I hate it when I take a picture of a beautiful location only to realize that my image is hazy or that something in the background is distracting from the overall view. This guided mode will help you quickly remove unwanted objects, remove haze, or even swap out the sky for a more dynamic one.
Move, Scale and Duplicate Objects: The steps found in this guide will teach you how to select and reposition objects in your photos. Want to make it, so people are standing closer together or farther apart? Easy peasy.
What's new with Premiere Elements 2021
Several features and tutorials have been added to Premiere Elements. I'll go over the best additions and explain just why they are so important.
Select Objects
Users can now make selections around objects and people in their photos before applying effects. That way, you can make someone stand out or create an artistic video rather easily. This is a great effect to use during special occasions like birthdays, weddings, or other celebrations.
Better Performance
This is a wonderful change, but it's something that will best be appreciated by someone who has already been using Premiere Elements on a regular basis. Simply put, you'll be able to view the effects made on your videos without having to wait for the edits to render. That way, you can get your projects looking beautiful and complete them a whole lot faster.
New music tracks
Music is a magical medium that can influence our reactions, so having the right tracks for various occasions is super important. To help make it easier to match up tunes to your videos, Adobe has added 21 music tracks to Premiere Elements.
2 New Guided Effects for Premiere Elements
One of the things that makes Premiere Elements so easy to use is the long list of editing instructions it provides for users. Here are the Guided Edits that have been added to Premiere Elements in the latest update.
Animated Matte Overlays: A matte overlay is basically an effect you can place over your videos to give them a little more depth or make them look more interesting. The new Guided Effect will help you learn how to apply one of several different animated matte overlays over your cherished recordings to give videos a certain feel or help draw viewer's eyes to specific areas.
Double Exposure: This guide teaches you how to place a video within a photo, effectively making a shape in a photo act as a viewing window. This can be very tricky to pull off effectively. Done too much, it can become a bit tacky, but done properly. These effects can help make a special moment even more magical.
More updates to look forward to
Knowing Adobe, the company is already hard at work, trying to find ways to make their software even more user-friendly and instructive. I look forward to seeing what they come up with next for Photoshop Elements and Premiere Elements alike.
Are you excited about any of these additions? Any effects you can't wait to use? Share your thoughts in the comments below.
Photo fantatics
Adobe Photoshop Elements 2021
Create the perfect photos

By following guided edits and using simplified tools you can easily enhance your most cherished photos to make them look even better. Brighten an image, tilt faces, or even add a little motion.
Vibrant videos
Adobe Photoshop Premiere 2021
For making cool videos

Get help creating the perfect videos using Adobe Photoshop Premiere 2021. The Guided Edits take you step by step so you can add more depth to your video projects and make them more special.
Get the Windows Central Newsletter
All the latest news, reviews, and guides for Windows and Xbox diehards.
Self-professed gaming geek, Rebecca Spear, is one of Windows Central's gaming editors with a focus on Xbox and PC gaming. When she isn't checking out the latest games on Xbox Game Pass, PC, or Steam Deck; she can be found digital drawing with a Wacom tablet. She's written thousands of game guides, previews, features, and hardware reviews over the last few years. If you need information about anything gaming related, her articles can help you out. She also loves testing game accessories and any new tech on the market.