Microsoft's ExpertZone gets major site redesign, reward points never expire for retail pros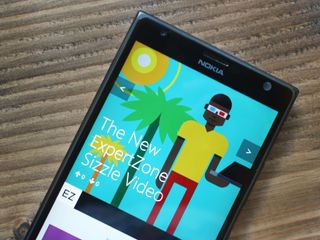 Microsoft's ExpertZone has just received a huge refresh. ExpertZone is where Microsoft connects with the thousands of retail professionals who sell Windows Phone, Windows, Xbox, Office and all other Microsoft products. It's on this site where retail pros can join a community of like-minded individuals to learn about all things Microsoft and earn rewards for doing so.
One of the biggest changes to ExpertZone is the site redesign. This is a complete redesign from the ground up using responsive code. The move to responsive code ensures that the site looks good on any device and in any modern browser, meaning it works on phone, tablet or PC.
Community features have also been overhauled allowing those in retail to connect with one another. Some community features you can look forward to include forums, event section and more.
Rewards are by far one of the coolest perks for joining ExpertZone. The reward system has also been improved. You can now earn points by just watching, reading or viewing content on the ExpertZone site. This is a change from the past where points were rewarded when completing accreditation or completing a course. Points also no longer expire, now they last forever. The reward store will also have some killer prizes across all Microsoft product lines. Look forward to earning PC accessories, Xbox One games, Xbox One hardware and more.
If you work in retail and sell Microsoft products, you need to join ExpertZone. It's a great way to connect to folks with similar interest, plus you can earn some great rewards. Check out the new ExpertZone to see all the improvements yourself.
Source: ExpertZone (opens in new tab)
Windows Central Newsletter
Get the best of Windows Central in your inbox, every day!
Love it. Been using it for over 10 years. Loads of info.

Can we use this even though we don't work FOR Microsoft? Say an IT? And does it cost anything?

I work for a different company and I don't even sell Microsoft stuff (I really don't sell anything at all) and I qualified. I had to send a copy of a pay stub with my info blacked out.

Gay... Irs not to the public :(

Its clearly for retail employees. So no, its not for the public

go work for gamestop, target, walmart, bestbuy or any store that has electronics department in it. THen just apply. just need a proof that you work for a retail store.

Any retail associate can use it. It's totally free.

This is where I'm confused. What does "retail associate" mean? Working in a Microsoft store?

I work for USA carrier and I'm able to use it. Essentially, if you somehow can sell Microsoft products I think you county as a retail associate. I do technical support but sometimes that means I sell product. Microsoft ExpertZone teaches you the ins and outs of their products and you earn rewards for learning. You have to submit a paystub proving you are employed currently.

Oh I see... I accepted the Terms of Use but can't use the site. That must be why lol!

You still should be able to, you just can't use your points for anything. I used the site for awhile and then validated my employment. What happens when you try to use it?

Every page I open shows an "Error Code: 9000" I went back this morning and it seems my account was not really created (yesterday I went on the site logged into my Microsoft account and thought it wad). So I can access parts of the site but don't have a real account.


Hmm.. Well keep trying! Good luck. Sorry I'm not sure what needs to be done about accessing the site.

Any store that sells electronics.

Of topic:
The day of updates (MSN apps + 3 of system apps + Xbox video app) what a day :)
We need now GDR2

They try very hard to get their products out there. But they seem to lack one thing the most. In the words of J.F. Rutherford...
"Advertise, Advertise, Advertise...!"

guys, Windows Phone store also got a redesign...

I will definitely be using this. Anyone wanna chime in with some cool things I can (realistically) earn?

About time they stopped expiring points.

I wonder how many Verizon associates use it...

I would guess around seven.

Cyberscholar is another site that is very good. Lots of good info there too.

You can tell it's a useless company when they have so many fucking managers and directors...who does the fucking work?!

i wish they would stop nagging me about sending proof of where i work. however, their stuff are dirt cheap like xboxes and xbox games, to pc acccessories and games. they also frequently send stuff just by doing their tests and quizzes. ive won zune from their contests, and just accessory goodies. recently just received their 50 dollar mouse just by doing a survey.

I've been on there for years and have never won anything. Where did you find the survey?