New July BIOS updates for the Dell XPS 13 (9350) and XPS 15 (9550) bring fixes and more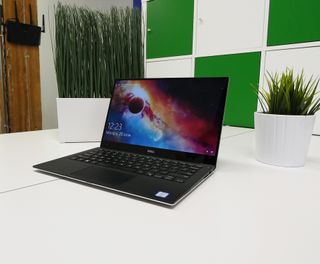 Owners of Dell XPS 13 (9350) and Dell XPS 15 (9550) - aka the latest models with Skylake processors - will want to grab some new BIOS updates that have hit Dell's servers in the last 48-hours. While users should be notified with the Dell Update app that checks every three days, it is best to grab it yourself to make sure you are current.
Each BIOS update comes with a detailed changelog with most of the fixes going to the Dell XPS 15 and various improvements for the Dell Thunderbolt Dock (TB15). Here is what is new and the BIOS update numbers.
Dell XPS 13 (9350) v1.4.4
Improve touchscreen disable feature functionality
Added Support for Pre-OS MAC Address pass-through support for Dell Docks and specific Dell LAN Dongles. Display of MAC Address pass-through value in BIOS Setup.
Improved Type-C device performance and stability
Dell XPS 15 (9550) v 01.02.10
Fixed Dell Thunderbolt Dock (TB15) device will be lost after S3 resume
Fixed LCD flickering when in lowest brightness
Fixed After McAfee encrypted, the PCIE NVMe SSD \ SATA SSD can't boot to OS issue
Fixed Wake on WLAN takes a long time with Intel 1830/1820A Wireless card
Fixed USB audio/mouse may be lag while connected to Dell Thunderbolt Dock (TB15) and Dell Dock (WD15)
Support for Windows 10 Enterprise features
Fixed incorrect Thunderbolt security level reading from Driver
Fixed Touchpad may be lost after Dell Thunderbolt Dock (TB15) device connected
Add passthrough MAC address shows on BIOS Setup feature.
Fixed System will become shut-down with connected to Dell Thunderbolt Dock (TB15) after S4 Resume.
Neither update is considered critical, but it considering the 'fixes & enhancements' for the XPS 15 you would probably be best served by running the upgrade. You will need to have the laptops plugged into an AC outlet during the process, and it should take no longer than five minutes.
Dell has been very forthcoming with BIOS and driver updates for both the XPS 13 and XPS 15. Indeed, just a few days ago video driver updates for the onboard Intel HD graphics were also made available for both devices along with various other chipset drivers.
I personally use both of these laptops (both with InfinityEdge displays) and considered them top of their class. Hopefully, in a few days, I'll share my experience with the 'gold' XPS 13 with Iris graphics.
Daniel Rubino is the Executive Editor of Windows Central, head reviewer, podcast co-host, and analyst. He has been covering Microsoft here since 2007, back when this site was called WMExperts (and later Windows Phone Central). His interests include Windows, Microsoft Surface, laptops, next-gen computing, and arguing with people on the internet.
Love my XPS 15!! But I wish Dell would fix them speaker issues, the fact that it distorts every time I plug in and out of power is just embarrassing for such a premium device. Keep them coming Dell! (:

I had one speaker blow out completely on mine, had to send it in for repairs (warranty) and recommend the same. Not sure I've seen your exact problem, so not sure it's "normal".

I'm definitely not alone, but yea maybe I should send it in. :/ http://en.community.dell.com/support-forums/laptop/f/3518/t/19666130

I had the same issue, but instead of turn it off and on,I just troubleshoot it and everything is fine

Sorry I didn't get you, troubleshoot what?

Right click the sound icon in the taskbar and select troubleshoot

Damn, that was easy! Thanks man! :D

Why do you guys only follow on Dell XPS models why not others?

We follow what we have/use. I own both of these models and use them regularly, and considering how popular they are there is a built-in audience. If we had an army of laptop owners to constantly check for these things, we'd do the same.

My XPS 15 auto update doesn't seem to pick up new bios update. I had the dell tb15 dock and it is trash, doesn't work properly at all. These bios updates may fix some of those issue but I returned mine days after I got it and the reviews on dells website for it state all the same issue.

I think the Updater only grabs "critical" firmware updates, where as these are considered "optional".

Just used their website to check for updates and it found 5 including bios so Dell update is pretty bad. Intel Graphics, Intel Dynamic Platform and Thermal Framework, Intel Serial IO and Intel Management Engine.

I had an update for my XPS13 yesterday for the graphics and two chipset updates, but not the others. Maybe try scanning again?

Oh and I did like Samsung's update checker better as it had a UI and let you select what you want to update.

Agree. Samsung's Update checker is the shizz. Very reliable, gives you optional updates and they are also very regular with new drivers. Lenovo too, frankly.

And so do HP's HP Assistant.. Gives pretty detailed info on device/warranty/updates.. :)

Call me old fashioned but I prefer to go to the website and check on my own, just not a fan of updaters as it is just another piece of software that may or may not have vulnerabilities. I have the first gen XPS 13, two of them and of course I haven't had any updates on those for a long time. I would love to upgrade to the newer version but it is hard to justify when the old ones just won't die. :)

And please anybody where can I get that lock screen image?? I love it a lot. Please help and link me that. Dan if possible. ;) Thanks!

Thanks for sharing! Love my xps 15 although a little more wonky than I would think it should be.. Posted via the Windows Central App for Android

Interesting to hear if the listed TB15 fixes actually fix using the TB15, or if that's still a $300 paperweight. We picked some up in the office when we got our XPS 15s and then quickly joined the voices I had ignored from the forums proclaiming how terrible the product was. Sent both back and got a couple D1000s off Amazon for $100/ea.

I don't have one but I have heard there are lot of issues.

Still a $300 paperweight with July 2016 updates. Official from Dell - the hardware has design failures and must be reworked. Mine would get very hot when not even connected to a laptop.

My son just gave me one of those.

Hello to all. I have a problem. Since updating the BIOS the screen on my XPS 15 began to flicker. I never had that problem until now. Does anybody else have this issue? It´s really annoying and I am pissed right now!

http://forum.notebookreview.com/threads/dell-xps-15-9550-display-refresh-flicker-im-out-of-ideas.792695/ I have downgraded my BIOS firmware from 1.2.10 to 1.2.0 and have fixed it. Link to download 1.2.0 firmware: http://www.dell.com/support/home/us/en/04/Drivers/DriversDetails?driverId=KTR76
Windows Central Newsletter
Get the best of Windows Central in in your inbox, every day!
Thank you for signing up to Windows Central. You will receive a verification email shortly.
There was a problem. Please refresh the page and try again.