New Lumia 530 promo video shows its variety of apps and colors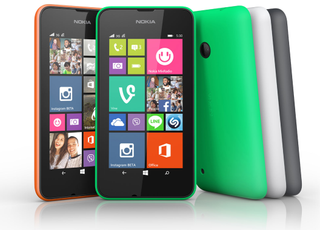 Microsoft's latest video promoting the new Lumia 530 smartphone has gone live, showing off the budget priced device in a variety of settings, and even shows at the end how its Windows Phone 8.1 UI looks the same as the ones made for Windows 8.1 and the Xbox One.
The one minute clip, posted on YouTube, shows people using the Lumia 530 to play games like Fruit Ninja, along with taking pictures of their meals, filming a spinning basketball and, yes, speaking to others on the phone, while a light and catchy pop song plays in the background. It also shows how its rear cover can be removed and replaced with a choice of colors.
Microsoft announced that the Lumia 530 should be out globally in August. It is the successor to the Lumia 520, which has become the best selling Windows Phone device. The 4-inch phone will have a 1.2 GHz quad-core Qualcomm Snapdragon 200 processor, 512MB of RAM and 4GB of internal storage, along with a 5 megapixel rear camera. While exact prices for the Lumia 530 have not yet been announced, Microsoft has said it will be sold for under 100 euros.
What do you think of this latest video promoting the Lumia 530?
Thanks to juwagn for the tip!
Source: Nokia on YouTube
We should not use the word successor instead we should use sibling....no hard feelings...

I still think it's a proper successor for an entry level phone... A 520 users should upgrade to higher ones... (lets wait for Microsoft 2 new lumias that's says "low price" focus for the next few months here)

I agree! Lumia 530 is the real low end now!

I love how they keep sliding it along the ground or cement on its glass.

Crazy isn't it? Clearly it was done so the big universal 8.1 reveal could happen at the end, but even so..

Buy lumia 525 or lumia 820/920

Agree... Those 2 is still proper enough for an upgrade for 520 users instead of going to 530, they are for new users... Or, you can just wait for those 2 new lumias Microsoft said gonna release

Insert people bitching about 512MB RAM here >>>>>>>>

In before someone mentions 1gb ram grrr...
Dam too late..

I think this phone is quite good for its price. Same as my 520 :).

I guess you are mentally retarded

So are you. In some other manner. Even i am...actually everybody is mentally retarded.....

That was kinda rude you know

Don't listen to them... I completely agree with you.

I buy one for under 100€ go whit me in my bike rides to take pictures and any call i need. Is a good budget phone. If broken i buy other because is cheap and weel made. If have 1gb ram and vga front face Camera is cool, but dont for the price and quality is good.

Should've made the IG icon smaller, so it wouldn't say Beta.

As usual Nokia commercials are always colorful and creative... :) seems colorful :P

Too bad they show off colored phones in commercials and only sell black and white ones here in Brazil, I find this beyond disapointing... Colored phones here are Moto Gs and iPhone 5Cs, and I sure see a lot of colored Moto Gs.

I'm still searching for a 5C here!! :D

Yuck.....512 Mb Ram.....I love you Unity.....

I still like my yellow 520 more. Why no yellow color? Btw wpcentral logo is red-white again (it was magenta yesterday)? Please no...

Clear your browser temp files/history.

Because green and Orange are Lumia 2014 colors.

525 should become more popular coz it's the only WP that has 1 GB ram at the same price!

In fact..630 seems to be more cuter than this 530..but for the budget...?, it is nice..:)

I know people will complain of 512MB RAM and 4GB onboard, but the fact is Microsoft have done this on purpose and it's to do battle with the ultra low end Android phones in terms of price. You've only got to look at phone cost in relation to market share. The most popular WP models are the cheapest. The likes of the 1020, 1520 etc do very little for WP's worldwide market share. As many 'analysts' look at WP's success by what worldwide percentage of the mobile phone market they have, this ultra low priced phone is just what's needed for this platform.

You are so right. The 520 is selling at 99 euro in The Netherlands. That's allmost for Free.

Agree... Still, I do hope they have a proper Flagship phone though... One that really can show the uniqueness of Windows Phone... NL800, NL 920 used to be like that... What do we have now? An upgraded version of 920.

Yep, you're right, you need the cheap for marketshare but need proper unique flagships for the people who want them and to show off what Microsoft/Nokia are capable of. Funny you mention the 800 and 920, they're the two phones I have right now and I have not upgraded since getting the 920. Both have been great phones.

This is exactly the kind of on point advertising Nokia needs to sell its phones. Whilst they don't advertise here in Australia I'd like to hope this clip is shown in Europe at least.

Am guessing the marketing team or leader were one of those 18,000. Ads getting better, but keep em coming !!

The 530 isn't the 520's successor! The 630 is. The 530 is replacing the Asha and S40 series.

Well... If you're seeing it in a way.. It is...

Yeah!
Thanks and greetings from Germany! Btw i love the music - The song you can find here: https://soundcloud.com/ruupuu (Simple math)

If people dont involve too many live tiles on their start screen, then 512mb is ok. Other than that, the real potential of Wps is in better handling of the more demanding stuff (more ram)...

If this isn't priced at $99 off contract , then fail for Microsoft.

$99 would be too high. The 630, which has better specs, is $99. This should hit $69 or less.

I cant seem to find the song anywhere. :o

I think it's strategically brilliant for MS to continue pumping inexpensive devices into the low end market. That's where most of the growth is, after all. That said, I think removing the camera button as a requirement is a mistake. Also, though, they mustn't forget the high end, because that's what generates the excitement that sells even the low end.

Custom start screens in advertisements please! Why do they always use what looks like the default start screens???

Because they want to get they're moneys worth out of the Nokia Mix Radio logo while they can...

They should use both. A before and after. Non WP users, potential adopters can easily spot recognisable icons, so a personalised screen has less instant impact. But they perhaps should show a quick sequence of rearranging icons, sizing, transparency etc. so people realise it's not a horrible locked in iPhone.

I like this Ad. Very Cool ! Plus I will have to get my hands on one of these when it comes out.

Nice bezels lol Basically this is a phone if you want the windows phone experience and don't need high-end specs.

Just required 1gb n u would done more profit than actually dreaming of selling high end fones at a rate which u sell 520 n all

I'm glad it also showed WIN8.1, Xbox, Surface, and WP

Done on u tube now please on tv

Rounded corners I think it's a bad look for Windows phone

Dual SIM version for US? What are the chances for that? :D

What can be the price in India. By friend maybe buying this phone. He had a pathetic droid experience and now wants to have a wp. Another 2 friends of mine are waiting for the midrange phones.

Why show Shazam when the native Bing music search is fantastic?

Probably because most people are familiar with shazam. Kind of like why not show 6tag which is way better than instagram.

Probably because 6tag is a third party app and something that shouldn't be bragged about. That is basically saying "a big name developer does not care for our platform, but a third party developer does and 'bless his heart' ". Also showing Instagram is showing the more recognizable out of the 2 to mass consumers. They showed the major apps which can pull people in, nothing more nothing less.

LOL, thats exactly the point Micah was making. Posted via the WPC App for Android!

Nice ad, seems very cool, and for the success of the 520, this should only do better, love the ad. If specs are your concern this is not the phone for you, but on a budget, definitely a great choice. Still waiting for a 925 or 720 siblings tho.

Nokia's marketing sure knows how to make me want something I don't need. Posted via Windows Phone Central App

Seems like MS wants to tackle the ultra-low smartphone sector of the market, and steal a big piece of pie from android competitors using the 530. Not going to replace my 520 soon...

I hope T-Mobile gets this phone

I will love to see all those scratched screens after that ad.... lol

Why can't I get a decent slim phone from Nokia on VZW? Is it impossible? I really want a slim Nokia device because of reviews like this which show off how slim the 1520 is: http://www.minimallyminimal.com/blog/nokia-lumia-1520

Same variety and colors of all Lumia phones,so what's new ?

when it is making way to indian region.

Didnt you find it ? its been there for over a month !, Read the article jerk, "globaly in August"

But it is not successor for Lumia 520 because it had less features compared to Lumia 520.
520 is best phone. Even now 520 is a successor for 620, 625, 521, 525, 625

This is how more videos from Microsoft ought to be!

Nice promo video, but it's a step back with the internal memory at 4GB, should have been Lumia 520c. May have to consider the Lumia 635.

These phone commercials with their light, catchy music and people doing stuff will catch on eventually!

Any sd card support like in 520?

Man, that thing is super chunky. It's got more back than even Sir-Mixalot could handle :o/

I haven't seen many High End Phones out in the wild. At least not any WP ones, but I see a lot of the Lumia 520s. And today I saw someone talking on a Lime Green one, not sure if it was on of those new 630s. I just thought it was cool. Hopefully those people will fall in Love with the Os and move on to a Higher End one. I guess Microsoft is doing right by trying to hit that low entry point.

The whole thing about Nokia/ms promoting Shazaam so much is akward. Don't they know or wanna play the good cards of that stuff being built into WIndows phone or is that going to change too now they've wrecked Creative studio (making it non-metro and ios/android lame) and taken facebook outta the phone. I fear where all of this is going.

Goood video,,,it could be an another successor...

Have lumia 525 and not changing to 530
Windows Central Newsletter
Thank you for signing up to Windows Central. You will receive a verification email shortly.
There was a problem. Please refresh the page and try again.