New Microsoft Band 2 firmware update is rolling out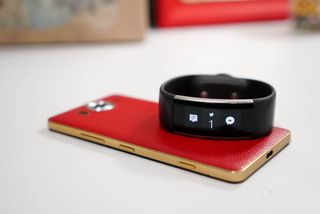 Microsoft is rolling out a new firmware update for its Microsoft Band 2 fitness wearable. There's no word yet on what's new with this version.
At the moment, all we know is that the firmware number has been changed to 2.0.4829.0 26 R. It's possible it has some bug fixes for the recently added heart rate zone feature. Hopefully we will get more information on what's contained in this release soon. Keep in mind that the Microsoft Band 2 is still being sold for the discounted price of $174.99 (opens in new tab) from now until July 9.
Thanks to Marcus for the tip!
See at Microsoft Store (opens in new tab)
I'm experiencing massive battery drop on my Band 2 after the two latest fast ring builds.

I'm on 10586 and i've also experienced a battery drop on my Band 2.

I've gone through 2 Microsoft Band 2's in the last 3 months. It'll work fine for a few weeks then all of a sudden it seemingly wont charge anymore. I'll plug it in and it'll say the battery has run out, reset the time. When I unplug the band it will shut off again.

That happened to one of mine. I got it replaced a while back and never had the problem again

I've had 2 replaced free at brick and mortar store with that problem. Just prove it to them.

I had the same problem and got it replaced by MS. It's only been 2 months but so far so good with the new one.

I had one replaced too for that very same reason. I wish I knew what caused it so maybe I could avoid the problem with a little extra care.

i lost 3 that way, but they replaced them all. I still love the band! Turns out the problem was "wearing them too tight" If you Bing it, you may find the info. Took a while to find 3 months ago. Cant seem to find it now.

I was happy with my band2 december one, with 10586 up to including .420... easily 1.5day... got my 950XL replaced, went to redstone fast, didn't notice any different battery use... couple days later, replaced by band 2 due to getting close to tearing and now I'm really seeing a HUGE change in battery drop. Sleep track and half way though the day, I'm already past 50 on my band2..... dunno, maybe it needs more time to get used to my usage patterns or something

Same here. Battery dies like crazy. I thought it was just me, but looks like it is a little more widespread.

I thought it was just me. I used to be able to get through 2 days + a couple gym workouts but now my Band dies after about 7 hours + half a workout. Very frustrating.

I only got the Band 2 less than a week ago but the battery life is so much worse than my Band 1. If it is caused by the fast ring builds on my phone, that would actually be great (meaning it can be fixed).

It gets better after a few charge cycles.

will keep an eye for that with my newly replaced band2

Yea I am struggling to get 24 hours out of mine now, I used to charge it every other evening...

My battery which used to last at least 40 hours now appears to drain within 13 to 24 hours with no specific changes in usage pattern. The battery level indicator also displays clearly incorrect information. I plugged the band with 0% charge left into a wall socket and within 30 minutes it reported 98% load which is not possible. I unplugged and replugged and now it's reporting 89%. I charged to a 86% level yesterday, went for a walk, came back and the battery level rose to 90% (it magically charged while i walked). I did factory reset the band and paired it again and I still have the same behavior of the battery/indicator.

How the heck did you get 40hrs Posted via the Windows Central App for Android

I only charge when low battery warning comes up and than charge up to 100% so I guess I get the maximum battery life out of it. That used to be the case before the last 2 updates of the health app and windows insider, now I'm draining as everybody else, however since upgrade to Firmware 2.0.4829.0 26R and Health 2.3.20621 yesterday morning things have improved, my last charge was yesterday morning at 09:37 to 100% and now I'm only down to 55% so maye the lastest firmware update might fix the drain problem.

Ditto on the battery drain. Mine has been pretty bad the past couple of weeks.

I too have had to replace my band 2 twice now as it won't hold a charge after a couple weeks for more than a day.

for people experiencing battery drains. you can disable blutetooth on the band to get your 2 days back.. I agree that it does break the purpose of connected watch but you can again enjoy 2 days of battery + fitness monitoring until they fix the issue. this is a live issue since 2 updates where band barely last the day. Sounds like it does tchat too much with windows phone :/

I could also save battery by just turning it off; however, that would defeat the purpose of the band too! -P Either MS figures out how to get the battery lilfe back, or the band will no longer be a part of my life.

Mine has a battery indicator in the bottom right and a blinking pixel in the bottom left. Does nothing else, won't charge, won't turn on or connect via Bluetooth while plugged in.

Yesterday the weather tile thought I was in Mali... Flattering, but untrue. Today, the location is correct. Might be a couple more fixes in there, too.

I've had problems with the weather tile updating. It's been frustrating. Also can't get Torch for Band to install. Halo 5 Band stats is awesome, though.

Same problems here with the weather tile not updating. It updates only when I open the health app and manually sync my band 2

My Dell tablet thought I was in Mali last night too and my wife's 950 kept getting it wrong a week or so ago. My tablet is on thr fst ring, her 950 is on production..

Got this yesterday evening. The What's New tile still shows the items added in the previous two updates. I'm hoping for some fixes to the minor issues with Explore activity.

Took your advice and upgraded to Band 2. (Well, didn't have much of an option, broke the clasp on my Band 1). You were right, it is much better. You were also right that the alarm was worth the upgrade alone.

Sweet! Glad you also see the value in it. It's really understated, but as I said previously, the Smart Alarm wake-up feature has been positively life-changing for me. :-)

I discovered that feature a few days ago. That ALONE is the selling point of the device. In two years, the Apple Watch will have it, and the tech press will ******* Cupertino with praise for inventing Smart Sleep.

And yet, the weather still doesn't update and the keyboard hangs on connecting. We are now half way through this units life cycle. They need to issue a recall or offer upgrades to the Band 3. We didn't pay to wait six months for basic features to be fixes. Correction...its been six months and they haven't been fixed. Lord knows when they will. Every time you call, the tech tells you, we are aware of that and working on it. If this was going on with the Apple watch, ot would be fixed within a week.

Surprisingly enough, my band 2 connects the keyboard instantly. My band 1 keyboard wouldn't connect at all. My weather has always updated fine on both of them.

I don't have the band, but that 950 looks damn awesome..!!

Yeah, the Mozo back replacements are pretty fantastic. And they're even better in person than pictured.

just wish they were more affordable ;-(

See this article from a few days back (I believe the prices are still valid, as are the free shipping codes... But not for much longer):
Mozo Lumia covers are on sale via MobileFun, and we have an exclusive offer to go with it! http://windowscentral.com/mobilefun-has-big-sale-mozo-covers

Music controls for my Ban 2 are working again. Before it would flicker and say connecting indefinitely.

Are I had that issue I wondered if it was to do with me having a head set connected at the same time. Ill give it a try later. One issue I have noticed since getting the band two is when I type a text out its slow to show on the screen. I type out the message on the kb hit the action button but it has only put in half my text and then catches up word by word. Anyone else have this issue? Never had it on my band 1

This is a Bluetooth stack issue. What you should do is BEFORE you turn on your headset, double click the music control so it establishes a connection first. THEN turn on your headset and you'll be able to listen to music wirelessly while being able to control it with the band.

Are cool thanks did not know that.

Yep. A ton of us have that. Takes forever to send a text because of that.

Glad its not just me than.

i had this issue! yet to see if its working again. will try later!!

I didn't even realize the feature is/was there. Working for me.

The layout for the heart rate zones has been reversed. Descending now rather than ascending.

No noticeable changes with this update this far. Question: I'm using my Band2, w/BT headphones on a 950xl running the latest (extremely stable) RedStone Preview... No matter what I do, music controls hardly ever connect. Display just flickers or stalls on "connecting to your music" screen. Does anyone else have this problem? Is there a fix/work-around? Is it just a multiple BT device issue? Is there a recommended Headset where this doesn't happen?

This is a Bluetooth stack issue. What you should do is BEFORE you turn on your headset, double click the music control so it establishes a connection first. THEN turn on your headset and you'll be able to listen to music wirelessly while being able to control it with the band...

The changes are in the heart rate zones section. The order has changed. 90% zone and 70-80% zone have swapped places

What an informative article. "​Something happened. We're not quite sure what. Ahhhhh, sure we'll let you know more in another article if we find out"

They are telling you what they know. Should they make something up?

This is a smart way to find out, by giving us a place to share what we discover.

What happened to the band 1 no more updates for the band 1?I know they are alot of people with the 1 band.

Yes, no updates afer july-2015. I have my Band 1 stopped chargint, they have replaced it promptly last week via UPS Express. I have also a Band 2, not so satisfied, it counts my steps at higher rate +30% more steps than my Band 1 counts before for same distance, WTF?


The step counter is more optimized in the band 2 (hardware and software wise). Its more accurate than the band 1. Close to what a Fitbit measures

If you've upgraded a Band on a phone, go into Bluetooth and make sure only one Band is listed. Found that helped with reliability.

I'm on my third Band2 now. Issue with the battery not charging or turns off at random. Thought it was a battery drain issue. I think it may be from wearing the band too tight; which in turn stretches the electronics

I had the battery issue where it completely ran out, then wouldn't hold a charge. Took it back to the Microsoft store without a receipt, and they replaced it on the spot with a new Band 2 and new receipt. Also, I still can't reply to text messages from my Band 2 and the update appears to not have fixed it.

Same for me, but they asked to see my Amazon invoice to show that it was a new purchase, not refurbished. Unfortunately, they were out of stock for my size. I got a replacement by mail, which appeared to be a refurbished unit. It was missing the charging cable and arrived completely dead. I'm going back to the store today to see if I can do another exchange because my battery is dying way too quickly on this one compared to my original purchase.

I hope they fix the weather tile not update automatically issue.

oh I discovered you need to turn on location on your phone then weather tile will work again...

hopefully there is a fix for the Battery life. Wasn't sure if it was a firmware update or the replacement band that lowered my battery life from 2 days down to 1. Hopefully it was just firmware as I don't want to have to replace my band again.

I am just returned my 4th band. Last one wouldn't charge. Previous one strap snapped and freeze. I don't wear them to sleep now. Only when exercising or long walks. I will preserve because I do love the band 2 when it works ☹

Love my band 2. Interested in the Gear Fit 2 though. Waiting on those reviews. Local storage of music, water proof, longer battery life than band 2 are all appealing features.

3 things to improve in band 3: At least 2 days of battery life (1 weekend); waterproof; better rubber material. Only with this I will consider the upgrade.

I hope they make the display brighter. Trying to read it while playing golf last week was really hard - I was having to shade it with my hat. White text on black, maximum brightness. Also, The sensors don't always register a stroke played.

No issues with battery life here with the band 2 on a Lumia 650 production. Had the tear issue though and got it replaced, GF had to do the same also.

I just got my replacement Band 2 yesterday it arrived uncharged. Right after setting it up I got the firmware update.

Since the heart rate update, my notifications tile & settings have stopped working.. It errors when you try to edit what notifications to receive on the band.. Anyone else got this issue?

I reckon they also make different language fonts available too, now I can view Chinese messages with ease...thanks MS for the update....band 1 & 2 are really awesome devices...dont give up on them!!!!!
Windows Central Newsletter
Get the best of Windows Central in in your inbox, every day!
Thank you for signing up to Windows Central. You will receive a verification email shortly.
There was a problem. Please refresh the page and try again.