New Microsoft Office on the way for people who don't want a subscription
By Sean Endicott published
People who prefer to pay-once for Office will have a new option in 2021.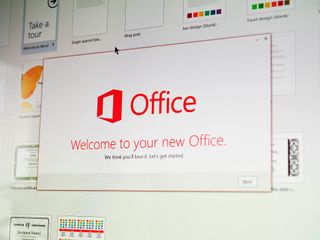 (Image credit: Windows Central)
What you need to know
A new perpetual release of Microsoft Office will arrive in the second half of 2021.
Perpetual versions of Office don't require a subscription.
The name, price, and exact release date of the next perpetual version of Office is not known at this time.
Microsoft will release a new perpetual release of Microsoft Office in the second half of 2021. The new perpetual release only appears in a single sentence of a post by the Exchange team (opens in new tab) at Microsoft, but it confirms that new versions of Office are on the way to Windows and Mac.
While many have moved over to Microsoft 365, some prefer a perpetual license for Office that allows them to purchase a product once and to have it forever. Microsoft usually releases perpetual updates to Office every few years, though some were concerned that Office 2019 would be the last perpetual update. Luckily for those who prefer a perpetual license, a new version is on the way.
Office 2019 comes with quite a few apps, including Word, Excel, PowerPoint, Outlook, and Skype for Business, as well as servers such as Exchange, SharePoint, and Skype for Business. It's safe to assume that the upcoming perpetual version of Office will have a similar offering.
At this time, Microsoft hasn't shared details regarding the price, exact availability, or name of the next perpetual version of Office.
Sean Endicott is the news writer for Windows Central. If it runs Windows, is made by Microsoft, or has anything to do with either, he's on it. Sean's been with Windows Central since 2017 and is also our resident app expert. If you have a news tip or an app to review, hit him up at sean.endicott@futurenet.com.
I still pay for the subscription, because having that 1TB of cloud storage on OneDrive is nifty.

Me too. Also, Excel and PowerPoint are constantly getting better. You probably wouldn't notice if you got the perpetual license.

The perpetual license is getting fairly frequent updates, too. Not sure what's the parity to Office 365 but it's certainly not "static". (Talking about Office 2019 in my case)

I didn't know that - but I doubt you'll get anything close to real feature parity. 2013 and 2016 always lagged behind - as far as I could tell, they were frozen in amber other than stability and bug fixes. You really saw this with PowerPoint and Excel functionality, which has been growing by leaps and bounds in the era of Office/MS 365. Besides getting the full Office suite and lots of OneDrive storage, this seems to be one of the selling points of the subscription model.

2019 only gets Security Updates, not Feature Updates. That's the point.

Me too. Nice to have the updates but it's the 1TB is the clincher.

Glad to hear this. I have enough subscriptions, and I'll rather not have more. (And no, I don't wish to use Google Docs and Sheets instead.)

You actually can purchase Office 2019 (not subscription)

I get to use Office 365 at home due to work. I otherwise probably wouldn't use Office much as a whole. Publisher is nice to have for those odds and ends. Though I do believe they still offer Pro versions of the perpetual licensing. As Andrew G1 posted already though it's nice to see the apps getting regular updates. If I was to recommend something for people that don't adjust to changes well (where they can't find settings or features after the changes), the perpetual license may work better for them.

I use Office 365 mainly because I get upgrades to new versions. I suspect that you won't get that when you pay a one off payment like in the past.

I'm still using 2010. See no reason to ever upgrade to the newest version.

Security Updates is why and Outlook 365 is quite a lot nicer. But also no not really. Won't be upgrading my Mum's PC off 2010.

I pay LibreOffice $20 once in a while in thanks to having 4 PCs all with office software.

Why am I feeling like this will be Office online, but with feature parity of Office 2019 using all the nifty new HTML5 technologies (offline usage, file system access, etc.) they're helping push with the new Edge? They did announce a few months back replacing VBA with javascript. I still love my O365 subscription though and knowing my files are virtually impossible to lose or corrupt or forget at home and all completely effortless.

It won't be. It's an upgrade for Office 2019 which are the same Desktop apps but feature locked.

Also, in that new design video they don't show the desktop apps. Only mobile and in the browser.

Great news as for the subscriptions hater.

There is no Exchange server or Sharepoint server licence with Office 2019 perpetual licence. Those are server products which aren't part of Office. Most Office 365 business plans includes those servers for the registering organization.

No Exchange Server licence when Office 2019 Home and Business includes Outlook. It's very existence is for Exchange.

It was thought 2019 would be the last version, so good it isn't. Microsoft 365 makes perfect sense to businesses but so little sense for a single person with one computer. Families 365 still makes sense.

Frustrating Office 2019 Home and Student is so pricey though.

Any clue as to, if this will be a 64-bit only or have a 32-bit version? Office 2021 64-bit only?
Windows Central Newsletter
Get the best of Windows Central in in your inbox, every day!
Thank you for signing up to Windows Central. You will receive a verification email shortly.
There was a problem. Please refresh the page and try again.