New Nokia accessories launched in India to enhance the Lumia experience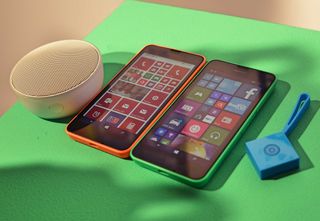 Along with the launch of Nokia Lumia 630 in India, Microsoft also announced the launch of a couple of new Nokia accessories to enhance your Lumia experience.
The Treasure Tag will be available in select stores across India from May 31 at an MRP of INR 2,099 and the Mini Speaker will start selling in the last week of June at an MRP of INR 5,499.
Treasure Tag
Treasure Tag WS-2 uses sensors to keep track of valuables like keys, wallet, or bags. The size of a matchbox, the Treasure tag is a neat accessory that along with a Windows Phone device, will alert users when they are separated from their precious items.
Measuring in at just 30x30x10mm – the size of a match box – and weighing in at just 13g, the Treasure Tag is a very useful accessory for people that are forever rummaging in their bag for their lost wallets or phone. When you plan to leave your bag, and the tag, at home, just deactivate the tag by a long press or simply mute the alarm.
The Treasure Tag has a battery life of a standard replaceable coin cell type, and will last for 6 months without requiring a charge or change. The operating range of the tag is about 40 meters.
Nokia Bluetooth Mini Speaker
Weighing in at just 180g (roughly the size of an apple), the new portable Bluetooth mini speaker MD-12 is a pocket-sized powerhouse that can fill a room with sound and offers 15 hours of playback.
The Nokia Bluetooth Mini Speaker has a built-in vibrating actuator on the base which allows low frequencies to be created when placed on most surfaces, especially hard ones, delivering a surprising amount of bass for such a compact speaker.
The speaker is a neat companion for a frequent traveler and doubles up as the perfect speakerphone so you can work on the go and comes in bright colors of yellow, green, orange, and white.
Windows Central Newsletter
Get the best of Windows Central in your inbox, every day!
Enhancing customer experience... Where it is useless for me.

I'd like to have treasure tag! No useless. Many times in looking for my keys!

I missplace my keys in my house often.

I'll probably buy this for either my mum or sister since they misplace their keys and other essential items a lot. :P

Aw did the Nokia people release something in a country in which you don't live? Shame on them, supporting other areas of their customer base.

This is great I'd love the Tag!

Abhishek when do you expect 930 to be available ? It's really important for me to know soon !
(apologies for being off topic)

No clue. Couple of months maybe.

That's bad ! I was expecting it to be out by the first week of June, it seemed to be hinted in all articles.. And nokia had said that it would be available in India, Europe, china etc by first week of June.

I have already purchased 1520 for that uncertainity of availability..

Couple of months? What do you know? Are you a Nokia employee? Is this your ploy to demoraize others?

Book your order 930 @ ₹38k at a Nokia store and it will be delivered in 20days, they say.

Nice to know. So it would be out by 1st week really..

Still waiting for the JBL Power speakers

http://www.nokia.com/in-en/accessories/accessory/bh-121/offers/?opp=10

Have you bought it? Do know if there is a built in mic in the adapter or it uses the mic on the earphone cable while in call?

I have a bh 121. There is a built in MIC on the device. It does not use the MIC on the headphone.

So the earphones you got with it didn't have a mic also?

Thanx bro i placed order now!!!

Speaker looks good but expensive..for that price no one will buy... Something less than 3000 is good

Agree. I would better buy a mini speaker and connect with my phone's 3.5 mm Jack...

it costs 39 Euros which converts to around 3200 Rs. Even with additional taxes I dont think such high price is justified;

A front facing camera and a flash would have helped with sales tremendously

What is the price of the speaker and the tag accessory?

INR 2,099 for the tag and 5,499 for speakers its given in the article..

When will they officially launch the Camera grip for 1020? I have been waiting for it since the I purchased my 1020

Its there for sale on website.

No, it's not. There is just a page with description and features but no option of buying, unlike the other accessories.

When will these items ever be readily available in the U.S.? Many Nokia accessories are almost impossible to find here. They always announce these cool things and then we never see them on Amazon or Newegg and end up having to order them from England or somewhere else in Europe.

You are not missing anything i would say.. 'cause these tags are way too expensive and redundant.. As for the speakers there are many alternatives available and they are cheaper too!

Similar to psychotron... when will the tags be available in Australia??! Both the original and mini versions. I'm tired waiting months and months for simple accessories. Or the crazy 'exclusive to...' rant. Sorry, I'll get off my soapbox now. Back to normal programming...

Thought it was a cup of tea on a place mat. Bluetooth tea!

nah. even the wireless charging cover here in the philippines is hard to find. even other accessories >.<

Phoo...will get Moto e...eventhough with a dual core processor at rupees 7000 running kikat....4.3inh qhd screen... How come motto gives such low price.... Really fed up with windows phone 8.1 music and games.... Stupid Facebook app,laggy WhatsApp, no sign any what sapp updates... My mind is changing :-o....

Then move on with the junky android...who even want to know what colour underwear are you wearing while installing apps

Relax man ..tell some weak points...this music, what's app,fb are really back as per other platforms and need lots to improve ...at least check whether you are wearing a underwear without holes...don't just be a blind fanboy....

When dis android launched and when did windows phone launched..its just gearing up..so you have no rights to blast it at...and about the underwear am wearing an windows phone underwear not an laggdroid underwear like you which hangs everytime while we are in need...lol

Haha..... Don't worry about mine... Me too wearing a windows phone for past one year...i haven't never tried a an Android... But have seen what's app fb ,its much beter and fast.... Any way chill up dude I give up :D.....

Haha so I gave up too dude coz u wear an blazing underwear too...leave it just kept the chats alive....coz its boring up here however nice to meet you bro

Lol...Yup you too..m from Kerala... Using 520..

Athu message kandopazhe thonni angane windows phone central l malayalathil oru comment

Ahaa.....super...peruketapozhae thone...englishil theri paryan valatha kashtapadanae:D...evidthukarana?

Palakkad karananne....thanoo....

Moto e...nokuno...nalla mobile thaneya..tto

Njn trivandrum..Eladae verathae Oru jadake etathlae...ulathe knde thnae sahikunla...Moto g kandirnu..kolaam...but kurache kazhinje lag varumyirkum Android alae..wpil what's app onum sheriyla..manikure onnedkum thurane veran...

Njan 1320 ah ethil kuzapamonumilla......wats app update varoola eni 8.1 official ayi varuna varekum na parayune...enthu my....... Annavo

Ya Athe 1gb alae...pinem speed undakum...8.1il pinem crash avunathe kuravnde ....1320egnae ushare ano...valuthlae.. but nlae displaya...njn Eni 520yim knde Oru kolam kudi odiknm....aliyan working ano?

Mm athe dell la machane...kure vallutha athu mathrama kurachu kastam

Oh kolaam.. Njan mbbs final year...apo Ethelum postil veche kanaam....apo shadi athane chodiklae:D...potae dudaee...gud n8

Still waiting for the treasure tag for the UK among other things

Am gonna buy this so that I will never forget my wife where she is..

I was waiting for treasure tag to be released in India.. :)

How bad does Nokia back in the US market? There accessories are like finding bigfoot in America

How much power this speaker delivery? JBL play up it's 3W rms, what I think it's little for the price, at least here in Brazil. Know if the sound quality is good?

They need it here in the Middle East, and attached it to their children. Because when they go to the malls, they lose their children. Then they will shout at the poor customer service people because they lost their kids.