New official WPCentral app patch available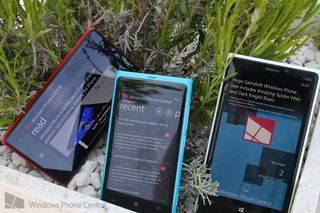 You may have noticed a new update for your official Windows Phone Central app appeared earlier this week, followed by another one this morning. In the interest of keeping our readership informed we thought it best to let you know what these minor patches are for, but if you'd rather just get on with being up to date you can grab the update here in the marketplace.
The brief changelist and a little information on what's changed can be found after the break for those of you who enjoy technical details!
Essentially these patches are both fixes to our new media based code which we introduced in v4.3, whereby articles with multiple YouTube videos will now let you chose which one you want to play rather than only letting you view the first encountered video. A couple of discovery errors and one important issue where the app would crash if it was used in a region where YouTube is banned/blocked have now been fixed. We've also removed the native player as a change on YouTube has stopped our methods from working.
Now when you chose to launch a video you'll be presented with the option of either using YouTube's mobile website, or using an app on your phone. Windows Phone 7 users unfortunately this limits you to only the Microsoft YouTube app, however Windows Phone 8 users will find that you can launch videos in any app which implements the YouTube uri schema, right now that includes myTube and Metrotube but we're sure more options will come as developers realise the potential of the uri schema.
Changelist
Fixed link discovery issues
Removed native player as the hack will no longer work
Added fail safe to play videos through mobile YouTube site
Fixed crash caused by YouTube being blocked in some countries
As always we welcome your feedback, and if you're having any problems with the app you can now visit the official app support forum we've set up with the help of our awesome forum ambassadors. In the support forum you can look for existing bugs in the thread list and either contribute to them, or start an entirely new thread if you don't think your issue is already there.
Windows Central Newsletter
Get the best of Windows Central in in your inbox, every day!
You guys don't sleep, eh? Keep up the good work!

Thanks Jay. I know you're aware of the issue where the app won't load images in the forums and that you're working on it. May I ask if you're close to resolving the issue? Thanks once again!

I'm afraid I haven't been able to put as much time into that as I'd like (personal story: I'm actually in the process of buying my first property which is leaving me very little free time!) but I'll see if I can spend a little time on it this weekend.

Oh yeah, the flat! Congrats! :)

Congratulations. Wow. Must be a top of the world feeling getting your own property

No prob Jay, I'm sure you'll come with the fix soon, can wait.. :)

Thanks for the update. I nevermind paying for great apps.

This is the only app on my phone that has a wide tile on the top of the start screen because it performs so well. The live tile also looks awesome. If jay stops working on the app in the future, it will suck big time. Good job dude, may be you can fix the people app on windows 8 :)

News apps and RSS reader apps should learn from Jay on how to create beautiful and informative wide tiles. There is so much real estate left unused most of the time.

Thanks! Was looking forward to this update as any article with YouTube videos in it would crash on my phone - yup, YouTube blocked in my country!

Hopefully everything is working ok now? :)

Thanks for your attention to detail, just updated my most used app. and most viisited web site.


Since the last update sometimes my live tile acts up. It turns black with a white logo. Nokia 920

I have not been able to update either the current update, or the one from earlier this week get about half way through the download then it tells me there is an error. The tap for more info tells me I have a C101a7d1 error. Any suggestions?

Head to our support forums, there's a thread about it :)

Mine did to. I deleted it and did a fresh install. It worked great but it charged me again. I did the online chat with Microsoft and the refunded me.

Jay, I have a small suggestion. It would be helpful, especially when launching the app from a toast notification, that the "Windows Phone Central" banner at the top navigate you to the app's home page (news feed).

Same old story: no payment method in Windows Phone store (for me) to buy :(

Can you use Bing Rewards to save up for some gift cards to the Store?

Stop with the updates!!!....and get on the windows store already!!!

Would you prefer I left things broken? ;)

To be honest this is the best looking and smoothest app on my phone. Never even noticed a bug in using it over a year!

Thanks guys. Keep up the good work!

The double wide tile doesn't refresh a lot of times even if I open the app and load the articles.
Also, it becomes completely black sometimes, and I have to open/close the app multiple times to make it refresh correctly.

Great apps are worth paying for,but when crackberry can be offered for free i think wpcentral has no excuse

Dammit hw many times do these guys have to explain it to ppl like you. There is a free app with ads if you click on trial. But if you want full fledged functionality, well then too bad, pay up that trunk filling amount of 1$...!
Jay, think you should publish the ad and paid versions separately. It will help end this persisting argument once and for all...

Perhaps, but for visibility it's better for us to have one store presence as it means all reviews, ratings and download numbers are aggregated into one store entity. I've decided to let people complain, you can either have the free version with ads and all the functionality of the website plus a little bit more in the easy to use native app package. Or you can chose to be rid of ads and then get a few bonus features as well.

If you can't pay 99 cents for a great app, I don't think you should have a smartphone.

Hm, that uri functionality is nice. Is there any way to open normal youtube-links you encounter in the browser in an app? Right now I click the link, copy the video title, open the app, search for the video and then play, which is pretty tedious.

Theorhetically that should happen now as those apps have hooked on to the same functionality as was used by the Microsoft youtube app. The only issue is that websites might be treated ever so slightly differently

That is weird, I have never had an app open by clicking a browser link, not even the Microsoft YouTube app :-/ It did it all the time on my old android but I have never seen it on my 920.

Try opening a wpcentral article in your phone's browser and wait for the "open in wpcentral app" button to appear :)

Probably the most tapped App on my phone. Great work it's these support that lure in repeaters.

When will we be able to upload images. Unless I am just overlooking it somehow.

Thanx for all the hard work on your great app! One of my best purchased apps!

awww that gorilla glass on pic, so shining... #OOT #sorryenglish

How does the uri schema look like? "youtube:[video_id]"?

Didn't this update come out like a few days ago?

Part 1 did yeah (that was revision 17) but I already had a part 2 going because I'd made a mistake in originally which needed fixing. So the latest is revision 18.

When will we get the option to choose the theme we want to run this app in? I like WP Central with the light theme, but I don't wanna run the OS in light to get it.

When will the notifications start working on my lock screen?

When you're using either the iconic live tile or the normal live tile with the plain count option enabled

Really nice app. I downloaded it last night and it seems to work great. Is there a way to have the app remember my user name and password so I don't have to log in each time I open the app after closing it? Otherwise, keep up the great work. As someone else said, there's a lot of news sites and RSS readers that could learn from you guys on how to do a great app.

You definitely should be having to enter your user name and password every time! You'll need to do it once for comments and once for forums at the moment but that's it. Get in touch with me via the app if you're seeing something different

I wish every AP had such a dedicated development team!

Team?? I'd love a team, if only I could afford to pay someone to have a team!

Thanks, as always, the app works great!

Try out that support forum I mentioned in the post ;) here's a post

ANOTHER UPDATE? Common guys this is ridiculous, I've better things to do in life than wasting my time installing updates every other day... I hope WP 8.1 goes out soon and finally has automatic updates.

...yet you have time to register and comment on a site dedicated to smartphones. Hmmm...

No Daniel, he's right. What I should have done without a doubt is left the YouTube issues in the app so that people wouldn't be able to watch videos, so that our friends in some regions wouldn't be able to use the app, and so that you guys the writers would have to work around the painful content discovery bug we've dealt with in the last 2 weeks. Sorry bro

Sweet. This app is absolutely awesome and it is clear why that is. Thanks guys!

Thanks for all you do Jay love this app

Best app on Windows Phone Store! Money well-spent!

Jay, If I may make a humble request, would it be possible to have some kind of feature where one could find one's own comments on articles in the same way that there's a way to check forum threads in which one has participated? When there's over 60-70 comments it's hard to scroll through to see if anyone has responded to one's comment(s). Thanks!

I'll see if I can figure something out :)

Jay, I'm still having an issue with YouTube on WP 7.8.
When I tap on either option on video it redirects me to install the Microsoft YouTube app, which would be fine except the app is no longer published so I can't install it.
For some reason it doesn't accept the mobile site. It still tries to go to the app.
Just so you know. ;)
Windows Central Newsletter
Thank you for signing up to Windows Central. You will receive a verification email shortly.
There was a problem. Please refresh the page and try again.