New Outlook.com rollout should be completed by the end of summer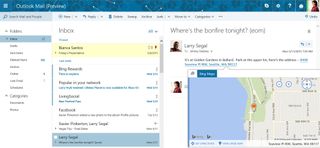 Microsoft is planning to bring all of its Outlook web users over to the new Outlook.com by the end of the summer. The rollout has been fairly staggered so far, with many people still not moved over to the new interface.
However, responding to a user on Twitter, the Outlook team made it known that everyone should expect to be using the interface in the next few months.
@BrettHowse We're thinking 2016! Everyone will be migrated over by the end of summer at the latest.@BrettHowse We're thinking 2016! Everyone will be migrated over by the end of summer at the latest.— Outlook (@Outlook) July 13, 2016July 13, 2016
While this isn't exactly surprising, it's good to know that Microsoft is still on track to getting everyone over to the new web app.
The new Outlook.com is meant to bring the web app closer to the Outlook desktop app, adding new features like themes, automatically adding flight confirmations, and more.
End of summer.... In which hemisphere?

LOL! Only one of my three accounts have it. Talk about a bummer.

My grandfather had his account moved. There seems to be a decent amount of bugs. Mostly around connecting a pop3 account from his isp.

And therein lies the problem. He shouldn't be using a POP3 account anymore. The ISP email address was never truly intended to be used for email. It's a means of creating "sticky customers" Source: I used to work for a major Telco.

I'm tried to migrate him, but it's hard for him to change all his email addresses. And not being able to have his pop3 account connected while we work on migrating him makes it that much harder. Been working with Microsoft Support for about a month now. I've gave up and just reinstalled Windows Live Mail and connected his POP3 account to it like how it used to be set up.

My Dad has it. But mine still hasn't changed over. Never know quite what to use. The web version is better. But they push you to use the app. Having a client can be useful, and great because I have a gmail account as well. But the web app has better tools for dealing with spam. And deleting emails in bulk, with the sweep option.

My mother who couldn't care less, has had the new experience for a while. I'm an IT guy, still patiently waiting to be migrated. Irony.

I read that the last to be transfered are those who use their outlook account to sign into a windows phone or are sharing calendars. http://www.slipstick.com/outlook/outlookcom/first-look-outlook-com-on-of...

Wasn't aware of that. Well, 2020 for me it is, my Microsoft Account is connected to my everything.

Same. For all of my phones (not just WP) too. Welp.

It makes sense. I have four Outlook.com accounts and only my system account didn't get the new interface. But what's strange is the creation of a "calendar" calendar with all my "birthday" calendar alerts.

Same here! That situation happens I think because we use full set of features of old version such as filters, roles, categories, folders, we connect many apps to service, that's why we can't be moved to new version as easy as noobs.

Upgrading low usage users first has been the plan all along. It's far more than UI change, It's actually complete data migration as well. The more data you have, the further down you'll be on upgrade queue.

i wish the whole categories/sweep/rules feature would go to the desktop/mobile client. the web client even prior to the move has been better than the apps. the new web client (wish i had it) looks even better.

The new layout is horrible. Lots and lots of wasted space on the screen. I can see only 3 emails at a time... Big impact on productivity

You have DPI on 1000% or what?

I warned my mom about this so that she would be prepared for the change when Microsoft sent me an email about it the other day. She already doesn't like MS changing from Hotmail to Outlook.

I have it. Much better than the previous Win8 layout.

What's the deal for people who have user@Hotmail.com? Will they have a user@outlook.com? Or is it just a UI change? Someone knowledgeable explain please.
Thanks

This is simply a UI change for anyone using Microsoft private email. If you want an outlook.com email address you can already get that under your aliases after logging into your hotmail address.

They'll be grandfathered in under the Hotmail account.

Thanks. I will look into it.

I have the new version on one account and to be honest I hate it, compared to the old version.

Still waiting, lol! I will believe it when I see it.

It's not much of an upgrade really, so if you don't have it, I wouldn't lose any sleep over it. Gmail still has far handier features (and dark themes).

It's weird... my wife has it in her account, we also have a joint outlook.com account which has it, but my outlook.com account doesn't have it yet, ha ha. My wife is using her @live.ca address still

They should have rolled it out to older users first. I'm still waiting for it. The guy most interested in it, while my grandma got it first.

Hopefully I'll be able to actually search my outlook web mail now... outlook.com has been a broken useless dumpster fire for years. It's a shame too, as the filtering features are a great idea, when they occasionally work... Posted via the Windows Central App for Android

Still no support for Primary Inbox or Focused Inbox and pop out/Minimize New Mail Windows like Gmail. If it categorizes mail as Newsletter why do I still see it in my inbox?

I've been waiting for this to rollout for some time now. Can't wait
Windows Central Newsletter
Get the best of Windows Central in in your inbox, every day!
Thank you for signing up to Windows Central. You will receive a verification email shortly.
There was a problem. Please refresh the page and try again.