Revamped Outlook.com is now rolling out worldwide with new features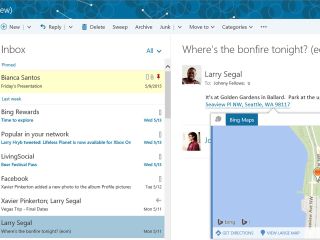 After being available to a limited number of users in a preview mode for the past several months, Microsoft is now rolling out the new version of its Outlook.com email website. It's available worldwide with a host of new features.
Microsoft has created the new Outlook.com using the infrastructure of Office 365. This means features of Microsoft's Office online service such as a way to automatically add flight confirmations to a user's calendar and a smarter address book are now available on Outlook.com. Microsoft adds:
Outlook.com also now allows for side-by-side editing of Office documents while also replying to email messages. There are also faster ways to add find and insert emojis in email messages, along with better ways to orgaized emails in general
The new Outlook.com also offers better Skype integration for texting, speaking and making video calls while also using the site. Microsoft plans to add a way to schedule a Skype call right from Outlook.com in the near future.
Source: Microsoft (opens in new tab)
They are trying to do too much all at once, where's my win10 mobile update??????

Microsoft has more than 100,000 employees - they're not all working on Windows builds, nor should they be

You know it's not one person working on everything right?

I though one person is working on Mail app for Windows 10/Mobile...

It was your update vs. the 400 million people using Outlook.com, so they went with the latter.

This stuff should have been integrated long ago. Now, how about multiple signatures?

You can buy Lumia 650! It runs W10M.

When you go to Outlook.com, the first thing you'll see is an iPhone and an Android phone - not Windows phone. Also, it says there, "Get the optimum email experience on iOS, Android and Windows devices." So first iOS and Android and THEN Windows devices.

I would imagine their thinking is more along the likes that a Windows Phone user is already using outlook in some capacity and prioritize iPhone and Android at the front in hopes to encourage those users to switch.

Thank you for making him understand that.!!!!! Yall need to realize Microsoft is a service company...they want everyone using there services and if your a windows user and fan why should they bother encouraging you to like what you like some more..

Wow your are right. So sad. http://i.imgur.com/aiouqHk.png

Maybe it's because Outlook is a built-in Windows app?

I get you are trying to get the fanbase all riled up. But at least acknowledge that there is a note addressing WP on the advert "If you have a Windows Phone, it's already built-in" Pretty clear as day

Wow....that looks great. I want it...

Outlook is a lot better than GMail.

What's new in that?? It's already known to all

i still prefer gmail more customize available

Yup. Gmail is intelligent.

Yep. Nothing reads your emils for keywords to advetiseres like gmail dose. Sooo intellignet.

if you have problem with ads use adblocker

i can get rid of all the white background with those themes which help because my eyes hurt when im to watching to much on white background

Gmail is faster...i only use outlook now, but gmail is faster on edge

Find both the same. But if u ask any enterprise person he would go for full outlook desktop app. Gmail is good for people using u tube, or maybe personal mail But for files, contacts and enterprise I find outlook better

Yep. I've been using gmail since it was in its beta period. Outlook makes managing email way easier.

Outlook on Windows now story's email aliases -- great!

And new WC apps, "for Windows 8"

What are you talking about? And what does it have to do with this article?

It's raining new features!

Dies it rain a lot where you live as all your comments mention rain a lot LOL

@2tomtom, I believe the rainmaker is upto his shenangians again either that or these lot have taken alot of shrooms :P.

He has not taken a bath for months. That's why ......... It is raining :)

Hmm, must be a slow update.

Outlook on my Windows Phone still has issues with padding when i open email!!!!!

You're not alone. It's bad on my 950 too. It's a perk to W10. :)

For ios/android only, right?!

Considering it is a web site, your joke missed it's mark.

Your sense of humor missed it's mark.

Spread the word! Get people you know and love to make the swtich from GMail to Outlook.com!

Just in support of MS and their platform. And in case anyone is wondering, I don't try to push MS product for the sake of pushing it out to others. When I feel like something MS is offering is better than what people are using, I try to get others to switch or to join in. In this case, Outlook.com is better than gmail, in my opinion that is. Sadly, can't say that about too many of what MS has out there. I do tell a lot of my friends to give Bing a shot over Google, though. Another bright spot I think MS has going for it.

Your support for MS is neither gonna cost google a **** nor MS a penny. Google will continue to do wonders.

He has a more better approach than you.

Considering the more people who move from gmail elsewhere, it could have a negative look on them. I try to recommend outlook.com to all people I know just setting up email for the first time.

@Dinky89484. Outlook.com supports push on Windows Phone. One key reasom why i switched to outlook.com. Remember to set sync "as items arrive".

I'm still seeing the same outlook.com design. This apparently isn't yet available worldwide....slow rollout.

Same here, i'll leave this one as "coming soon"

Sort out those mobile 1, mobile 2 labels to editable ones

Has the mobile version been updated too?

Outlook.com is pretty much just what the Windows 10 Outlook app should be. It looks great and has some brilliant features!

agree, why is W10 mail app so bland compared to the web app? especially now!

Because MS doesn't give a damn about W10 Mobile

Yeah, even Alias, Outlook Categories and Folder management is still missing in Mail app. I have still to use Outlook.com simply because Mail app lacks some features. Now Outlook.com got way more features now that's even lightspeed more features than the Mail app. Can Outlook.com team infiltrate Mail app team to improve the app?

Outlook is far more better then Gmail and also we feel secure

They say "get the new version in the North American region—and soon in other parts of the world. We're confident you will love it.​" ?Why this site say now available world wide?

It's ROLLING OUT worldwide... doesn't mean it's available at this moment

Is the crappy birthday calendar fixed finally?! It has always created duplicate birthdays and missing other birthdays, removing and recreating the birthday calendar would only fix this temporarily. And calendar colors, do they now sync with the Outlook app?! I'm afraid my most wanted improvements are missing.

Great, we ar moving, speed it up!

Looks gorgeous!!! Also, the new animated themes are sweeet.

Thought they'd forgotten about this, considering it was in a preview vid almost a year ago now. Finally! Maybe the mention questioning where the hell it was on Windows Weekly the other week prompted someone at Microsoft to pull finger.

It is downright arousing... 0.-

Outlook.com is truly great. The app not so great. Too limited.

Nice update, but still can't add my live.com email to the client. Ok I can add, but it doesn't appear in the client. Windows 10 preview Lumia 640.

6:27 PM EST here in U.S. and old site still showing.

Interesting roll out @8:35pm PST West Coast USA, still no update showing..:( "If you register for a new account in the North America region, you will get the layout today, otherwise, you'll have to wait for the features to hit your specific account but it shouldn't be too much longer. The company says that they are rolling out the update to millions of users each week."

So the desktop Outlook client (part of Office) now supports aliases? How is this enabled?

I would like to know this as well, how do you use aliases with the W10 mail app ?

Anyone got this update yet, got the .107 update on my Lumia 950 this morning was hoping it would come with that

I wish their Mail app was like this. Posted via the Windows Central App for Android

It's been 2 weeks and non of my accounts have been upgraded. Is it because they are @hotmail.com?

Anyone else still waiting to get the update?

It's been over a month and I still haven't received the new Outlook.com. When will it come? (I am in Pakistan, if that matters).

Me too. I live in Brazil.

Wonder why i dont have this yet. Only me?
Windows Central Newsletter
Thank you for signing up to Windows Central. You will receive a verification email shortly.
There was a problem. Please refresh the page and try again.