Outlook.com is getting new inbox themes, clutter support and inline images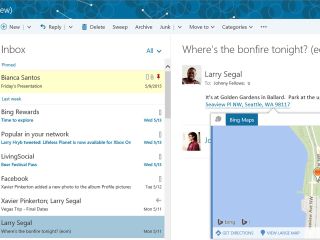 Microsoft's free Outlook.com email service hasn't seen much in the way of new updates lately, but that is changing. The company announced a bunch of new features that are currently rolling out in a Preview mode for a select number of customers. These new features will be available later for more Outlook.com users on an opt-in basis.
The Outlook.com inbox is getting a ton of changes. Here's what's going to be added and improved with this update:
Clutter—Get help managing your inbox. Clutter works on your behalf, sorting messages you're likely to ignore into a separate folder, so you can focus on what matters. The more you use Outlook.com, the better Clutter gets. You can help train Clutter by dragging messages in or out of the Clutter folder and you can turn it on or off depending on your preferences.
Search Suggestions and Refiners—Find what you need, fast. Suggestions put the people you communicate with and the content in your mailbox at your fingertips when searching for content. Refiners let you pivot your search results based on the sender, folder, date received and attachments. We've also added highlighting, making it easy to spot your search terms within the results.
New themes—We've added 13 new themes with graphic designs to help you express your personality in your inbox.
Link preview—Just paste a link into your message and Outlook.com automatically generates a rich preview to give your recipients a peek into the contents of the destination. It works great with any webpage, but try it with video links from Vimeo and YouTube for something even better.
Inline images—Copy and paste images directly into the body of your message, right where you want them.
Pop-out read and compose—Multi-tasking is easy with messages that pop out into new windows.
Pins and Flags—Keep essential emails at the top of your inbox with Pins and mark others for follow-up with Flags. Pins are now folder specific, great for anyone who uses folders to organize their email. Quickly find and manage your flagged items with inbox filters or the new Task module, accessible from the app launcher.
Add-ins—Announced earlier this month at Build, add-ins appear while you're reading or composing a message and are designed to help you complete the task at hand. In addition to the Bing Maps, My Templates and Suggested Meetings add-ins that are built-into Outlook.com, we're excited to have third-party add-ins on the way from Uber, Boomerang and PayPal. Watch for more partner announcements soon.
Microsoft is also adding some improvements to Outlook.com's Skype support, saying that users will be able to quickly shift between email and Skype calls. Users will also be able to convert an attached file on a draft email message to a shared OneDrive file. People who open attachments in Outlook.com will be able to see it side-by-side with the email message with this update.
The calendar feature is getting some improvements, with Microsoft saying:
The mobile Outlook.com web experience is getting revamped as well with support for swipe gestures and add-ins. Microsoft has also launched an Outlook UserVoice message board to take suggestions and comments from users about the service.
Source: Microsoft
Get the Windows Central Newsletter
All the latest news, reviews, and guides for Windows and Xbox diehards.