Outlook.com is getting new inbox themes, clutter support and inline images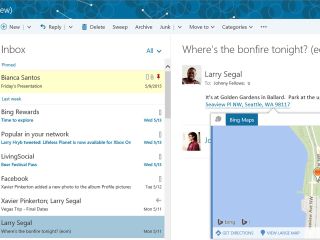 Microsoft's free Outlook.com email service hasn't seen much in the way of new updates lately, but that is changing. The company announced a bunch of new features that are currently rolling out in a Preview mode for a select number of customers. These new features will be available later for more Outlook.com users on an opt-in basis.
The Outlook.com inbox is getting a ton of changes. Here's what's going to be added and improved with this update:
Clutter—Get help managing your inbox. Clutter works on your behalf, sorting messages you're likely to ignore into a separate folder, so you can focus on what matters. The more you use Outlook.com, the better Clutter gets. You can help train Clutter by dragging messages in or out of the Clutter folder and you can turn it on or off depending on your preferences.
Search Suggestions and Refiners—Find what you need, fast. Suggestions put the people you communicate with and the content in your mailbox at your fingertips when searching for content. Refiners let you pivot your search results based on the sender, folder, date received and attachments. We've also added highlighting, making it easy to spot your search terms within the results.
New themes—We've added 13 new themes with graphic designs to help you express your personality in your inbox.
Link preview—Just paste a link into your message and Outlook.com automatically generates a rich preview to give your recipients a peek into the contents of the destination. It works great with any webpage, but try it with video links from Vimeo and YouTube for something even better.
Inline images—Copy and paste images directly into the body of your message, right where you want them.
Pop-out read and compose—Multi-tasking is easy with messages that pop out into new windows.
Pins and Flags—Keep essential emails at the top of your inbox with Pins and mark others for follow-up with Flags. Pins are now folder specific, great for anyone who uses folders to organize their email. Quickly find and manage your flagged items with inbox filters or the new Task module, accessible from the app launcher.
Add-ins—Announced earlier this month at Build, add-ins appear while you're reading or composing a message and are designed to help you complete the task at hand. In addition to the Bing Maps, My Templates and Suggested Meetings add-ins that are built-into Outlook.com, we're excited to have third-party add-ins on the way from Uber, Boomerang and PayPal. Watch for more partner announcements soon.
Microsoft is also adding some improvements to Outlook.com's Skype support, saying that users will be able to quickly shift between email and Skype calls. Users will also be able to convert an attached file on a draft email message to a shared OneDrive file. People who open attachments in Outlook.com will be able to see it side-by-side with the email message with this update.
The calendar feature is getting some improvements, with Microsoft saying:
The mobile Outlook.com web experience is getting revamped as well with support for swipe gestures and add-ins. Microsoft has also launched an Outlook UserVoice message board to take suggestions and comments from users about the service.
Source: Microsoft (opens in new tab)
Yeah finally something tremendous

Really impressed with those features.

Is this what's affecting my Microsoft account synchronization?

Even I have Account problems this week.

Maybe this will help their search problems... Hoping... Not expecting...

Cool! I'm a minimalist-design fan but will surely check them out :)

Outlook for W10M in my phone is also facing some problems. Not being able to add gmail account.

Fuck Gmail's snooping habitat

Please tell me how did you fuck Gmail?

Gmail has a lot of loophol.....

Transfered everything to outlook.com, closed my google account and never needed to look back.

That's nice for you people who barely used those accounts, anyways, or used them only for ignorable personal matters. It's near impossible to do for someone who's been using a Gmail, Yahoo!, iCloud, or whatever account for years and has everything going there. A friend of mine is a contractor and uses Gmail for work as well. There's no way he'd want to deal with switching off of it given the volume of emails he gets, how many people have that email address, and it's on all of his business cards that he's handed out, etc. Way too much trouble.

And with what tool? How often? Was it pleasurable? ;)

That's a lot of improvement.

Is it posaible to use it already or is it a closed beta?

Currently a closed beta...but they will be starting an opt in in the coming weeks

This the web service right ? Not the outlook app?

Wasn't there a story that the Outlook.com interface was going to be replaced with the O365 Outlook interface? Isn't this a waste of development resources if it's going to be replaced in a few months?

This is what it is...the design looks similar to the OWA on 365 with all the features of that...along with the name change to Outlook Mail

Yes, I actually feel like this update is part of the transition process. These features are all from O365 (especially the clutter feature); O365 also already had theme support and the UI updates look closer to O365 than Outlook.com.

Actually, I've looked at more screenshots. This *is* the O365 UI, no doubt. Even the article states that this is part of the transition to the O365 infrastructure.

This is Outlook.com. They are maximizing the functionality of the web version of Outlook to compete with and breast Gmail, etc. in a browser as I see it. Not a bad thing in my view.

This is fantastic....i want to see the revamped mobile site with swipe gesture support

How do they make videos like this???

I have had clutter turned on for a while on my exchange account and it's always empty, I don't get it... Maybe it'll be more useful in my personal outlook I guess

it took a few months for it to start 'working' for me, but i love it now. just keep dragging messages that are clutter into it and it starts to learn things. like you, my personal account will see much more use for it than my 365 account.

Aahh I remember theme days.. Of hotmail during winvista time frame...;)

As long as they get rid of that stupid refresh when in the middle of looking at emails, I'll be happy.

I hope they make it more touch friendly. Today's version is impossible to use.

I am guessing that all this will be coming to the mobile (and PC and whatnot) apps as well,

It's still missing the "Mark/Mark all".. Need that :(

What are you talking about? It is and was always there. Edit: Nevermind. I've never used the Outlook app. I thought you were talking about Outlook.com

It looks nice. hope it comes to any user soon. I want to try it and see how it works. hopefully this new stuff will let me recover my old account. I try to reset the password and it would never work, maybe they will change something and it will finally let me sign in and recover it. because Microsoft support was useless about it. But it looks nice. so hope I can try it soon. :)

They need to add the ability to run a Rule immediately after creating it, or some method of running Rules manually. Making a rule that doesn't apply itself to your current inbox is incredibly frustrating.

The outlook site loads slow. THEY MUST OPTIMISE THE SITE FOR SLOW CONNECTIONS TOO.

Did I see Skype integrated in outlook or was it just my eyes that tricked me...

there has been Skype integration for a while through Microsoft account linked to your skype. of course in the video it seems it's seem easier to see the skype logo and all that. but today, you can answer calls and all on Outlook.com

Inline images again! They had this in the beginning then unexplicably it stopped working last September.

What is this, where i can get it?

Awesome! Bravo Microsoft!!

How can I see the new changes?does it work on windows 10 only?

No exchange support or CardDAV/CalDAV support meaning you still can't sync contacts and calandars with Macs. Sigh.

Looks good, hopefully regular apps and the windows phone UI starts looking like that....soon...

And yet they still can't let you add an address to your safe senders list half the time and make you manually add it

Thanks for NOTHING. No new and innovative products, just more of the same ol' stealing functionality and binding it up in an interface NOBODY WANTS. When can we bury the carcas? Seems the animal died a LONG time ago and nobody stopped feeding it.
Windows Central Newsletter
Thank you for signing up to Windows Central. You will receive a verification email shortly.
There was a problem. Please refresh the page and try again.