New PlayerUnknown's Battlegrounds (PUBG) patch hits Xbox One soon, developer details upcoming fixes [updated]
PUBG should get even better very soon.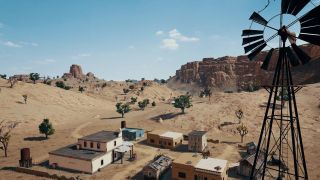 PlayerUnknown's Battlegrounds (PUBG) is a last-man-standing shooter being developed with the help of community feedback. Starting with absolutely nothing, players must fight to locate weapons and supplies in a battle to be the only one alive. PUBG is a surprisingly realistic and high-tension title set on a massive island. Unfortunately the game suffers from numerous issues on Xbox One. The number of crashes has increased since the last update, and the developer, PUBG Corp., has been criticized for its lack of transparency. In an effort to ease concerns, the team posted a lengthy explanation on Reddit.
Updated June 2, 2018: Last night, PUBG got a surprise 9 GB patch on Xbox One which fixes a lot of the issues. The patch was supposed to launch next week but it was released early. Prediction-based Level Streaming has improved, Elastic Accuracy Control has improved, and there should be less crashes. You can read about all the changes on the developer's forum.
PUBG's latest Xbox One patch will launch next week. It brings with it a number of important fixes but, more importantly, the studio discussed the reasons behind the infamous crashes and performance issues. I've summarized the main information below.
The next patch is planned for June 5, 2018. PUBG Corp. may push this patch out earlier, but if a critical issue arises, the team may delay the update.
The patch will include fixes for Xbox One Game Hub statistics not updating, as well as a fix for crashes. The developer is also implementing improvements to "Elastic Accuracy Control for Characters", a system it recently introduced to reduce crashing and lag in heavily-populated areas. Lastly, there will be improvements to the "Prediction-based Level Streaming" system.
There are two major causes behind crashes and the first issue is being fixed with the next patch. PUBG Corp. introduced some back-end changes to prepare for an upcoming feature and in some cases, the game would try to interact with this unfinished feature, causing it to crash. The other reason revolves around caching memory which is used to improve performance. This bug should be entirely resolved by the end of June.
Map selection is still in development but should be out soon.
Server performance is also causing problems and the team recently applied some network improvements to the PC servers. These optimizations should come to Xbox One soon once they're stable.
There are many bumps and sharp terrain geometry around maps which can cause vehicles to explode. PUBG Corp. is working to smooth out the terrain on all maps and reduce these bizarre instances.
The team is investigating other problems like players teleporting after vaulting and matches not ending even those you're the only player alive. These problems will be fixed in subsequent patches once the causes are isolated.
The team reiterated that there are "many issues that need to be fixed in regard to performance, stability and gameplay." Some will take more time than others. Apparently they're working hard to address them as quickly as possible.
Hopefully the next patch will also bring frame rate improvements for Xbox One owners. Games like Fortnite are witnessing unprecedented success because many players are abandoning PUBG due to the problems. The patches need to come out soon before it's too late.
Keep an eye on WindowsCentral.com/Gaming for all the latest in Xbox and Windows 10 gaming, accessories, news, and reviews!
Windows Central Newsletter
Get the best of Windows Central in in your inbox, every day!
Asher Madan handles gaming news for Windows Central. Before joining Windows Central in 2017, Asher worked for a number of different gaming outlets. He has a background in medical science and is passionate about all forms of entertainment, cooking, and antiquing.
It's obvious here how the game's problem are pushing people away, hardly anyone even comments on these articles anymore. For me, on the One X, the game is pretty good, but I hear my teammates not on the One X complaining all the time.

Game started as trash. Game is still trash. Game will always be trash. Too bad a good development team could not have written this to start with as it is fun to play. It's gotta be a maintenance nightmare.

That's a little harsh, the game was completely unplayable the first month but I really only have minor issues now. I am playing on a One X though. I'd venture to say that you're a Forrnite player. That type of vitriol is usually reserved for fanboy hate.

I like the game. I play it almost every day before goin to work with my friend. But I still do not get why is taking so long to get this gane running properly on Xbox. It is the engine? The network? I don't get it.

Same here.
Could be greed, riding out the fame and profits while not investing back into the game?
They did have their lead engineer stolen away by Fortnite a while back, I'm sure that hurt too.

Fix your stupid ******* server maintenance bullshit NOW!!!! I can't even play the ******* game. I swear every day it's something new with this game. I love pubg but I hate it's support/development team. They need to get a handle on this BS. If this was my job I would've gotten fired for this negligence. Fix this NOW!

I just downloaded the update today and now the game is completely broken. It'll try to connect then it breaks and goes to the Xbox home screen.

Same here I have bad internet but enough to play the game smoothly, after a 15 hour download I finally get to play it and this update is trash I can't even play it does exactly what you are experiencing and I have done everything I can to see if it works and still nothing... I'm not uninstalling only to have it not work or have the next update come out and do it all over again. This is lame AF, my husband is 11 hours away from me for 2weeks and we planned on playing this together and after 4 days of working his butt off we can't play so I am beyond livid. Word of advice.... don't put an update out 3 days before a BIG update... it's a waste of time for some people thanks for screwing up PUBG.

If it took you 15 hours to download this minor update, I'd say 99% of your issues are your internet connection. I haven't noticed any changes, good or bad after this recent update.

If they really want to improve on PUBG how about make it VR Supported on the XBOX One X and Gaming PC's with Mixed Reality Headsets. It is time for the XBOX One X to support Mixed Reality Headsets. There is no reason why it could not work. Hardware would support it.
Windows Central Newsletter
Thank you for signing up to Windows Central. You will receive a verification email shortly.
There was a problem. Please refresh the page and try again.