New Star Soccer is an addictive new football RPG
New Star Soccer is now available for Windows and Windows Phone. The BAFTA award-winning title is a soccer RPG enables you to launch a new soccer career as a 16 year-old, climbing the league ladders.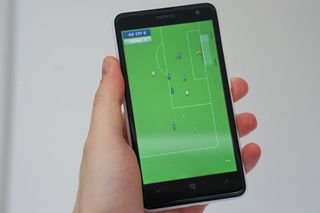 The game tasks you with maintaining relationships, face decisions and grow as a player by building skills. Some interesting extensions include risking earnings at casinos, exploring sinister bribes to eventually retire to set a new career game score. You aren't required to pour hours of time into the game either, a few minutes at a time are more than enough.
Some key features of New Star Soccer include:
Super addictive, exciting simulation of the modern football universe
Create your alter ego and make your way through the leagues to International glory
Experience highs and lows, make key decisions and build your celebrity lifestyle!Hire agents, trainers, learn new skills, develop your talent
Enjoy the casino, own race-horses and more besides - but keep the boss sweet
Good news for those who rock hardware with 512MB of RAM, the game works flawlessly on more affordable devices. So what are you waiting for? Get to the field and earn your first contract!
Download New Star Soccer for Windows Phone (free)
Windows Central Newsletter
Get the best of Windows Central in in your inbox, every day!
Rich Edmonds was formerly a Senior Editor of PC hardware at Windows Central, covering everything related to PC components and NAS. He's been involved in technology for more than a decade and knows a thing or two about the magic inside a PC chassis. You can follow him on Twitter at @RichEdmonds.
Yaaassssss! Been waiting for this for 3 years since I made the switch to WP. Lets hope Clash of Clans follows soon.

This! Played this years ago on my PC! :D

Have you tried Age of empire castle seige?

I play AOE too which is really good, but none of my mates are on it. So I need to use my wife's *hushed voice* iPad to play COC.

Aoe sucks now Coc is millions years ahead of it. After adding watch tower and some major changes the game has become shit now.

More like four years... Ugh

Hahaha Windows Central Said " football Rpg " but the developers of the game are Americans :p

The writer, Rich, is British.

Why is he British? LOL on the app it appears that you are questioning his choice of Nationality haha. The time stamp terms otherwise though. This app sounds intriguing though I'm not a soccer fan. I will give it a try however, seems like those that have played before love it.

The real Football not soccer

The English used both words, so who cares? I prefer to call it Soccer as 'football' means AFL in Australia, although some idiots apply it to Rugby too

It's soccer, learn anglish you American!(no offense)

Had this on my iphone was addicted to this game. Please don't do this to me I've been clean now for months

Football ! bitc football ! Time to sign a petition to change this name ! :P

I loved this game on my android phone and even when it was a browser game!

"Good news for those who rocks hardware with 512MB" Dream League Football

And Stickman Football
Real Football

Real football isn't available now.craploft removed it from store.

Open GameHub , Real Football 14 is there -_-

Real foot ball 2014 is just a java game.what I meant is real football 2012 with Xbox live support

WC says every new game is addictive...starting to sound like a broken record from China.

Well, this one actually is.

Well, I'll check it out then. Better to hear it from people who actually play the game instead of saying the same repetitive BS about every new game that comes to the windows platform...

I played it 3 years ago on a PC browser and was addicted to it, played on my phone for a couple of hours now as well, super-addictive :)

Should they review some shitty boring ones that suck?

Dude. Most of WC reviews lately have sucked. Wait, are you new here?

Football / soccer fans... Also try our hit game "Air Soccer Fever" - online multiplayer soccer. http://www.windowsphone.com/s?appid=3af99ef3-bf10-4a0b-aaa6-3d5a349fae4c

Get off the comments with this bullshit you chink fuck.

Are you seriously using racial slurs in 2015? I'm ashamed of you and your parents.

Words from a virgin obviously...besides Chinese are way more racist you prick. Plus, it's good competition. And funny to see soft people like you get offended because of a message in a comment section. You're probably fat, yeah?

Racial, fat , virginity jokes... All weak. Go deeper. Insult someone's character. You are too much of a pussy though. You pride yourself of simple rants because its the only level you can work on. Stop hiding, stop giving in to your weak willed self and strive for more. Grow a fucking pair of balls.

I dont know what you mean by a chink fuck.. but I wont bother with your manners. I just posted a link to my free online multipalyer game on Windows Phone which is relevant to this thread.. and my game is 4+ star with 4 million downloads so I am not just spamming. I am not forcing anyone to download it, just informing soccer/football fans :) Chill out!

Supporting Barcà this Champions league final... Glad Real Mádrid couldn't make it to final...

Barca vs Juventus??? or Suarez vs Evra/Chiellini??? What do you think? Will he go for Racial abuse Or will he go for dinner??

Man was I addicted to this game when I played it on iphone. Now to get addicted again. :-)

Yeah boi, been wanting this for a long time. Game i missed most over the years since changing from droid to my old HTC Titan.

Only Free for first 10 games, then£0.79p

ikr? :'< *waits for comment saying me is cheap*

Best 0.79p you will ever spend

BAFTA award winning game? Wtf

*One more twist*
You can't install this on SD Card :D

In app purchase compulsory,don't waste 57 mb

Geeeet in there! Absolutely fantastic news!

Hope "I Am Plyr" follows this. We need such games on the WP

Wooo FC Halifax I'm here! IO Shaymen! :D

Please! I want Soccer Spirits, not this!! Anyway is a good game.

This game is all around purchasing stuff by real money to get yourself into the team. One or two packs, it's ok. But all of them, no. After all this game is not worth spending too much money on. I'm at the age of 41 in the game and haven't been called for a single match. (*_*)

Happened with me as well when choosing my country's league. Try European league for starter.

How do i find clipboard on my windows phone
Windows Central Newsletter
Thank you for signing up to Windows Central. You will receive a verification email shortly.
There was a problem. Please refresh the page and try again.