Check out how IT pros use the Surface Pro 3 for work, home, and play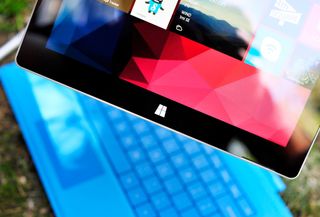 While the smaller and less powerful Surface 3 officially goes on sale May 5, Microsoft isn't done with marketing and advertising for the older 12-inch Surface Pro 3. The company has published three new videos to its Surface YouTube channel that show how the Surface Pro 3 is being used by IT professionals in all walks of their lives.
The first video shows how US-based Enterprise Strategy Consultant Jeff Roach uses Surface Pro 3 to run a full version of Windows 8.1. He can also write on the display with the Surface Pen and save them to OneNote. Roach says that both his wife and son own Surface Pro 3 tablets as well.
The second video shows Sweden-based IT Stratigist Magnus Haglund who uses the Surface Pro 3 to connect to legacy PC systems that otherwise would not be able to be used on a non-Windows tablet. Haglund can also use the Surface Pro 3 to be productive even on his 4.5 hour commute to work. Away from his job, he uses it to help with "blowcarts", which is a go-cart that replaces an engine with a sail. He can map where he can and cannot operate his blowcart with the tablet.
Finally, the third video shows Norway-based Alexander Solaat Roland, who works as an IT pro for a municipality with 2,500 employees. He hooks up the Surface Pro 3 to its docking station so he can use it on two big screen monitors at once. He's also a computer engineering student as well, and uses the tablet to take written notes and save them to OneNote.
Source: Surface (YouTube)
Please show how it can be use full for undergraduates ?

I think that depends on the student and their major. I mean, it's a full PC, so really it's kind of user specific. I went to school for history, then sound engineering. Both of which have completely different resources.

Same videos, but just imagine engineering software instead of IT software.

As a student who is looking to get one, the feature I am most looking forward to is pen input. Its great typing notes in class because it's faster than handwriting for me, but sometimes the professor will draw a chart or diagram that isn't as functional hen put into linear notes or in an outline format. It's also not just a tablet running apps, but a full fledged PC. I have a gian, 17.3 inch Toshiba laptop that runs just as well as the day I got it 2 years ago, and I love having a 10-key, but it can be very cumbersome to carry around back and forth from class, to summer externships, and the like. I like having big screens to work on, but the 12 inch screen of the pro 3 would be adequate for me to work on. And honestly, the surface cover makes it. It is a FANTASTIC keyboard. So for a student, the pen input, portbility, and full windows OS capabilities are what make it great. The surface 3 could probably do all that just as well too, but I am planning on getting the surface pro 3 because of the additional ram and storage. I'll probably wait until the surface pro 4 is announced/released though, because I would expect a drop in price for the surface pro 3.

I am hoping the price will come down as surface pro 4 will be announced. As they will have to surpass the old stock.

Take a picture of your professor's chart, diagram, etc and insert into OneNote. Then use the pen to write/draw your notes on top or next to the picture. I do this in classes and meetings.

Yes, this is what I do too! But to take it a step further, I open the same onenote doc on my SP3 and my lumia at the same time. I take pictures of diagrams and stuff on my phone in onenote, and it automatically shows up inside the document on my SP3. Also, I usually turn on Audio Recording so I can listen to the entire lecture again (or find a piece of it) and it's embedded right there beside my notes I took for the class. It's absolutely killer for taking courses.

Good guide for students in this video. Uses the Surface 3 but applies to the SP3 just as well.
http://youtu.be/aEb573aGQpA

These are much better ads than comparing it to an ipad or macbook.

Yes, indeed. People can realize that by their own.

Really well done and fairly stylish ads. I'm glad to see MS heading in that direction. The way you feel about a device has just as much impact as what it does and these ads shows that well.

They should feature me some time lol. There is nothing I don't do on this device. As a project manager, I run MS project on it. I create high level timelines in Viso, capture meeting notes via Lync in OneNote or save handwritten notes when I'm in a meeting in OneNote and since I recently switched scope of work, I am now developing a business intelligence application in Visual Studio 2013 while running an instance of SQL Server express to code against. And when I need a quick logo, I fire up Photoshop. And this is just what I do when I'm at the office... The SP3 is hands down the best device I ever used.

Surface devices are not available in India, Why?

Maybe because y'all already have the best device of all from and at MSFT... Satya.

i use my dell venue pro 8 similarly... very helpful in taking notes... and at the same time have a good productivity suite of apps. i have dell xps 15. now it became like a desktop always sitting in my lab. if i require heavylifting jobs i connect to my laptop in my lab through my dvp8 and then start working...

I may have to get a surface pro 4 when that is ready. I just want it to have LTE option on it.

These videos just drool the notion that microsoft should start ramping up the implementation of ink to text recognition into windows 10 and making handwriting a more immersive experience in windows 10 operating system as a whole, not just constrained, as shown here to powerpoint and onenote. What about handwriting search queries (office hub has it!) inline in cortana and windows search, wat about handwriting an email or appointment in outlook email and calendar, how about handwriting email adress in the microsoft Edge adress bar etc, etc.

I wish I could post a picture of my home setup. I have mine docked with 2 additional 24" monitors attached. Using all 3 screens makes software development so nice. I have run multiple instances of Visual Studio and SQL Server running and it doesn't even bat an eye. When I have to do an offsite meeting I just pop it out of the dock, slap on my keyboard and go without losing any progress on what I am working on.

Has Anyone Ever Thought About What Improvements The Surface Pro 4 Could Have Over The Pro 3? Yeah..Maybe A Broadwell U-Class Processor (Not M) For A Bit More Battery Life. Perhaps PCie SSD? Thinner? And, Thinner May Not Necessarily Be Better - IMHO. Any Thoughts?
Windows Central Newsletter
Thank you for signing up to Windows Central. You will receive a verification email shortly.
There was a problem. Please refresh the page and try again.