New Surface Pro 3 rugged case claims it meets military standards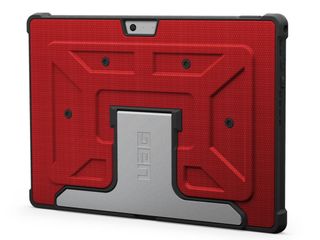 Urban Armor Gear, which released a military grade rugged case for Microsoft's 10.1-inch Surface Pro and Surface Pro 2 tablets earlier this year, will now do the same for the 12-inch Surface Pro 3 later this month.
The Rogue case, which cost $69.90, is currently available for pre-order and will ship on September 24. The case, which comes in red or black, is designed to work with Microsoft's Type Cover keyboard accessory. Like the earlier cases the company made for the Surface Pro and Pro 2, this new one has been tested to make sure it meets the MIL-STD 810G-516.6 standard for drop and shock when it is used in combination with the Type Cover.
Do you think you will need this new Rogue case for your Surface Pro 3 tablet?
Source: Urban Armor Gear (opens in new tab)
Windows Central Newsletter
Get the best of Windows Central in in your inbox, every day!
Like an bullet proof jacket :P

Nope. Ports and vents are left exposed. Also doesn't protect screen

Why would I need this? I have accidental damage warranty. It breaks, Microsoft hands me a new one and I go home. Simple.

People that work on building sites need something like this to protect their gear. Also, not everyone is as lucky as you to have accidental damage warranty.

Or the time to go get a new one and reinstall all their programs and apps. Posted via Windows Phone Central App

And I suppose that protection prevents you from losing files/settings. And I'm sure it wouldn't cause any inconvenient time delay.

If you dropped from a ladder, I think the screen would break, the back would be fine.

Accidental damage warranty is nice. Particularly for destructive accidents. But what about scratches, nicks and dents. You don't claim on those incidents. If you use such a device frequently and in places where stuff is more prone to scratches, nicks and dents, then why not protect is physically? This case is for those people that don't want to abuse their hardware for the sake of abuse or negligence.

@jasongw I just dropped my Surface Pro 3 and cracked the edge of my screen. Will be taking the Surface to MS Store in October.. I thought they will service the same device and change the display.. Will they really hand me a new one..??? Wanna be sure before i visit the Store.

Why on earth do you guys delete my comments when I'm simply trying to help? I made a perfectly valid post regarding needing to get work done and not being able to get to the store at that moment. Made sense, wasn't offensive. Why the flag? I've said worse things before. But in any case, this case may help prevent downtime in an important situation when you might not be able to make it to the store for repair

Everyone needs covers like this.

I wish I had this for my Surface Pro when I first bought it ask those ages ago. Looks good at least

Another lost opportunity to add a place to store the stylus. Looks good though.

Ok, I have to ask: With the case, will it fit on the docking station? Might there be an "adaptor" to make it work?

how do you open kickstand with that then?

Excellent, nice alternative to overpriced Toughbooks.

I absolutely want one of these for my SP3!

This looks intriguing. How much would it weigh?

NIce we are deploying 10 surface 3s to the field and the lack of a nice case was holding things back

Sorry to troll didn't know they made a smaller sp1/2 at only 10.1 and not 10.6... :D. But that aside the case just looks cool. I will keep this in mind if I buy a Surface Pro any variant.

Of it protected things, out would not be UAG. That company makes cheap, overpriced cases that are wannabe otterboxes

If it mimics the SP2 case it has a single, very vertical angle that the kick stand allows. Otherwise it is a great case. Will not work with a dock, no case will work with the dock.

Interesting but I'm surprised a glass screen protector, offer something, isn't included.

Will it work with the MS keyboard? Kind of useless if you need to type a long document if it doesnt

Just looked at thier website. It will work with the MS keyboard....

I bought the case. Feels rugged and tough. But..... My Surface Pro 3 just fell 18 inches. Far shorter than the claimed 4 foot protection limit. And my screen cracked. I have contacted the company and they will not do anything. Their response is here: "Thank you for contacting us. We are sorry to hear of the issues you are experiencing. Urban Armor Gear Cases are approved by Met Laboratories, Inc., a NEBS Certified testing laboratory. This testing confirms devices protected by UAG cases are compliant with MIL-STD-810G 516.6. To achieve this certification, a device must be dropped from a height of 48 inches, on each face, corner, and back. The device is dropped a total of 26 times and must function properly after the test, while not sustaining any damage to the touch screen or buttons. While our case is drop tested there are many factors that play a part in protecting a phone, especially the screen that are beyond our control. Should the screen become impacted directly unfortunately the case does not have an opportunity to fulfill its job in protecting the device. This is only one of the many scenarios where the case would not be able to protect the device. Because of these outside factors that are outside of our control unfortunately we do not cover the devices themselves in our warranty. We apologize for any inconvenience this may cause and appreciate your understanding." An 18 inch drop and my touch screen is cracked and won't work. They will not back up their claims. The case looked solid, but did not help in any way with a short drop to the floor. Nothing hit the screen. The case did not cushion it. Do not buy this product. And since I bought the case at Microsoft and not directly, they will not refund the price of the case to return it. I now own a case that does no good and have a broken screen. So much for military spec claims if they are not honored. It is all marketing hype. What a sham. I was conned. Am looking for a case that will really protect my screen once it is replaced.

I am so hard on portable devices. I need drop proof, specifically, drop it out the cardoor - slide under the vehicles on concrete with puddles - proof. Oh, then there was the time I was making pinapple-upside-down cupcakes and dropped my cell phone from where it was tucked in my top into a glass of dark rum... Basically, I worry for this Surface Pro I am getting and I'm trying to be proactive; I'm the kind of person who tucks some tech device in my bathing suit and an hour later wanders into the surf... So - what is the BEST thing I can buy for a Surface Pro 3? Maybe I need two things. Something while in use - then something as a carrying case, plus some kind of screen protector. And If I am going to be working at the beach - what's the best anti-glare out there? Any comments on ANY anti-glare devices phones, tablets, laptops, readers whatever? (While I have your attention.) It's very hard to work on or look at anything in the kind of sun I am usually in. @MadelineHere http://www.slideshare.net/MadelineHere Find me on Linkedin
Windows Central Newsletter
Thank you for signing up to Windows Central. You will receive a verification email shortly.
There was a problem. Please refresh the page and try again.