Microsoft Health app getting improved UI and new 'Insights' feature in upcoming update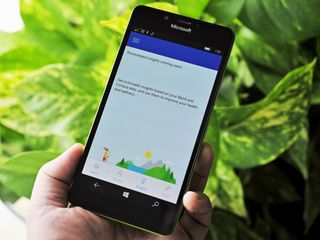 Microsoft is currently in the process of designing and testing a new user-interface for the Health app on PC and Mobile, which introduces a more traditional app layout found on the likes of iOS and Android. The new Health app is currently being tested and worked on internally, meaning the screenshots seen in this post are not final. Microsoft is bringing Home, Profile, Insights and Social to the front of the app, now accessible via a navigation bar at the bottom of the screen.
New app on left, old app on right
These UI improvements appear to be coming to the PC app as well, although the UI is pretty rough right now. We should see this UI get cleaned up quite a bit on PC and phone before the app update launches officially. We've embedded a gallery below with screenshots of the new app in action.
Microsoft is also working on a brand new "Insights" feature that will allow Band users to get actionable insights from their Band and Cortana data, and use them to improve overall health. All insights will be personalized and tailored to each specific person, too. The feature itself doesn't appear to be working yet, likely due to the fact Microsoft is still working on this next update. The current internal app also comes with a new firmware update for the Microsoft Band, however after close inspection, there doesn't appear to be any new features included with the firmware update just yet.
Image 1 of 7
The new Health app should hopefully make navigating the app easier for users who are used to more traditional app layouts, instead of hiding everything in a hamburger menu. The introduction of the new "Insights" feature should also be handy for those who are frequently working out and want to know the best ways of keeping fit, with tips and insights personalized to how you work out. It's not clear when this new update will roll out to the public, but considering Microsoft like to roll out updates for the Band semi-frequently, we don't think it'll be too long a wait.
What do you think of the new Health app and Insights feature? Let us know in the comments below!
Windows Central Newsletter
Get the best of Windows Central in your inbox, every day!
Zac Bowden is a Senior Editor at Windows Central. Bringing you exclusive coverage into the world of Windows on PCs, tablets, phones, and more. Also an avid collector of rare Microsoft prototype devices! Keep in touch on Twitter: @zacbowden.
Great, it needs a new look.

Agreed. I just ordered my Band 2 so I'm very excited to see this update coming!

You've ordered Band 2 now? Hope it's been a good price.

Well, if he gets a newer lot number then it's the slightly revised band 2.2

I agree.... Ultra flat was cool for a few years, now it's just too plain...
......
But, what I miss about the old health app was the ability to search for things.. You could search "broccoli" and, it would give you an entire breakdown of the nutritional value.. You also could do random searches of exercises, and there seamed to be more available.. I wish the current app was more of a total fitness app, like the previous was.

You talk about HealthVault?

I think he is talking about MSN health

Yeah, MSN Health... It was super unintuitive, but it had a lot of information that was accessible.

Great, this is definitely something I've been waiting for. The ui has always seemed disappointing coming from Nike+ and Fitbit. I was using InKin instead for the social integration just because Microsoft didn't seem like they cared about the social features as much. Hopefully they gamify the competition aspect even further. I'd like to see a cumulative score kinda like Nike Fuel and trophies, as well as a way to see when others start an exercise so we can cheer them on.

Now just add a dark theme, and I'm sold on the new look. :p

Or follow the phone theme... That was the point of having a theme at global level, the app doesn't need to do anything. Microsoft seem to be the biggest violator of this.

I like the direction MS is going.

Just picked up Microsoft Health updates for W10M and Win10 PC. Now at v2.3.20621.0. Nothing obviously new. Maybe just bug fixes. No new Band 2 F/W with this release.

I like they've added new features, but really I wish they would just add user note fields for such activities as Running and Sleep. It's pretty simple I would think.

Hopefully they will announce a Band 3 soon as well ☺ .

My guess is not anytime soon. Probably October (like the last two years), or possily in Q1-17 (basing this on the rumor that some of their new hardware was pushed back to early next year).

Do we even have a health app because i see nothing on my Windows 10 pc and phone, both running the latest insider preview

Yes we do and it's been around for a long time, you need to go to the store and download it as it doesn't come preinstalled

can you provide me with the link, wierdly i can't even find it in the store

You can download my app, which provides a link ;) I'm kidding

Could be because of your region.

These are welcomed changes

I hope they add a day view or life tracking view of what you have been doing today, last week, last month. (steps, location, activity's and heartrate, all combined in one view.)


I'd like to see that, currently have to jump around all the different sections to see everything would be great to see one chart showing at least the basics like heart rate amd step count together etc.

Exactly! Just like the old fitness app used to have... IMO the current Health app is a step backwards.

THIS! I want to view my stats like this too on my phone. Right now I need to visit the website to do so.

Good news, the current design is not intuitive at all. Hopefully they'll keep some of the data stored locally so every new page doesn't take 10 seconds to open.

Getting update right now... is it this one?

No, see note north of here

tbh the weather app is the most beautiful app I've ever used aside from the hamburger menu thing. I think microsoft should tailor their apps to look more like that

I'd just be a happy camper if they fixed the weather tile bug they introduced to the band2 a firmware update or two ago. The tile used to update at least once per day for me; now I have to force it to update by removing it and adding it back. So annoying!

Are you on the latest build?? The one from yesterday??

If i am not wrong this app is still US only right?

Its Anywhere the Band is sold as a minimum

It has never been US only... And it's not only for countries where the band is available either. Got it here (France) since the first version :)

I liked the old design tho

I wish they'd add the ability to track runs, workouts, etc with just the phone. My band has to get serviced so much I have weeks with no data.

Making a workout routine is FAR TO HARD. On a side note, we are still waiting for them to fix the weather not updating and the connecting keyboard issue with the Microsoft Band 2. But hey, it's only been six months.

i'd be happy if fitbit and MS were cool and let the Aria update to MS health

MS Health itself is open enough that they could if they wanted using the web api

i got tired of putting my weight in on the health app it would be soooo nice if that just went in and put that ability

Just one complain about the app...Why it doesn't has the custom workout option to create routines like the web site????

The insights tab in the new app sounds like it's the insights you get on the web so does look like they are gradually moving things into the app directly. Personally I think the custom workouts work best on the web as it's easy to use, but sure they could get it into the app if they wanted to with a reasonable UX

They really working hard for Anniversary Update

I wonder of they will make it work with the 950xl and quit saying connecting when trying to reply to texts.

950 does it as well its random

Same thing happens with my 640. You are not alone.

Band1 and 1520 phone here, I havent been able to use cortana or the keyboard on the band in so long...I want to say since I upgraded to Windows 10 mobile starting in the early builds.

We don't need a new design (again), we just need the app to work fine! That's all! Like Bing Health & Fitness. With the actual app the livetile doesn't work most times, the steps with or without the band (old senseorcore) are not displayed till you open the app and sync the info (internet required), etc etc etc

I miss the old Health app that could work without owning/using a Band. There are a lot of metrics that you can get from the phone or just by entering them. I can't do that anymore with just the app unless they've updated something recently. (Nothing against owning a Band, but I don't own one and am not likely to in the near future mostly because of cost.)

Love the support MS gives the Band/ Microsoft Health. The new look is a much needed update.

Randon question: I set my unit preferences on the app but it's not reflected on my band. Any fix?

I just hope they add more detailed information and suggestions to the app. The dashboard is way better than the app right now. In the app you can't find V02 max data. I also want to know my daily exposure to UV. Right now the band tells you to "protect yourself from UV", but it's not that great at telling you how much exposure you are getting throughout the day. Oh, and hopefully they get the band working with my phone better. It seems to have trouble with Bluetooth. My texts going always sync right away. Cortana is still a bit buggy.

They've removed the MSN Health and Fitness app. Now which old app screen shot is shown in the article??

Just got my MS Band 2 for fathers day, I like all I need to do is workout

I am excited to see UI changes and more functionality. The MS band is amazing. Keep up the good work.

I am excited to see UI changes and more functionality. The MS band is amazing. Keep up the good work.

Is there a way to prevent the Band 2 from counting steps while driving? It registers steps especially when slow driving or slowing down.

Definitely. I also want a way to talk diet, like Fitbit. I also need a fix on GPS. Currently, bike doesn't show a detailed nap for me on mobile. Also, programmed workouts such as Couch to 5k don't show map despite using GPS.

"Microsoft is currently in the process of designing and testing a new user-interface for the Health app on PC and Mobile, which introduces a more traditional app layout found on the likes of iOS and Android." Following the bad design of Android and iOS which is the life story of W10M. The new UI looks like a wannabe Facebook app but at least the buttons on the bottom of the screen is a step in the right direction. Pivot contols would've been really nice but that's asking for too much from MS.

I just want a band that works for more than a month, I'm on my fourth. Keeps turning off saying battery went flat and will only turn on when put on charge only to see it has 80 or 90%. I think they sent all the ***** stock from the US to Australia.

had mine since Feb and have had no issues!

I love my band so I'll just keep swapping it if problem continues, they replace it at Harvey Norman no questions asked as it is a known issue.

Got the health app bump last night and it seems to have improved the social side I now get more comparison information where as the social tile previously only declared I had set no challenges it now has information from other band users in my friend circle and comparative information for people like me. That information was pretty much only available his the web dashboard for the people like me comparison.

All I know is that the new UI is beautiful... End of story.

Import data from Garmin etc would be good as the band doesn't last long enough for a bike ride

Looks good. Looking forward of seeing more how hiking works.

A little too late? Unless the third iteration of the band comes with some really comppling features (SMART heart rate tracking ie based on the movement that you are doing it can automatically increase its sampling frequency, extended battery life (especialy in GPS tracking mode) and complete water proof), I'll be saying good by to the MS Band and switching to Garmin. FInally, the MS Health team reallys needs a public face to connect with its community. WIndows Insiders have Dona, Groove has Ellen, OneDrive has Omar, but Health.....no one. This lack of a real person to connect with creates a huge gap between the community and the dev team.

will they allow you to use the phones sensors for running (GPS) and elevation? both could be but are not used! only steps on phone for example even though phones like the 950s have barometer sensors! I have a band so not too concerned but before i did i found the app almost useless as it only counted steps!

So we can expect Modern Design Language 3 to have static round rect. app icons, tab bar controller, outline buttons. It's a shame microsoft designers themselves cannot adhre to modern design language 2. I dont know why take pain to create a design language which is not used at all.

I just want the image of the girl doing kettlebell swings to lock out her hips and arms :P

I want to be able to create custom workouts. The app tells me I can, but nowhere actually let's me do it.

Still no word on import of external data? or API integration with Garmin Connect? it's the top requested feature for the Health App and instead of listening to their user base they're still doodling around with new design. layout and icons, lame.

A moment of silence for "Metro"...

I used Band 1 then band 2, am an insider on phone and PC. The main issues with health is that 1-Cannot pair a band on 2 different devices 2-Band paired with a phone, unable to use the PC app Health to just see the dash board af the band (tht dash board is in the cloud anyway) So I dont unserstand MS policy with this device and seems they dont use them on a daily base torealize haw unuseful their tools are 3-If you bike or walk Twice the same day you find only the latest exercise; software seems unable to memorise 2 events of the same category in the same day

Hell Zac, and welcome to your new home on the internet.