Visual Studio now packs an emulator for Windows 10 phone build 10069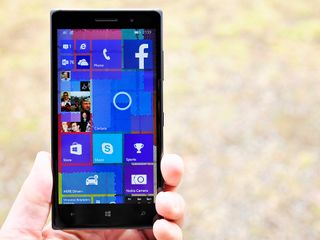 If you are a Windows Phone app developer, you can check out the features of a more recent version of Windows 10 for phone via the emulator included in the latest Visual Studio tools release. The build number for this version is 10069, while the current version for Windows Insider members is 10051.
WinBeta went over some of the new features it found while using the emulator in a video. They include a Start screen which have its Live tiles closer together compared to previous versions. The build also includes some new built-in apps like the revamped beta version of the Windows Phone Store, and a new Get Started app that offers information for new Windows Phone users on the basics of the new OS. Finally, there are some new customization options for the Start Screen, including some new colors and more.
Keep in mind that this emulator is designed to be used just by app developers. If you are a regular Windows Phone consumer, we highly recommend that you don't download the Visual Studio tools just to check out the features in this build, as it will almost certainly be full of bugs and performance issues. Microsoft is expected to release a new Windows 10 for phone build to Windows Insider members sometime early next week, after missing a previously announced deadline for the end of April. The new build should also have support for the new universal Office apps for phones.
Source: WinBeta
Everything is starting to come together. And I like the new thin tiles gap.

Ugly. And some sites are also telling that a 4 column tile layout is coming!

It is there in this build. Maybe 5'+ devices only...

That and 720/1080p screens in general

Why 720/1080? Resolution doesn't really matter when it comes to such things. It's more (maybe all) about screen size

If you have too small resolution but big screen the more information you put on screen at once, the less readable it'll be. When more tiles are on screen, their text and content gets smaller. If there is not enough density of pixels things will stop being readable. Therefore resolution matter just as much. In fact, IMO that should be the only thing that matters - if I want to read tiny but sharp fonts, that should be my choice.

Yeah.. But if I'm not mistaken, it's for large screen devices only..

check out 3:31:08 in the video from day 1 of build. When she sends the phone to the homescreen, you can see the new tiles and they definitely have 4 columns.

The four columns is toggleable

Which is optional, so not worth complaining about.

Well, I don't. It's a matter of taste :)

I really like the thin tiles gap!!!

I kind of wish that there were no gaps...

Really? It gonna look awful that way.

Not sure myself. I didn't like it when i first saw it, after seeing it in use at Build it seemed a bit better though. I do prefer the 8.1 layout, I think that's just right - it's got that classic WP look to it - but when it comes to upgrading I'll probably get used to it because I know I'll have to.

What if I have lots and lots of internet data to burn? Should I download this then, just to try out the emulator?

I really have no idea why they're making a big deal about the emulator, since it won't actually break anything (unlike the articles that show you how to put the TP on your devices, which may actually break them), but if you've got a lot of free time, I don't see any reason not to download it.

Faster seemed!
MSFT is on a roll

Soon available for our phones, hopefully.

Lots of grey scattered about in those color choices. That was odd. Dark theme was chosen, but still lots of blinding white showing up in the built-in apps. That had better change. Yes, it bothers my eyes. Dark everywhere is one of the reasons I have WP.

I am all for less spacing between the tiles. Make use of all the real estate on the phone. No need of wasting it. I have noticed the spacing between tiles in the PC has also decreased

Everyone is going to hate me for saying this, but they are really abusing the hamburger menu. Also, they are disrespecting their own design guidelines (the new ones). In the store app, the search button should be at the bottom of the screen. That's what all the documentation says in any case.

Yeah I dont see why their doing that with their own system apps

I agree. Store app looks awful! Disaster.

They have stated that many universal apps don't take advantage of the smaller resolution yet. Calm down, things will get better

They will follow their own design guidelines about the same time as they start including changelogs with their app updates.

They're not forcing us. They're providing options, customization options.

Hope the next insider build will be newer and more improved than this one. There is still a lot of work to be done and still nothing impressiv about w10 for phones. Sure it isnt done yet, but there should be at least a clear direction for it by now.

Screen Timeout: Never option!

Thank you waiting for next weeks build

Finally that annoying black gap between two tiles is going to be reduced.

I got the new App get started. I had to reset my phone. Resetting the phone gives you that app.

Can they bring aero to windows phone too? Say notification panel with translucency

It may come with the next build. I've seen recently pictures and it shows I'm not transparent notification center. Although I'm not 100% sure; don't quote me on it.

When is the next build for w10 phone coming in May or what?

Next week. Take it with a grain of salt though.

Lol 100"69" , i see what you did there msft :P

...battery icon. Small. So, small...

it's good... but i think they still need to concentrate on practicality rather than theory only. and bdw, i really like this : https://www.behance.net/gallery/21015759/Windows-10-Redesing-for-phones

Amazing, there doing so well

hm, downloading VS2015 КС

I hate the inconsistency of the icons sizes, it looks really bad

I need windows 10 update phone for Lumia 1320

Windows 10 update no need eror pls

Earning money online was never been easy as it has become for me now. I freelance over the internet and earn about 81 bucks an hour. Get more time with your family by doing jobs that only require for you to have a computer and an internet access and you can have that at your home. A little effort and handsome earning dream is just a click away… ------------!~!~!------------- www.internet-careers.cf ,,,,,,,,,

hello! my english in not good so do not laugh me !! :) i have installed visual studio community 2015 but windows 10 universal app tools(include windows 10 mobile emulator and etc ) did not install with it !! can i download this tools as an iso or exe file ? it seams we can download and add this tools just throught visual studio intaller ? but i want an isofile.. so i can download it with my IDM and reinstall it for my friends or my other PCs anyone can help me ? thanks in advanced
Windows Central Newsletter
Thank you for signing up to Windows Central. You will receive a verification email shortly.
There was a problem. Please refresh the page and try again.