New video shows off Microsoft's Lumia 650 on Cricket Wireless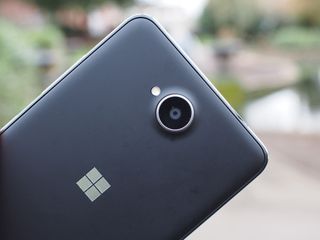 Microsoft has posted a new video showing off the single SIM version of its Lumia 650 smartphone that's currently available exclusively at Cricket Wireless.
The YouTube video gives a good overview of the Lumia 650's features, such as its 5-inch HD display and its use of Windows 10 Mobile with Live Tiles, free Office apps and access to the Windows Store of apps.
Cricket Wireless is currently selling the Lumia 650 for $119.99 (opens in new tab) without a contract. The smartphone is likely the last device with the Lumia branding to be made by Microsoft as it continues to make massive changes to its mobile device business.
See at Cricket Wireless (opens in new tab)
They should make this availabe as AT&T GoPhone. It's an extremely slick looking and lightweight device in person. Runs quite snappy as well. This is the ultimate budget phone or a secondary phone for hiking IMO. Don't let the SOC spec fool you.

Cant you just buy the Cricket one and use it on GoPhone? I know my son is using a GoPhone 640 on Cricket and we didnt have to do anything to it.

I know you can use AT&T phones on their MVNOs but I am not sure about this reverse case. I read somewhere that Criket phones are unusual in that you can't use them on other MVNOs (but maybe ok for AT&T?). Additionally, this price is for "with activation" so you would have to sign up for their service.

Yep, you are correct. You can't, an unlock would probably have to happen first.

If ATT carried this phone I'd probably get one as a 2nd phone. ~~Just a flat-out high speed burn through Baker and Barstow and Berdoo.~~

Not in a million years. Posted via the Windows Central App for Android

You should be able to. AT&T own's Cricket. You can also use all of AT&T's free wi-fi on a Cricket phone. To be sure search your phonebook for a local Cricket Wireless in your area or AT&T and I'll bet you get yes as a answer to your question.

You should, but you can't. Cricket devices are locked.

You can get your cricket phone unlocked all you have to do is gave 6 months of uninterrupted service through them

The phone is good does everything expected no problem, went to zoo set off 10.30 phone fully charged travelled 20miles by bus using WIFI candy crush soda, used calls txt, video rec photos the phone was used home at 20.00pm no charge in between 9 1/2 hrs solid use I was impressed needed charging after being in home 10 minutes.& the 212soc struggles with nothing that I have noticed. Windows Central W10M 650

the camera is what deters me...but it is what it is

Actually the camera is brilliant, but then again I thought my old Lumia 735 was good soo...

LOL going from an Icon camera to 8MP camera....yeahhhh I'm going to pass =)

LOL if you have an icon why would you even say that only the camera deters you?!

BC the Icon has been abandoned by VZW and it has a cracked screen

You could've said that in the first place! But just because it's less megapixels it doesn't mean mean the quality is less! It just means the size of the photo is smaller.

To be honest the camera is good but, depends on where you are & condition of lightning but that could be my fault.

Is it just me or do they show OneDrive twice, and the first time is the Windows 8.1 app? O_0

Same app different theme I'd say

I hate that it's still not available in my country.

Exclusive? Single Sim since relase in Germany. https://www.conrad.de/de/microsoft-lumia-650-lte-smartphone-127-cm-5-zol...

It's exclusive to Cricket in the US, that is what they mean.

Straight to point.m Microsoft ,Need 2gb ram and greater battery.. at the same price... . Just add 2 more features and increase 200rs price.. nothing more.. I will purchase your phone.. Posted via the Windows Central App for Android

The existing battery lasts all day

Well, I'm getting an L640 tomorrow at Cricket for $29.99.. I made the mistake of asking my dad to stop for me on an out of town trip, and they sold him a ZTE Grand 3XL. Nice hardware, but Android ruins it. Even though it has 2gb RAM, everything opens faster on my Boost 1gb L635 soooooooo much quicker and without stutter lag. Sniper Fury is unplayable in the ZTE. Ridiculous!!!!

Well android sucks on most low end hardware. No surprise. Why can't he just exchange it

The new oneplus 3 is very impressive 32gb storage 4gb ram SD820, 5.5"Screen 4k plus micro SD. OR 64gb storage 6gb ram 6" screen £259.00 & £320.00.

I finally got some hands on time with the 650 yesterday and it was an absolute beauty. I don't usually like light phones but this one was perfect. I'm trying not to be that guy with multiple phones but I really would like to swap out my SIM on occasion and use Windows 10 exclusively from time to time. The 650 is perfect. One picture at a time -- LG V10
Windows Central Newsletter
Get the best of Windows Central in in your inbox, every day!
Thank you for signing up to Windows Central. You will receive a verification email shortly.
There was a problem. Please refresh the page and try again.