Windows Mixed Reality PC Check app makes it easy to find out if your PC supports mixed reality
The Windows 10 Fall Creators Update is here, and with it comes Windows Mixed Reality.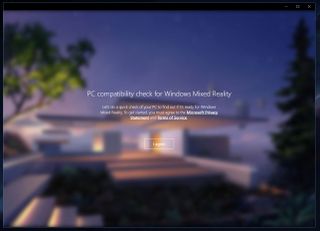 Microsoft recently launched an app on the Windows Store that will help you determine whether your PC is ready for Windows Mixed Reality. Appropriately named simply Windows mixed Reality PC Check, the app was first spotted by the folks at Aggiornamenti Lumia and is available now on the Windows Store (opens in new tab).
The app's description reads:
Using Windows Mixed Reality PC Check is a pretty straightforward experience. After firing the app up, you simply agree to a quick check, and it comes back with a pretty quick assessment of whether your PC is ready for Windows Mixed Reality based on hardware specs and OS version. On the results page, you'll either get the go ahead that your PC is ready, or you'll be informed of any potential problems that could prevent you from, or hinder the experience of running a Windows Mixed Reality headset. The results also link out to a Microsoft page (opens in new tab) that goes over features coming soon to Windows 10.
Windows Mixed Reality PC Check comes at a good time for anyone interested in trying out one of the forthcoming headsets. The Fall Creators Update launch is just around the corner on October 17, and the first Windows Mixed Reality headsets are expected to launch at the same time. In fact, Dell just put its Visor headset up for preorder in time to make sure shipments head out on October 17.
See at Microsoft (opens in new tab)
Dan Thorp-Lancaster is the Editor in Chief for Windows Central. He began working with Windows Central as a news writer in 2014 and is obsessed with tech of all sorts. You can follow Dan on Twitter @DthorpL and Instagram @heyitsdtl. Got a hot tip? Send it to daniel.thorp-lancaster@futurenet.com.
"Something went wrong, and we can't check your PC right now. Try again later." Sigh...

Same thing happens for me

Thanks for trying the app. We're investigating. Can you share what type of PC you have?

We want to fix this issue, so we're investigating. Do you mind sharing what PC you have?

Sorry for the experience. We're investigating the issue and will be updating the app. Do you mind letting us know what kind of PC you're running?

Hi. The recent update yielded an actual results page. But it seems to not like my AMD R9 280x card. Or the drivers? Is it not supported?

Sad I bought SP4 4GB why do they even make it?

Because it's a fantastic tablet. You didn't seriously expect to run VR/MR on a Core-M CPU, did you?

Graphics Card: NVIDIA GeForce GTX870M, then a yellow triangle with an exclamation mark it in. But no indication of what that actually means. This style over substance crap needs to end.

I had similar results with my AMD R9 280x card, which, sure, it's a big old by now but should still pump enough pixels for this.

Many told them to fix their damn app, but it seems the dev of this crap has the same behavior like all of the MS does: he does not give a damn about quality of delivery...only half baked stuff.

Hoping my I5 Surface Pro will work, but I get an exclamation point (not optimal?) for the graphics card and the CPU -- both of which meet the minimum, and a red X on the graphics driver. A bit of a head-scratcher, but I hope it means that once it's launched, they'll also update the Intel driver and all will be well. Seems odd they would release this before they've done this for their own devices. We shall see. I'd imagine a lot of teeth gnashing if the SP isn't supported.

what on earth is this pathetic app :)))? Wow, what great coders MS has...

So go and use the Mixed Reality platform on the OS you prefer... Oh, wait... Nevermind.

It does just fail things for no obvious reason though. No USB 3 ports? Hmm. I have two USB 3.1 controllers of different makes with a host of USB 3 and 3.1 ports attached through them all working well. Not exactly a useful utility. I hope the rest of Mixed Reality works a bit better than this buggy mess.

The person who has Apple products is complaining about Microsoft? Say it ain't so! Enjoy your Apple headset...

It works now, it didn't work in the early versions. Or it didn't get the driver for my old ATI card right.

Kinda. It reports my PC's USB ports are all sub 3.0 though so it fails me. Of course this is nonsense as I have loads of USB 3.1 and 3.0 ports which work just fine. In fact, the only USB 2 ports I have are on an extra back plate and even then they are really routed through one of my 3.1 controllers. I hope the rest of Mixed Reality isn't as hopeless as this utility.

"In fact, Dell just put its Visor headset up for preorder in time to make sure shipments head out on October 17" I did my preorder a few minutes after it was announced, and this morning it was still in "Order Received" status. I ended up cancelling, stopped at my local Best Buy and bought the HP device. I already had the HP and Acer headsets, but needed the controllers. Unfortunately Dell has been screwing up orders for me left and right, both personal and business, and I have been stepping away from Dell because of it.

I am getting a cross on ram 4gb Time to wait for hacks 🤞

Found a hack to get around the specs requirement, cant believe the Surface Pro 4 isn't 'officially' supported on lowest setting.. Open the Registry Editor and navigate to HKEY_LOCAL_MACHINE\SOFTWARE\Microsoft\Windows\CurrentVersion\Holographic\FirstRun (you can paste that into the address bar at the top). Create a new DWORD (32-bit) value (either via Edit or context menu) and give it a name of AllowFailedSystemChecks.
Double-click that value and set its data to 1. Restart Mixed Reality Portal
Windows Central Newsletter
Get the best of Windows Central in in your inbox, every day!
Thank you for signing up to Windows Central. You will receive a verification email shortly.
There was a problem. Please refresh the page and try again.