Have to re-purchase again? New Windows Phone Store woe hits a few apps.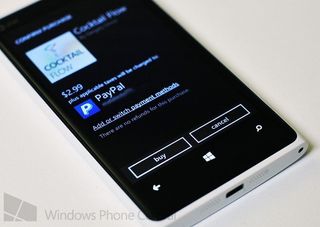 Last night as I was loading up a few apps on my phone I hit an anomaly: I was asked to buy Amazing Weather HD. Why is that odd? Well, Amazing Weather (along with Weather Flow) is one of my top apps and I bought it the day it came out, months ago.
As it turns out, it appears that this is becoming a widespread problem with the Windows Phone Store, a return of a similar glitch that hit Windows Phone 8 users last fall. That issue was much more frustrating though as it hit a lot of apps, depending on your purchase history.
Today, we've come across at least three apps that are having problems with this: Amazing Weather HD, Cowlick! and Mehdoh. Indeed Mehdoh has been temporarily hidden due to that problem (and another when attempting to download the app,failure to install). Liquid Daffodil, the developers behind Cowlick! recently tweeted that users should contact @winphonesupport if they are being asked to re-buy their app.
We're not sure how many Accounts are affected nor how many apps, but it seems to be an unintended consequence of some of the backend changes Microsoft has been making to their services. For instance, we had sporadic reports of SkyDrive login issues yesterday.
For now, we of course recommend that you don't buy the app again and instead hold off until things get sorted by Microsoft. Also, you can spare any developers your wrath, as it's not their fault—they're not trying to double dip.
Have you had to re-purchase an app? If so, which one(s)? Let us know in comments.
Daniel Rubino is the Executive Editor of Windows Central, head reviewer, podcast co-host, and analyst. He has been covering Microsoft here since 2007, back when this site was called WMExperts (and later Windows Phone Central). His interests include Windows, Microsoft Surface, laptops, next-gen computing, and arguing with people on the internet.
My problem, since the day I bought my 920 to now, is much of my music I bought on my 900 through Zune I'm unable to download. Entire albums and some singles, it asks me to purchase again. All of the things that support have told me to try haven't worked. I'm still upset about it. At least $40 with of music I can't have back!

@JonnieLasVegas: You're not the only one. I was quick to make backups of my entire collection. Yet the one thing pissing me off about buying music by various artists is that I can't buy the entire album but have to buy it track by track. F$%k...how I miss Zune!

That's odd, I am same as you but instead I had a Lumia 800 and I bought many albums like you, but I can still redownload flawlessly on my Lumia 920. They give you the albums in Xbox music and you can download

@Ratman826 Yes, most of the music is available, but I'd have to pay again! Some songs are completely gone! Zune had them, but Xbox music doesn't! @L0gic Bom8 I wish I still had my backups! My PC that had them died shortly before I'd bought my 920. I didn't have the fore sight to back them up to the cloud :( . I thought I'd have access to them through my phone. Man I miss Zune too!

Go on your computer and delete your music from Xbox music. Delete all music off your phone. You will be able to re download and own them again without paying.
It kept telling me already in collection do you want to buy again? I followed the the steps above and got all my music on my 920.

It's true. There are albums missing from Xbox Music that used to be available with the Zune Music marketplace. In fact, I've even seen music I got as recently as 4 weeks ago disappear. I still have the file in my Xbox Music\Subscription folder, but since I downloaded it with the subscription rather than buying it outright it won't even play now.

Go to your music folder. Select everything (including the premade folders with the artists) and copy. Plug in your phone and go to the music folder and paste

I've had the Store forget that I own at least 4 games and apps and thus refuse to update them. It's very frustrating and silly.

Stupid is the word I prefer to use here Paul.

You can add Hey Dj! to the list. It wouldn't update so I uninstalled it, now its asking me to pay again...
It does not show up on my purchase history either.

Aha, now I get it. Artifex Mundi is probably happy, bought there 3 games again :D

Its making me buy Sonic CD again after buying it before... :/ Stupid warranty replacement.

Same thing happened to me. Got the game when it was free from Nokia, and had to replace my phone, good bye free Sonic.

Contact WP support. I did last week because I had the same issue. While I was chatting with them I purchased Sonic CD, and immediately after the purchase was complete they credited my credit card for the purchase amount.

The free Sonic CD giveaway was a store glitch, so you didn't technically own the game and won't be able to get it replaced for free.

The WPCentral app can't be re-downloaded either...had to uninstall the other day, tried installing again just now but wanted me to pay again.

I had to re-buy mehdoh and I wondered about this as well

App with Jinn that read my thought. Very bad and evil. He make mockery out of my various deities and asks for spare change when he get hungry to restore his thought reading evil. Ten thousand pardon if off topic.

This all sounds stupid...Microsoft needs to figure this stuff out because normal consumers are probably losing their mind right now.

+1 average consumers wont have the know how to be checking the web for solutions, they (understandably) just want it to work and it should, these problems must stop!

Hope they sort it out soon, they being Microsoft Of Course

Is there a fix in GDR2 update? Or is this a Microsoft server issue?

Pretty sure this is server/backend/Accounts, not the phone/OS itself.

Metro tube is the app that comes up as i have to buy again

I had this problem before when I tried to reinstall one app. I need the app so what the heck, I tried to buy again but I got prompted next saying I already bought this app. The installation continued without having to pay again. You can try at least with one app.

That's normal and not what we're describing here.

I see, sorry for that. I hope they can fix this soon.

Stop the Music for me...:(

This explains why Mehdoh has not been able to update.

Someone update the article with list of apps once confirmed? Please?

Dag gone it already. Sorry for my offensive language.

Smartest eraser also effected.
I think the problem is not with apps but with windows phone store purchase history. We faced this problem before also. Till now no proper solution is provided. I still dont see some apps brought earlier. Now again this has started. Its real frustrating. I dont know whats Microsoft planing now?

Haven't run into this problem. Yet.

For me it was:
Metrotube
Weather Flow
WPCentral

I actually just boght them all again because these are all fantastic apps.

Yeah, I re-bought Amazing Weather HD because I really wanted it on the 720 :-/

Its letting me redownload amazing weather without prompting to pay again, i guess its a hit or miss

Uninstall then go to windows phone website then go to your apps and redownload the purchased app. It worked for me once.

Not practical if you've bought or installed a thousand or more apps :/

I apologise if this seems a bit stupid, but how on earth is it offering you to make the app purchase using paypal in the story picture ? I've been looking around for a way to use paypal to purchase app but I was told by windowsphone support that it's not possible to do so.
Is it region restricted or something of the sort ? Can someone please explain ? This really is a big deal to me.

Pretty sure you can add PayPal as a method of payment now on your MS account.

Trying to add a payment method on windowsphone.com only allows me to select "credit card".
Tried creating a new payment method for my entire MS account, ended up on http://commerce.microsoft.com/paymenthub/ where I found a "PayPal" option, but unfortunately won't let me go through the process. Gives me an error half way through set up with "your request cannot be processed".
Looks like a regional restriction unfortunately ..

I use PayPal all the time, I have PP and my CC set up in my account and can switch between the two when purchasing any App. Maybe it is region restricted, I'm in Canada. BTW, its not phone specific because it works on my Surface RT also.

Ikamasutra want let me re download to my 920.

I had that problem BUT it wasn't a glitch. I bought iKamasutra still in WP7. I installed it on WP8 in January without problem. Then the developers removed the App and republished it on the store. Except this time they not only made it more expensive (from 0.99€ to 2.99€) but also removed the trial version. I contacted them and they said Microsoft was to blame because they had to change countries and Microsoft said the only way to do it was by republishing.
Of course, that doesn't explain the rise of price and removal of trial. They simply used it as an excuse to try and rip-off customers.
Now I couldn't get the App neither in my L620 nor in my L920 after a reset. SO I contacted Microsoft and they were excellent in solving the problem. I reported the developers, they took notice (they are controling these types of schemes) and refunded me the value of the original App. All in less than 10 minutes. I haven't run into this problem you reported yet, though. But then again, my L920 that came back yesterday from the factory never left the Nokia Care Centre and had to go back to the factory to solve a new issue they created after fixing the other (the display had to be replaced because it had a problem that caused the proximity sensor to turn off during calls and leave the phone black).

Cowlick! Was updated yesterday and when it didn't update I tried uninstalling first but then my purchased cowlick wasn't registered (available) anymore...

Oh sh*t. I'm going to flash other firmwawe...

This happened to me on Beem

Just tried Amazing Weather HD and it worked fine for me.

Are ppl actually trying to repurchase or just complaining and haven't lost ANY money. I've repurchased paid apps that I used to have on my HTC HD7S and it asked me for a payment method. When I clicked "Buy" (on my Lumia 920) a message popped up to redownload, saying YOU HAVE ALREADY PURCHASED THIS APP. It did not cost me anything, even though I thought I was going to pay for it again.

That's not the problem we're describing here. The problem is it's actually making people repurchase instead of giving the prompt you described.

I had this problem with Cowlick!. I had difficulty with the update, so I uninstalled. When I went to reinstall, the store said I had to pay. To make a long story short, I live chatted with someone at Microsoft, who had me buy the app, then they reimbursed my account. I got the app free last year, when liquid daffodil offered their apps free.

Had to repurchase Mehdoh. Lumia 920

But, if you own the trial for an app, you still get updates right?

I also have the same problem, I have to download via window phone.com

I paid for Mehdoh. I feel...victimized.

If we could store the aps locally like any sane person would have set up this ecosystem, then thus wouldn't be an issue!!!!

...huh? when apps are installed, they're stored locally, on your device. when they're not, they have to be reacquired..just like every other mobile platform's "app store".

I had to repurchase amazing weather. I didn't think it was an issue with marketplace..guess it was just something the store should be working on, to not make the user buy stuff again. But got affected..and bought it again.

I had to repurchase Weather Flow a while back.

All these people saying "I HAD to repurchase an app" couldn't they have just used their download history..?

No I tried that...I emailed the developer and they resolved the issue for me.

That's called purchase history

I had the same issue with Amazing Weather HD. I emailed the developer and they told me that I should not have to purchase the app again. Within a couple of day the issue was resolved.

Yes, I have issue with Mehdoh.
Thanks for the info.

I purchased the Tiles Pack via the in ap purchase in Custom Tiles Maker and everytime I go to use the paid features I get prompted to purchase again. Its very annoying. Can't use the features I paid for!

Try again,
Mehdoh just updated for me, it has been failing for several days.

Cowlick! (mehdoh & gEeks too is not possible to update when you had the trial installed when you bought the app, that gave an error because only then the purchase wasn't listed. (i believe that's the problem in a nutshell because there's no new download just unlocking paid only features)

Only time I've noticed this is for the national geographic park maps app.

Have had this problem with Cowlick! today, but it seems to have been solved now.

I had this problem for the last day or so with a couple apps. It seems to have now resolved itself.

I had to re-buy Gleek. I informed Liquid Daffodil but they told me to contact Microsoft, which I never did...

+ angry birds space, angry birds season and angry birds star wars... Had the same problem with metrotube, but I just tried it now and it installed with no problem.

If you go to windowsphone.com and log in, you can "send" your apps to your phone. I did that with the WPC app, because it asked me to buy it again.

This is not the only problem with Store. The Store on my Lumia 920 stopped to tell me about updates several weeks ago.....
The only possible way for me now to update an app is to search for an app in Store, and look after the update button in every app..... Incredibly annoying i think....
If we are going to be prompted for rebuying apps also as told in this article, then i'm even more dissapointed... :-(

beem plus is not working since it was updated. some people unistalled but again th problem is you have to repurchase

When I upgraded from my Trophy to an Lumia 822 about a month ago I had this issue. A large number of apps I had already purchased, including nearly all of my Xbox Live games, wanted me to buy them again. This included Amazing Weather, WPCentral and lots ofthers. It also didn't matter if I was trying to reinstall them using the phone or through the online store at windowsphone.com. I spent a few hours working on the issue both on my own and with MS Support. In order to resolve it I had to remove my Trophy from my MS Account so that only the Lumia showed up there. After waiting a few minutes and trying to install the apps again it worked as intended for all of them and it's worked ever since. So if you have upgraded phones and have more than one phone device showing up in your account you may want to give that a try.

I had to repurchase Metrotube, Network Dashboard and Photo Lock when I reset my phone. I thought it was odd since I had it before (purchased).

I was forced to perform a factory reset on my HTC Windows Phone 8x and when I got back up and running, I've been told I need to repurchase quite a few apps. Two of which are my favorites; Amazing Weather HD, and PLEX. I understand this article recommends sparing the developer's our wrath. However, I don't want to speak with the developer. Isn't this a Microsoft Issue? Aren't they the ones that handle the Windows Store? If the windows store is showing you as not having purchased something you purchased, isn't that their issue? Not the developer of the app itself. Who do I get a hold of at Microsoft for this? I went to the store and clicked "Contact us" and it takes me to a page with a list of manufacturers instead of providing a Microsoft store support number/e-mail to use. Very irritating! Does anyone here know who I need to reach out to to discuss my purchase history? It doesn't even show up!

Just now I bought and installed Tweetium on Windows 10 Preview for Phones, and when I try to install it for my Windows 10 Preview PC -- boom! I get blindsided with the requirement to re-buy.
Windows Central Newsletter
Get the best of Windows Central in in your inbox, every day!
Thank you for signing up to Windows Central. You will receive a verification email shortly.
There was a problem. Please refresh the page and try again.