New XBL headset lets you go from office space to space ranger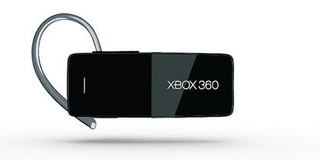 XBox Live's Major Nelson, aka Larry Hyrb, helped announce the arrival of a new bluetooth-enabled headset for XBox 360. The headset is equipped with a switch that will toggle it between XBox and Bluetooth modes, allowing users to connect to mobile phones, computers and more. In addition, the power/mute button will now double as the "action" button for answering calls, etc. while connected to Bluetooth.
The new addition to the XBox accessories arsenal will go on to replace the current Xbox standard when it is released in November. It will retail for $59.99. The ability to switch from talking on the phone to communicating on a PC or over XBox Live is one more move in the Microsoft's direction of tying all of its platforms together with its "3 screens" approach. The size and aesthetic lends itself a little better to playing Gears of War in the living room than to wearing around the office or into your local Starbucks, but the versatility is great.
Major Nelson posted a short video describing the features in greater detail on the XBox YouTube page . You can also see a gallery of the new headgear, along with a new XBox media remote, here.
Source: Major Nelson
SWEET!!! my dog keeps eating my freaking headsets . Now ill be able to take it to my car for my cell phone ( away from the feraking DOG ) its a little big doh ... but nice! i love the green Xbox flashing lights .. :P

Looks pretty sweet. This will come in handy with not having to change headsets when going from my 360 to my PC.In regards to tying together their platforms, when will I be able to use my freaking MS points for WP7?!

I actually need a new bluetooth...

Why can't I use any old BT headset/headphones with a 360? I'm able to do so with my PS3. Come on MS, stop being M$.

PS3 is bluetooth enabled by default, isn't it? It's also pretty dumb to call them M$ when this is going to be cheaper than most good bluetooth headsets on the market, I paid $120 for my Q2 when it was released, and it sure can't switch into Xbox mode. If the quality/range on this is good, then this is amazing.

Because the 360 doesn't have a bluetooth radio in it...

Yeah it's Bluetooth for the PC or your mobile but it uses the Xbox's radio (don't know what it's actually called) to connect to that not Bluetooth.
Windows Central Newsletter
Thank you for signing up to Windows Central. You will receive a verification email shortly.
There was a problem. Please refresh the page and try again.