New XBL headset lets you go from office space to space ranger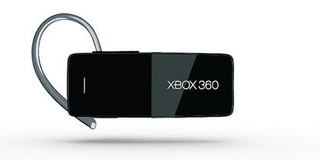 XBox Live's Major Nelson, aka Larry Hyrb, helped announce the arrival of a new bluetooth-enabled headset for XBox 360. The headset is equipped with a switch that will toggle it between XBox and Bluetooth modes, allowing users to connect to mobile phones, computers and more. In addition, the power/mute button will now double as the "action" button for answering calls, etc. while connected to Bluetooth.
The new addition to the XBox accessories arsenal will go on to replace the current Xbox standard when it is released in November. It will retail for $59.99. The ability to switch from talking on the phone to communicating on a PC or over XBox Live is one more move in the Microsoft's direction of tying all of its platforms together with its "3 screens" approach. The size and aesthetic lends itself a little better to playing Gears of War in the living room than to wearing around the office or into your local Starbucks, but the versatility is great.
Major Nelson posted a short video describing the features in greater detail on the XBox YouTube page . You can also see a gallery of the new headgear, along with a new XBox media remote, here.
Source: Major Nelson
Get the Windows Central Newsletter
All the latest news, reviews, and guides for Windows and Xbox diehards.