New York City's flagship Microsoft Store opens Oct. 26; Sydney store opens Nov. 12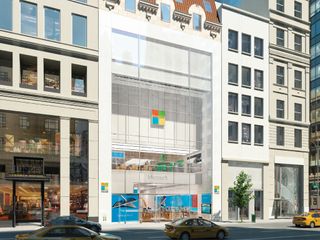 New Yorkers won't have to wait much longer to check out the new and massive flagship Microsoft Store in Manhattan. The company has announced that the location at 677 Fifth Avenue will open to the public at noon on Monday, October 26. In addition, the first official Microsoft Store located outside of North America will open in Sydney, Australia on November 12.
Microsoft has also posted an artist rendering of what the New York City Microsoft Store will finally look like. It stated:
The company also offered more details, and an artist rendering, on the Sydney location:
Source: Microsoft (opens in new tab)
Windows Central Newsletter
Get the best of Windows Central in in your inbox, every day!
Guess we now have an estimated release date for the 950's

Yes... But when is a London store opening???

Probably in the next 15-20 years. I get so annoyed with Microsoft every time i walk past an Apple store since the closest thing to a Microsoft store in the UK means walking into PC World and that experience is just not quite as exciting to say the least.

Don't mention PC World please, I've started buying from John Lewis as, at least, the customer experience is better - meaning that they don't pretend to know what they're selling. Cpw now appear in pc world sites, and I trend to by handsets unlocked, so I have to wade through pc world more than I would like. It's a pity the UK doesn't really have a major high street tech retailer (curry's pc world doesn't count) as, as a reprieve until they bother, msft could tie up distribution and servicing. Ho hum.

@Poirots Progeny:
Well, you know: "Coming soon.™"
So it's probably scheduled for the 2067 summer Olympics.

Man, don't joke like that lol

@Poirots Progeny:
Joking bad...

It looks really pretty and different, but in a good way.

Ahaa! This should be exciting! :)

That looks so cool! I want to try and visit since I am going to be in the area during that time.

Wow that's a pleasant surprise. So my guess is that the flagships will definitely be available by the opening of the store at least. This would be a really great turnover time from announcement to launch of that happens. Just in time for my Jump upgrade. Let's go Microsoft!

The NY Store facade is almost done. It is looking good.

Yay! Will definately be buying the 950 XL from the Sydney store. Can't wait!

Same as my b-day... The first surface was released on my b-day... In years past other thinks I looked forward to released on my b-day, those items mostly Tuesdays... So I looks like maybe I may be getting a 950/xl for turning 30 ,;)

I really wish Microsoft stores wouldn't copy so much of the Apple Store layout. MS should do its own thing.

Well, I think they are different enough, between clinical lab and modern home... =p

Like what? To have a successful retail store, you only have so many layouts.

I'm glad they are copying it. Apple put a hell of a lot of research into their store layouts and design and it paid off. Microsoft could do the same thing but the result would be more or less the same so why waste the time and effort?

Would be sad if they don't launch the phones that day...

Sad that it is on a work day, I had wanted to attend.

Aren't you feeling sick that day? A little cough or cold coming on?

Lol Posted via the Windows Central App for Android

Would it be better to go to AT&T to buy the phones or the MS Store? I'm already an AT&T customer with the Lumia 920.

I think it depends on what they offer. I'm a big fan of buying the phone outright and getting a go phone plan (usually cheaper in the long run)

And the first U.K store will no doubt open at about the same time as Milliways - the restaurant at the end of the universe.

"For starters, we will donate more than $5 million in software and technology grants to select local organizations, as part of our company mission to help people achieve more in their lives" That's exactly one of the reasons i prefer Microsoft instead of Apple.
They are generous to non-profit organizations, i.e. our non-profit organization (Netherlands) have a business Office 365-subscription for free and can buy software only for around 10 or 20 euros (12/24 dollar).
But they really, really need some marketing skills, they're sometimes to "humble/invisible".
Hoping realizing more outside-US stores will help them.

The day before Halo 5 release, coincidence? I think not! Probably be a great release event.

Oh I'll bet there will be a ton of copies on hand in that store, hopefulyl a bunch of 950/950xl too

In Paterson, NJ??? Lol who am I kidding. I have a rather close one at the Garden State Plaza here in NJ. Is too far for to walk to it go on bike. But, not too far for the bus or car.

Is that a render in the first picture? Looms like it. Thought the cars look funny, so I looked closer and it seems like a render. Al's, I though they had opened this store already. Guess not. It would of been great if it was open by Oct. 6 or 7. So people could check out other products while everyone's eye is on Microsoft's new products.

It'll be better if we get a 10/26 release for the SP4, Band 2, and both Lumias. Better to open the store with new toys to sell, rather than just to have demos and tell everyone to come back in 3 weeks.

There's no way that Microsoft will will sell devices running an official beta OS to non enthusiast consumers. W10 Mobile is not finished yet. Half of their system level apps are either very basic or broken and the UI is disjointed. It needs at least another couple months of development.

How do you know what they will and will not release? The devices, and the final OS (minus maybe some last-minute bug fixes) are to be announced in 6 days. It's basically known that the Android and iOS compilers won't be ready for launch, so Microsoft's clearly fine releasing it in an unfinished state. The modern state of software is such that things are in a constant state of being supported, patched, and updated. Shoot, it's not even a certainty that the iris scanner will work for the new phones come launch day, the initial thing Daniel was saying is that it would be activated down the line (though he recently said it's now possible it'll be ready for launch). What we're talking about is probably a difference of 1-2 weeks between this store and the high-end of a Lumia release. It's not goign to be held back into December or 2016, and your'e suggesting.

@MaxyBley:
There's a subtle hint concealed in paragraph two, somewhere around the text saying "artist rendering".

I've been caught red handed lol. For the first time I'm guilty of writing the comment before reading the articule. So, sorry.

ABout time! They both look awesome! Now I'm crossing my fingers hoping MS will sell the Lumia 950 XL unlocked with universal LTE at this store

confirmed: SP4 released OCT 26th.

have competent staff and ALL staff should be using Lumia phones , not a droid or icrap

I agree, they gotta make sure their employees are using Windows Phones. They'd be stupid not to.

There are drawbacks to that as well. My Microsoft store's employees still use Lumia 900's lol

Man it's hard... Imagine having young and charismatic staff members, most of them use snapchats and what not... I rarely see anyone use lumias in Aussie... Part of me wants to apply and work on my day off there...

Just in time for the launch of the phone "flagships".
But, you know, it's Microsoft.
They will never learn...

Microsoft is more than just phones at 3% market share. There is Surface. There is Halo. There is Band 2. Stop thinking their world revolves around a phone release. It doesn't.

@Daniel Rubino:
You're definitely absolutely right.
But they have been working on that flagship store for months now and probably invested millions. It couldn't have hurt them so badly to hire a few extra construction workers, so that they could close shop three weeks earlier, open the store and finally FOR ONCE get their marketing right by aligning all of their efforts.
Let's not kid ourselves. Windows on phones needs every single bit of help it can get.

At first, I hoped this would be a sign that the Lumias would be launched that day. The more I think about it, the date matches with the previous Surface Pro and Bamd launches. Might be that those launch the 26th and the phones are 1-2 weeks later, since we were hearing November before (and the U.S. 920 launch was 11/9).

Phones won't be out that day. This is just fanboy dreams. I've said November since early this year and that holds true now.

Dan, I was pleased that the Windows Central story on the NYC store opening did NOT mention how close it is to the flagship Apple Store. Every other post on this opening date announcement, including Thurrot and Foley, has thrown the proximity of the Apple Store in their story. Apple is not the yardstick by which everything is measured except on tech blogs and the NY Times. I know some writers want to prove they are not just transcribing press releases by including information like how close the Apple store is, but that is really not a helpful point at all. If you are trying to give out of town readers like me a reference point to where the Microsoft Store is, the Apple Store doesn't help. Tell me how close it is to Times Square or Macy's or Central Park or something more widely known. Oh, and I want to be the first to predict that the Verge or Ars Technica will have a story on October 27th comparing the opening crowds in the new Microsoft Store to the regular, everyday crowds in that nearby Apple Store.

October 26, Windows 8's birthday

I can't wait to check out the NYC store next time I am there which should be just after the opening. Looks like a cool design, walked by it a couple months ago but didn't see much outside of the beautiful construction screen. Posted via the Windows Central App for Android
Windows Central Newsletter
Thank you for signing up to Windows Central. You will receive a verification email shortly.
There was a problem. Please refresh the page and try again.