The New York Times Crossword is now available for your Surface and Windows Phone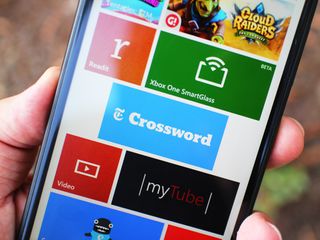 The New York Times Crossword is now available on Windows Phone and Windows 8. The NYT crossword puzzle is a daily puzzle published by the New York Times newspaper and on their website. The New York Times crossword puzzle was started in 1942 and is one of the most popular crossword puzzle series in the history of the game. Now you can play on your Windows smartphone or tablet.
Here's what you get with the app:
Lay anywhere: Your subscription now gives you access to The Crossword on NYTimes.com at no additional charge! Just connect or create an account in your account settings and Play Anywhere. Your Windows puzzle progress will be saved and available on the web and vice versa!
Daily puzzle: It's the same puzzle that's printed every day in The New York Times newspaper. All daily puzzles are available the previous day at 10p EST with a subscription, so enjoy Tuesday's puzzle on Monday at 10p! Practice and learn how to solve the puzzle on Monday or Tuesday or challenge yourself with even harder puzzles later in the week.
Stylus: If you have a Surface tablet, you can solve the way crosswords were meant to be solved: write directly on the puzzle as you would in the newspaper! (Windows 8.1)
Mini puzzle: Short, sweet and available without a subscription every day! Get a quick crossword fix when you don't have time for the whole thing. (Windows Phone)
Past puzzles: Subscribers also enjoy nearly 20 years of classic puzzles from our archives.
Modern puzzle features: Solve puzzles that include new tricks like rebuses, highlighted or underlined squares, and more!
The New York Times Crossword app is free to download and let's you get unlimited access to the daily puzzle and the calendar archive for seven days. After that, you can subscribe to the newspaper for full access.
Take the crossword for a spin and let us know what you think!
Thanks for the tip Kurt!
Windows Central Newsletter
Get the best of Windows Central in in your inbox, every day!
So is it not available to those of us with non surface Windows 8.1 tablets?

I know, I was sarcastically pointing out there are many other great Windows 8.1 devices on the market. WPCentral seems to forget that sometimes. :)

AWESOME!!!! Cant wait to get it

We have to subscribe to the NY Times just to play? That's ridiculous! Why couldn't the devs makes the game $1.99 or something? Sheesh. I'll stick to Crosswords Daily, ta muchly. Yes, it's £5.99 but it's simply perfect.

Who makes that app? I can't find Crosswords Daily in the market

I found it in the store, says it's made the NYT. I searched for crosswords and it was about 20th on the list.

No, you don't have to subscribe to the paper, but you do have do subscribe to the crossword service. It's $6.95 a month or $39.95 a year. I'm more than happy to pay that, I'm just glad it's finally here.

7 bucks a month for a crossword game?? Dam.

You must really, I mean reeeaaaaally, like crossword puzzles.

Well I've been a subscriber to their crossword service for years, at least until I switched to WP last November. I carried around my old iPhone for a few months so I could still do the crossword, but that got old. I guess I'm just used to paying for it, although it has gone up a bit since last time.

Crosswords Daily is a terrible app. NYT Crossword is the best crossword application imaginable! All other crossword apps are now obsolete. You always have to pay for New York Times crosswords. They are the best.

This is HUGE for me. I am a fanatic about crossword puzzles. Since my days of commuting to work in NY, I was hooked on them. Props on this.

Why does a NYT subscription cost so much? :/

The subscription for the paper itself and the subscription for the crossword are completely different. Though I will agree-both are a little pricey. I might still pay for the crossword though.

Yay! That was the one big hole for me after switching from the iPhone. I hope the app wasn't written by Magmic though. I did the NYT crossword on my phone every day for years before I switched to WP, so this is huge.

Nice.. Loving it on mu Lumia 520..

So you'll need to subscribe to play it daily?

They have free daily mini puzzles.

Read this from their FAQ:
"There is a free trial period of seven days in the app. After that, you can play two selected crosswords from our archive (updated weekly) for free online. You can also play the Mini Puzzle (updated daily) in the app. Several other games are also available for free online, including sudoku and KenKen puzzles. Curated Puzzle Packs are also available for individual purchase."
So there's more than the mini puzzle for free! Cheers!

this most popular crossword puzzle series makes Windows phone eye catching for users.

Looks nice! My only concern is that I'm not speaking English as my mother tongue so these crosswords are going to be really tough for me to find. :\

Niche gaming at it's finest when considering the relatively exhorbitant monthly subscription fee. I'll grab my NY Times from the regional library which my taxes already pay for.

almost makes me want to pay for a subcribtion!

This is so cool! I love crosswords! I'm actually a crossword maker in Spanish, and I'm enjoying this app a great deal!
Windows Central Newsletter
Thank you for signing up to Windows Central. You will receive a verification email shortly.
There was a problem. Please refresh the page and try again.