New Microsoft Phone Insider app may be a prelude to a Windows 10 preview for phones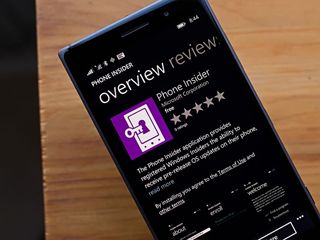 A Windows Phone app from Microsoft called Phone Insider has been discovered today. The app could possibly signal that the company is preparing to launch its rumored preview version of Windows 10 for smartphones.
The short description of the app simply says:
Unfortunately, at the moment, there's no way to sign into the app, which would suggest that it's not ready for the public to fully check out.
Microsoft already has a Preview for Developers app for Windows Phone 8.1 that allows users to download new builds of the OS before they are made available to wireless carriers. This new app would seem, at first glance, to be something different. However, we stress that Microsoft has yet to officially state they are launching a preview version of Windows 10 for smartphones. So take this speculation (and everyone else's) with a grain of salt.
Thanks to everyone who tipped us!
Got it , my 1520 ready for the 10 ..

Oooohh.!!! I had been waiting for some w10 for my Lumia news Things about to get real B)

It was there since December..

Really? Good eye! Why did you not tip WC

Cause more than half go unnoticed..

again, why did you not tip WC? all I see is you complaining about something you had the power to help..

Legit! He did my friend... Do not complain about something you had the power to do..

I don't understand the hype around my simple comment stating that the particular app was there since December..!! It was just a little piece of info..!! Why the fuck do you have any problems with that..? Am not complaining it's you who is whining right now for no particular reason..!! And you are no one to tell me what to do what not to..!!
If you have anything to contribute to the app you are most welcome to....

it was last updated in December, nothing suggests that it was visible in the store since december.

Found it during app hunting..

Yeah, seriously, even if he did hear about this app back in December, it wouldn't change anything because you can't do anything until WP10 / W10M is available for preview. It would just sit there like it does now.

But it would be nice to know its there...

Nice to know about an app that does nothing and just increases false(moment) hopes..? There are many apps in the WP Store which will excite you then....

Yes it would be nice to know my friend... This is clear evidence of WP 10 coming soon, that's why. I dont care about the application currently being useless, I care about knowing. Why I it so hard to just send an email?

Weren't we all already aware about it's coming since past 5-6 months when the updates-schedule was released for WP clearly stating that after WP 8.1.1 we get the WP 10..!! And it's slated to be released after Windows 10 and must be in development by now..!!
And scroll either up or down to get your answer..Or just assume that I wanted to keep that top secret info to myself and not share it with Daniel&Co. or the rest of the world..!!

No no no, you got it all wrong my friend. It is clear evidence that Big Foot exists. Has nothing to do with Windows 10. You should leave Aman2901 alone. No reason to troll every single comment you come across, randomly throwing blame around to the first person you see.

+1520 Exactly..I initially thought it to be a substitute of Windows Phone Insider..!!

Really? Where is the complaining part btw? I'm not supporting him or you, but I have a pretty good idea of most of the people I find around the comment section, in particular. Actually, he (and 2 more Indian, 3 Brazilian) tips a lot of news/info to Windows Central as compared to others. And thus receive a lot of thanks too. In this case, you're wrong. Sorry.
PS: The author did thank everyone who informed them. You can't say whether he was there or not.

+1520 Thanks Gautam Kabiraj.!!
Nice to hear that folks here read 'Thanks For The Tips To..'
I appreciate brother..!! Even I have seen you contributing heavily to this site..!!

and you think all tips make it to frontpage? I prefer posting abt something inforums rather than tipping as even after tipping I dnt see anyacknowledgement then it comes up 2-3 days later when the news would be all ovr the internet and the post itself would be without any credits. I do understand that there will be a lot of tips and editorial team is doing a great job but its difficult to go thru all the tips so better I post in forums

I have the One. Am I right that there's no way to flash back to stock firmware if I DP?
If so, I suppose I'll be testing these features on my retired L920.
That's an additional advantage of Lamias I hadn't considered.

You can flash a new firmware anytime.

DP doesn't change firmware. Just OS.

DP only allows you to get updates earlier. If you disable DP you will then receive future updates at the usual time, and the next update you get after disabling will be 'stock' firmware. So unless it's urgent, you can get back to 'stock' firmware by disabling and waiting.

You can go back to stock firmware/OS with Nokia recovery tool.

I wouldn't try it on the one, while there hasnt been anything go seriously wrong with the lumia updates, we've seen some VERY bad results from samsung devices and 8.1, honestly, with out a back up solution, I would never use the dev previews, it was the deciding factor that made me choose the 1520 over the one.

Isn't this just an app to give feedback for the technical prev for PC windows 10? It would be weird to release a different app for dev prev

Did you not read the description of the app (Which is quoted in the article)? "The Phone Insider application provides registered Windows Insiders the ability to receive pre-release OS updates on their phone, directly from Microsoft."

How to access the app? After tapping find a program I have to sign in with a domain account, but how? I can't get this part

wht.. i cant sign in because he has domain Microsoft account !!!!!!!!!!! any Bady know it ??

I just noticed on it's website that the Windows 10 Technical Preview (for computers/tablets) expires on April 15, 2015. Does that mean Windows 10 will fully ship on/before April 15, 2015?!?

No, you have to update to Consumer Preview.

for lumia 530 will be available ?

hello mr ahmed alhayali can you please tell me how can i get new win 10 update for my lumia 925 i already using preview for developer version and installed phone insider but i m not able to log in when i login with my microsoft account it show that username and password incorrect please help me my email is sach.bhati9@gmail.com and no is 9990999579 please help me

Yup. Downloaded it. It said this is not for your device. Please try another.

What device have you got? and what region are you from?

1520. India. But of course i downgraded to Cyan from PD in preparation for Denim. Could that be the reason?

May be. I can download it on my 730

Nope I just downloaded it 1520 USA

Got it on my 1020 running Cyan (no DP, only official OS and latest FW).

I have a Lumia 520 from India, it installed just fine, can't login though

That's exactly what's happening here.

Yep, got it, can't login, seems frightening. Not sure about this one. L1520.

you can't login likely because they havent linked it yet, it looks like its gonna replace the preview for developers for windows 10

Actually, for me when i backed out it told me there were no previews available, but logging in will reveal more. My guess is that the login is for internal use (as it requires a corporate account on a Microsoft Domain.), and everyone else will just be shown previews based on whether they're insiders (TP for Insiders, CP for Average Consumers). This would be my guess though.

Downloaded it on my USA Lumia 920. Can't sign in, probably because they have it shut down for now. We'll have to wait.

You can't login at the moment because, AFAIK, this is for Microsoft employees. They'll update it to include a Microsoft Account login when the Window Tech Preview for Phones is available to participants of the Windows Insider program.

Already saw in WMPU. But its a useless app.

Can we expect preview for Phone around jan21??

Announcement, yes. Availability, probably not.

It downloaded on my UK 920 on ee. Not sure what my MS domain is though.

If you were an MS employee or authorized user you'd know

Don't worry, you don't get any updates even if you have logged in :)

I'm same downloaded on my UK 625 unlocked. Running Denim on DP, Using Tech Preview Windows 10 on laptop, Registered Windows Insider. But can't sign in

Lol. We are a bunch of over eager beavers!

Now I know why they call you Permanently Banned. LOL

The Lumia 940 will sport a 5-inch full HD screen, states IBTimes. The screen will be shielded with Corning Glass 4. The device will be powered by Snapdragon 805 chipset that will be supported by 3 GB of RAM. It will feature a 24 MP PureView rear camera that will be able to record ultra HD video at 60 fps. The front-facing camera of 5 MP will support full HD video shooting. It will be available with three native storage editions such as 32 GB, 64 GB and 128 GB. The first phone to run on the new Windows 10 Mobile OS. http://au.ibtimes.com/articles/578582/20150109/microsoft-windows-10-mobi...

Don't think Microsoft would break Nokia's tradition of omitting number 4 in the series...

They may jump back to 10. Ie, 910, 1010, 610 etc.

nah, valve can only count to two, not 4

They already are finishing Nokia brand, buddy

The reason for omitting it is still there. It's an unlucky number in some cultures.

What's wrong with the number four?

It's not the magic number ;-D

Hope it fixes all the current issues of L930

Issues??
You're scaring me here bro I'm about to get one..
What issues?

No issues here after Denim.

Is screen flickering got fixed in Denim?? I belive its hardware issue, just out of curiosity.

Dunno what they did. But the screen it's perfect now.

Wow if that's d case I'm much more excited for denim!!

I use the 930 as main phone. No problems, never :p

1. Heating issues.
2. Screen flickering.
3. Battery backup.
Screen flickering is just annoying me all the time.

Man that's a turn off,..
Battery back up what's that?
Define flickering..

Well I have a 930 and the only current issue I have that he listed is phone heating. The aluminum frame on the side gets really hot when im using it while charging. I don't have screen flickering and I am not sure what batter backup is.

Battery backup i meant battery drains so fast irrespective of its capacity.

You can search any forum for L930 issues you will hear screen flickering .. Even I dint had this problem initially after few days of usage I noticed that once in a while when you are using your mobile the screen just flickers once ..i experience mostly while scrolling..Switching apps.
..Battery backup i meant battery drains so fast irrespective of its capacity.

Well don't get your hopes high! denim may help you with the flickering...but it sure ain't gonna help you with the battery!I have a L620 (low end),used to be off charge for 2 days! With daily using..now its 24/7 charging,main reason I'm getting an upgrade..

@ssushmanth: I was testing Lumia 730 on a store and I saw this screen flickering-thing that you are saying.. It isn't like flickering more like bad rendering(?) when the animations take place and scrolling, on the other hand I didn't see it on Lumia 930 which make me think that your device is maybe defected.. My thought is WP has something to do with some OLED dispays's rendering.. It is really hard to see if you are focusing on screen..What can I say, it's like magic! :P

Even I hope so they will replace my device ..Time to visit Nokia care soon!! Its not only a bad rendering also seems like a bug, it doesn't happen in all devices.

Err... IBTimes actually recited which was published by pcadvisor sourced from phonearena in November last year. It's actually nothing more than a speculation based on a rumor :(


Um, you do realize that ibtimes regularly generates click-bait articles, such as that one, for page-views, right? They have no source, it's pure. unsubstantiated speculation. Don't fall for it.

Never reference IBTimes. That website is a big sack of clickbait rubbish.

Not to sound like a xenophobe, but I've never read a reputable tech publication from India.

I'm the same. I used to use Google News for aggregating Windows Phone stories. I gave up though because the Indian articles (which dominated) were so lacking. They were almost always poorly written, and VERY light on facts!!
I also must admit that I am growing tired of a majority of the Indian commenters on here who always seem to complain, copy and paste their grievances from other threads, or completely ignore the content of the article and therefore ask questions repeatedly. There are of course some good contributors from India - so I just hope the annoying ones get their act together & stop being so lazy with their comments.

Well it may be just BS but its the flagship I think most are looking for except for the 805, would like to see the 810

My phone is hang. Please help poor Indian.

Slyronit, reset your Lumia holding lock and volume buttons together and then check the last apps you downloaded. If you find crap there, that may be the reason your phone behaved accordingly

Totally agree. IBT publishes stuff they've found that is made up. I rate them 4/10 on fact.

Please stop posting crap from IB Times. They are worse that the National Enquirer. All they do is post junk to grab search results and clicks. Total nonsense.

I'm really excited for the event later on this month :D

Same here. Just 10 more days. Countdown begins now!

Same here, I'm curious about the Windows 10 for phones.

There's no excuse for not upgrading 1GB+ RAM devices. They will update or our devices.

The newer Lumias are running on a different platform. If Microsoft does not feel that the S4 platform is worth maintaining there will not be Windows 10 firmware for the 1020. We will all be stuck in heavily unoptimized Windows 10 hell !! :OOOOOO

Yazen, I remember having read about Satya Nadella mentioning that Windows 10 for phones will be made available on all WP 8.0 devices and onwards. You do have a point, but developing software for an OS takes time, so he and his team would definitely have given it a good thought before saying it at that time the OS was being planned / already in development

Notice the update was on 12-11-14

Well if my 1020 can't get camera speed improvement, early Windows 10 would be nice :D

That's not how it works, but I want this too ;)

Yes! Bring it on! 10 days to go! :D

For WP to update win 10, probably not available until end of this year. If not mistaken WP 8.1 still has GDR2 coming up soon.

Eh you do realise that he is talking about pre-release update through this application?

GDR2 has been nothing but rumor.

Don't automatically assume that the preview will be released on January 21. Remember Windows Phone 8.1 it was released like 8 days later.

As per denim practice, totally disappointed for the updates release day.

If they have this then its sure most WP8 phones are compatible to some degree for W10. This is good. The deciding factor will be if everyone will officially get it or go the route of the Lumia 810; never get official updates but can still update through the Dev Preview.

Dammit I'm antsy right now!

Yippeee...!!! I'm very happy today... :D F**k you android & iPhone :P

Or don't be biased to one side and insult other phones.

Too late Windows central, I've already installed it and signed up for insider program too.... Got the news for Windows power user

How did you sign in. It says my Microsoft account password or email is incorrect even though its not.

Yeah... It said me like that unable to login

He didn't say sign in, he said sign up meaning he registered for the any upcoming releases thrugh this pipeline.

This is for MS Domain Users http://(microsoft.com), not your MS account (hotmail.com).

Are u able to sign in????

Same, but I got the news from Cortana

Hey cool guys I will tell you the way how he signed up not signed in...when u open the app and scroll down there is a tap here button on clicking that it will take you to insider.windows.com which is currently only for pc.....So the bottom line is he couldn't figure out that he opted for PC not PHONE ....How foolish he is...!

True!.. I have already registered for WP10 on my PC so I am already enrolled in the program. But I am not able to sign in though...

it's for both phone and pc, only you can't login in the phone app

I'm a preview user for phone. So any problem if i registered with insider.windows.com

It would be interesting if the gave us slow and fast updates! Wow.

These will be like Apple updates, we'll be getting them directly from Microsoft as opposed to after carrier approvals.

How to login to this app? I've tried with my Microsoft account but nothing

It said Microsoft DOMAIN account. This means it's currently for MS employees ...for now.

Just an FYI, hotmail.com is a domain, outlook.com is a domain a well. An account can be accessed as domain\ username or username@domain, it's one and the same

No, it's really not. I don't think you know how corporate domains work. Basically, if you're not part of Microsoft's Active Directory, you're not going to be able to log in at present.

Wonder if my developer account would work.

Microsoft Accounts have their own domain. Eg, if your Microsoft account email is johndoe@outlook.com, with the domain it's MicrosoftAccount\johndoe@outlook.com. However the MicrosoftAccount domain has not been enabled in this app yet, and likely the login process will change by the time the public can access it anyway.

Not that kind of domain indian buddy...

You must be part of their active directory, I know. Anyway, how did you came up with that conclusion that I'm Indian? My name is clearly Latin... (Remus)

I think he was referring to the guy who said hotmail.com is a domain. Usually the people asking potato IQ questions here are all from India for some reason.

hotmail.com is a domain, not the one this app accepts but it's, it's a domain. Now people like you stereotyping Indians, you really don't understand things do you?

And medieval England is a domain and equally stupid to be bringing up in this context as some sort of pertinent insight. Everybody and their neighbor knows that hotmail.com is a domain like... duh?

WRT the comment on Indians, Lets not generalize please.

Yes According to
M.S all Lumia Phones will get W.10

Yes, absolutely. Currently running all windows phone 8 device including 512mb ram devices will get windows 10 update.
its already confirmed.

Yeah. They said that all WP8 devices will be able to get 10.

unless they stop using the nt kernel every lumia will get upgrades

They are launching windowsphone 10. First of all they need to address the issues with Wp8.1
My battery saver is creating problems I have reset the device 5 times since last 4 months. The bug is still there. They need to address these bugs first.

It's only Windows.. Unite everything, remember?

Unite everything and develop nothing.

I disagree 100% because ​both my 1520 and 925 are on 8.1 and I have no problems with the battery saver.

no problems here, even with developer preview

That's not how that works

Downloaded and installed on a Lumia 928 but signing in doesn't work.