NexDock's next project packs a dedicated slot for Intel's tiny Compute Cards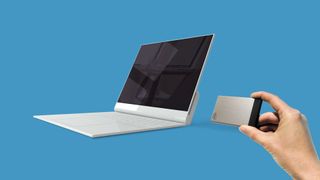 Following its successful crowdfunding campaign in 2016, NexDock is kicking things up a notch for its next project. In the same vein as the original NexDock, the new version will be a laptop dock that you can take on the go. However, rather than simply being a dummy dock for PC sticks, mini PCs and Windows 10 Mobile phones, the new NexDock will be made specifically with Intel's Compute Cards in mind.
Image 1 of 2
From the looks of things, the new NexDock will host a dedicated slot for Intel's tiny Compute Cards on the side of the display. The device will also be the first 2-in-1 docking unit to support Compute Cards, NexDock says. Of course, there are other goodies that will be included as well, including "interchangeable USB Type-C modules" that can pack extra battery life, additional ports, and more. Alongside support for Compute Cards, the new NexDock can still be used with other devices like PC sticks, mini PCs and Windows 10 Mobile phones over Continuum.
The new NexDock is expected to be available at some point in mid-2017, but there's no word on pricing just yet. Still, Intel's insanely small Compute Cards seem like a perfect fit with what NexDock is trying to do, and it will be cool to see where this goes. In the meantime, you can check out more at NexDock's website.
Windows Central Newsletter
Get the best of Windows Central in your inbox, every day!
Dan Thorp-Lancaster is the former Editor-in-Chief of Windows Central. He began working with Windows Central, Android Central, and iMore as a news writer in 2014 and is obsessed with tech of all sorts. You can follow Dan on Twitter @DthorpL and Instagram @heyitsdtl.
Would it support USB type-C direct Continuum?
The thing with cards doesn't sound too practical, because it's basically getting a card and putting it inside, where it stays. So it's basically assembling a laptop. It's much more useful and dynamic with continuum.

And as per the picture, the additional bump behind the display makes this look ugly.

Grow up. It's not even a final product. And no it does not look ugly. And no, you're not giving an answer to fdruid's post. Rather a brainfart ;)

It says so in the post: '....and Windows 10 Mobile phones over Continuum'.

I went to their site for more info and it's not clear whether it's supported natively or through a module. It's a shame they've taken the concept away from what it was initially. All the first model was lacking to me was USB type-C Continuum.
Also, this new one will probably be more expensive, which defeats the purpose of the concept.
I hope some other company comes with a similar product that fits my interests and usage scenario.

Or checkout the HP dock when it gets cheaper.

You're right, that one seems really well made, plus it's designed for W10M.

I agree 100%. A continuum device makes much more sense. With that said.... The struggle to grow 10 Mobile is obvious, so, continuum wont be in many hands (though I use it daily and freaking love it.) I could see this having many dockable accessories with it. TVs, cars, etc. I think it has its potential place in the market, though I would just rather 10 mobile catch on and we go that route.

It makes sense to you because you use Windows 10 Mobile. The vast majority of the world does not, so NexDock is thinking outside the box and trying to make a product that it can help grow a business on.

Maybe if you could put a phone there instead?

yea that would be the coolest add on, gsm big screen phone

Seems like the new generation is using USB-c, and support continuum natively.

The bulge on the back of the screen where the card goes makes the laptop dock look like a 2007 MacBook.

Loving the idea, if the price is right I want one

Agree with the comments above, seems odd just plug this dongle/ card into the port it's a bit 80s and there are nicer, smarter ways of doing this. It should really be a tablet with a detachable keyboard, surface esq.

Reminds me of PCMCIA. Ugh!

Hey! on this cartridge I can play space invaders.

The compute card slot probably has a lot higher bandwidth than usb compute stick. Just need to buy newer faster compute card. An interesting device. I'd still carry around a full 2 in 1 laptop.

Honestly, compute cards (or an evolution thereof) seems like a really great idea to me. You could just have empty shells for your phone, tablet, computer, etc., and plug in this card wherever you go. The shells just need to be touch/peripheral capable displays + battery/power.

But you still need another object to use the card. I'd rather have a usable device I can connect to other things.

There's potential security issues with moving the card around with you and plugging into a dock - What if the dock is compromised and used to attack any card attached to it. With a physical device (like a surface pro) you can achieve slightly better physical security. This is all theoretical btw, in 99.99% of cases nobody is going to tamper with a shell left on a desk but I'm just saying it could happen

It's one of the best news of the year! Imagine the quantity of laptops that finish in the trash. With this solution, you could update the power of your laptop and reuse the screen and other components more than one generation. I believe that this could gain a good share and don't finish like the tablets with huawei ultrastick (3g/4g expandable module) or the older pcmicia module. Another reason is that today the mobile market is a pain. USB-c is a great solution but the expansion devices like mobile touch-screeen, monitors, computer screen cars ... but doesn't exist yet and the big trademarks don't see interested in reducing the obsolescence in electronics. I talk with some people about the Continuum solution. Almost every people thinks that is great, but most people doesn't know because you don't see in the stores and is not Samsung. We need that this technologies expands and all people see the power of their mobile phone and we doesn't expend time in maintaining two devices with the same apps, data, etc. Its the best solution for productivity. I waiting to surface phone. PD: NexDock doesn't talk about the missing things of Hp lapdock and the mirabook. It could be perfect if they add touchscreen and webcam. Is a must have feature.

Well this wouldn't be in stores or be Samsung either.

I see what you're saying about the cases lasting longer but i know with devices I've kept 5+ years it can often be the physical unit that dies first due to massive amounts of use.

Why is it that these no-money startups can be more innovative and creative than major companies? This is the potential the platform could have, but it seems to be against the desire of major companies to die with the dinosaurs of computing. Conceptually, pairing a device like this with a phone AND hybrid chassis would be phenomenal. W10A could allow you to plug your phone into a dock, like ASUS' Padfone. Imagine if Continuum worked elegantly, and had great hardware to power it (and an OS with actual support and stability). Well, at least a random Kickstarter company has somewhat fresh ideas, since none of the competition up top does.

Microsoft does, to be fair. MS is thinking beyond what's here right now, and this very product, which supports MS's Continuum, is a proof of that.

The problem is that MS has an idea, then runs it into the ground. When was the last time we got an update to Continuum to make it better (like shutting the phone's burn in-prone display off during Continuum use)? When did we last get a hardware refresh? When will we NEXT get a hardware refresh? Both questions apply to not just the phones that use Continuum, but to the Display Dock itself. Microsoft does so little proper support, and that's not limited to Continuum, or even mobile (look at the canceled projects with the Xbox team).

I love this idea. Hope to one day see it applied to high end as well with swappable GPU, RAM, etc with standard cards. Laptop getting old and slow, pop in new guts...

This becomes the surface phone/continuum killer?

Fool me once. I got in early on the original NexDock, so thankfully it didn't cost me TOO much. The thing is unusable. They pitched it with graphics showing USB-C, but they didn't put USB-C in it. So it's an adapter mess, plus you really need to use an external battery to keep your phone charged because you can't use the ample battery in the NexDock without the USB-C. ​The worst part is that the NexDock is next to unusable. I follow direction really well, normally, so I'm pretty sure that it's not me. The thing is so hit or miss with connecting to the phone and connecting properly, that you can't count on it to be available when you need it. I don't blame Continuum or the 950, because I can connect to my TV consistently. That leaves NexDock and the adapter as the variables.