Nextgen Reader launches its UWP Windows 10 PC app; Mobile support coming down the road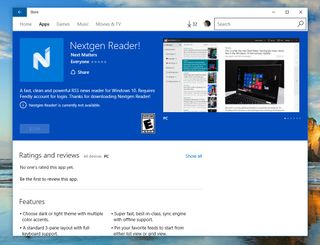 Nextgen Reader, which is one of the most popular RSS reader apps, has launched a dedicated version for Windows 10 PCs in the Windows Store.
The app allows users to pin their favorite RSS Feeds to the Start menu, along with support for light or dark themes and keyboards. Here are some of its other features and improvements:
Upgraded to Universal Windows Platform (UWP).
Improved scaling and rendering of text.
Enhanced Grid View UI (tap the three dots and select grid view).
New: Feed management - add, edit, move or delete feeds.
New: Search feeds by title, URL or #topic.
New: List style with story thumbnails.
New: Support full-screen mode (press F11 key or tap the app logo in left corner).
Transparent live tiles with unread count up to 9999.
Updated context menu's with icons.
Enable/disable swiping in reading pane.
Lots of other improvements.
Many bug fixes.
While the Nextgen Reader app is using UWP, support for Windows 10 Mobile is coming at some point in the future.
Download Nextgen Reader from the Windows Store (opens in new tab)
US Store - Currently not available

Available in Canada :) Posted via Universal Windows App on W10

Available now in US but I had to paid again for this new version. #FAIL
Isn't connecting with Facebook and Readability accounts, BETA version!!! #FAIL
I think they have to improve their software before charge us.

there is still a test version. no need to complain.
if you dont like it, dont pay for it

I already PAID it before!
Don't made sense paid twice for almost same software, but I did it again.
Unfortunately the new version didn't improve and now didn't connecting with some services like Facebook, Readability and Pocket. #FAIL
Basicaly I expected a stable version before to be charged for it!

Good to hear, but I'm sticking with Newsflow. Easy to use, nicely designed, looks great in dark mode and it's already available for PC and mobile.

Newsflow is really good but not cross platform like Feedly, so, without support for feedly, is a no go for me. Hopefully nextgen reader get even better now is available on Windows 10.

Tried Newsflow, but personally I stick with Nextgen Reader . Waiting for the UWP version ...

Does Newsflow learn what interests you have like the old Zite app used to? Im still looking for a replacement for Zite.

It's a basic News RSS app, you search & load what you like.

Not available here. Also, agree with @theCudder above, Newsflow is phenomenal.

I tried giving the guy the writes newsflow money, wouldnt take it. He does say that in a near future release he will have feedly support!

What happens with those who purchased the previous version. Do we get this one for free or do we have to pay again? Posted from Windows Central for Windows 10

Depends if they submitted it via the existing app-id, or created a new item in the store. Can't check at the moment, but REALLY hoping it's the former, otherwise I'll finally just build a Feedly client.

They are separate entries in the store. I would assume you have to pay again. Also the old version is 2 $ and the new one is 4$. Posted from Windows Central for Windows 10

Thanks. Well, I know what my next project is!


well, i already bought the old one, long time ago, don't plan to buy again for the new version, and seems like the old version will be left behind, without updates ill have to move to another app... anyone know another good rss reader?

I am in the same boat. I am going to try iNi Reader. MSPoweruser has an article about the app. It interface's with Feedly. It is a true WUP app with Continuum and Cortana support. It works On PCs, Phones and tablets. You get alot of features with the free option.

hey man, thanks for ur suggestion, trying iNi and its great... i'm thinking in buying the pro version just to support the developers (hope they don't charge me again when update, lol)..... already uninstalled nextgen

Don't plan to pay it again either!

I am always amazed that people pay $2 for an app and then expect a lifetime of enhancements without having to pay again. I hope I *do* have to pay for the UWP version. I've been using Nextgen Reader for several years on daily basis. I have no problem paying again, maybe once a year, for continued enhancements.

ok but i have bought this crap a mounth before .... I will not pay every update

Depending what it is, I think we will see apps turning to a subsription model. I don't see how developers can only charge once and keep updating it for years without anymore payment.


Not available. Not sure if I have to buy it again. I own the 8.1 version but really love NewsFlow.

Mobile version coming 'at some point in the future'...
With no more MS mobile device launches scheduled for the next 10 months, I reckon developers will start ignoring mobile entirely. Hopefully not, as I have a 950 and want this platform to succeed. But it's difficult to see the light at the end of the tunnel now that we no longer have Nokia's enthusiam/dynamism.

Terrible comment. How does one app reflect that. Such a narrow view

I honestly wouldn't worry about that, while MS is not planning to release new devices, their OEM partners are, so by the anniversary update, its safe to be sure that there'll be lots of OEM partner devices out there.. So rest assured, the future of windows 10 will be well taken care of for both pc and mobile. Posted from Windows Central for Windows 10

The current crop of OEM partners is one big fat joke. They will do nothing to advance Windows 10 mobile in any significant way.

I disagree, devices like the hp elite x3 and the viao bizz are totally innovative products even running virtual workspaces to run traditional x86 apps. I think every company would love to keep a user in their own mom sub ecosystem so I think more pc come partners will release windows 10 mobile devices in the coming months.

I agree, they are very fine looking devices. However they are 1) targeted only at businesses 2) released by companies who are known only for their PC's and not for phones and 3) in case of the Viao, it's a device that is only being released in Japan. Trust me, in a year you'll need a magnifying glass to find these devices in global share of Windows phones. Let alone the global smartphone market. For the OEM strategy to work, some other big names will have to join the party. The current list will not cut it.

I'm not sure you understand reading. Just because Microsoft won't be selling a device for the next 10 months doesn't mean a device with their OS won't be coming out. I can think of 3 off hand, I bet others can list quite a few more.

Amazon should update their kindle app for 2 in 1 windows devices.

this one supports feedly, so no matter how good Newsflow is ... Posted from Windows Central for Windows 10.

If there's one application tablets are meant for, it's definitely RSS. RSS = Feedly Feedly > Nextgen Nextgen > Nothing

I think it is more complicated: RSS > Google Reader > Feed Viewer ​ > Feedly – NextGen ​ > NewsBlur – ​Feed Reader > Twitter > Reddit I prefer Feed Viewer because it already is an UWP app for 9 months.

I have to disagree with the people saying Newsflow is better. First, this integrates with Feedly and syncs everywhere. Newslow requires me importing and exporting OPML files. But more importantly, I couldn't bring myself to use Newsflow on a PC. It wastes my time making the news list disappear when I open an article. Just put the news list on a side bar. I stopped using Nextgen because it wasn't a UWP app, and tried to replace it with Hypersonic. Hypersonic works decently on my computer, but it crashes way too much on Mobile, so I do use Newsflow there. I'll definitely use Nextgen once it comes out though.

Same thing here...hope it is soon

All that and no support, again, for one of the simplest features, .opml file import or export. I have 300+ feeds on my phone,not doing that by hand. Posted via the Windows Central App for Android

It IS there. You do it at the Feedly site. That is were you manage all of your feeds. This is really just an interface for Feedly.

I've been using Nextgen mobile for years to access my Feedly feeds from my phone. The current non-UWP moble app could certainly use a sprucing up, but it works. I have Nextgen for desktop also, but since I access Feedly via the web from my desktops and laptops, I've never thought to use it. I think of Nextgen as strictly mobile, therefore.

I also using nextgen on mobile on computers I am using feedly plugin for firefox for me it's best

Well, I hope they will release this for people who've already bought the app...

Will be pretty damn disappointed if they don't release this as an update for everyone who already paid.

Same here. At least they could offer discount for people who already bought the 8.1 app.

Daniel, can you reach out to the dev to find out if existing paid users must pay to upgrade or if there will be a way to get it for free. I hate to sound cheap, but the current version works well enough for me.

If I need to buy it again, it needs to be on mobile and run well. I have no problems supporting the developer, as the previous app was one of the few bright spot apps for Windows 8/WP8.

I cannot install the new UWP add even with a direct link. It says the app is not available to dowload or even purchanse Does anyone else have this issue?

I hope feedly releases an official app.

But.. But.. They always say here that once you write UWP it works everywhere, there is no Windows 10 Mobile, there is only Windows 10. How does that work with "While the Nextgen Reader app is using UWP, support for Windows 10 Mobile is coming at some point in the future."

You still have to optimize it for different screen sizes. Maybe the developer does not want to release a half-assed version on Mobile.

A UWP app can run across all devices by default but it doesn't need to. Developers can choose to tailor the app to a specific device family or just leave it out altogether.

I think I will be trying out iNi Reader. I don't plan on paying for NexGen again. iNi Reader is a complete WUP app with support for Continuum and Cortana. It will run you your Windows PCs, phones and tables. The free version has alot of options.

Well this iNi reader looks interesting. I've been wanting Nextgen to update to Windows 10 UI for a while, and from the looks of it iNI is still ahead of them now. And the fact we'd have to pay again.. ugh. Been using Nextgen for years now. We'll see! Thanks for the recommendation.

I tried iNi Reader, but it sucks compared to Nextgen. The UI is horrible and hard to use. Nextgen is so much better.

Our app FeedLab (https://www.microsoft.com/en-us/store/apps/feedlab/9wzdncrdkrq3) is currently available on Windows Phone 8.1 and Windows 10 Mobile. The Windows 10 version of FeedLab will be available in few weeks. Thanks

I bought it again. This is a great app that I use everyday. Yes, I know people think it is stupid to pay again, but hey, $ 2.99 was cheap compared to all the $ 1,000 I have to pay for all my other software upgrades.

My favorite rss app for tablet.
Windows Central Newsletter
Get the best of Windows Central in in your inbox, every day!
Thank you for signing up to Windows Central. You will receive a verification email shortly.
There was a problem. Please refresh the page and try again.