Nextgen Reader for Windows 8 updated to v2.1 - new features and fixes onboard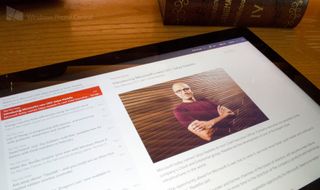 Nextgen Reader is an RSS feedly powered client for Windows 8 and Windows Phone that many of you already tried out or, at the very least, have heard of. It is a great way to keep up with all of your favorite news sites (such as Mobile Nation's entire network) across all of your Windows devices.
Today the company, Next Matters, has released an update for the Windows 8 version of the client that includes quite a few improvements and bug fixes in tow.
To start, let us talk about the new features that have been added to the Reader. An option is now available which will allows users to override the displayed article's date and time format based on your own region. New personal customizations do not end there, though – Nextgen Reader v2.1 allows the reader to disable keyboard shortcuts if not needed. If you are a fan of keyboard shortcuts, then you can rejoice in the newly added ability to quickly view the full article ('F' Key), launch the article's webpage ('W' Key), or my personal favorite, copy the article's URL to the clipboard ('U' Key).
The latest version of Nextgen Reader also includes the abilities to share full articles or take advantage of new Buffer support through the Share Charm. If you are not aware of what Buffer is, you can check out their website by clicking here.
A number of fixes have also been stitched into the patch and they include repairing an issue with large tile notifications, correcting syncing errors that had previously occurred, and other performance improvements.
The team at Next Matters really cares about their software and their users, so be sure to throw them a line on twitter if you are having any issues or have suggestions for future versions of the application.
You can download the latest version of the application from the Windows Store by clicking here (opens in new tab).
Enjoy your news!
Windows Central Newsletter
Get the best of Windows Central in in your inbox, every day!
Pleaaaaase ad the possibility to use MS account and get away from Google!!!!! Weave has this, but its buggy as hell for me. Tiles not updating etc.

It's a Feedly limitation, not Nextgen. I'm sure he will offer that option when possible. Yes, I'll also switch to MS account in a heartbeat.

Yes, I know even though Im not expert on the matter. I have bought both W and WP versions, but Im using Weave because of Google. What I dont know is why there arent more options that use MS service.. Is it because Azure is still new?

azure has nothing to do with it

Hello. Feedly does have plans to support other services for login. Please vote on their uservoice forum: http://feedly.uservoice.com/forums/192636-suggestions?filter=hot&query=l...

i think its because feedly uses google credentials.

Why isn't mine showing the update? It shows it is already installed, but it is still the old version.

To force check for updates: Open the Windows Store and then open the Charms bar; from there, select "Settings" and then "App Updates". Finally, select "Check for updates" on the screen that appears.

Thanks! I'll do that when I'm back on PC.

I hope disabling shortcut keys now allows you to type in passwords using the in-app browser. I guess I'll find out shortly!

Just tried it. Awesome!! Finally I can log in on ars technica and enjoy the futile act of upvoting comments.

Still waiting for Feedbin-Support...
Windows Central Newsletter
Thank you for signing up to Windows Central. You will receive a verification email shortly.
There was a problem. Please refresh the page and try again.