How the Nexus 5X and Nexus 6P stack up against Lumia 950 and Lumia 950 XL Windows Phones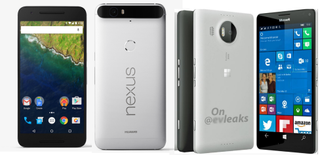 Earlier today, Google announced their new Nexus phones dubbed the Nexus 5X and Nexus 6P made by LG and Huawei respectively. Both phones are available for pre-order now and will ship in 3 to 5 weeks, depending make, model and configuration chosen.
Google is apparently taking a page out of Apple and Samsung's book by offering direct support and even an insurance program to protect their phones. With Microsoft set to announce their new phones – the Lumia 950 and Lumia 950 XL – in just a week's time, comparisons are inevitable.
Let's see how the Nexus 5X and 6P stack up against the not-yet-announced new Lumias.
Before we jump in, we should note that since Microsoft has not yet announced their new Lumias many details are just not known, including specifics about the camera, general availability, pricing, and more. In that sense, this comparison is certainly premature. However, we now know enough about both Lumias to get a general idea.
Swipe to scroll horizontally
| Category | Nexus 5X | Nexus 6P | Lumia 950 | Lumia 950 XL |
| --- | --- | --- | --- | --- |
| Operating System | Android 6.0 Marshmallow | Android 6.0 Marshmallow | Windows 10 Mobile | Windows 10 Mobile |
| Display | 5.2 inches (1080x1920) | 5.7 inches (1440x2560) | 5.2 inches (1440x2560) | 5.7 inches (1440x2560) |
| Processor | Qualcomm Snapdragon 808 | Qualcomm Snapdragon 810 | Qualcomm Snapdragon 808 | Qualcomm Snapdragon 810 |
| Materials | Polycarbonate | Aluminum | Polycarbonate | Polycarbonate |
| Qi Wireless | No | No | Yes | Yes |
| Connector | Type C | Type C | Type C | Type C |
| Fast Charge | Yes | Yes | Yes | Yes |
| RAM | 2GB | 3GB | 3GB | 3GB |
| Rear Camera | 12.3MP | 12.3MP | 20MP | 20MP |
| OIS | No | No | Yes | Yes |
| Rear Flash | Dual LED | Dual LED | Dual LED | Triple LED |
| Front Camera | 5MP | 8MP | 5MP | 5MP |
| Biometrics | Fingerprint | Fingerprint | Iris scanner | Iris scanner |
| Internal Storage | 16GB or 32GB | 32, 64 or 128GB | 32GB | 32GB |
| External Storage | None | None | micro SD | micro SD |
| Battery | 2700mAh | 3450mAh | 3000mAh | 3300mAh |
| Removable battery | No | No | Yes | Yes |
| Dimensions | 147.0 x 72.6 x 7.9mm | 159.3 x 77.8 x 7.3mm | unknown | unknown |
Conclusions
Between Apple's stellar performance with their new iPhone 6s and iPhone 6s Plus (record-setting 13 million sales) and Google's increasingly popular Nexus offerings, Microsoft is certainly in a tough predicament. Microsoft's biggest problem is not that they can't compete, but rather the constant restarting of their mobile OS and the transferring of Nokia's mobile assets to Redmond has set them years behind.
Whereas a few years ago Google was fumbling with OEMs and a fragmented OS they are increasingly becoming much more focused, mostly in response to Apple. Samsung too is also one of the biggest Android supporters and their Galaxy S6 series is resonating with the public.
At the very least, you can say that Google's Nexus phones like the high-end Nexus 6P are packed with late-2015 level technology and some unique innovation. Perhaps where Google are still falling behind is in design. Whereas these phones appear to decently designed judging by people's reactions, so far we can see mixed feelings about the back of the Nexus 6P, which is not very inspiring.
Then again, so far reactions to the Lumia 950 and Lumia 950 XL have also been lackluster amongst the Windows Phone faithful. Some areas where the Nexus series fails is in the lack of micro SD expansion, non-removable battery and a rather low 12.3 MP camera (although it does have large pixels). Areas where it excels – in comparison to the new Lumias – are an aluminum body and a slightly larger battery.
Pricing is also on the low side for a high-end premium smartphone these days. Pricing for the new Lumias is not yet known.
Interestingly, the processor, display resolution, screen size, RAM, Type-C connector, and battery size are all nearly identical to what Microsoft has planned with their Lumias. It is a rather difficult claim to believe that Microsoft's Lumias will be running "old" specs considering these Nexus phones seem to have more in common than differences.
Where the new Lumias have unique advantages will be in the iris scanner for Windows Hello and Windows Continuum – the ability to Windows 10 apps on a larger display with a mouse and keyboard. Throw in the hefty 20 MP camera, optical image stabilization (OIS), removable battery, Qi wireless charging and up to 2TB in micro SD expansion and the new Lumias still have a few tricks up their sleeves.
The conclusion we can reach today is that Microsoft's new phones appear to be on equal footing with Google's Nexus line with a few differentiators. The big question is will it be enough? So far, the odds are stacked against them as Google is going with Android 6.0 while Microsoft is putting a brand new OS on the market.
All eyes will be on Microsoft next week in New York. That event will be live-streamed, and Windows Central will be at the event for hands-on and our impressions of Microsoft's new Lumias, new Surface and new Band 2. Stay tuned.
More Resources
Microsoft Lumia 950 – All you need to know
Daniel Rubino is the Editor-in-chief of Windows Central, head reviewer, podcast co-host, and analyst. He has been here covering Microsoft since 2007 when this site was called WMExperts (and later Windows Phone Central). His interests include Windows, Microsoft Surface, laptops, next-gen computing, and for some reason, watches. Before all this tech stuff, he worked on a Ph.D. in linguistics and ran the projectors at movie theaters, which has done absolutely nothing for his career.
And much nicer design... physical and os.

According to NPU, the CAD specs for L950 is 144.9 x 73.2 x 7.6/9.1 mm while L950XL is 151.9 x 78.4 x 7.8/9.9 mm. The L950 is shorter and thinner than 5X. The 950XL is much shorter than 6P but slightly thicker. I'm quite impressed with the thickness of L950. It is 7.6 mm against L830's 8.5 mm, L930's 9.8 mm and L920's 10.7 mm. Both L950 and L950XL are sleek phones. (For comparison: L640 - 141.3 x 72.2 x 8.8 mm, 640XL - 157.9 x 81.5 x 9) Consider the integrated wireless charging and replaceable battery, the Lumia design team has done a great job for the phone dimensions. The 640XL looks much bulkier than L950XL.

Nokia and now Microsoft have always preferred to list the phone thickness inclusive of the camera bump. The Lumia 830 is 7.9mm excluding the bump.

How much...anyone care to guess? $700ish?

Looks like the nexus will be hundreds cheaper and will fare better in regards to sales.

This is my big concern. I don't know how much the 950's will cost but if they are priced in line with the new nexus phones MS will have a winner. If they're priced in iPhones neighborhood they're going to fail. I don't have a lot of hope as MS just put the unlocked 640xl up for $300. I don't care what the specs are MS will have a tough time selling these to the masses at anything more than $400-500.

Doubtful, Nexus phones traditionally don't move that many units even when they are priced very reasonably. Nexus as brand has no draw power outside of geeks.

MaybeMaybe, but the Nexus 6P has both Lumia Phones beabattery,front facing camera and of course Android VS Windows 10 Android wins by a wide margin.

Maybe but the Nexus 6P has both Lumia Phones beat in the front facing camera and battery and where it matters most, Android.

On the other hand the 950/XL has the 6P beat in the rear camera, and 150mA is not really much that couldn't be made up with better software/hardware optimization. And there is wireless charging in the Lumias. Plus the 950/XL has swappable battery and microSD support - supposedly "must have" flagship features for a lot the vocal geeks who swears that if the phones don't have them they would never buy one. Let's see if people will put the money where their mouth is.

Don't forget the hidden value of Continuum. I plan to build a backup PC with L950XL and save several hundred dollars. The added function means real dollar saving you won't get from either iPhone or Android phones. This doesn't show up on the handset prices.

Really? All your computing needs can be met with store apps? Maybe that's true for you, but if it were the case for a majority, Windows RT would have been a runaway success. RT even had basic x86 Office. I think continuum is a technical acheivement, but I really wonder about the practicality of it. You still need to add a dock, monitor, keyboard and mouse to use it, and that can run you $2-300. That setup is useless when the phone isn't there, so other family members couldn't use it (barring a phone of their own). You can get a laptop that probably performs as well as the continuum setup, which is independantly functional, and runs X86 apps as well as store apps. If you already have all the parts minus the dock, it is probably hooked to a PC, just use it. I think continuum is really cool, but I really don't think it will be used all that much beyond the initial gee-wiz period. The cloud has made it less neccessary for me to be able to take my PC with me.

You poor soul, have you ever had a windows phone? Battery is NO comparison vs. Android. Add 50% on top easily if you compare the MaH numbers. Performance is similar - add 50% on top easily. Stop comparing numbers, go to a store and grab the damn thing. Wait, Windows store doesn't have 100.000 apps. Of course, but there are NO UNIQUE 100 000 apps, just more of the same. It has everything you need. Plus super extra better navigation. The kind Audi, BMW and Mercedes have paid 3 billion to get and install in their CARS. Take a walk...

Both have uninspiring design, the look of every other phone in the market.

Really? you can't be serious... OS... Hell yes! But... hardware design? Lumia 950 XL is amazing... but 950 is just UGLY and ordinary... Look at 830, that's a beautiful design... but 950.... is SO UGLY... rounded... with an ugly and "cheap looking" metal ring around the camera... On-screen buttons, huge bezels, ugly MS metallic logo... ugly metallic buttons... DAMN! The whole thing screams CHEAP from whatever angle you see it.

You seem to be emotional.... come on

Yeah I too hate rounded corners.. From font it just look like big brother of Lumia 535.
At least they could have got designers of surface pro 3 or L830/730 on board for this..

But, no one mentioned what appears to be a better speaker system in the Nexus... front facing

Yups but it seem not to be stereo in n5x Posted via the Windows Central App for Android

Yes...thank you for bring that up...speakers on the back of phones is a terrible idea...come on! At least but the speaker on the bottom...my phone has become an many device for music, podcasts, watching YouTube videos and so having the speaker on the back is a major bummer... With my 920 and It's on the bottom and livable....I know not a big deal for everyone but in 2015 ...on the back...ahhh Red​920

Stereo front facing Posted via the Windows Central App for Android

honestly,new lumia looks ugly,i will never love windows phone

Yup. So much for people shouting for high end specs.

Lumia 950/xl specs are fine, design is rock solid, new W10M may be a little green initially but still superior.

ZenPhone2 at $199 that's the way to go, hoping they put Win 10 on it.

I have a ZenFone 5 as a backup to my 930. Such an amazing phone for the puny price.

The iPhone 6plus have 1gig of ram.

Front cam, battery and the internal storage of the 6P are the only pros of it over the XL.

No microSD or removable battery on the Nexus though.

128GB internal storage is way better than SD. Posted via the Windows Central App for Android

Yeah but it'll be pricey though. Besides performance of internal over SD, on WP it doesn't matter unless publishers restrict installing to internal only.

That's something that needs to be addressed. If my preference setting is apps to SD and an app says it's required to be on internal storage, I should be able to tap ok and be done with it. As we sit today, we have to change our preference, reboot and then get/update the app.

Really? I just tap ok, and it installs on the phone. I am refering to WP8.1, did it change in W10M ?

Yes it did. App doesn't say that it needs phone memory, it just fails. It's up to you to figure out what's wrong! Thats the new store

@DreamerUP, No, it does say so. Just click into the error details

Doesn't need reboot, just change preference and go download!

Which I find quite interesting. I have seen a few Microsoft apps lately that do not allow installation to the SD card. Just like ALL their inferior apps on their own OS, how are 3rd party devs supposed to buy into it when Microsoft themselves do not seem to? I know I know, just wait until Windows 10. Same song, different words since Windows phone 7. "Just wait"

We'll see. Who knows, a 128gb nexus may be cheaper than the 32gb Lumia. Then what?

Yea...that world cause me to stop and rethink the whole deal... Red​920

But for all the practical purposes, 32GB internal storage is plenty. MicroSD is probably used to store large video and photo files. I usually store the valuable files to OneDrive and don't use local storage that much.

Bro in which era are you living, today? everything gone online today, you can store ur media files online, so why there is need of more memory? Even leptop making co.s are currently giving reduced HDDs like MacBook and others...

In which era do you live in where online storage is more beneficial than local storage? Your limit for free one drive storage is around 30gb and it's not always accessible. If you're on the underground, a flight or in a data black spot then it becomes pointless. Local SD storage can be upgraded for a one-off cost and if you're using a class 10 card then there's no noticeable difference in speed compared to built-in flash. The primary reason people like Apple and Google are trying to do away with expandable storage is so you become more tied to their cloud services and pay extra for more local storage in their devices so they can improve their overheads. Posted via the Windows Central App for Android

which era do you live in where companies dont try to make more money?

In my particular case, our work data plan is shared amongst 5 people. I still get furious every time I see Groove streaming my OneDrive music collection even though I selected Offline only. I have my full music collection on OneDrive so I can play it from my desktops and tablets. When I'm out mowing the yard or walking, I have -zero- desire to get yelled about my data usage when I have a perfectly good collection of music sitting on my phone and my filter set for offline. Plus the fun of thinking you are listening to offline music and then walking out of range of one of your routers and Groove dying as it's trying to switch between where it's getting the data from.

I've not seen that issue so far - I stick to offline music / audiobooks when I'm driving to work as I go through quite a few areas where my signal drops off, so it's safer to just stick to offline music and not be tempted to keep switching tracks when the signal drops. So far though in all my Windows 10 Mobile use I've not had it stream a song that is Online only - or do you mean you've downloaded a track, and then when it's actually played it the app has streamed that song, even though it's locally available?

Sunday afternoon, I grab my phone, plug in my headphones, load up Groove, click Refine, select "Available offline", click Shuffle all. First song that starts playing? Metallica. Most definitely not in my offline collection as it was a CD that an ex got for me. Its in my OneDrive collection because I went to the effort of ripping every one of my CDs a few years ago. Just looked at my phone and see Madonna, Marilyn Manson, and Ministry, no Metallica in sight. I lock my phone, put it in the holster, and start mowing. I get the back yard done just fine(hit one or two songs I know aren't in my offline), I get the front yard done just fine. Right about the middle of the easement, the music stops. Knowing the drill(that means I just left my WiFi), I stop the mower, get my phone back out, unlock it, try to switch to Groove, it closes when I task switch to it(because it's graceful like that), start it back up, do the same routine as earlier. The song that starts playing is in both my offline and streaming collection so have no clue if it's working correctly or using up my work data plan or not. I finish mowing and am still sore about the experience(again). For reference, I've been a professional programmer for 22 years. I started as a hobbyist 5 years before that(back in the BBS days). When issues like this happen my brain goes into debugging mode. I'm assuming since Groove saw I was on WiFi, it went "hey buddy, you've got 10 times as much music on your OneDrive, I'm going to work with that, you'll LOVE it!" then since my 920 is a 1st gen phone, it probably had issues handing off between WiFi and cell which the Groove developers never thought of because they would be using the latest-greatest. While writing this, the next time I mow, I'm going to turn off WiFi before I start up Groove, start playing, then turn WiFi back on. If I hear anything that is clearly a streaming only song, I'll know if it's a "helpful" feature that has only a one time check. It would also explain why you haven't had the issue if you weren't on WiFi when you started your trek.

You lost me when you said Metallica didn't make your offline collection. After that, everything you said was heresy, haha :)

Exactly why Microsoft is smart in doing the opposite. Just like PC and Xbox One, benefits of adding storage, openess, ability to uninstall apps, best cameras and hopefully now unlocked network freedom.

You can store your files online, yes, but then pay data to stream/download

Compared to 32GB internal for apps and such and up to 2TB for Movies/Video/Music and Photos?

You're welcome to pay for 2tb of onedrive access if you like. Go over your monthly limit (which I invariably do) and what is the $/Gb cost on top of your phone plan?

Yes it is, but 128 is your limit, Sandisk already sells a 200GB micro SD which will likly be supported. That is 32 + 200 = 232GB storage.

I agree, but at what cost? That may be a barrier to entry for some. Adding SD later is more easy to swallow. I understand the performance differences. I wouldn't mind seeing an option of a larger internal storage. Though I'm not bothered by the onboard memory of the Lumias, I am surprised the Nexus doesn't have some sort of OIS or SD card.

Problem is that basically that the retail price of internal memory translates to $3 a GB while SD memory translate to about 50 cents a GB

Nexus phones don't come with bloatware.

Well it does.... it is called Android :-D

Comment of the week. You win the internet for the day and 3 cookies LOL

The rest of the world disagrees with you.

No bloatware, and you can uninstall EVERY single app that comes pre-installed.

Actually, no you can't. You cannot uninstall many of Google's own apps and there are some that can't be removed that just boggle my mind. Was cleaning up my phone and uninstalled Google Hindi Input, Google Korean Input, Google Pinyin Input. Yes it let me uninstall them but there are sitting at the top of my Update list waiting to be put back. I can probably update apps individually for the rest of my life, rather than just hitting update all, but that's annoying. These unwanted, unneccessary (for me) apps are going back on my phone. So there are things you can't get rid of. Granted not a lot on a Nexus, as opposed to a Samsung or HTC, but still some.

I have a Moto G with 8GB of internal storage and a 32 GB SD card. You have no idea how annoying it is that you can't uninstall these Google apps I will never freaking use. All you can do is "disable them" but they still take up space. Furthermore, apps will not install to SD card. They install to internal storage and you have to go to your app list and move it manually to SD. And many apps will simply not update because the Play Store wants to download the update to internal, completely reinstall the app on internal, and then move it to SD. I run into so many storage related issues it's rediculous, and it's not exaclty like I'm using a lot of apps, nor do I have any music or photos stored on my phone. On the same note, I have ​a feeling that Lollypop's awful handling of SD cards is partly related to the reason why Samsung and Nexus phones are both going away from external SD storage. Because external SDs are not freaking usable in Android. By the way, yes i have a Lumia 640 on the Win10 preview, and despite the changes in SD card storage, Win 10 is still so much better at handling SD cards than Android.

But it has premium unibody housing, not cheap plastic design. Lumias may also lack microSD if the leaked posters are correct.

Aluminum is vastly over-rated. By the way, there is literally no way to tell from a render whether the plastic is cheap or not. After a year of dropping and general wear and tear, most "cheap plastic" Lumia's I've carried feel vastly more premium than the stupid and over-designed aluminum design of the HTC One or the iPhone 6's. Aluminum does not hold up as well as plastic. Have you ever dropped a metal phone onto concrete while standing up? When you pick it up, the edge that hit the ground will now have a sharp protrusion that will cut into your hand when you use it. Phenomenally annoying. Plus, metal phones get really hot, and as someone who uses his phone more than just siting on a desk, I prefer my phone to be comfortable in the hand. Aluminum also weakens wireless radios and prevents features like Qi Wireless charging. All these things combined convinced me a long time ago that Aluminum is awful and should never be used in a hand-held device that needs to communicate via radio waves. Hell, my wife's Lumia 635 feels waaayy better in the hand than the Moto G I'm currently using, with it's stupid tire-tread plastic design. Plastic can be done well and done premium, and if anyone can do it, it's the talent that Microsoft pulled from Nokia.

We don't know the camera specs on the 950 XL, so the comparison is incomplete. The 6P has an f/2 Aperture, which is great, but I was hoping it would at least match the f/1.8 aperture of the LG G4.

The camera on L950/L950XL will have a new sensor design, new algorithm, more capable OIS and new flash. The PureView performance should be greatly improved running on the 6-core and 8-core processors. The camera on the new phones could be another stand out featue for the new phones.

"will have a new sensor design, new algorithm, more capable OIS" To be seen.

One surce of camera information: http://www.nokiapoweruser.com/lumia-950-950-xl-more-about-pricing-bundle...

The reliability/credibility of NPU aside, hope their sources are right!

I actually have the exact specs of the new camera. It's better. You'll be impressed with the numbers. Think Galaxy S6.

I'm sure Dan wants to, but it's probably under a non-disclosure agreement with Microsoft until the 6th. Dan is a good guy and a fan, like most of us oh here, and I'm sure he is excited to share what he knows and has experienced first hand.

But sensor size of the Glaxy S6 is 1/2.6" which is good but LESS than e.g. Lumia 1520/930 with 1/2.5". For comparisson Lumia 1020 is 1/1.5" wich is 60-70% more area than both. While i don't expect and don't think it's alwas good (pic-to-pic time increases heaviliy with sensor size) to hav a sensor the size in the 1020 I hopped they opted at least something in the 1/2.3" size slightly bigger than the Lumia 930/1520. While software and the technology of the sensors improve and may bring better results with a 1/2.6" sensor like the older 930 with 1/2.5" sensor i had hoped for a little more. Maybe I'm special because I like to make .dng-files and store them on the SD-card lol.

Yes, a big sensor would of course be nice. However, with the camera module needing to be thinner (with the overall device thickness reduced in the 950/XL), I wonder if its even physically possible to utilize a bigger sensor?

I'm sure Dan has had a trial 950 XL for some time now so that he can write about it as soon as it's announced.

I completely agree and be shocked to hear otherwise.

It starts with a f/1.9 sensor ....

1.7 would be better, didnt e.g. 735 have it?

Great, good to hear! Thanks!

Yes. Camera software, at current state, is major downgrade.

Absolutely none of this matters if the camera takes 20 seconds to open. I've always been a big fan of the Lumias for their advances in imaging, but holy crap is it annoying to deal with the lag and delays. Half the time I miss the moment entirely.